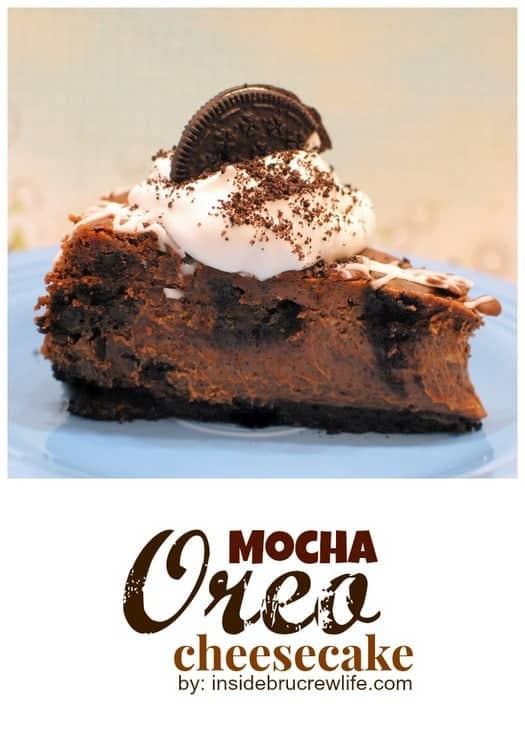 So last Friday was National Cheesecake Day…
seriously who comes up with all these "different" national days?
But, since it was a "holiday" of sorts,
we celebrated with this delicious ooey gooey cheesecake 🙂
(I will take any chance I can get to make cheesecake)
Does anyone else remember the Oreo cookies that were filled
with coffee cream?
They were amazing, and of course they stopped making them.
So I wanted to kind of replicate that in a cheesecake.
I give you
the
Mocha Oreo Cheesecake
!!!!
Oh how tasty and pretty this was…
almost too pretty to cut.
Mind you I did say almost…
once we cut into it
there was no stopping.
Yup, it is time to hit the gym again…
all these yummy treats are taking a toll 🙂
But they are so worth it.
Oreo cookies and coffee turn this cheesecake into a delicious mocha experience.
Ingredients
2 cups Oreo cookie crumbs
6 Tablespoons melted butter
3 packages cream cheese, softened (8 oz. each)
1 cup sour cream
3 eggs
1 cup chocolate chips, melted
1/4 cup espresso powder
2 teaspoons vanilla extract
1 cup sugar
1 1/2 cups Oreo cookie chunks
1/2 cup white chocolate chips, melted
Cool Whip and extra cookies
Instructions
Mix the cookie crumbs and butter and press into a 9 inch spring form pan. Set aside.
Beat the cream cheese and sour cream until smooth. Add the eggs and sugar and beat again. Stir in the melted chocolate chips, espresso powder, and vanilla until thoroughly mixed. Stir in the cookie chunks in by hand. Pour into prepared pan.
Bake at 350 degrees for 45-50 minutes. Remove from the oven and run a knife around the outside edge of the cheesecake to loosen from the pan. Cool on wire rack for a couple hours. Refrigerate overnight to let flavors develop. Remove outside of pan and decorate with melted white chocolate drizzles. Serve with Cool Whip and extra Oreo crumbs and chunks.
Notes
*Feel free to leave out the espresso powder if you do not prefer the coffee flavor.
https://insidebrucrewlife.com/mocha-oreo-cheesecake-goodness/
Copyright Inside BruCrew Life