The crunchy nut crust and creamy orange filling in this Orange Cream Cheesecake will satisfy all your fruity cheesecake desires. It is the perfect citrus recipe to add to your spring or summer picnics or parties. If you loved this Orange Creamsicle Poke Cake, then this is a must make dessert.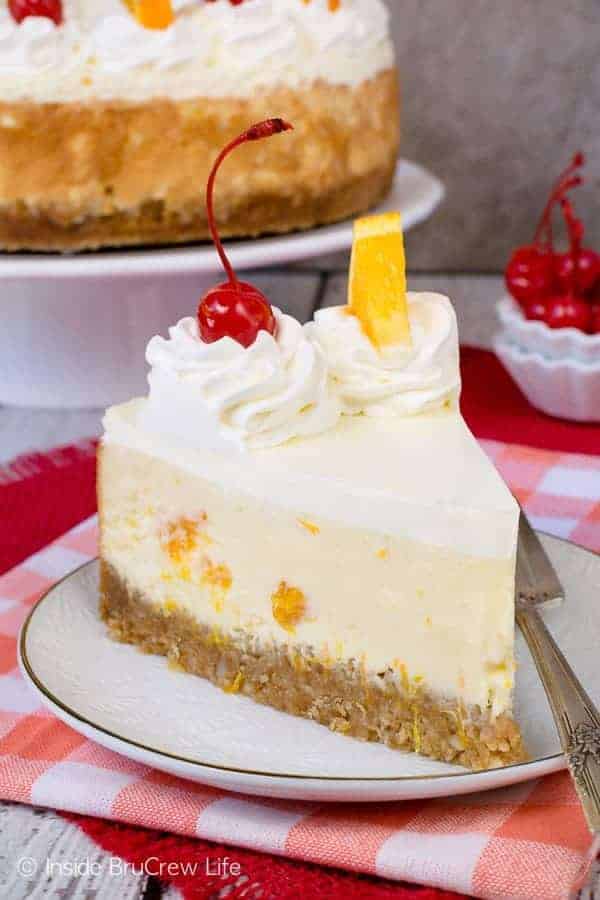 You guys. I have a confession to make. On my phone I have a list of ideas for 15 full sized cheesecakes that has been there for at least 2 years. True story.
That's just crazy! No, not the fact that I have so many recipe ideas, but that those ideas have just been sitting there doing nothing. That's got to change.
It's time to get out the springform pans and get to work.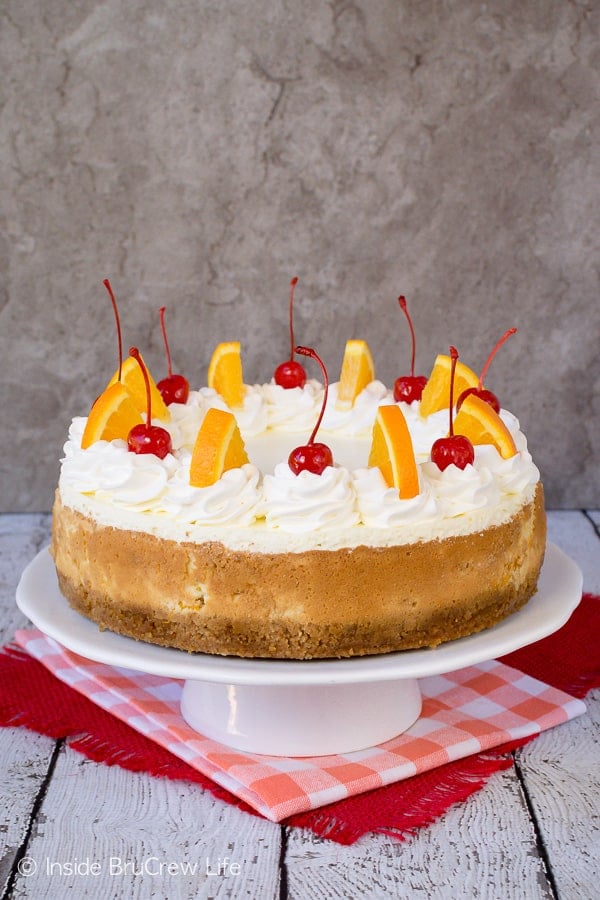 Now to be fair, part of the reason I have been putting off making these cheesecakes is because I was waiting until my cookbook Cheesecake Love was published and on bookshelves.
That and things like these Banana Chocolate Chip Cheesecakes and these Blueberry Key Lime Cheesecake Bars are easier and faster to make. Sometimes I'm lazy in the kitchen and just want to take the easy way out when I bake desserts.
But the book came out in September 2017, so I really can't use that reason anymore. It's time to pull out all those ideas and work my way through the big cheesecake ideas. One by one.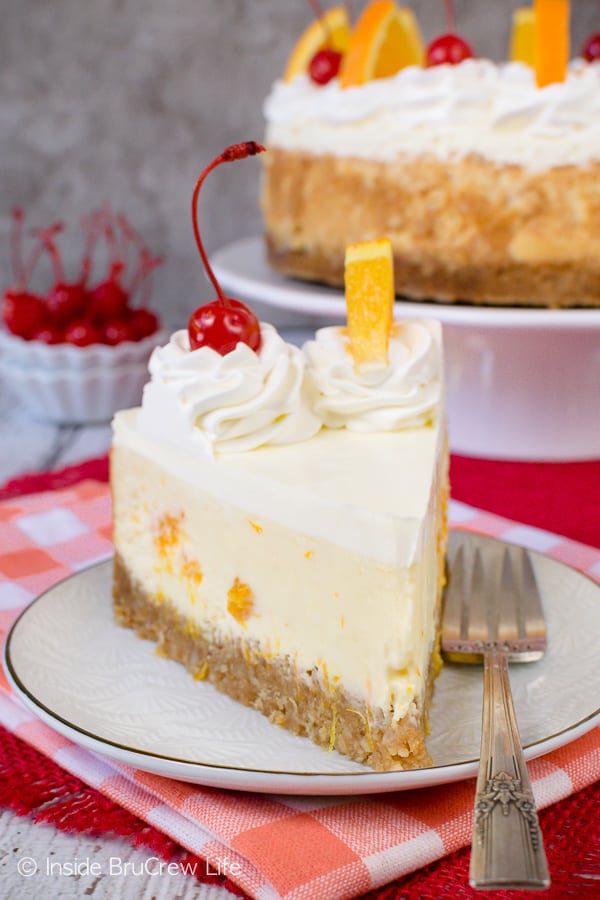 Recently, I had someone ask why I didn't have any recipes that had macadamia nuts in them. So, I decided to make the Orange Cream Cheesecake that was on my list using those particular nuts in the crust.
And a few weeks ago my sister and her family came to visit us, so I wanted to test this recipe while they were here because I didn't want to eat it all myself. They happily agreed to be cheesecake guinea pigs for the week.
Then our oldest son agreed to devour the second one I made for pictures the following week! Both times this Orange Cream Cheesecake got rave reviews! Two thumbs up for a citrus summer dessert that everyone will love.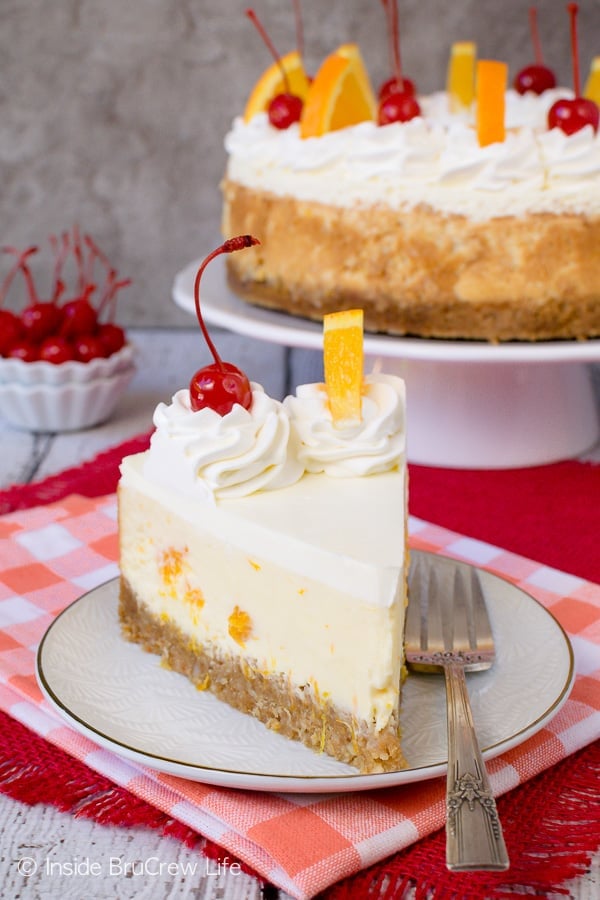 Things to keep in mind when making this Orange Cream Cheesecake recipe:
Make sure you set your cream cheese out ahead of time. It's so much easier to beat it when it is softened.
Toast the macadamia nuts in a skillet for a few minutes, then let them cool before pulsing them in a food processor. Just do not over pulse the nuts, or you will end up with macadamia butter.
Place a large baking sheet on the very bottom rack in your oven. Fill it halfway with water and let it heat up. This creates a steam effect as the cheesecake bakes. No water baths ever happen in my kitchen!
Do not over mix the cheesecake batter because it will add air bubbles into the batter which could cause cracks as it bakes.
When the cheesecake comes out of the oven the second time, let it cool for 5 minutes, then run a knife around the edge. This loosens the cheesecake from the pan, so it doesn't crack as it cools.
Tools used to make this Orange Cream Cheesecake: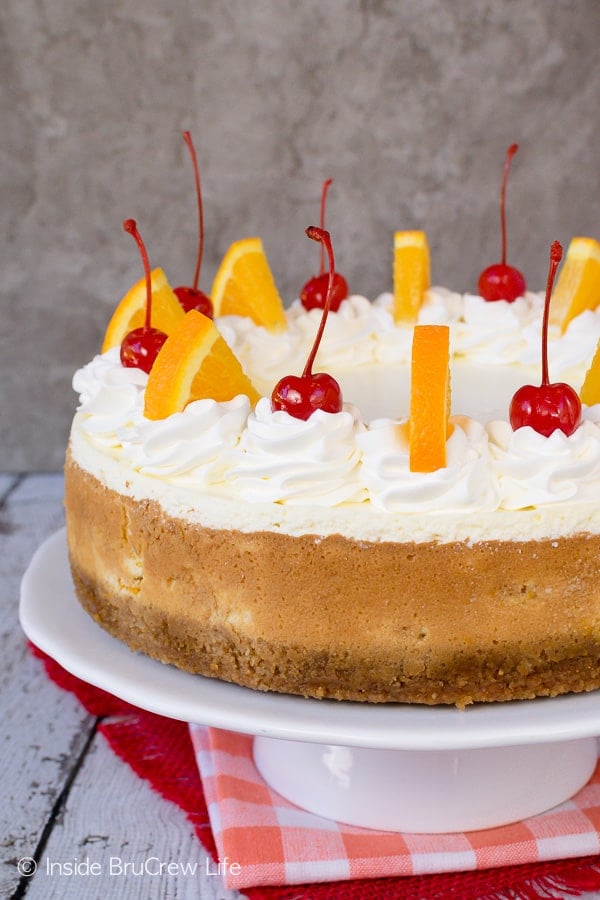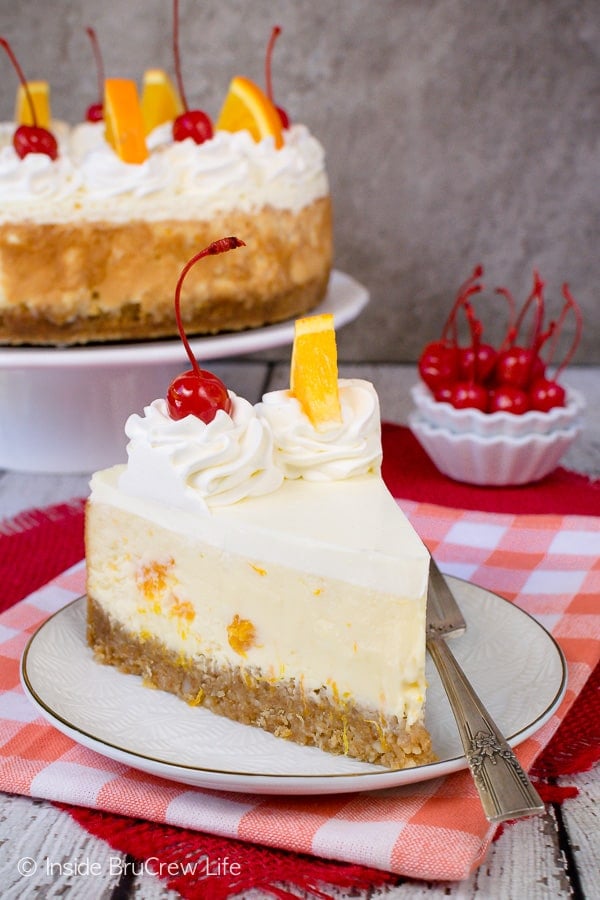 More delicious orange dessert recipes you could make this spring:

*This post contains affiliate links. Inside BruCrew Life may receive a small percentage from sales made through these free links. As always, these links do not cost you any extra. Thank you for letting us share products we use and love this way.