Mocha Pumpkin Spice Cookies with sprinkles are a fun cookie to share with your friends and family. They are the perfect party treat too.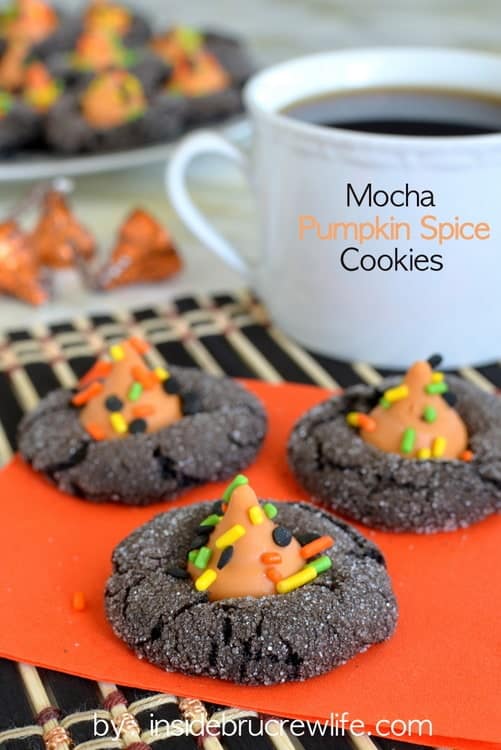 I am getting myself ready to bake lots and lots of cookies this year. Do I need them? Does anyone want them? That's probably a no to both questions, but it still isn't going to stop me from making tons of cookies. I'm sure I can find someone to help me eat them all.
This year I was excited to buy the Pumpkin Spice kisses again. I bought a bag of them right away, but then the bag just sat there in the cupboard. Unopened. Lonely. There was no way I could open the bag for just one kiss...I have self control issues, and those kisses would have been gone. Not to mention that my family sees an open bag of candy, they think it is fair game. Lately some of the unopened bags have been opened mysteriously!
Maybe it's time to find a new hiding place.

The pumpkin kisses sat there until I decided to make a dark chocolate cookie. I did add a little bit of coffee flavor just to amp up that chocolate. You really can't taste a coffee flavor. It is there to make the chocolate deeper and richer.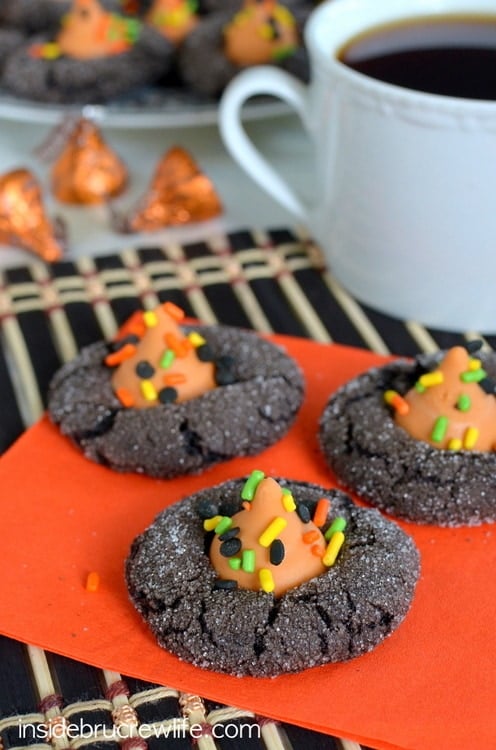 I rolled these in sugar just like the popular peanut butter blossom cookie. Don't you love how sparkly the sugar looks on the dark chocolate cookie? As soon as they come out of the oven, you will top each cookie with a pumpkin spice kiss. Be very gentle when you move the cookie to your cooling rack. The kiss will melt and become very soft. As long as you do not shake the cookie, it will harden back into the kiss shape as the cookie cools. Add some sprinkles to the tops of each kiss while they are still soft.
Or you can do it like I did...because I forgot. Get out the blow dryer and lightly blow warm air onto the kisses. When they start to get shiny, top with some sprinkles and let set again.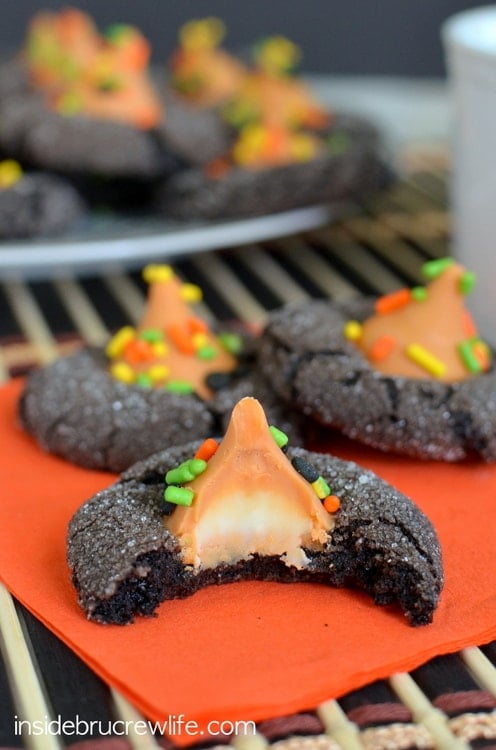 What? It works 🙂