It's after noon here, and we are all just starting to move around here. But I guess that's what happens when you stay up to the wee hours blowing up your money.
We spent yesterday with family, and hip hip hooray, they have had plenty of rain up north, so no burn bans there.
So of course the boys headed out to buy some fire fun!!! Oh my word!!! I can't believe how much that stuff costs!!!
We saw one big package marked $750!!! Seriously? Who buys those things?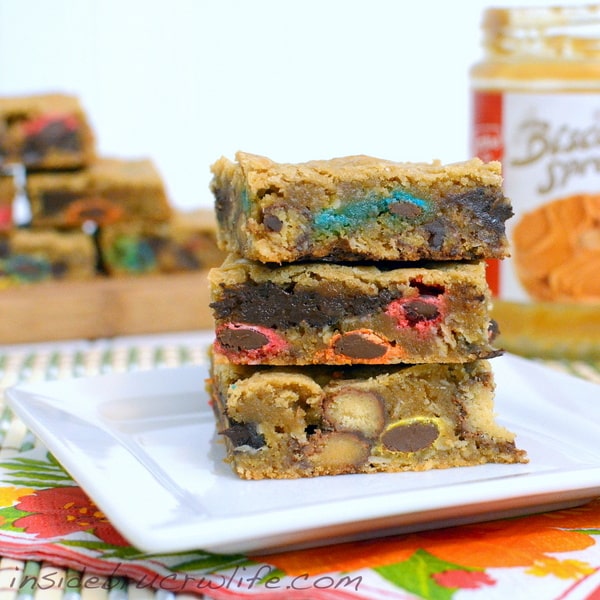 Now we are home after a long night, and it is time to get back into the swing of things.
Well, maybe not a full day swing of things.

I'm thinking it might be a "do a whole lot of nothing" kind of a day. Even with sleeping in, we are feeling like slugs!
Maybe a run at the gym will get me feeling more like tackling the day? Naaaaaahhh!!! I'm going to put that off until a little later too!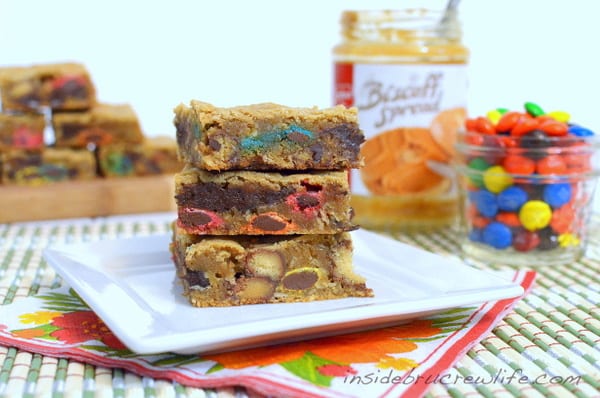 Until I find the motivation to do some laundry or dishes or something housework related, I'm going to share some delicious and fun blonde brownies with you.
Last week my daughter turned 11 and we had a Monster High birthday party for her.
Of course, we tossed around the idea of cupcakes, cake, and ice cream.
I was breathing a sigh of relief when she decided on just ice cream sundaes for the party. But not just any ice cream sundaes...these were MONSTER sundaes.
Blonde brownies topped with ice cream and then 10 different toppings! These girls were seriously hopped up on sugar when they left.
I took my basic blonde brownie and jazzed it up MONSTER COOKIE STYLE! Inside these bars, we put the components of all different kinds of cookies.
Think oatmeal, M&M, cookie dough, chocolate chip, and Biscoff! Oh yeah! All that wrapped into one pan of glorious monster cookie bars!
Let's talk cookie dough bites candy...you could totally make your own like I did with this Cookie Dough Cheesecake Brownie Pie.
But with all the other party stuff going on, I went the completely easy way out! I bought about 5-6 boxes of the theatre box candies...
you know the $1 boxes at Walmart.
***Warning!!! Do not, I repeat, DO NOT get the generic ones from the Dollar Tree. They were NOT good! Ok, they were plain bad!!***
***2nd Warning--don't try to take pictures of food when it is dark and stormy outside...uggghhh to trying to lighten these up enough to look somewhat good***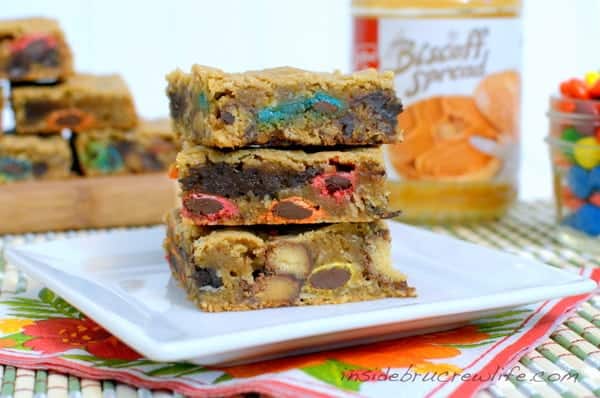 These bars are a full on sugar rush! Maybe I need some more of these bars to get me going today!!!