The layers in this Cookie Dough Cheesecake Brownie Pie will have you drooling in no time at all. Grab a fork and dive into the fudgy brownie, creamy cheesecake, and no bake cookie dough right away.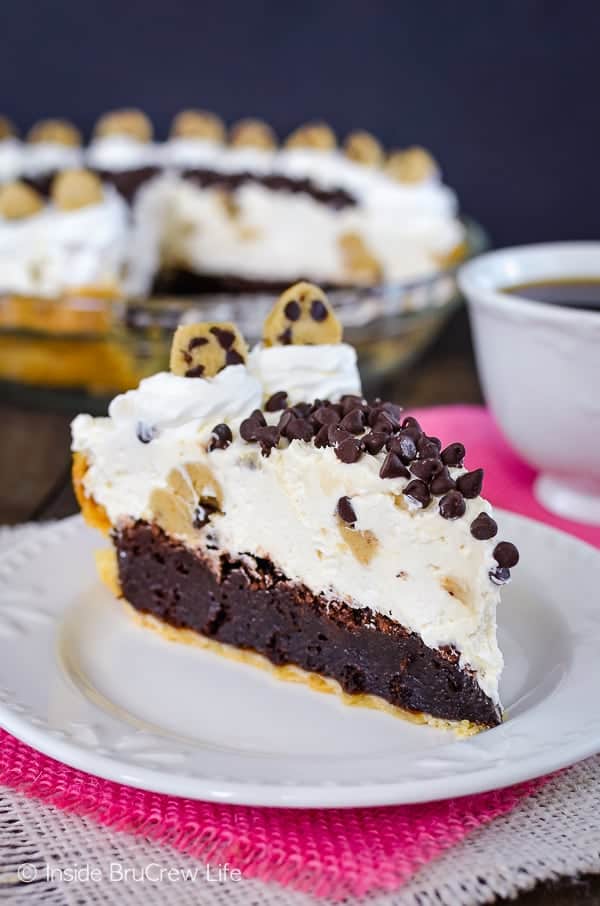 Oh, my word! You guys!!! This is the most amazing, most delicious, most crazy good pie!!! Seriously!!! It beats everything I have ever made!
Brownie cheesecake pie has kind of become my thing to make. You aren't surprised, are you? I mean after this Oreo Mousse Cake and this Peanut Butter Snickers Cheesecake Brownie Pie, you had to know another one was coming soon, right?
There is something about that ooey, gooey, fudgy brownie topped with a creamy no bake cheesecake that makes me go weak in the knees. I can't stop making them...or eating them.
My jeans kind of hate me for the lack of self control around these types of desserts.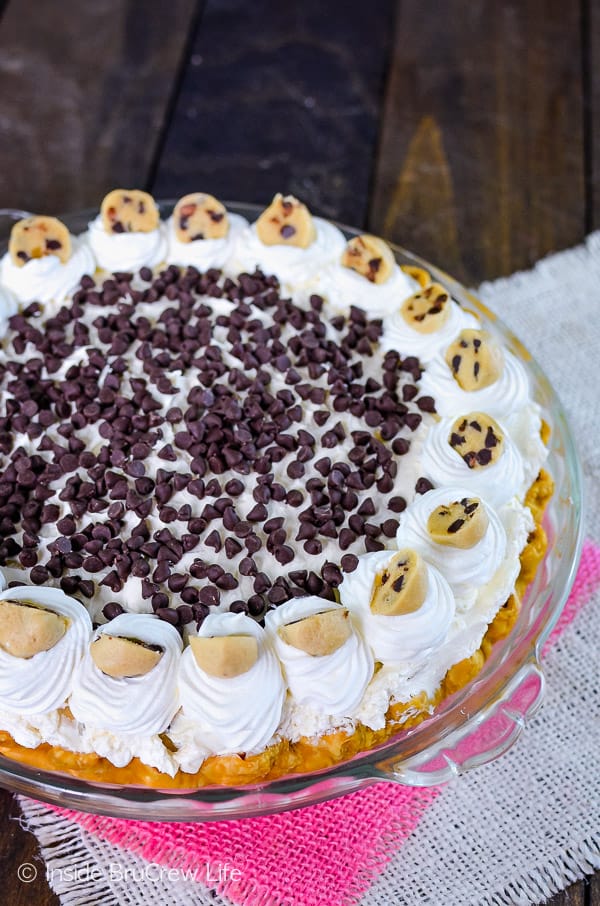 It has been a while since the last brownie pie, so I started brainstorming some new crazy creations that would work with a basic brownie pie.
I was also thinking up some new no bake cookie dough treats to try out when all of a sudden a lightbulb went off!!! Why not marry the two together?
Seriously this was the best idea ever! In fact, it was so good and got so many rave reviews that I included this Cookie Dough Cheesecake Brownie Pie in my cookbook Cheesecake Love.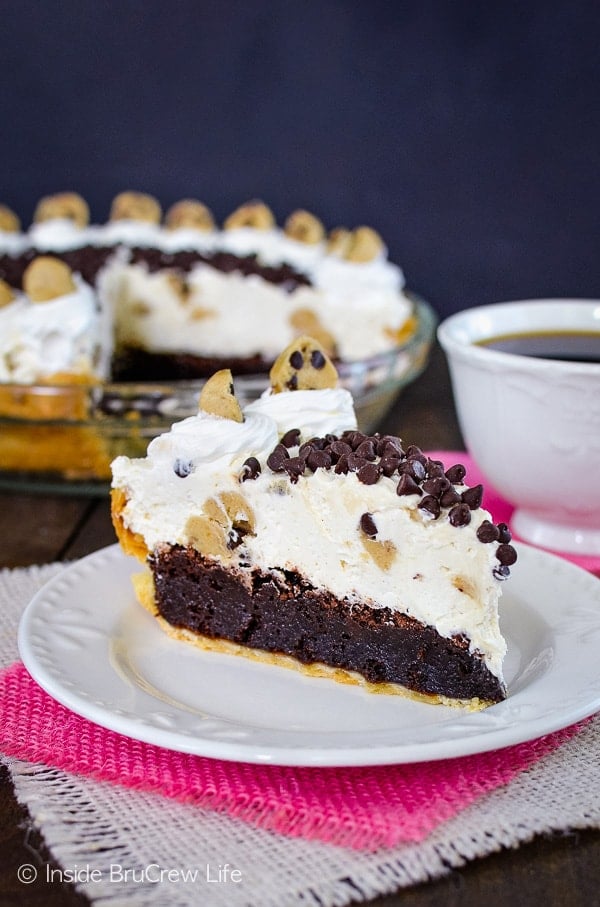 How to make a Brownie Pie:
The brownie gets baked in a pie crust first. Now if you are a domestic queen and love making your own pie crusts, go for it. It totally will work. But this pie has quite a few layers and steps, so I went with a refrigerated pie crust just to save time.
Anything that saves me time in the kitchen is my friend. It just means I am one step closer to face planting in pie goodness.
One more confession. I also used a boxed brownie mix. My reason...see above. Feel free to experiment and make your own, but your baking times will probably be a little different.
The key to this pie is to NOT follow the box directions. You want your brownie layer to be rich and fudgy, so make sure you only add the following ingredients to the 9x13 dry brownie mix.
¼ cup oil
¼ cup water
1 egg
The mixture will be very thick and sticky. Spread it out evenly in the bottom of the pie crust and bake for 40-45 minutes. Remove and cool.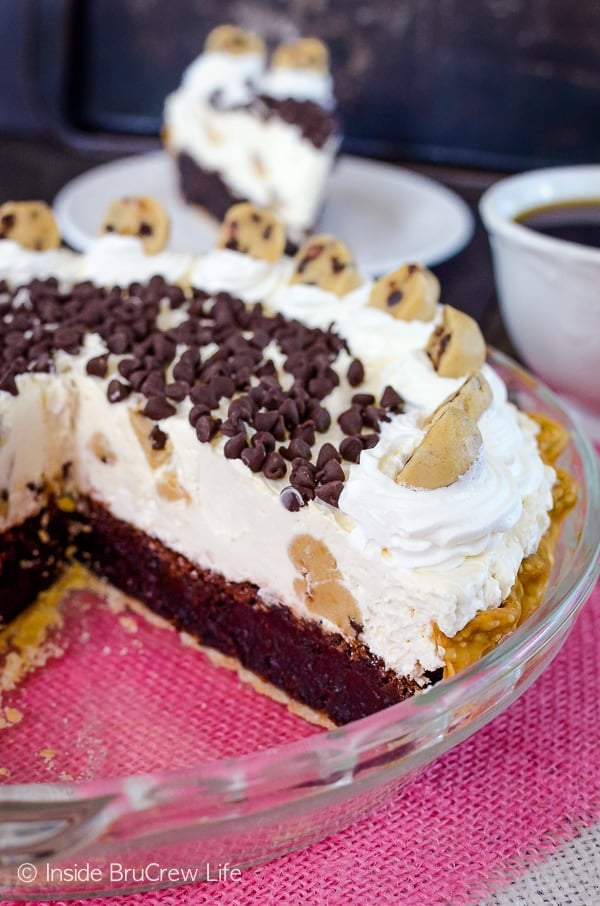 No Bake Cookie Dough Bites
While the brownie layer bakes, get started on your cookie dough pieces. There is no egg in this cookie dough, so it is safe to eat without cooking.
I may have been sampling the dough as I rolled the tiny balls. One for the pan, one for me. Reason #2 in this post of why my pants are angry with me.
Mix together butter, brown sugar, vanilla, salt, and a splash of milk until creamy. Slowly beat in the flour.
PRO TIP: Microwave the flour for a minute before stirring it in. This eliminates any contamination that could be present in raw flour.
Stir in the mini chocolate chips. Roll the dough into 56 small cookie dough bites. You want to make sure to roll them small, so that there is enough to spread them out evenly in the cheesecake filling.
Place the cookie dough balls on a wax paper lined tray and place the pan in the freezer. Leave them there until later.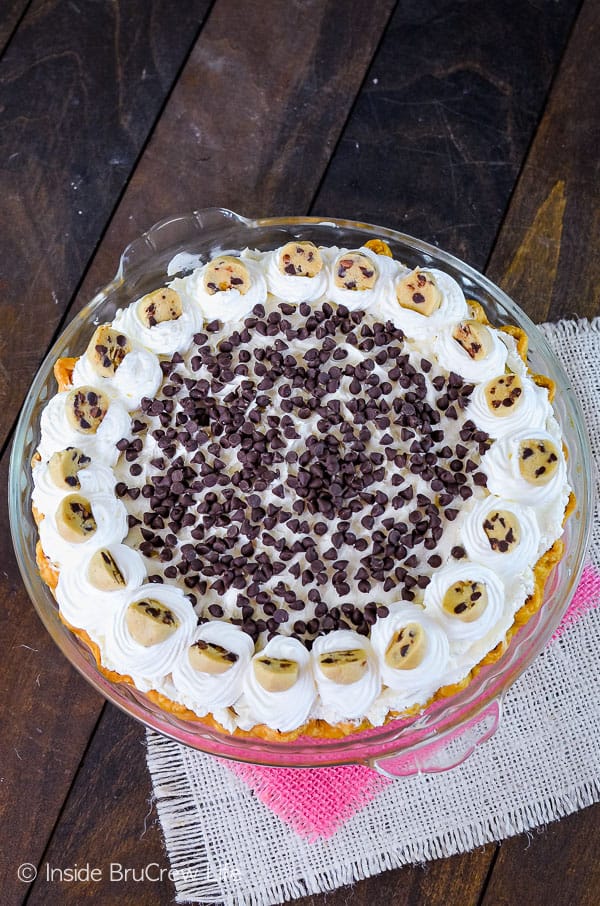 How to make No Bake Cookie Dough Cheesecake:
Beat together cream cheese, vanilla, and brown sugar until light and creamy.
Fold in a container of thawed Cool Whip to create a light fluffy filling that compliments the dark, rich brownie pie so well.
If you are opposed to the creamy white stuff, you can definitely make a sweetened homemade whipped cream to use in place of it.
Assembling a Cookie Dough Cheesecake Brownie Pie:
Take the cookie dough bites out of the freezer and cut them in half. Make sure to set aside 10 balls (20 halves) for the topping.
Gently stir the rest of the cookie dough bites into the cheesecake filling, then spoon the filling on top of the cooled brownie.
Pipe Cool Whip swirls around the edge of the pie. Sprinkle mini chocolate chips in the center of the pie. Place the remaining cookie dough pieces on the Cool Whip swirls.
Now get ready to face plant! Seriously! It is that amazing!
More easy cheesecake recipes you may enjoy: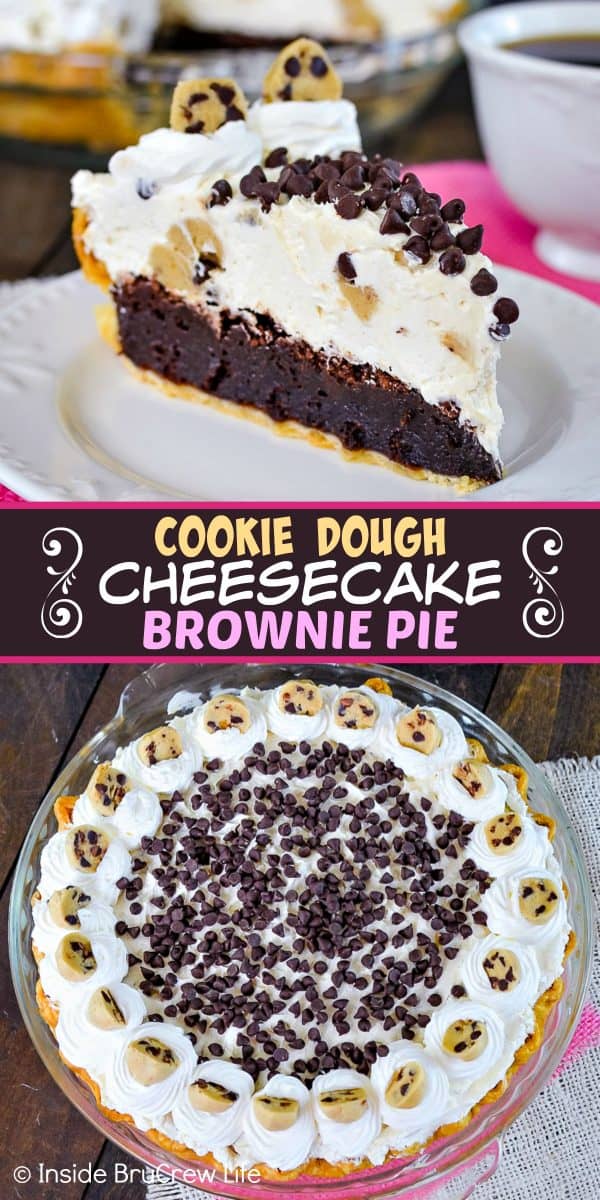 *This Cookie Dough Cheesecake Brownie Pie recipe was originally published on July 8, 2014. The photos and post have been updated and republished on January 15, 2019.