Layers of chocolate and peanut butter in these easy No Bake Peanut Butter Fudge Cheesecake Parfaits will have you licking your cup clean. Great mini dessert recipe for parties.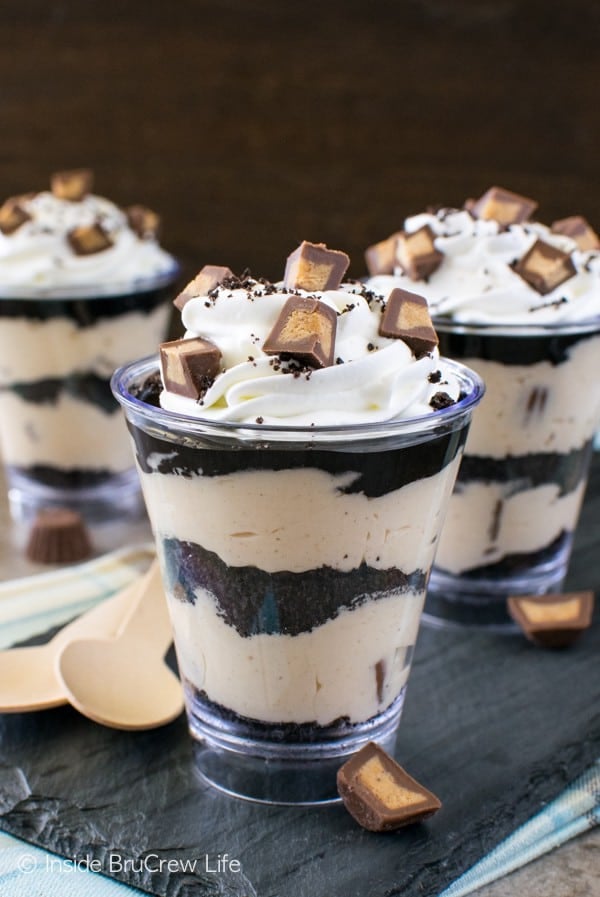 CLICK HERE TO PIN THIS RECIPE FOR LATER!
*This post is brought to you in partnership with the American Dairy Association Mideast. Thank you for allowing me to bring you brands and products that we use and love. As always, all opinions are 100% my own.
Chocolate and peanut butter is my kryptonite. No matter how hard I try to resist this dessert combo, I cannot do it. A few weeks ago I decided that I was going to try to do the whole sugar-free thing. Why? I'm not really sure. I mean, you guys see all the recipes I share here, right? Just imagine that times 100...that's my kitchen and pantry 24/7.
With all the cookies, brownies, and treats that I feel the urge to bake, going sugar-free isn't really the best option. But hey, it's either watch what I eat or say goodbye to those skinny jeans in my closet. And since I just bought 2 new pairs, it's bye bye sugar.
Or at least I thought it was...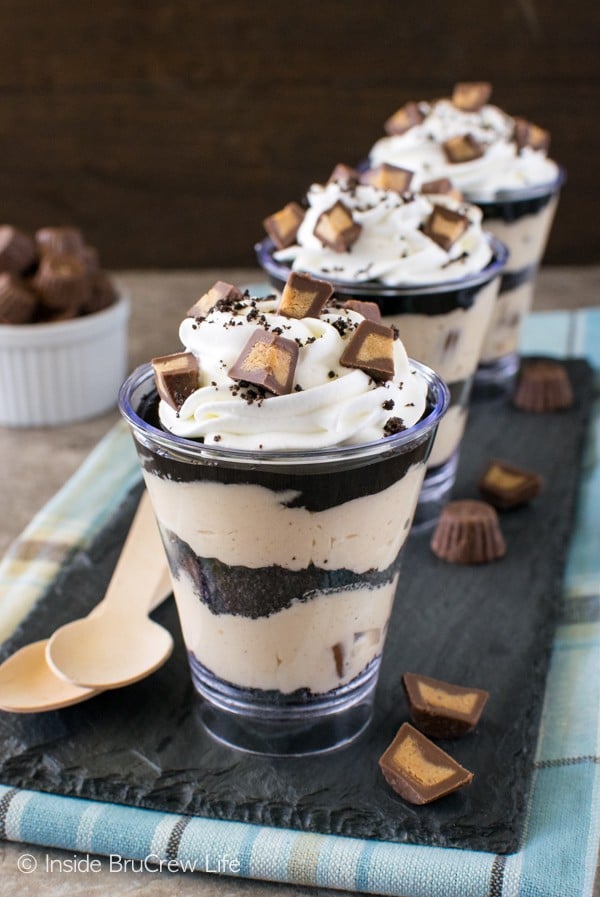 In a few weeks I am headed to Austin, Texas for the BlogHer Food conference. The very first conference I ever went to a few years ago was there, so I am excited to head back again. This time I am going as a blogger ambassador for ADA Mideast.
I will be helping out at the booth and sharing all things dairy while I am there. If you are headed to the conference, please stop by the booth and say Hi. I cannot wait to see everyone and squeeze their guts out! Oh, and feed you yummy cheesecake treats too! You know you want a few of these mini parfaits, right?
Samples of these little parfaits will be served during the Welcome Reception with Sponsors on Friday, Oct 7, from 6-7:30. Stop by and drop your business card in the jar at the booth, and you will be registered to win a Ninja Professional blender set. Plus, did you hear we will have cheesecake?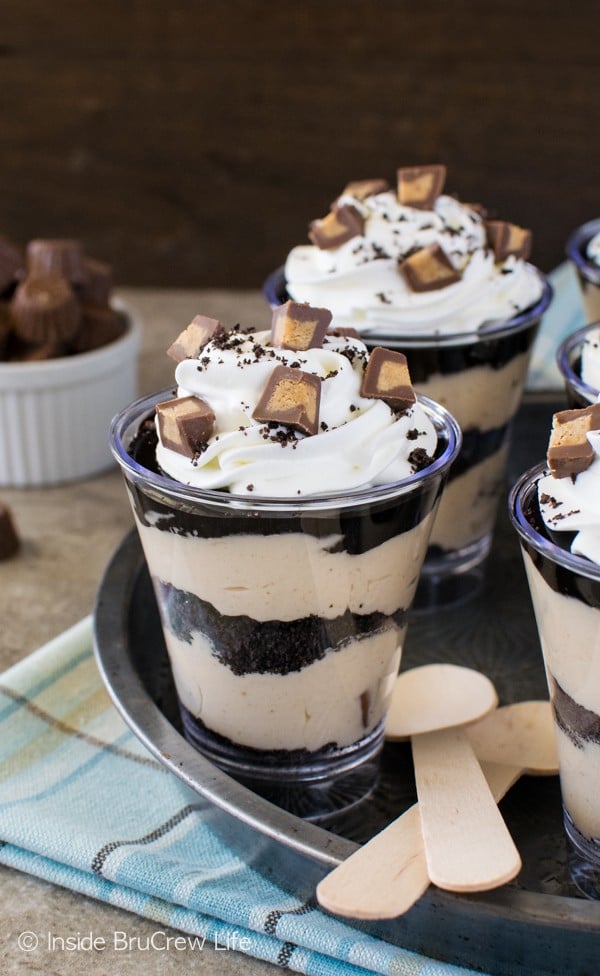 As a mom, I am always looking for ways to include more dairy in our meals and snacks. Growing kids need that calcium and protein for healthy bones and teeth, so I want to be sure our kids get enough each day.
Little do they know that I am adding yogurt to the skinny raspberry mint smoothie they drink in the morning. Hey, any way to get those 3 full dairy servings each person needs a day, right?
I even try to add lots of dairy to the sweet treats that I bake for them. These little parfaits are packed with cream cheese and heavy whipping cream, plus a dose of peanut butter for more protein. And you just thought these desserts were full of sugar...
Since the buckeye tree is Ohio's state tree and ADA Mideast is based in Ohio, I knew I wanted to create a cheesecake treat full of chocolate and peanut butter in little 5 ounce cups.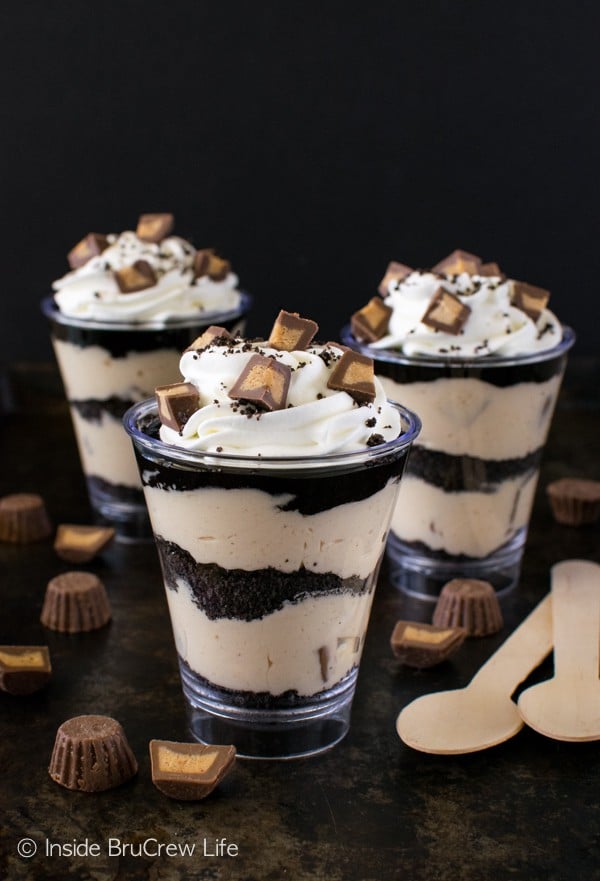 My sweet tooth must have needed a serving of dairy because I couldn't say no to these no bake peanut butter fudge cheesecake parfaits. The layers of peanut butter, cookie crumbs, and fudge just kept calling my name from the fridge.
Finally, I gave in and ate one...fine, I actually ate two. For the record, they were eaten on different days though, so that makes it a little bit better, right? Who needs to wear skinny jeans anyway?!?!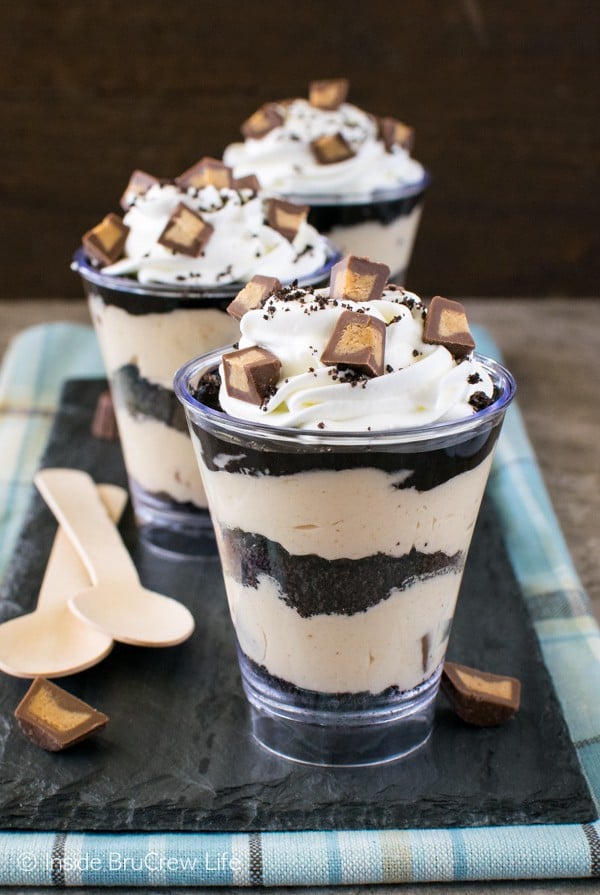 Connect more with ADA Mideast:
Pinterest | Facebook | Twitter

*This post contains an affiliate link. We make a very small percentage of sales made through these links. This helps is keep this website running. Thank you for letting me share products and brands we know and use.