This Skinny Raspberry Mint Smoothie is a refreshing drink to add to your breakfast or lunch routine. Adding frozen fruits and protein powder to a smoothie will help keep you full for longer.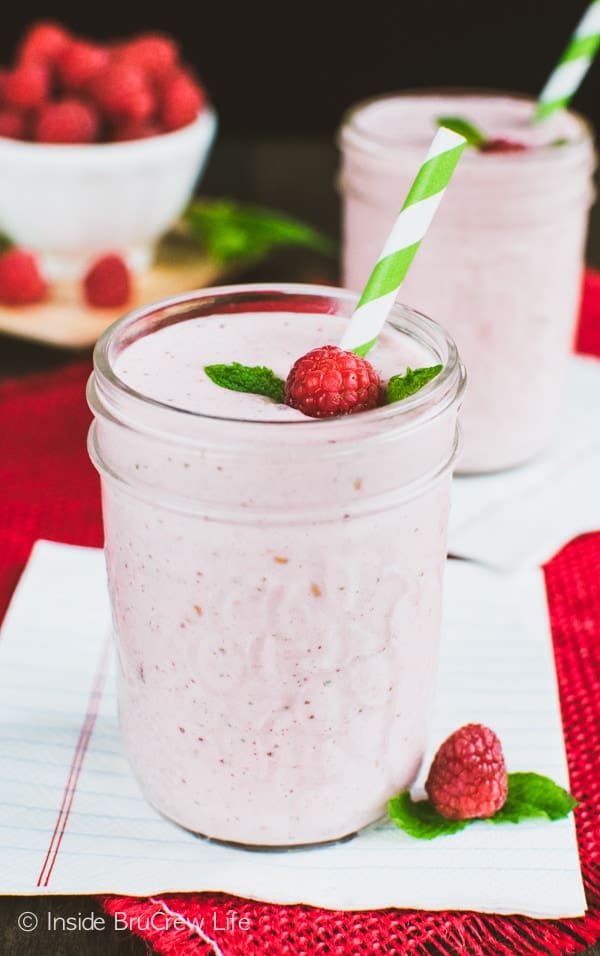 It's that time of year again. Has everyone jumped on the healthy eating bandwagon yet? The first of the year tends to get everyone ready to start off with eating right and exercising.
I'm right there with you. Bring on the salads and smoothies!!!
We started an herbal cleanse and healthy eating on January 1st. Yes, we are stereotypical here, too. It is time to say bye, bye to the cupcake butt and cookie thighs I developed from enjoyed way too many holiday treats last month. My jeans want to be happy again.
Exercise hasn't happened here yet because the kids are still on break for a few more days. But Monday morning those slam balls, kettlebells, and a rowing machine in the garage will get the dust brushed off.
I'm ready for the exercise routine to be back in place. ( I say that now...ask me after the first few days of working out)
One thing that we have been making a lot of the past week are fruit smoothies. The kids prefer just orange juice and frozen fruit in theirs, but my hubby and I love adding some protein powder and yogurt for that extra protein boost.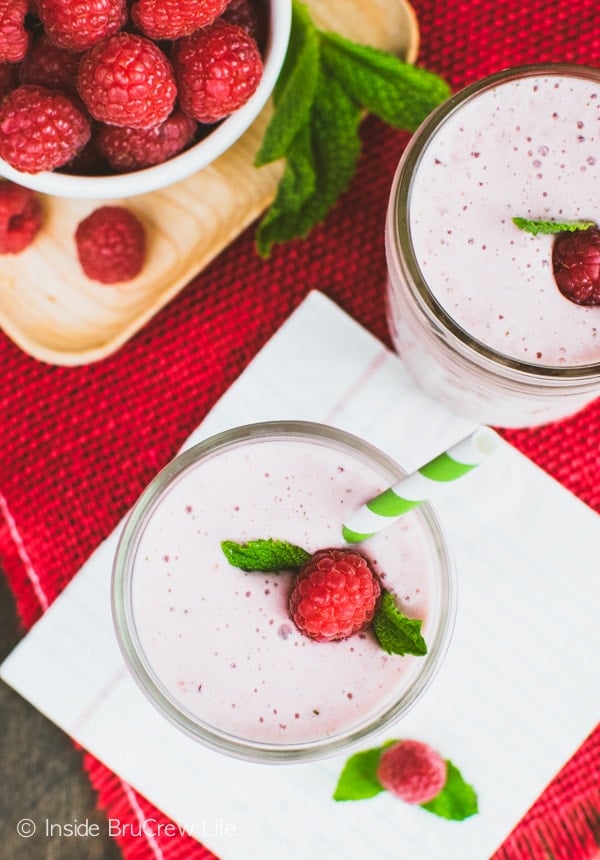 That extra bit of protein helps to fill you up and keep you from being hungry an hour later. This Skinny Cherry Banana Smoothie is one of my favorites, but I wanted another flavor to alternate with.
So, I grabbed a bag of frozen raspberries and some mint leaves the last time I was at the store. The fresh mint leaves just add a little bit of something different to the healthy smoothie.
There is a freshness that I really enjoyed from the leaves. Feel free to add more mint leaves or leave them out. It's totally your call.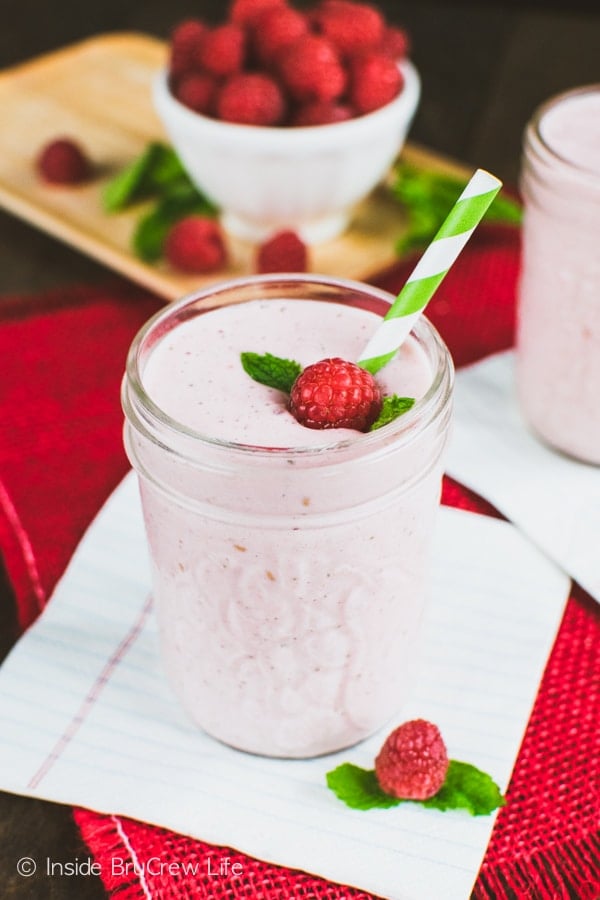 This particular fruit smoothie makes two small drinks or one large drink. If you are having it as a snack, share the other one with someone else or freeze the other one for later.
How to make a Skinny Raspberry Mint Smoothie
Place all the ingredients in a large blender.
Pulse until smooth and creamy.
Pour into 1 large or 2 small glasses and enjoy immediately.
I like to drink the full smoothie as my lunch replacement. It's enough that I am not hungry again until dinnertime. Then I'm ready for a bowl of Lean Mean Veggie Soup or a big Strawberry Orange Spinach Salad with chicken.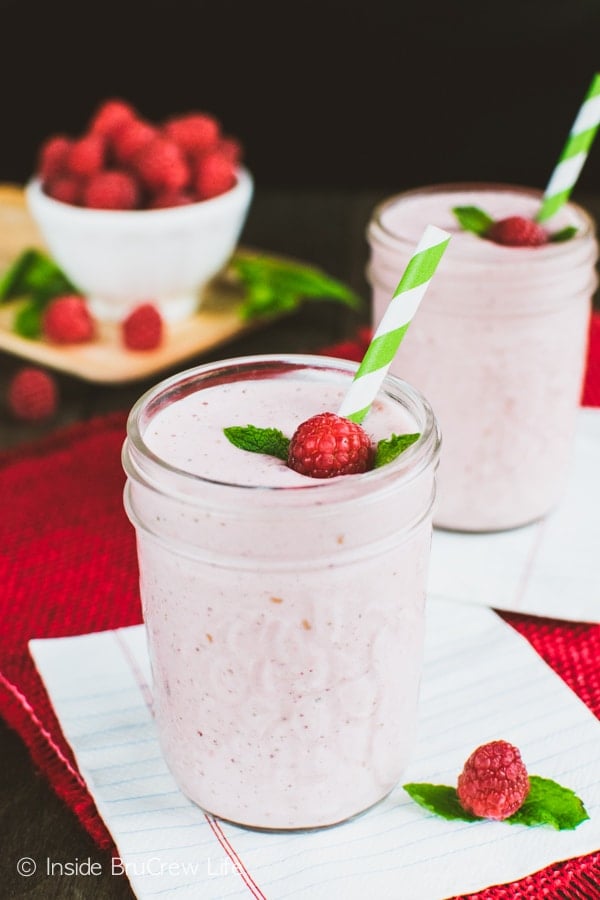 More healthy breakfast recipes you may like
CLICK HERE TO PIN THIS RECIPE FOR LATER!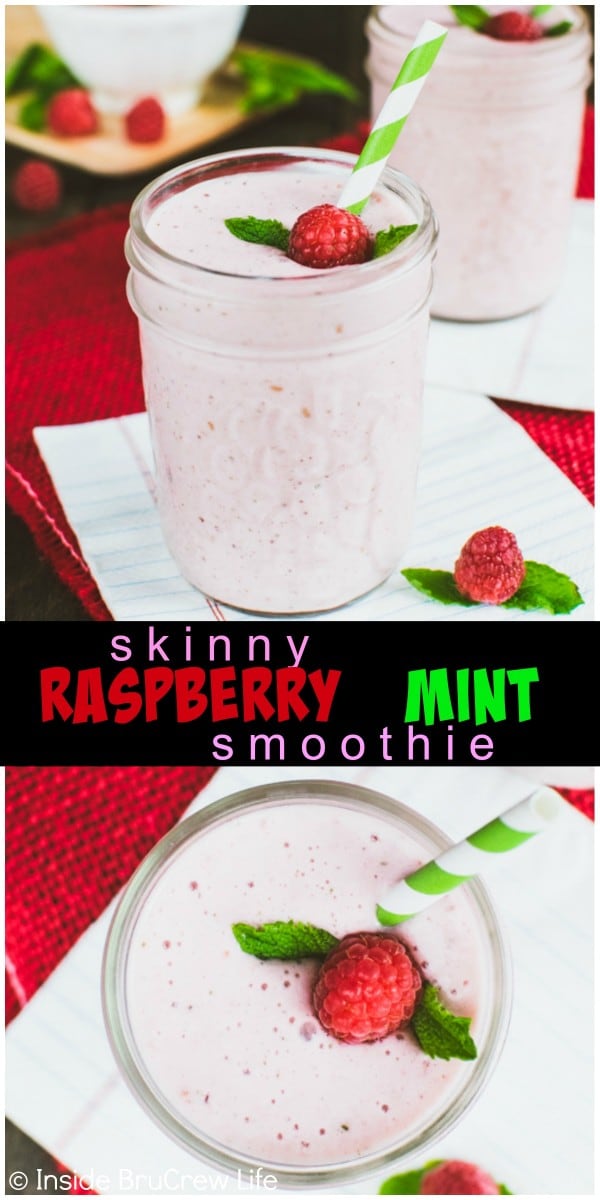 *The post for Skinny Raspberry Mint Smoothie was first published on January 5, 2016. The post has been updated and republished on January 2, 2020.
**This post contains affiliate links. Products bought through these links provide a small percentage of sales to this site. Thank you for letting us share products and brands that we use and love.