Layers of creamy mint and coffee cheesecake make these little No Bake Mocha Mint Cheesecake Parfaits a fun and easy summer dessert.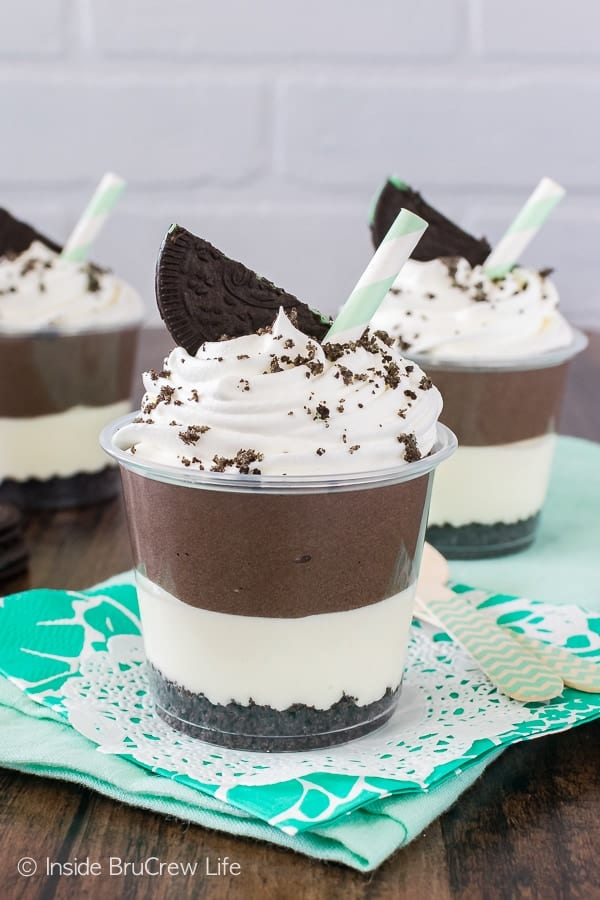 No bake desserts are where it is at this summer. My newest dessert obsession are these cute little parfaits. Hot temperatures outside have me wanting to keep the oven off. Most days anyway...
There are days when the bananas on the counter are beyond ripe, and I get the itch to bake this Tropical Banana Bread. But for now the parfaits are where it is at.
I hope you are ready for a few fun creations over the next few weeks because I may have gone a little overboard making tiny cups of no bake cheesecake goodness!
You may remember a while ago that I said I made a bunch of desserts for some lunches at one of the local schools. If you don't remember, now you know.
Anyway, this No Fail Orange Creamsicle Fudge and some Pina Colada Sugar Cookie Bars were the things I made for the first day. Quick and easy desserts that can be made in one pan are the best to make for a crowd.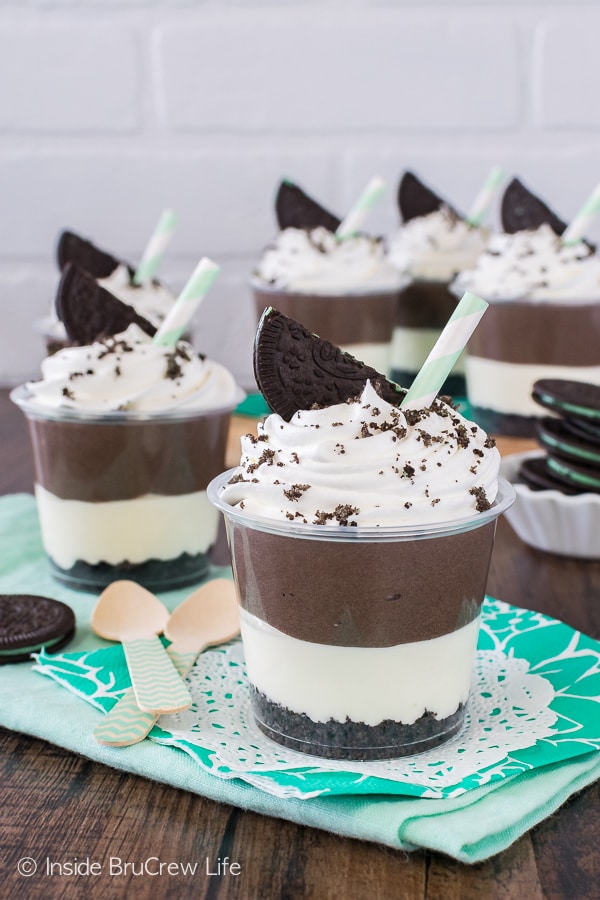 Cute little cups of cheesecake are always a hit when I make them. So, I knew I wanted to make some no bake parfaits for one of the lunches. As I was explaining the few parfait ideas I had to my husband, he asked if I could make one per teacher. Just a mere 60 cups!
My first thought was sure thing. It's just cookie crumbs and layers of no bake cheesecake. How hard can that be?
Well, it might have been easy if we were just making one flavor.
But because I had the brilliant idea to make FOUR different kinds, it took a little longer than I expected. There were pans to wash, cream cheese to soften, Cool Whip to pipe, and little fun decorations to put on each one. So, it became an all night ordeal.
Don't let that scare you away from making ONE batch of cheesecake parfaits though. One single batch will take you less than 30 minutes. Promise!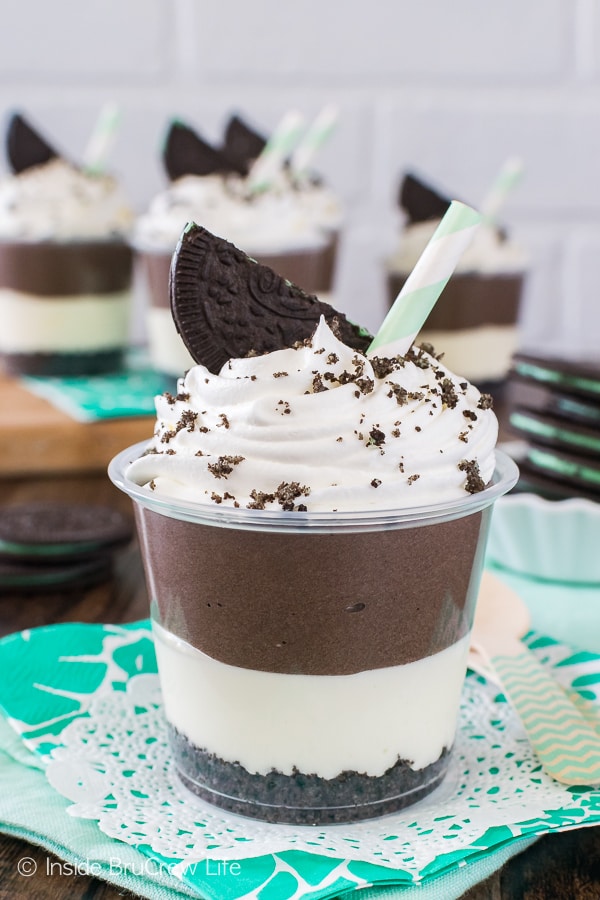 I love getting inspiration for my crazy desserts from all over the place. The idea for these little No Bake Mocha Mint Cheesecake Parfaits came from the new drink at the coffee shop.
Yup, if you frequent Starbucks at all, you have seen this flavor combo already. Mocha and mint is a refreshing flavor combo on a hot, summer day!
How to make these No Bake Mocha Mint Cheesecake Parfaits
Crush your cookies in a food processor and divide evenly into your cups. (You can find these little disposable plastic cups at Walmart in the paper plate and cup aisle. They also come with a lid, so you can make and take them to parties and picnics easily. Just add the Cool Whip and toppings when you get there, or leave them off for an easy to grab sweet treat.)
Beat the cream cheese, sugar, and extract until creamy. Fold in the Cool Whip and divide evenly into the cups. I like to use a disposable piping bag, so the layers are even and neat, but a spoon is fine too.
Dissolve the coffee in hot water. Then beat the ingredients together until creamy and fold in more Cool Whip. Swirl this layer on top of the mint layer. Again a spoon is fine to use as well.
Add a swirl of Cool Whip, cookie crumbs, cookie half, and a paper straw right before serving.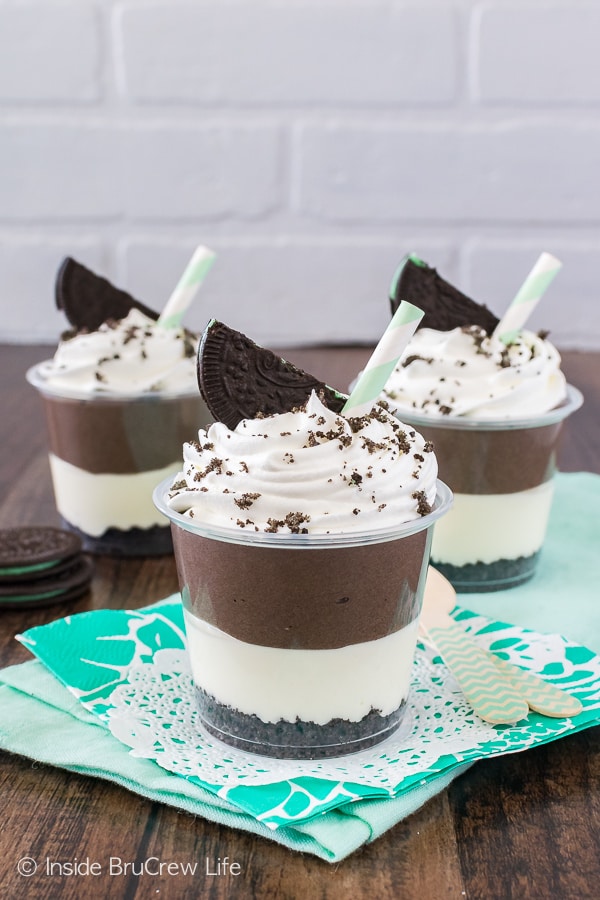 Here are a few other no bake desserts you may enjoy
No Bake Mocha Mint Cheesecake Parfaits recipe: