Layers of cookies, no bake cheesecake, and pudding make these Mocha Fudge Pudding Parfaits an impressive dessert. No one needs to know how easy they actually are to make.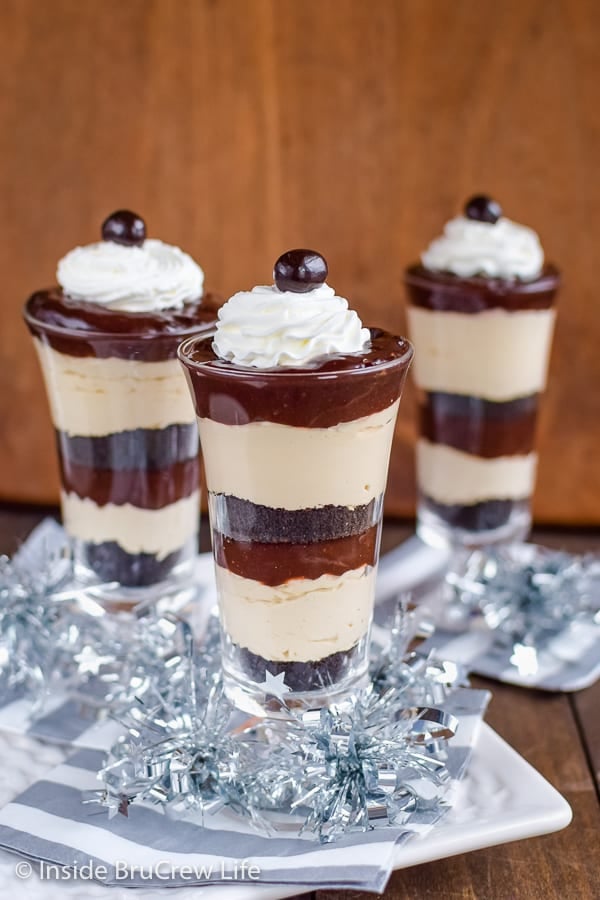 I hope you had an amazing holiday season this year.
We really had a great time as a family relaxing, playing games, and eating way too many Peanut Butter Balls and Oreo Peppermint Crunch Cookies.
I can honestly say I have had my fill of sweets. Is it the new year yet? I'm ready for all kinds of salads and healthy treats.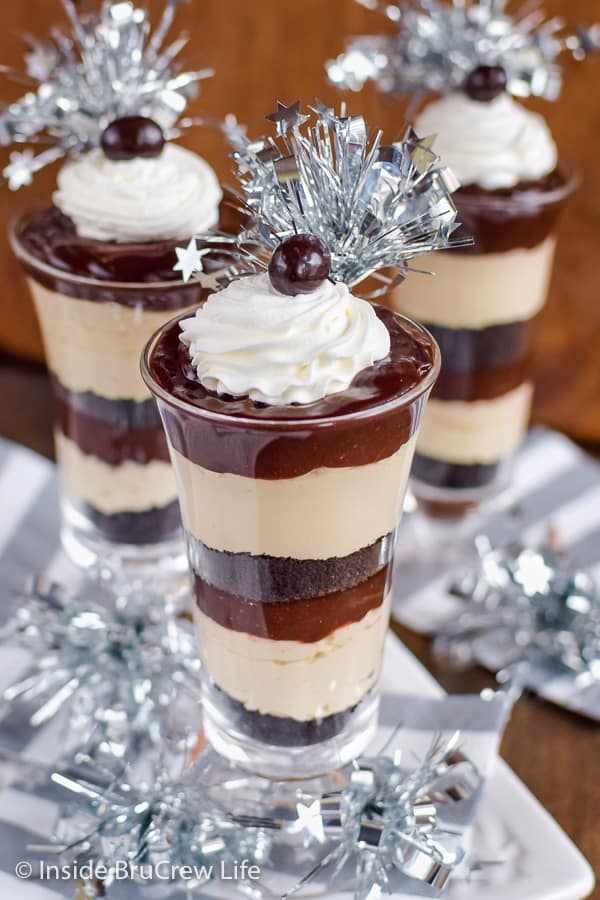 Says the girl who is shoving pictures of Mocha Fudge Pudding Parfaits in front of you!!!
Don't tune me out just yet because these easy pudding parfaits have a little secret.
These awesome personal sized trifles can be made into a healthy dessert! That's right. With just a few substitutions you can make over these gorgeous treats into a dessert that is lower in calories. Bring on the skinny pudding parfaits.
Now I do say lower because let's be honest. It is a pudding parfait, so there are still some calories in it. Just keeping it real for ya. We all just need to practice moderation, right?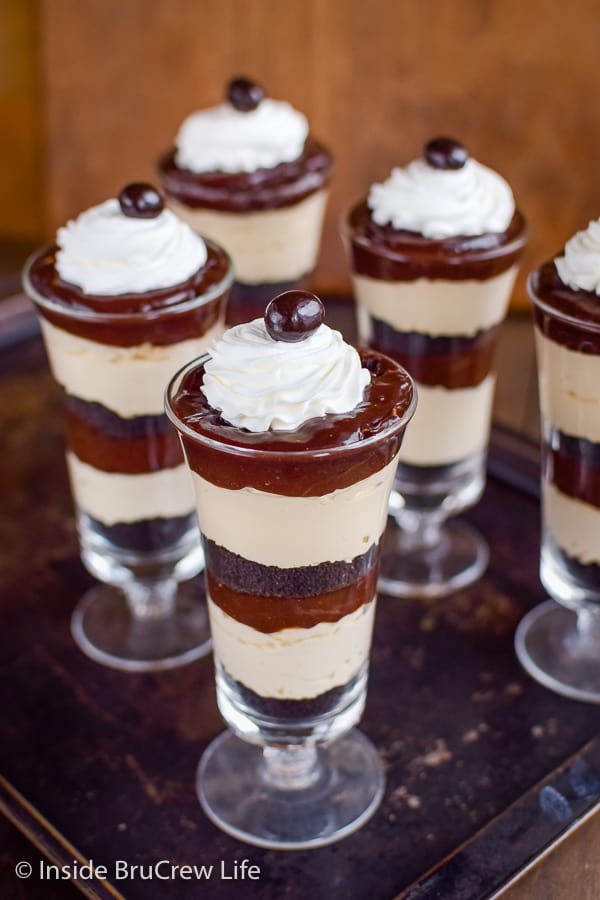 How to make Healthy Pudding Parfaits:
Fat-free or light cream cheese
Sugar-free pudding
Fat-free milk
Fat-free Cool Whip.
Using these ingredients will give you the same tasty dessert with fewer calories. Perfect for getting back into your skinny jeans sooner.
If you are looking for an even healthier pudding, try these Chia Seed Pudding Parfaits. They are one of my favorite healthy treats.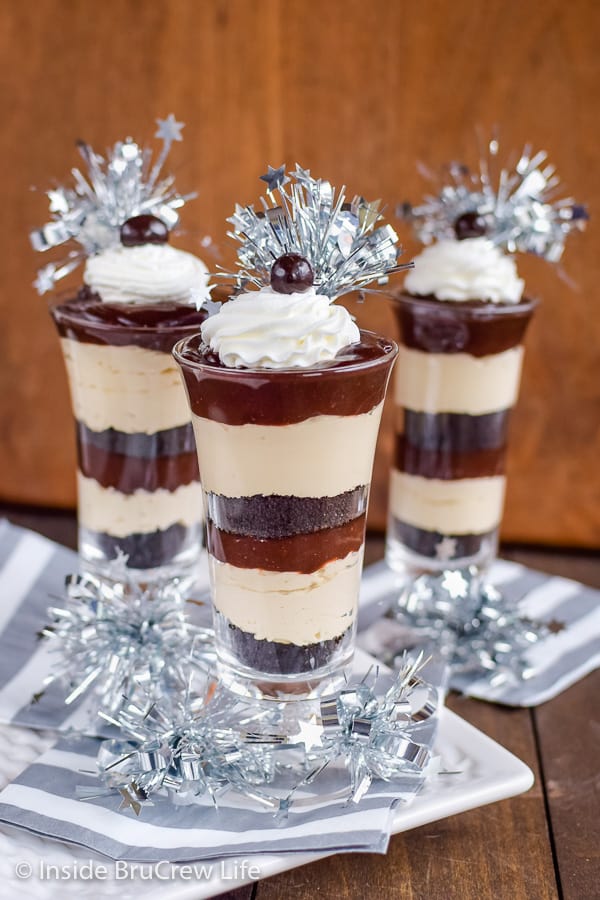 The little hit of coffee in these chocolate pudding parfaits makes these the perfect dessert to share at New Year's Eve parties too.
We will all need that extra caffeine shot to keep us going until that ball drops into Times Square. Am I right?
How to make Mocha Fudge Pudding Parfaits:
Crush the Oreo cookies, cream included, in a food processor. You can also use a plastic bag and rolling pin if you don't have a food processor.
Beat the softened cream cheese and sugar until creamy.
Dissolve the instant coffee in milk. Add it to the cream cheese mixture and beat again until creamy.
Fold in thawed Cool Whip.
Whisk together milk and chocolate fudge pudding mix. Refrigerate the pudding for 5-10 minutes, so it can thicken.
Layer the cookie crumbs, coffee cheesecake, and fudge pudding in 6 large parfait glasses. Refrigerate until ready to serve.
Top with a swirl of Cool Whip and a chocolate covered coffee bean right before serving.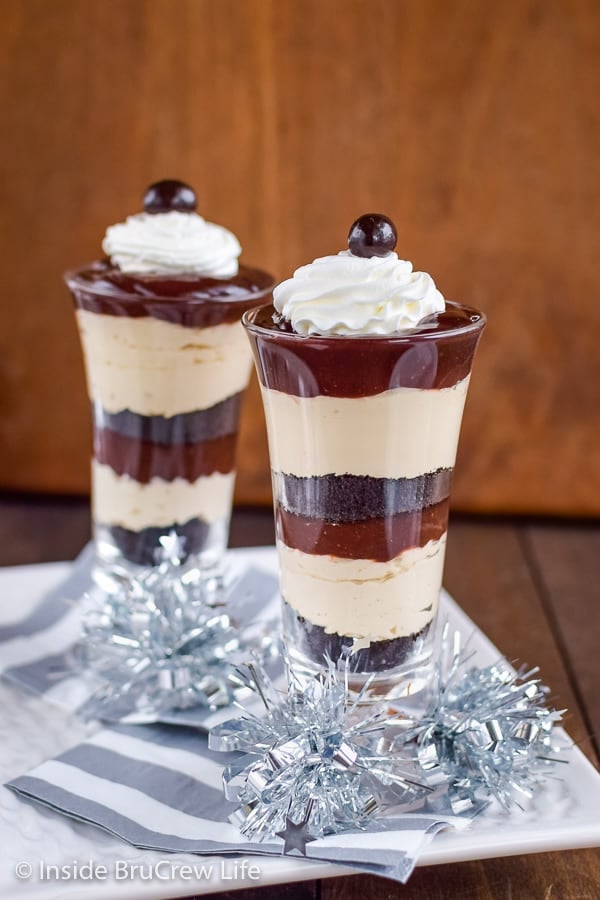 More easy no bake parfait recipes you may like: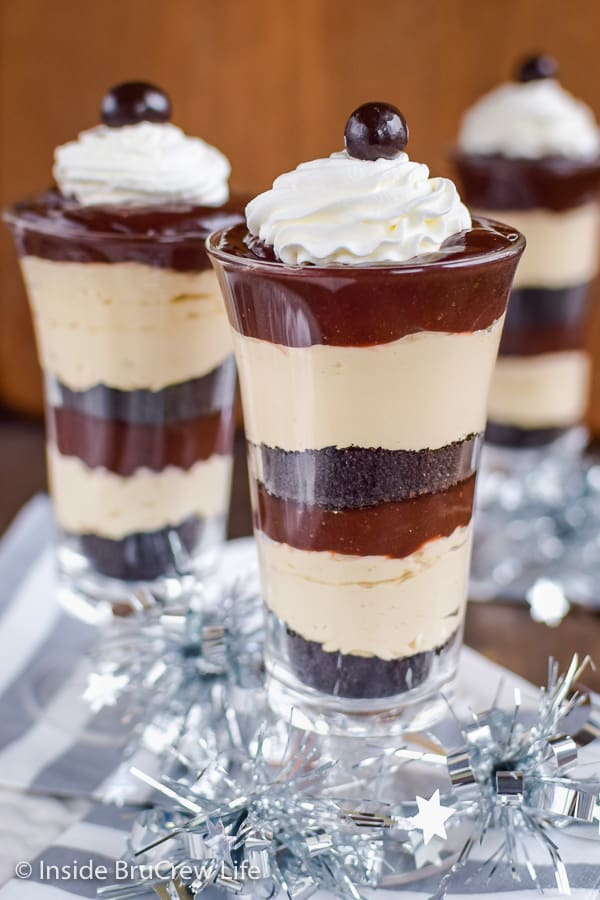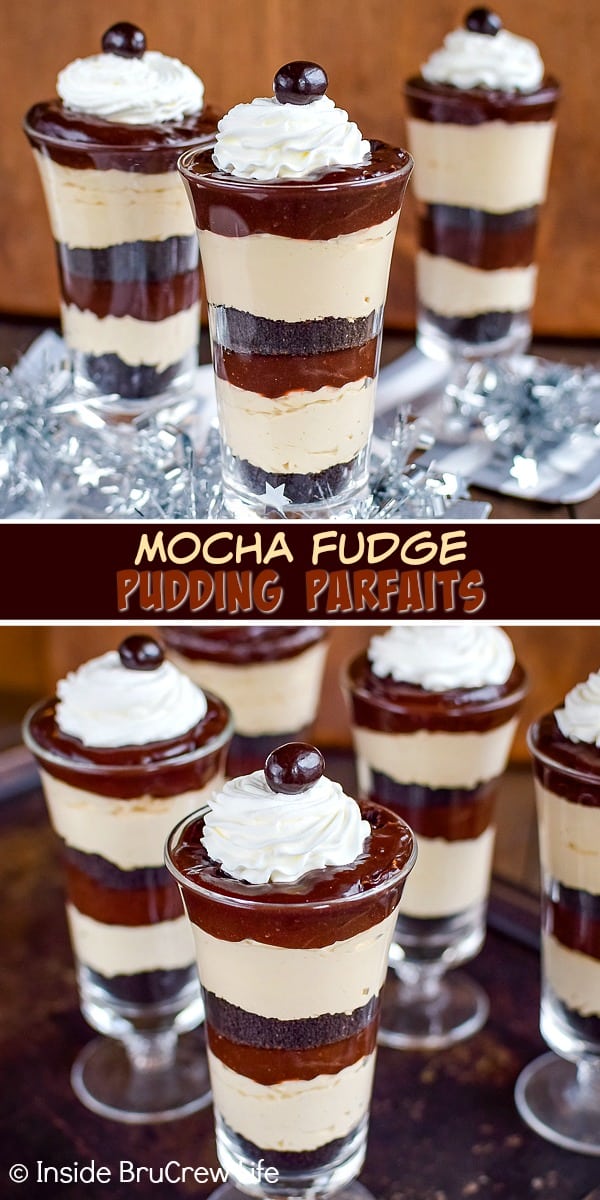 *The post for Mocha Fudge Pudding Parfaits was first published on December 29, 2014. The photos and post have been updated and republished on December 30, 2019.