A quick and easy breakfast or dinner with a fun party taste.  These Banana Oreo Pancakes are the perfect over the top breakfast treat!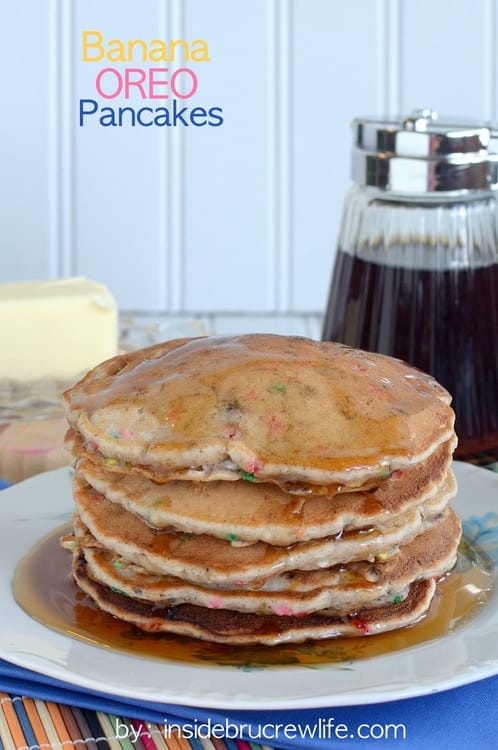 Pancake night really means no dinner inspiration or no cooking desire was found in me for the night. Breakfast for dinner comes in handy all the time!
We all have our own little pancake eating quirks too.
Our littlest guy only likes butter. Our daughter has to have butter and sugar. The oldest likes peanut butter and chocolate syrup.
Me, I just go for the straight syrup…maybe some butter. And the hubby, well, he does syrup most of the time, then chases it down with the butter and sugar method.
Every once in a while we pull out the fruit and Cool Whip, but the kids aren't as crazy about that unless we are doing "turkey" or "santa" pancakes. Then it is just about the decorating, because they don't like to eat pancakes that way.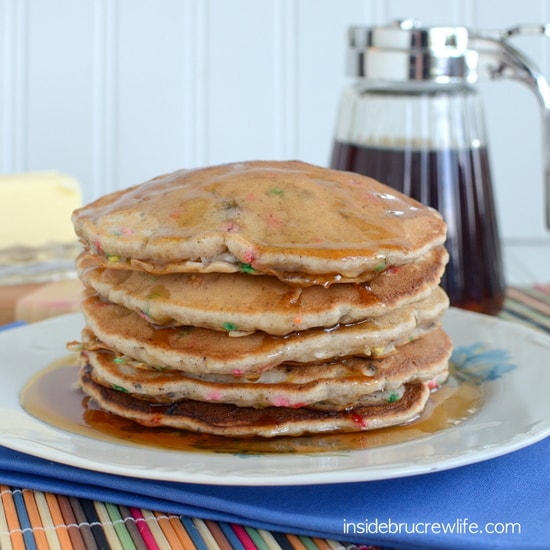 Banana Oreo Pancakes
I was feeling adventurous the other night, plus I had some brown bananas that needed used up right away.
Into the pancake batter they went. And why not throw Oreos and sprinkles in too?  Just for some more fun! Don't you think that sounds good?
Well, let me just tell you… these were super duper yummilicious!!!! I loved how the flavors weren't totally over the top sweet
or obnoxious.
They were perfect drizzled (or drenched) in maple syrup.
Of course I had to make a batch of plain pancakes too because the kids didn't want to mess up their pancake style with mom's crazy pancake creation.
They all tried a new one (and liked it) but then went back to the plain ones. Crazy kids!
Just means more yummy pancakes for me.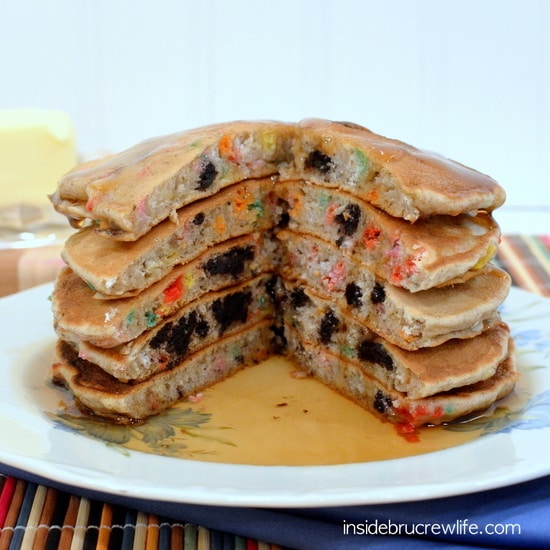 Now that I think about it…I think I froze the leftovers that night.
Yay!  I know what I am having for breakfast now!
Do you have any pancake eating quirks???
Banana Oreo Pancakes recipe: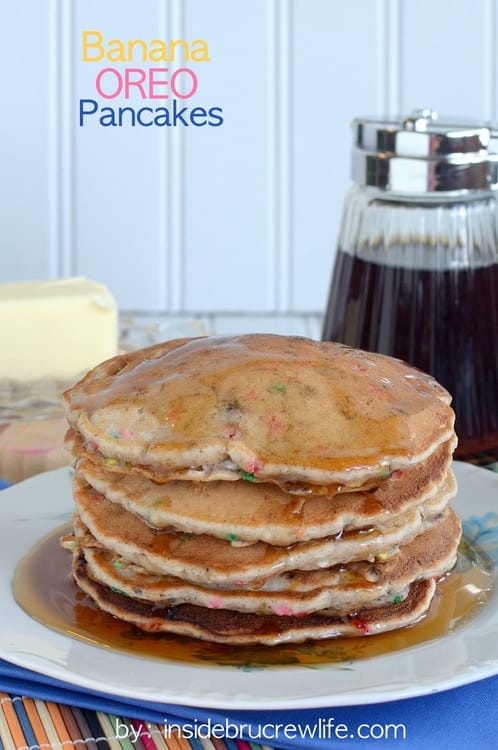 Bananas, Oreo cookies, and sprinkles give these pancakes a fun party taste.
Ingredients
2 cups pancake mix (I use Krusteaz)
1 1/4 cups water
2 Tablespoons sour cream
2 ripe bananas
1 1/2 cups chopped Oreos
1/4 cup colored sprinkles
Instructions
In a bowl combine the pancake mix, water, and sour cream. Gently stir until just combined. Smash the bananas and stir into the batter. Very carefully stir in the Oreos and sprinkles.
Cook on a hot pancake griddle for at least 1 minute per side or until lightly brown on both sides. Serve warm with syrup. Makes about 15 four inch pancakes.
https://insidebrucrewlife.com/oreo-banana-pancakes/
Copyright Inside BruCrew Life