Quickly make this Homemade Bisquick using common pantry ingredients. It's the perfect substitute for baking mixes. Once you try this simple recipe, you'll never need to buy another box mix again.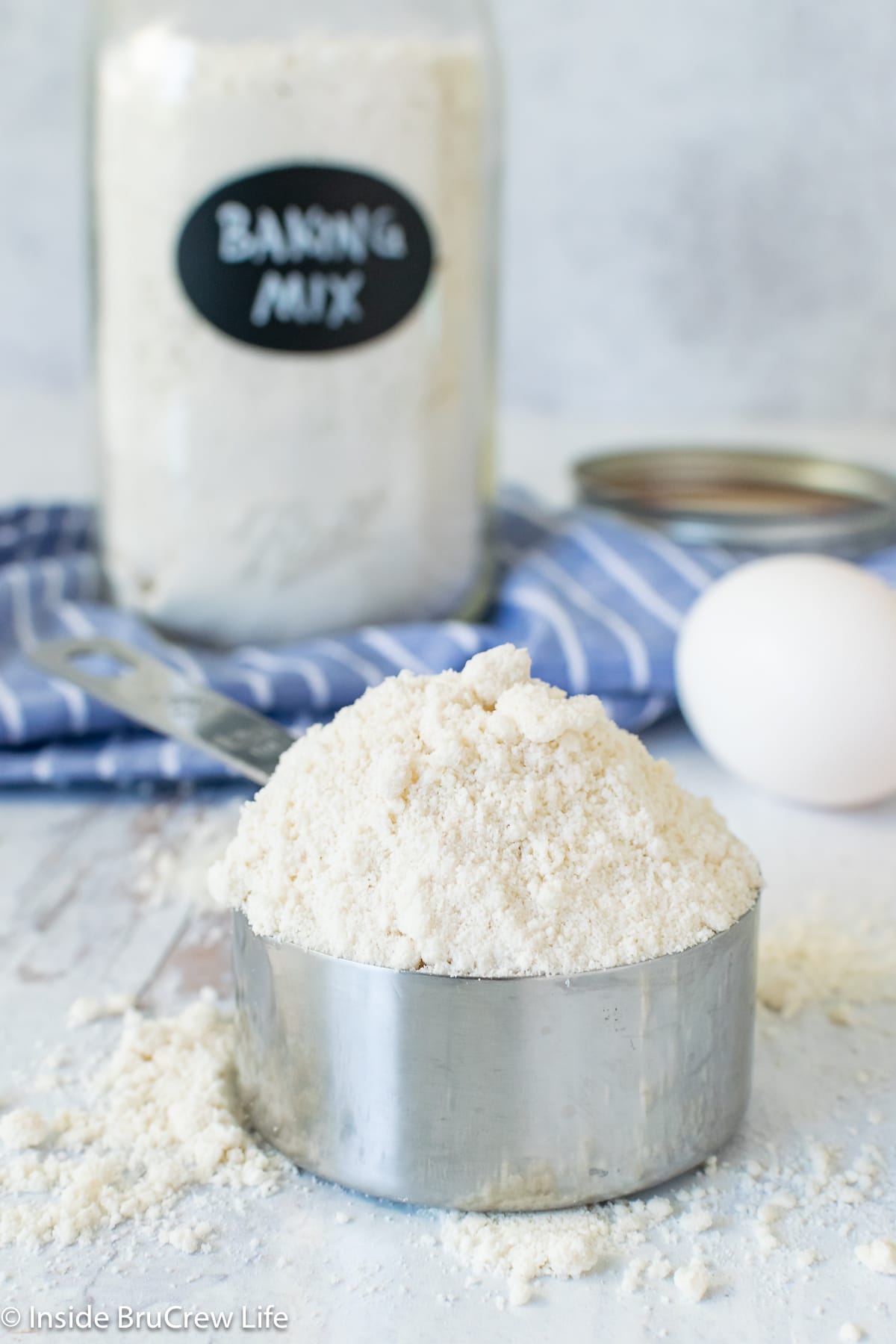 Growing up we always had a yellow box of Bisquick in our cupboards. We used that baking mix shortcut to make cornbread, chicken and dumplings, and strawberry shortcakes.
One day, we ran out of baking mix, and I discovered how simple it is to make. Did you know you can make a Bisquick substitute using ingredients in your pantry? This substitute can be used whenever baking mix is needed.
If you grew up using Bisquick for baking, give this homemade mix a try. It's so simple to make and lasts up to 4 months!
Jump to:
Why Make Your Own Homemade Baking Mix
You'll want to have your own DIY Bisquick mix in your pantry for so many reasons! Making this pantry staple with common ingredients is easier than buying boxed baking mix at the grocery store.
Easy to make. You only need to mix a few ingredients, then cut in shortening using a pastry cutter. It makes baking a breeze!
So versatile. Although many people use their mix to make Bisquick biscuits, you can use it for much more than fluffy biscuits. We use it for pancakes, waffles, quick breads, muffins, and raspberry Danish.
Saves time and money. Simplify baking with our easy homemade Bisquick mix. Plus, it costs less to make it with ingredients you already have.
Better ingredient quality. Avoid preservatives by making your own mix without chemical stabilizers.
What is Baking Mix?
Premade baking mix is a ready-made mix of flour, baking powder, salt, and shortening. The original Bisquick also contains sugar, but that is optional.
Bisquick Ingredients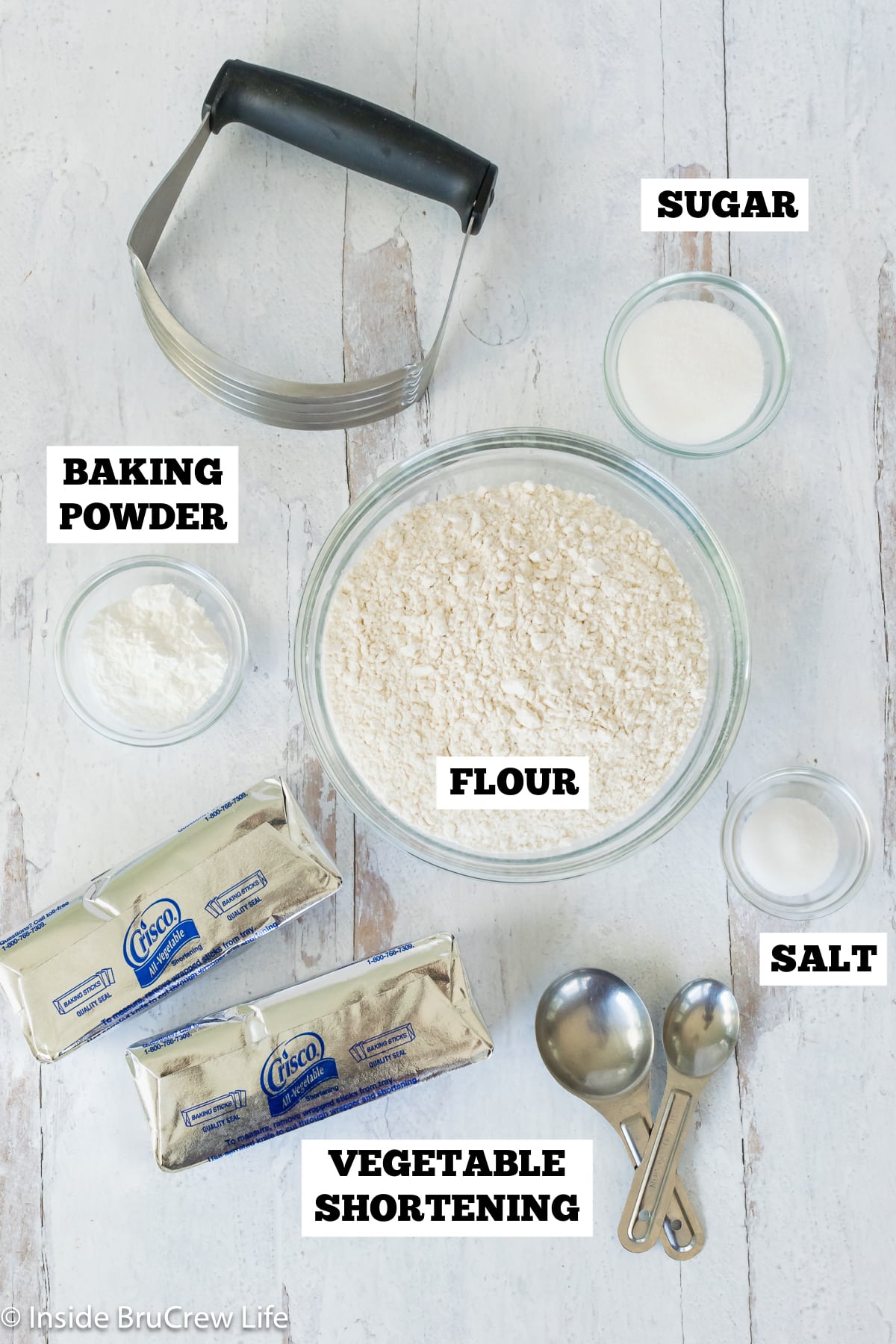 This easy DIY baking mix can be made in minutes using a few basic ingredients you already have. Use this homemade Bisquick recipe cup for cup in any recipe that calls for Bisquick or Jiffy Mix.
Flour - Use regular all-purpose flour. You don't need anything fancy here.
Baking Powder - This is the only leavening agent in this mixture, so it's essential to help your biscuits or pancakes rise.
Granulated Sugar - This is optional but common in the boxed mix!
Salt - This will help activate the baking powder and give your homemade biscuit mix a nice flavor.
Vegetable Shortening - This adds a tender texture. You can also use solid coconut oil instead.
How to make Homemade B

isquick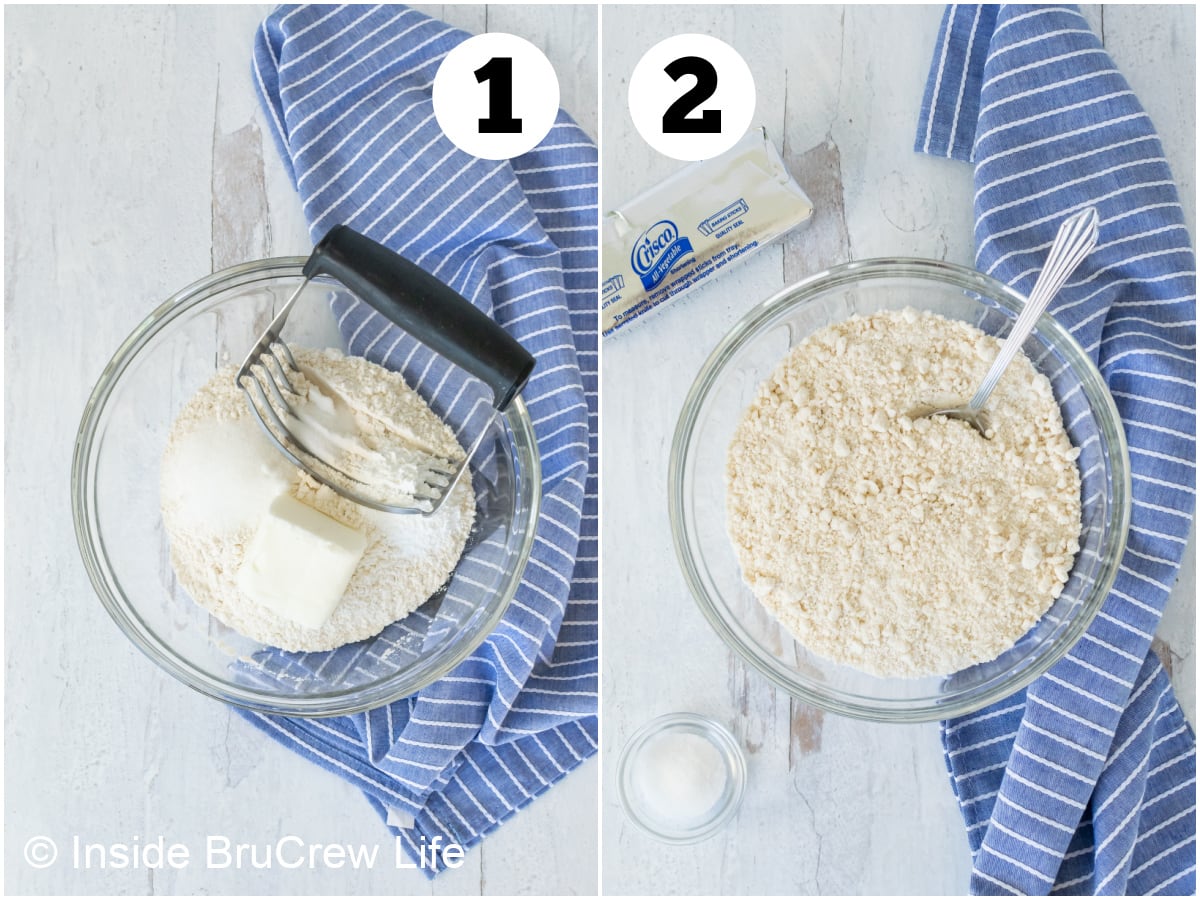 Homemade Bisquick comes together in just a few minutes. All you have to do is mix the ingredients and then refrigerate the baking mix.
In a large bowl, stir together flour, baking powder, salt, and sugar.
Add the vegetable shortening to the dry ingredients. Use a pastry blender or fork to cut the shortening into it until no large pieces are visible. You should still see pea-sized pieces of the shortening in the mix.
Spoon the baking mix mixture into an airtight bag or container, then place in the refrigerator.
Storage Recommendations
Store the mix in a sealed container at room temperature or in your refrigerator for 4 months.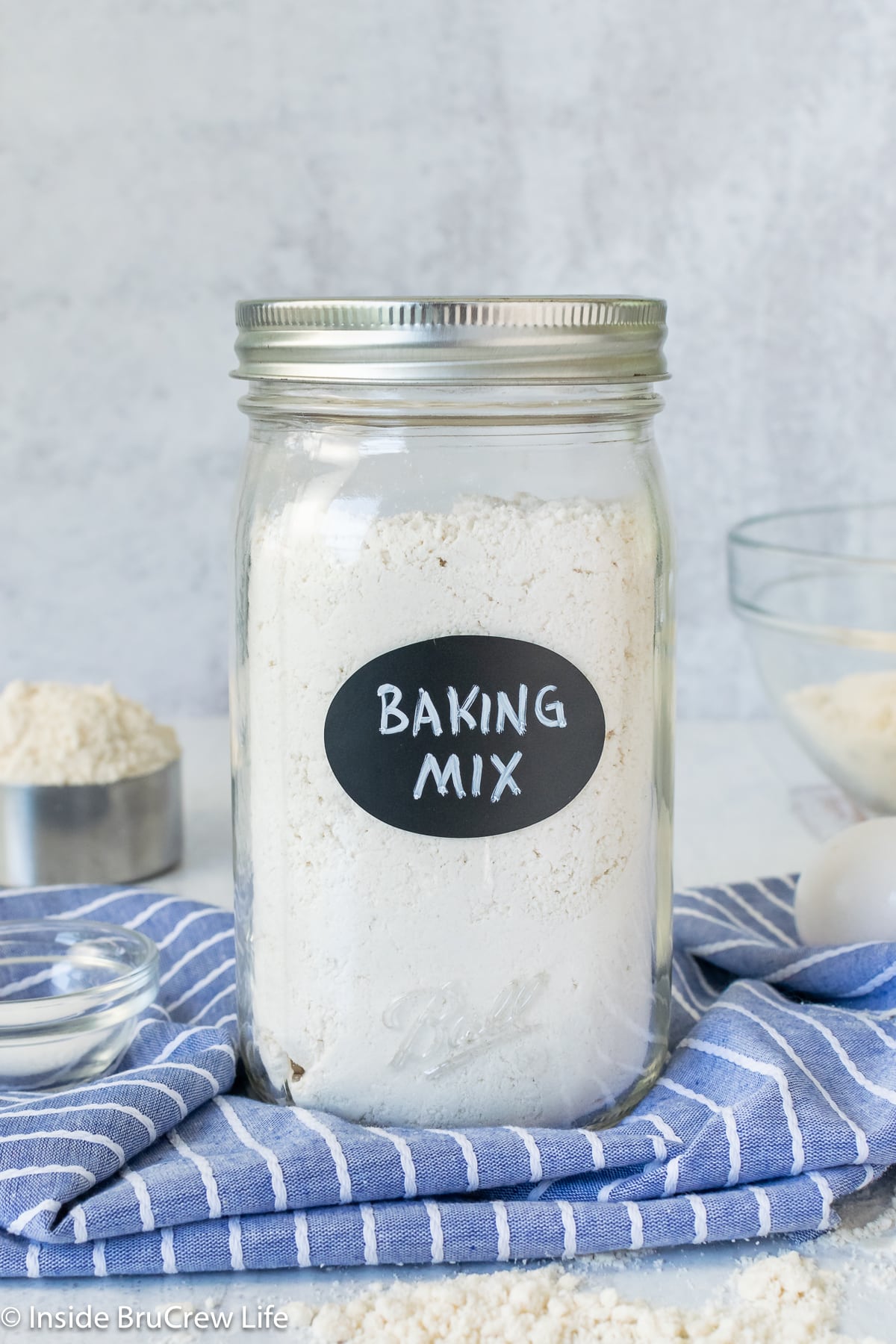 Tips and Tricks
Use a food processor. A food processor speeds things up. It's important not to overmix the mixture, or the shortening pieces will be too small. Just pulse the ingredients together until you see pea-sized pieces of shortening. Those will add a flaky texture when you're baking.
Scale up or down. You can easily make a smaller batch of this easy recipe or make a full-size batch! Since it has a 4-month shelf life, make as much as you think you'll need.
Make custom mixes. Create a unique pancake mix by adding extra sugar and spices, like cinnamon or pumpkin pie spice.
Variations
Substitute whole wheat flour. Add fiber and nutrition by replacing some of the flour with whole wheat flour. It's important to note that whole wheat flour requires more moisture than all-purpose flour. It's best to replace only ⅓ to ½ of the flour with whole wheat flour.
Use real butter. Although butter won't store as long as shortening or coconut oil, you can easily cut in unsalted butter. However, it must be kept in the fridge and used within two weeks.
Make it sweet. Add more sugar to the mix for a sweeter mixture. You can also keep the sugar out and sweeten each recipe.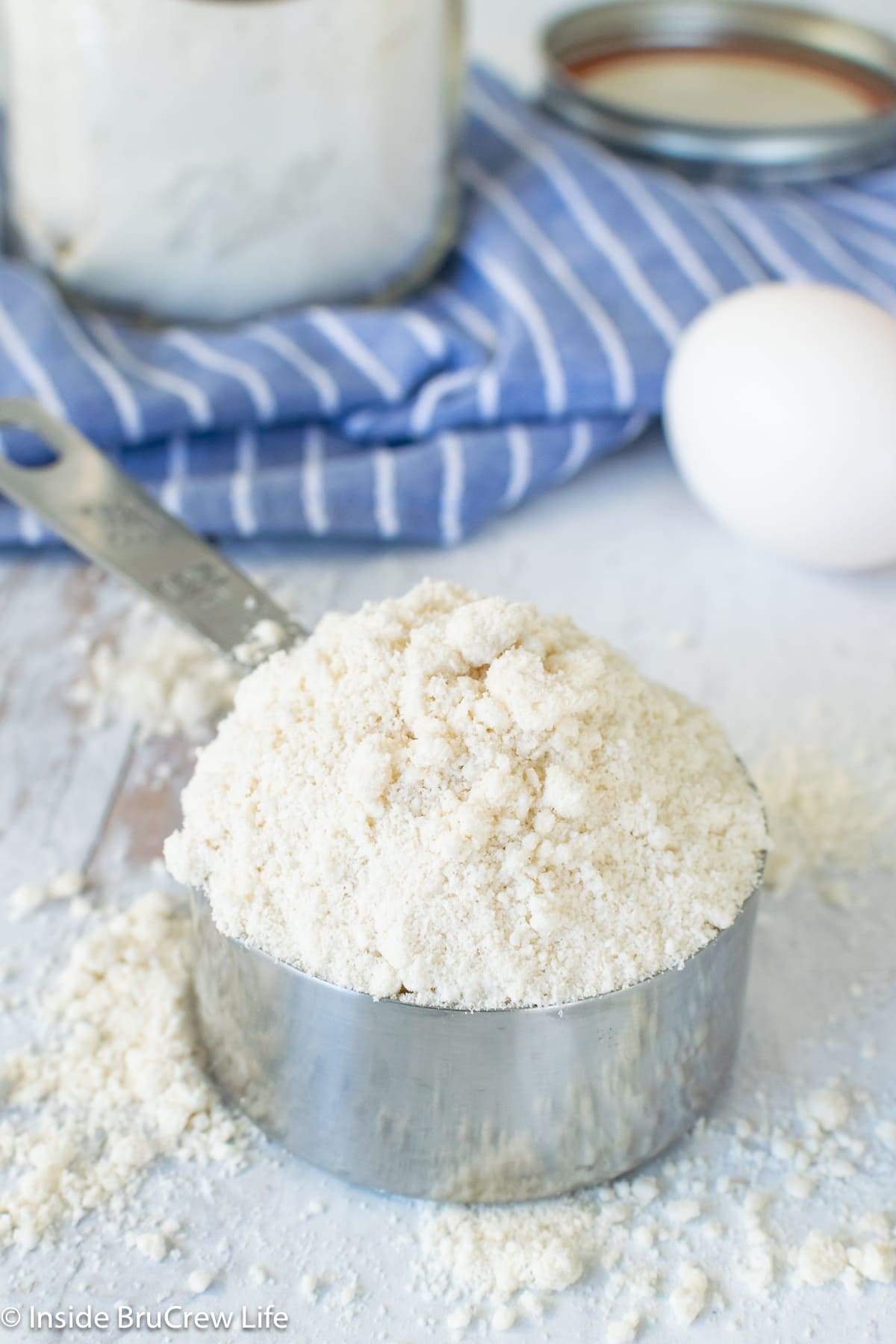 FAQs
How long does homemade bisquick mix last?
This copycat baking mix stays fresh for up to 4 months. We usually make a smaller batch, so it usually does not even last that long.
How do you store this homemade bisquick recipe?
Store the baking mix in an airtight bag or container in the refrigerator. I like to keep the mix in Mason jars.
What can I substitute for the shortening in this mix?
Feel free to use butter or solid coconut oil instead of the shortening. If using real butter, make sure you refrigerate the mix.
Recipes using Homemade Bisquick
It's very useful to have a homemade baking mix stored in your pantry so you can create easy recipes. Here are a few of our favorite recipes using DIY Bisquick!
Do you love a recipe you tried from Inside BruCrew Life?
Please leave a 5-star ⭐️ rating and a review in the comments section below.
*This post was first published in April 2020. It was updated and then republished in October 2023.