This Homemade Baking Mix recipe comes together in minutes with ingredients that you have right now. It is the perfect Bisquick substitute. Once you see how easy it is, you will never buy another all purpose baking mix again.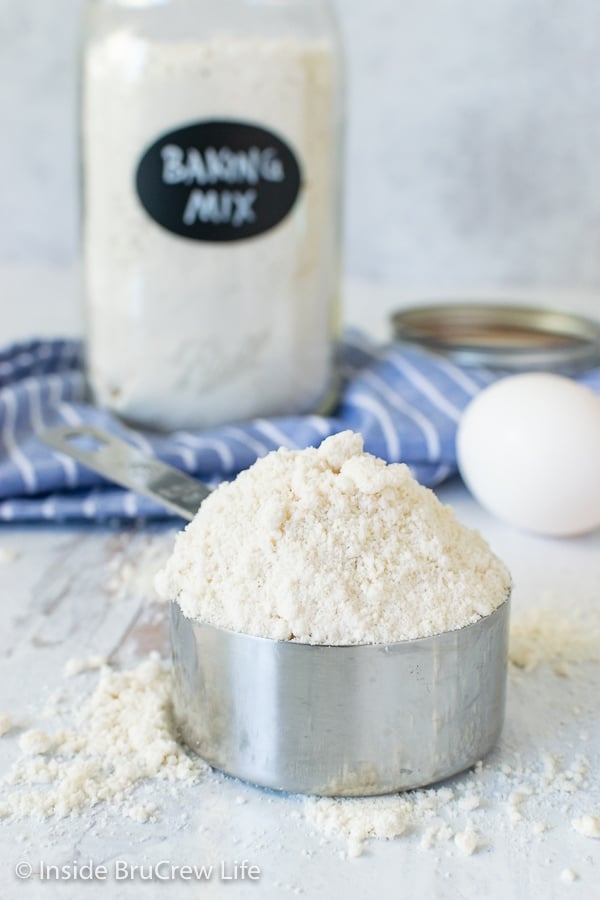 Homemade Baking Mix
Growing up we always had a yellow box of Bisquick in our cupboards. We would use this baking mix shortcut to make biscuits, chicken and dumplings, and strawberry shortcake.
To be completely honest, as a kid I never questioned using a mix. I just thought it was a staple that you had to buy. Even later in life when we got married, I continued to keep a box of baking mix in our pantry.
Then one day I wanted to make pancakes for breakfast, and I realized that we were completely out of the all purpose mix. A couple searches showed me exactly what was in the store bought mix, so I made a quick homemade Bisquick substitute.
I love that this homemade baking mix is easy to make, saves me money, and I know exactly what is in it.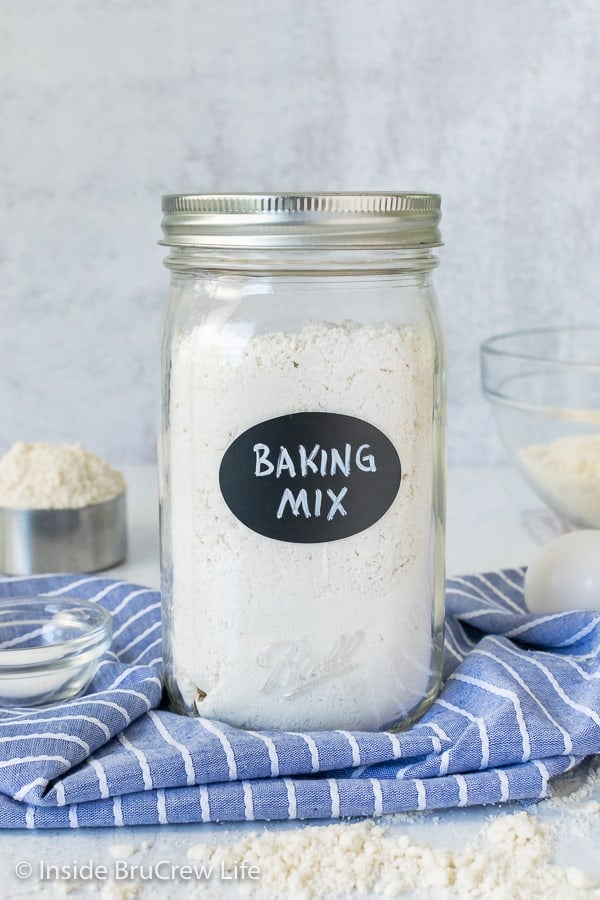 What is Baking Mix?
Baking mix is a ready made mix consisting of flour, baking powder, salt, and shortening. The original Bisquick also contains sugar, so I usually add a tiny bit as well, but that is optional.
You can use this all purpose mix to bake cornbread, biscuits, waffles, pancakes, or a Raspberry Danish.
Bisquick Ingredients
This easy DIY baking mix can be made in minutes using a few basic ingredients from your pantry. You can use this homemade Bisquick recipe cup for cup in any recipe that calls for Bisquick or Jiffy Mix.
Flour
Baking Powder
Sugar
Salt
Vegetable Shortening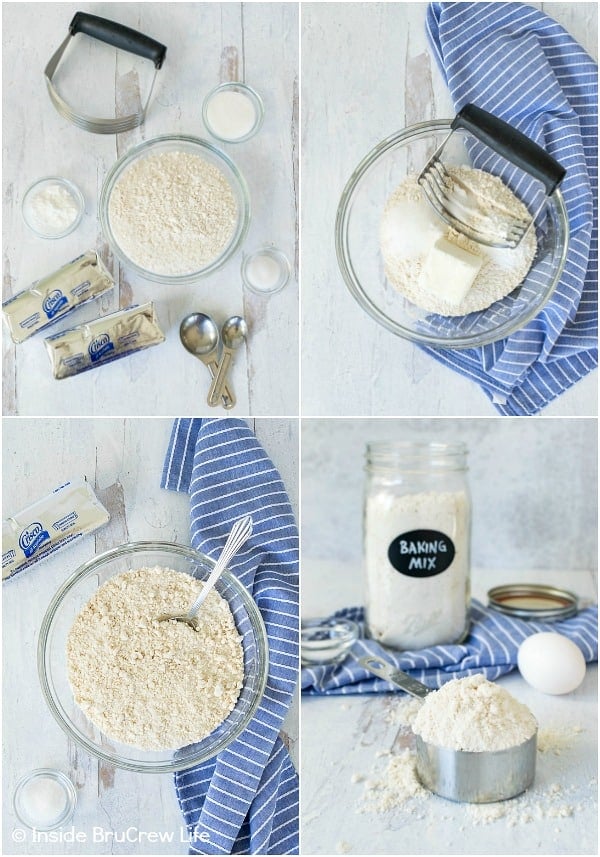 How to make Homemade Baking Mix
Homemade Bisquick comes together in just a few minutes. All you have to do is mix the ingredients and refrigerate. It will literally only take 5 minutes to have a batch of baking mix ready to use.
In a large bowl, stir together flour, baking powder, salt, and sugar. (full recipe at bottom of post)
Add the vegetable shortening to the dry ingredients. Use a pastry blender or food processor to cut the shortening into it until no large pieces are visible. You should still see pea-sized pieces of the shortening in the mix.
Spoon the baking mix mixture into an airtight bag or container and place in the refrigerator.
Frequently Asked Questions
How long does homemade bisquick mix last?
This copycat baking mix will stay fresh for up to 4 months. We usually make a smaller batch, so it usually does not even last that long.
How do you store this homemade bisquick recipe?
Store the baking mix in an airtight bag or container in the refrigerator. I like to make small batches of this simple recipe and store it in large Mason jars because they fit easily across the back of our fridge.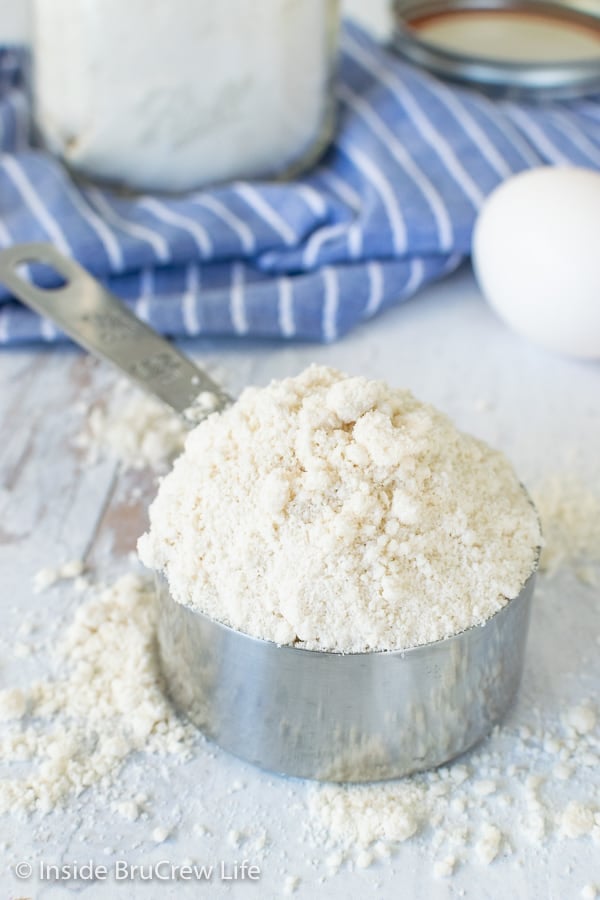 Recipes using Homemade Bisquick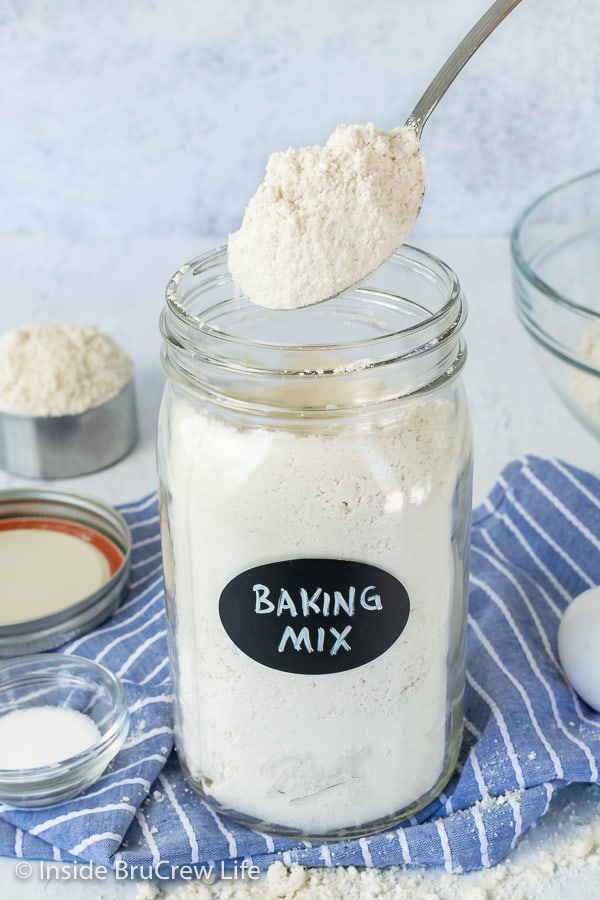 Love a recipe you tried from Inside BruCrew Life?
Please leave a 5 star ⭐️ rating and/or a review in the comments section further below.