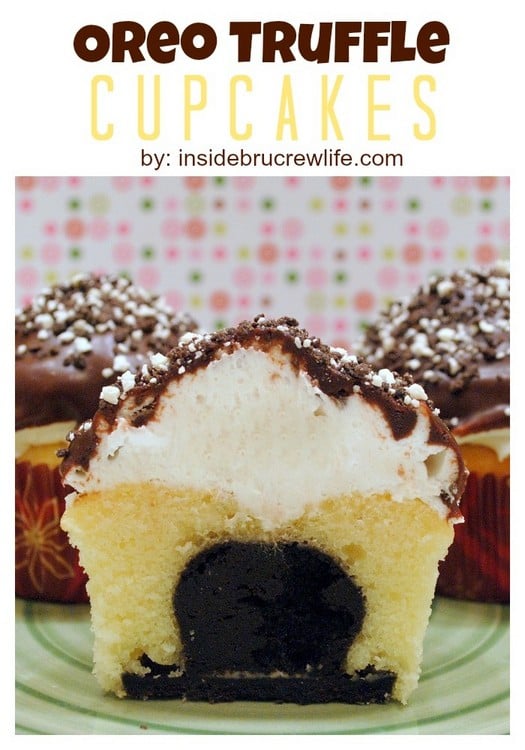 Do you like cupcakes?
Do you like Oreo truffles?
Then these are the cupcake creation for you!!!!
These
Oreo Truffle Cupcakes
were
SIMPLY AMAZING!!!!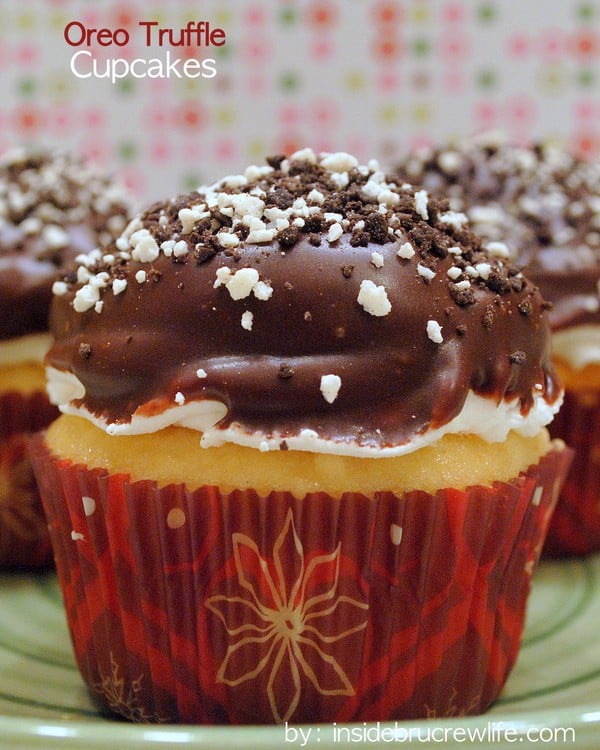 I had a vision the other night of
a vanilla cupcake with an Oreo truffle baked inside.
Make these I must!
(imagine that said in my best Yoda voice)
LOL!
First I googled it and YAY!!!!
This is an original idea…
I didn't find anyone else that had done this before!
Gotta love that when it happens!
(I have seen quite a few versions since I first made these now)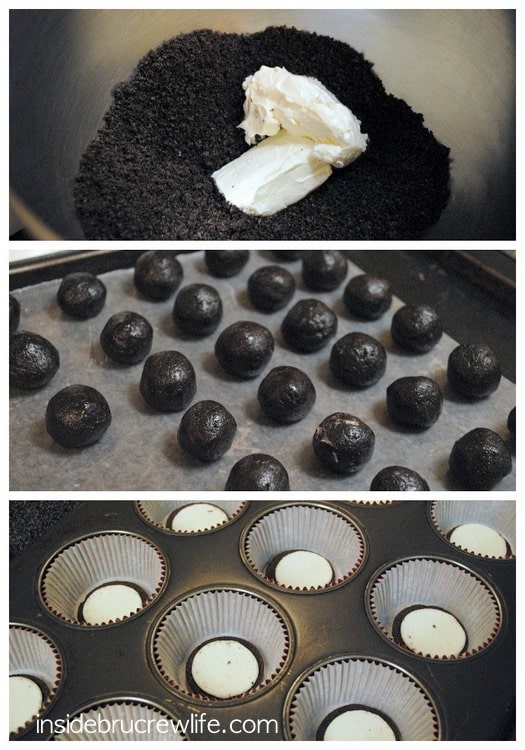 You should probably give away most of these
before you consume more than you should.
Believe me this is a sugar high waiting to happen 🙂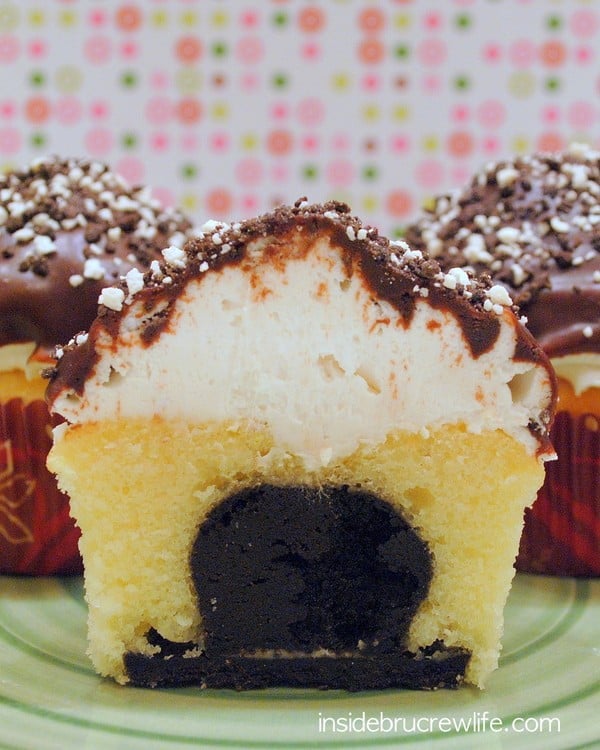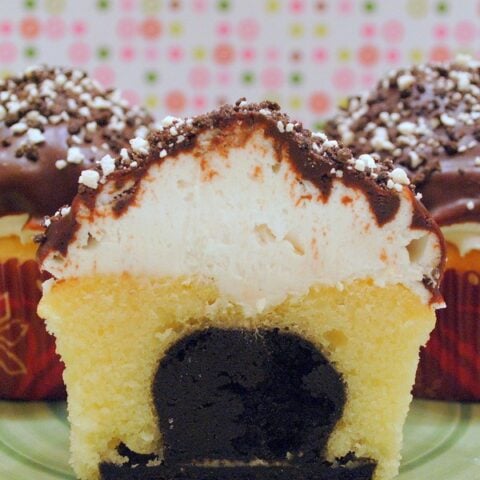 Oreo Truffle Cupcakes
An Oreo truffle is baked into the bottom of these cupcakes and then topped with 2 kinds of frosting. They are amazing!
Ingredients
1 package Oreo cookies, divided
4 ounces cream cheese, softened
1 vanilla cake mix (15.25 oz.)
1 container canned chocolate frosting
1 cup shortening
1 cup butter
1/4 teaspoon salt
4 Tablespoons whipping cream
1 Tablespoon vanilla
8 cups powdered sugar (32 oz. bag)
sprinkles
Instructions
Crush 24 Oreo cookies into crumbs. Beat in the softened cream cheese. Roll into at least 24 balls that are 1 1/2 inch big. Freeze for 30 minutes.
Mix up the cake mix according to the package directions. Place 1/2 an Oreo cookie into the bottom of 24 cupcake liners. You can use either side of the cookie for this. I leave the frosting on the cookies too. Fill the liners one third full of batter. Drop a frozen Oreo truffle into each cupcake liner. Top with enough batter to cover the truffle. Do not fill more than 3/4 full. Bake at 350 degrees for 18-20 minutes. Let cool completely.
Beat together the butter, shortening, salt, whipping cream, and vanilla until creamy. Slowly add the powdered sugar until it is all incorporated. Beat for 1-2 minutes longer. Frost the tops of the cooled cupcakes with a decorating bag and Wilton decorating tip. Place the frosted cupcakes in the freezer for at least 30 minutes.
Remove the foil liner from the canned frosting. Place in the microwave for 30 seconds. Stir and repeat until the frosting is runny. Remove cupcakes from freezer and dip the top of the butter cream into the heated frosting. Carefully let the excess drip off, then top with sprinkles and let set. Makes 24 cupcakes. Keep refrigerated.
Notes
You may have extra Oreo truffles depending on how big you roll the balls. Dip any extras in chocolate and enjoy.