Breakfast never looked better than it did with Peanut Butter Banana Muffin Tops. The chocolate and Reese's Pieces are optional, but really why would you want to leave off the best part? Please don't answer that.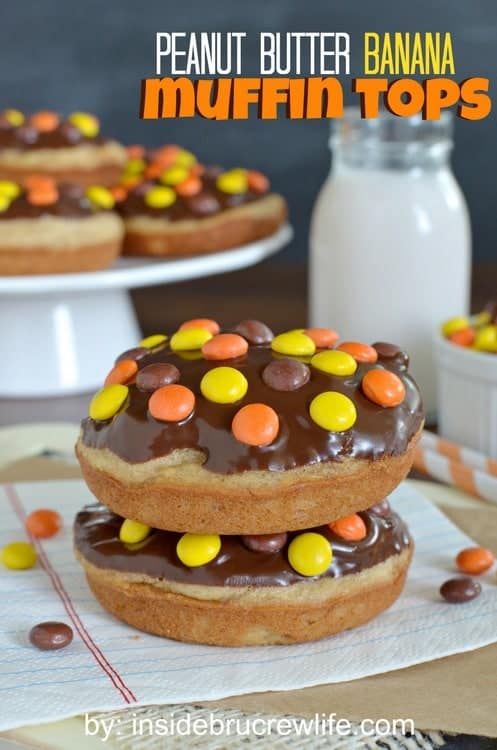 I feel old this morning. Today started the school journey for another year. It is hard to believe that I have a 9th, 6th, and 4th grader. When did they get that big?
It really does seem like just yesterday that we were dropping our oldest off for his first half day of K5...and now he is a high schooler. I never believed people when they said time flies with kids...but I have come to realize that is a reality. I feel like if I blink he will be going off to college. And that makes me sad...which is way worse than feeling old btw. No wonder I like to put chocolate on everything!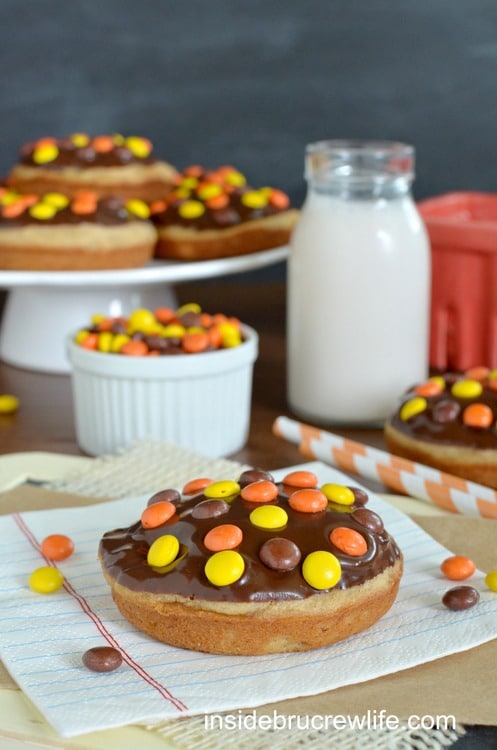 I do have to confess a few things this morning...
As much as I don't like my kids getting older, I do LOVE back to school time. It means the start of a new schedule...and let's be honest...quiet time all day long. I do absolutely love my kids with all my heart, but I love sending them off to school each morning too. Parents who home school you have my ultimate respect for what you do. I do not have the patience or skills to do it. My hat is off to you.
My second confession isn't really that big of a deal because I kind of do it all the time around here.
I made muffins...and then topped them with candy. And I let my kids eat them for breakfast and snack. See, I told you it was nothing out of the ordinary.
Feel free to just make the muffin tops plain. I don't really recommend it because...well, because I like chocolate and candy. But the muffin tops by themselves are good too if you are watching the extra calories. I used the Wilton Whoopie Pie pan to make my muffin tops.
I like to use yogurt in my muffins and donuts, so you will get a dose of dairy here too. Protein, dairy, and fruit for breakfast. Then add the chocolate and candy and we have a breakfast for the champions. Ok, fine a breakfast that might make the kids hyper for the teachers!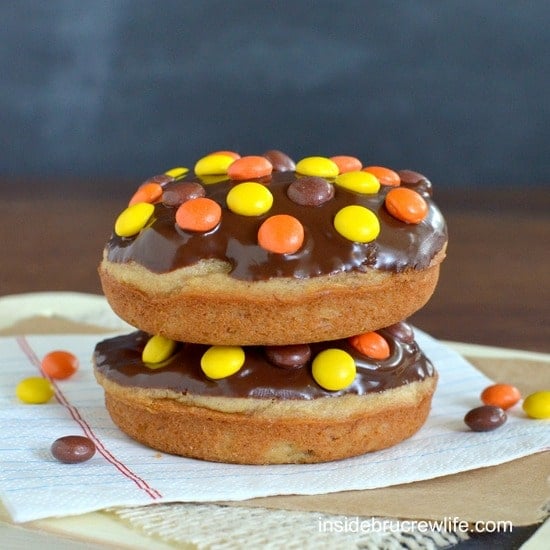 Last confession is for all my food blogger friends who will understand. I had to photoshop out some fuzzies on these pictures. Burlap isn't the best thing to use around chocolate that wasn't quite set all the way. But it sure makes a great texture underneath things, so I went with it anyway. Thank goodness for the clone button huh?
Go ahead and get some bananas ripening on your counter soon, because I really think you should give these peanut butter banana muffin tops a try...with or without the chocolate.
They are great for after school snacks too...or late night snacking sessions when you are busy cloning out fuzzies. What??? I was eating my fruit for the day! Wink, wink!