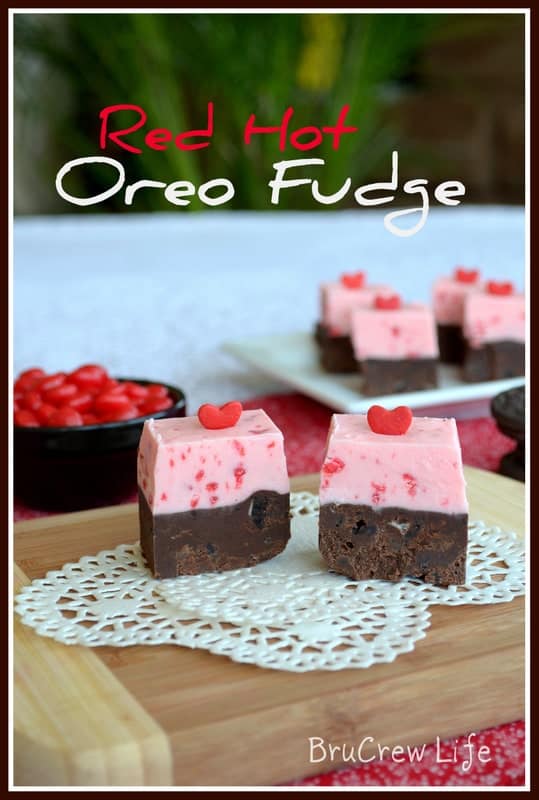 Let's talk about red hots. I don't know why, but when I think of red hots it reminds me of Valentines.
Can I tell you a secret?
I don't really like red hots (unless it is in this Crock Pot Cinnamon Strawberry Applesauce, or this Red Hot jello), but I discovered that if you melt red hots into vanilla frosting it turns into a yummy, slightly cinnamony goodness that is hard to resist!
Believe me I know...because I didn't resist it very well!
It is super easy to make because it only takes 2 ingredients. I love no fail fudge.
Melt the chips...melt the frosting...chill. Yummy fudge in less than 30 minutes.
Now that's my kind of fudge!!!
This is technically 4 ingredient fudge because I added cookies and candies, but still super easy to make...and to eat.
My biggest advice about this fudge...use a food processor to crush the red hots if you have one. I put mine in plastic baggies and
tried to smash the crap out of it with a wooden spoon.
Did you know red hots are super hard? It took a lot of effort to crush them. But once I tasted the fudge it was well worth the muscle
I had to put into it.
See how pretty it looks?
Believe me...it tasted as good as it looks too! Tasted because mine is all gone...that makes me kind of sad.