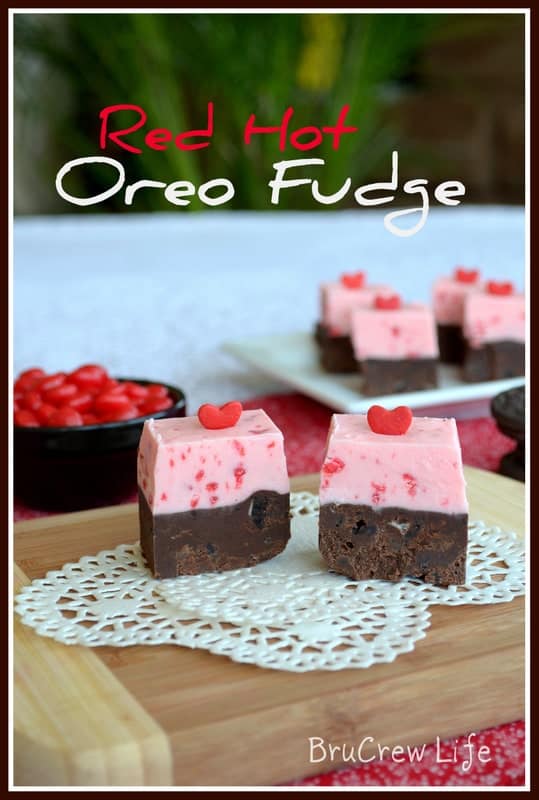 Today is a super fun day!
You get Red Hot Oreo Fudge…AND you get directed to 5 other amazing blogs with more yummy fudge recipes!!!
Just in time for Valentines Day too! You would think we planned it that way or something! The fudge hop links are at the bottom. Don't worry, we will get to them…I promise!!!

But first let's talk about red hots. I don't know why, but when I think of red hots it reminds me of Valentines.
Can I tell you a secret?
I don't really like red hots (unless it is in this red hot jello salad), but I discovered that if you melt red hots into vanilla frosting it turns into a yummy, slightly cinnamony goodness that is hard to resist!
Believe me I know…because I didn't resist it very well!
It is super easy to make because it only takes 2 ingredients. I love no fail fudge.
Melt the chips…melt the frosting…chill. Yummy fudge in less than 30 minutes.
Now that's my kind of fudge!!!
This is technically 4 ingredient fudge because I added cookies and candies, but still super easy to make…and to eat.
My biggest advice about this fudge…use a food processor to crush the red hots if you have one. I put mine in plastic baggies and
tried to smash the crap out of it with a wooden spoon.
Did you know red hots are super hard? It took a lot of effort to crush them. But once I tasted the fudge it was well worth the muscle
I had to put into it.
See how pretty it looks?
Believe me…it tasted as good as it looks too! Tasted because mine is all gone…that makes me kind of sad.
I'd say it is time to check out some new fudge recipes!!!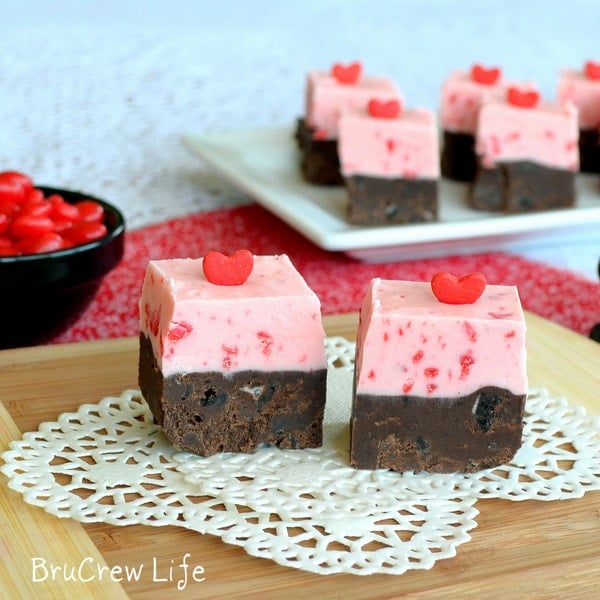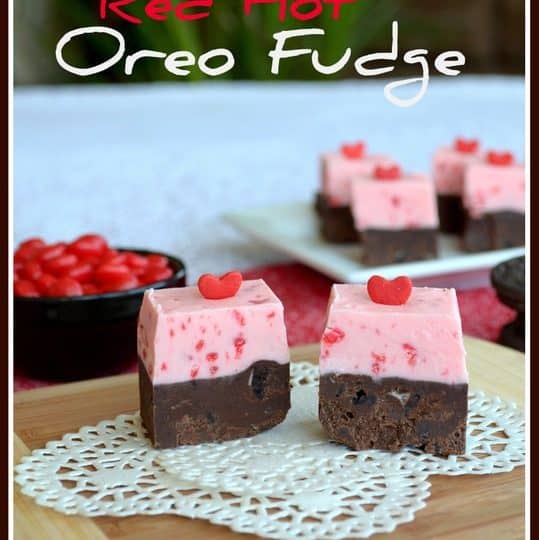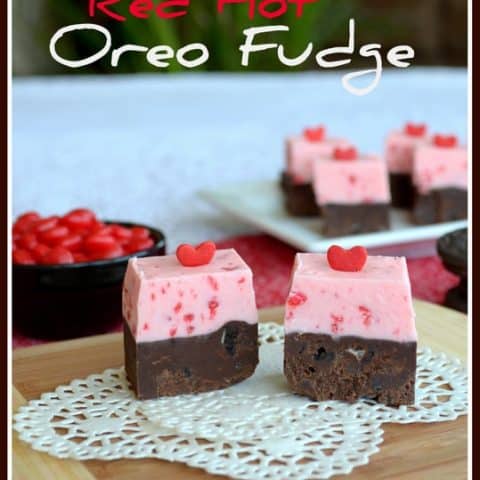 Red Hot Oreo Fudge
Two layers of chocolate and vanilla fudge with Oreo chunks and red hot candies mixed in.
Ingredients
For the Oreo Fudge
1 (16 ounce) can chocolate frosting
1 (12 ounce) bag chocolate chips
10 Oreo cookies, chopped up
For the Red Hot Fudge
1 (16 ounce) can vanilla frosting
1 (12 ounce) bag white chocolate chips
1/2 cups crushed Red Hot candies
Instructions
Line an 8x8 pan with foil.
In a saucepan over low heat, melt the chocolate chips. Stir until melted.
Stir in the chocolate frosting and continue stirring until melted and creamy. Stir in the cookie crumbles.
Pour into the lined pan. Refrigerate for 10 minutes or until set.
In a saucepan over low heat, melt the white chocolate chips. Stir until melted. Stir in the vanilla frosting and continue stirring until melted and creamy.
Stir in the crushed red hots. Stir a few minutes while the red hots melt and turn your fudge a pretty pink.
Pour on top of the chocolate oreo fudge and let set on the counter for 10 minutes.
Top with sprinkles and place in the fridge to set up completely.
Let the fudge come to room temperature before cutting into 49 squares.
Nutrition Information:
Yield:

49
Serving Size:

1
Amount Per Serving:
Calories:

29
Total Fat:

1g
Saturated Fat:

1g
Trans Fat:

0g
Unsaturated Fat:

0g
Cholesterol:

0mg
Sodium:

13mg
Carbohydrates:

4g
Fiber:

0g
Sugar:

3g
Protein:

0g
Nutrition facts are an estimate and are not guaranteed to be accurate. If you need special diet advice, please see a registered dietician.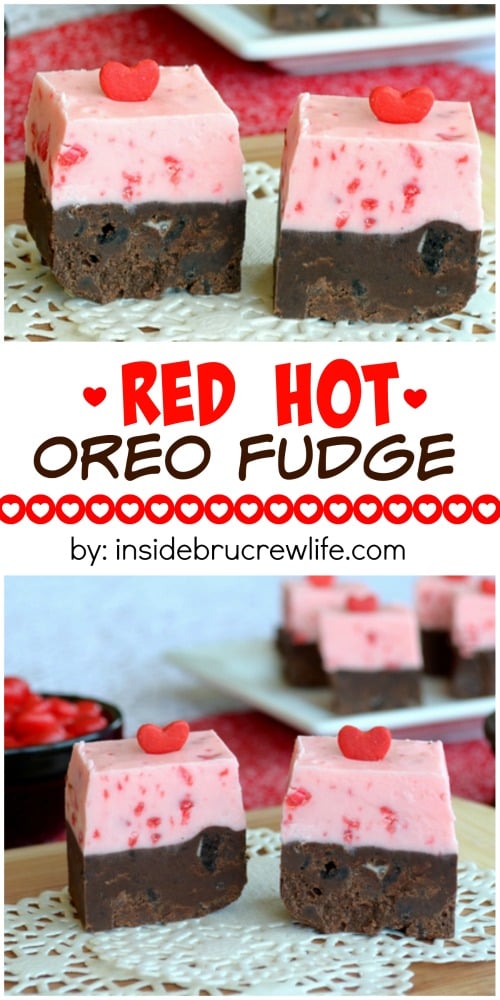 Now for the fun part of the Party…heading to the other blogs and seeing more fudge.
Be prepared to drool A LOT!!!
These 5 girls are some of my most favorite food bloggers!!! I love reading their blogs and seeing the yummy treats they come up with. And they are all sweet as can be! (the girls, not the fudge)
You are going to love them as much as I do!!!
Aimee from Shugary Sweets – Cherry Fudge
Dorothy from Crazy for Crust – 100 Grand Fudge
Ashton from Something Swanky – Red Velvet Fudge
Holly from Life as a Lofthouse – Snickers Fudge
Mandy from Mandy's Recipe Box – Smooth as Silk Fudge