This easy Sausage Supreme Pasta Skillet is loaded with meat, cheese, and tomatoes. It is a great dinner that can be ready in under 30 minutes.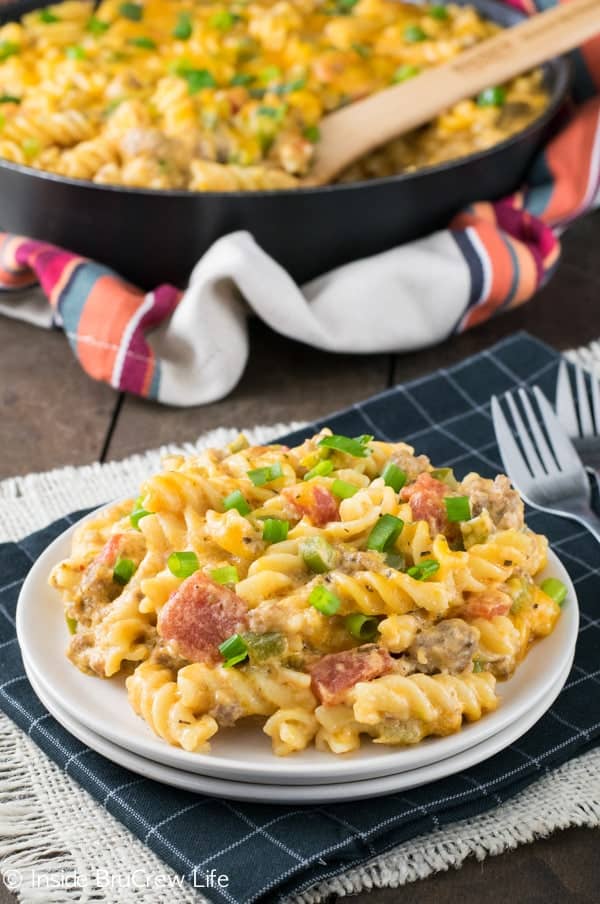 Yup, that is a plate of cheesy pasta staring back at you there. I have been on a mission to create a few more savory dishes around here, and so far I feel pretty good about getting one here and there to share with you.
The kids devoured this skillet dinner in a hurry. They really are my best taste testers because they will honestly tell me if they like, love, or hate a dish. Although I have gotten pretty good at making sure to put in the ingredients that they love.
Pizza is one food that we eat a lot of around here. Friday night pizza night happens on a very regular basis. This chicken supreme pasta bake has been so popular that I knew I wanted to create another easy skillet dish. This time I used a sausage supreme pizza as my inspiration. Although I did leave out the mushrooms because the taste testers here would have totally revolted if I had tried to hide them under the cheese.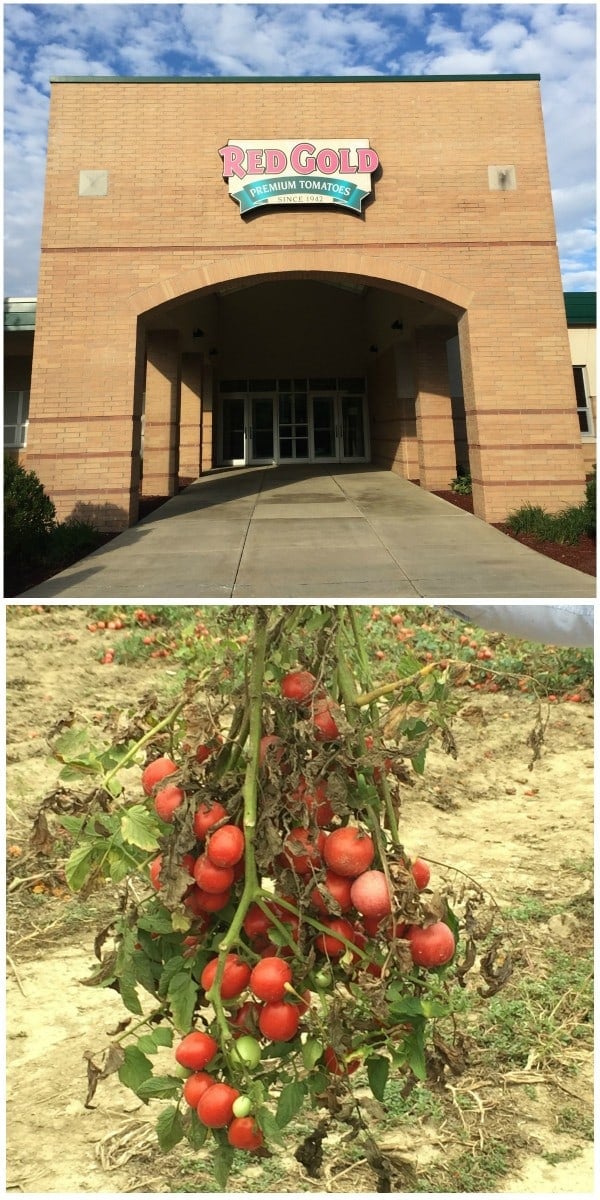 A few weeks ago I had the amazing opportunity to visit the Red Gold Tomatoes headquarters here in Indiana. I love being able to see local businesses in my area and find out how they are run.
We stopped at one of the family farms the first night to learn how tomatoes are harvested.
Everything is done by machine in the field. The large claw like tractor runs along the plants digging up the entire plant and feeding it onto a conveyor belt. Then the tractor shakes off the vines and dirt and sends the tomatoes out the top into a truck that is driving along side the tractor. It was so fun to watch the process.
As soon as the tomatoes are harvested, the truck heads to the plant. The tomatoes will start to break down after being picked, so the farmers have a window of time that the truck needs to get to the plant.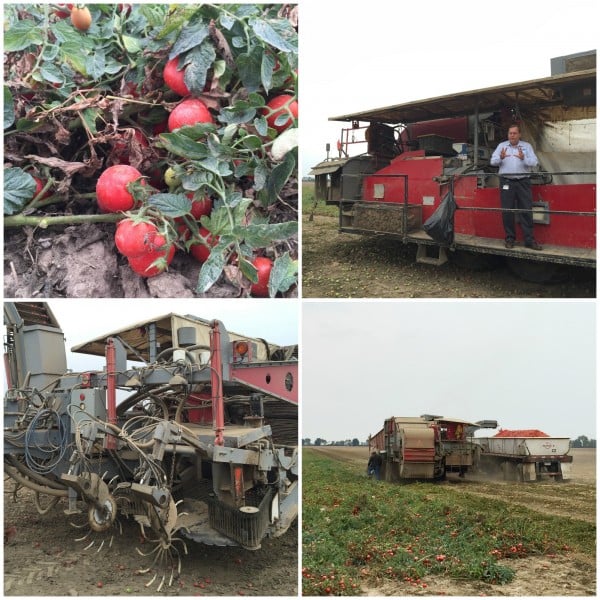 The next day we headed to the tomato plant to watch the tomatoes journey from truck to can. It is absolutely amazing to watch the process. I was in awe as I watched each step of the journey.
The tomatoes go through various washing phases before heading into the plant. In the plant it gets peeled and sent through stations where workers remove damaged tomatoes by hand.
Depending on what variety of canned tomato product they are working on for the day, the tomatoes will continue on through the machines and into the cans as whole, diced, juice, or ketchup.
One of my favorite things to see was how fast the cans were moving on the belts. There were certain spots where the cans did flips and twists...kind of like a mini roller coaster for food.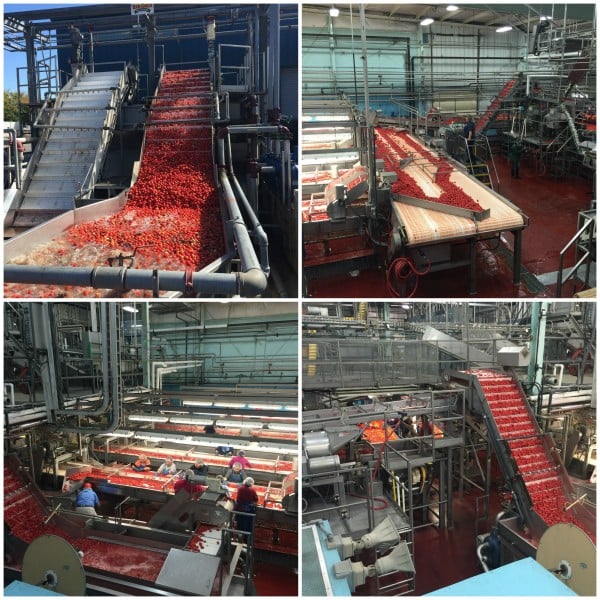 I love that Red Gold employs so many family farmers in the Midwest region. One of their mottos is "Grown by families. Enjoyed by families."
You can see how much each farmer and their families mean to the company. They truly care for each and every grower that is part of the Red Gold family. What I thought was so neat was seeing that this isn't just a company, it is a big giant family. You could see and hear how much the families meant to the company owners.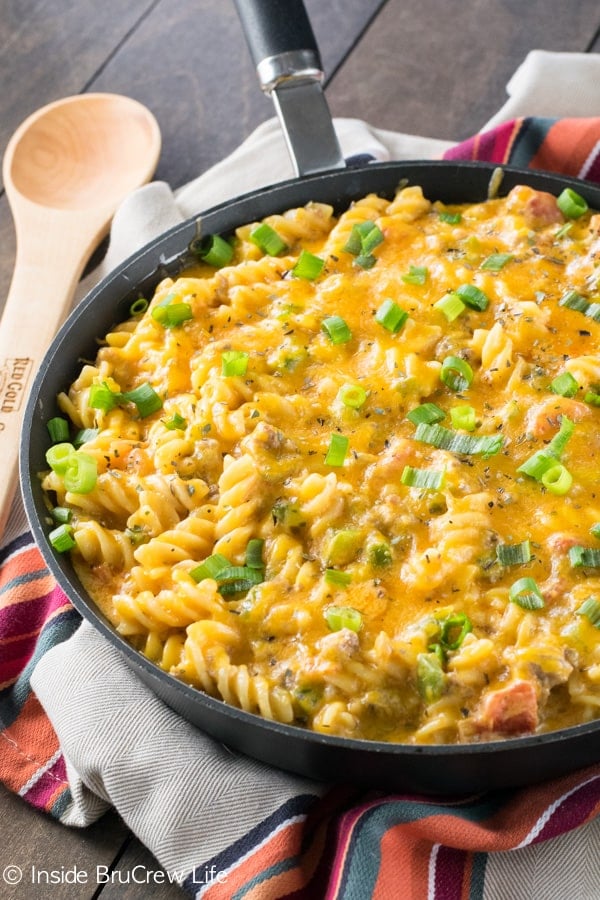 I wanted to create a fun pasta dish using some Red Gold tomatoes for my family when I came home.
This pasta dinner is a cinch to put together. It will need two pans...one for pasta and one for browning meat and melting cheese.
As the pasta cooks in the one pan, you can brown the meat and onions in another large skillet.
Add the entire can of tomatoes and juice and some green peppers to the cooked meat and simmer for a few more minutes.
Then it's time to get cheesy. Add some milk and cheese and watch it melt down into a delicious creamy sauce. All that is left is to stir in the pasta and melt some more cheese on top and dinner is ready.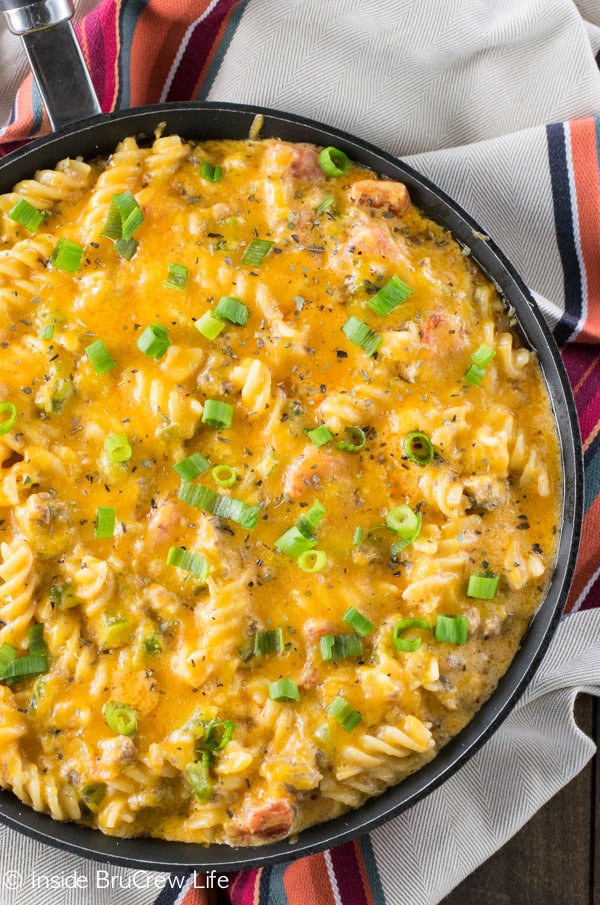 I have found that if I prep ingredients the night before, I can save even more time getting dinner on the table. Chop the veggies and store them in containers or baggies in your refrigerator.
Any time I can save in the kitchen when the hungry monsters are waiting for dinner is always a plus.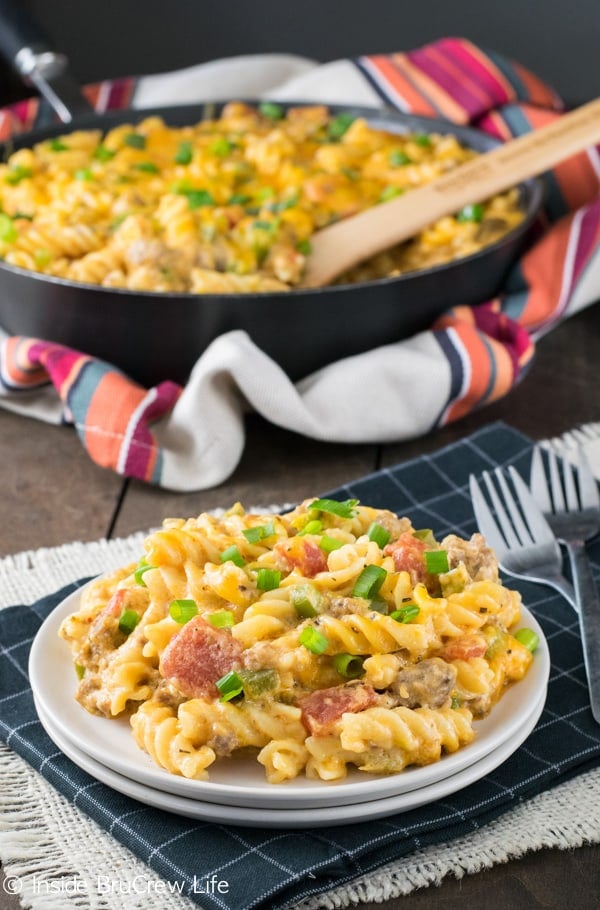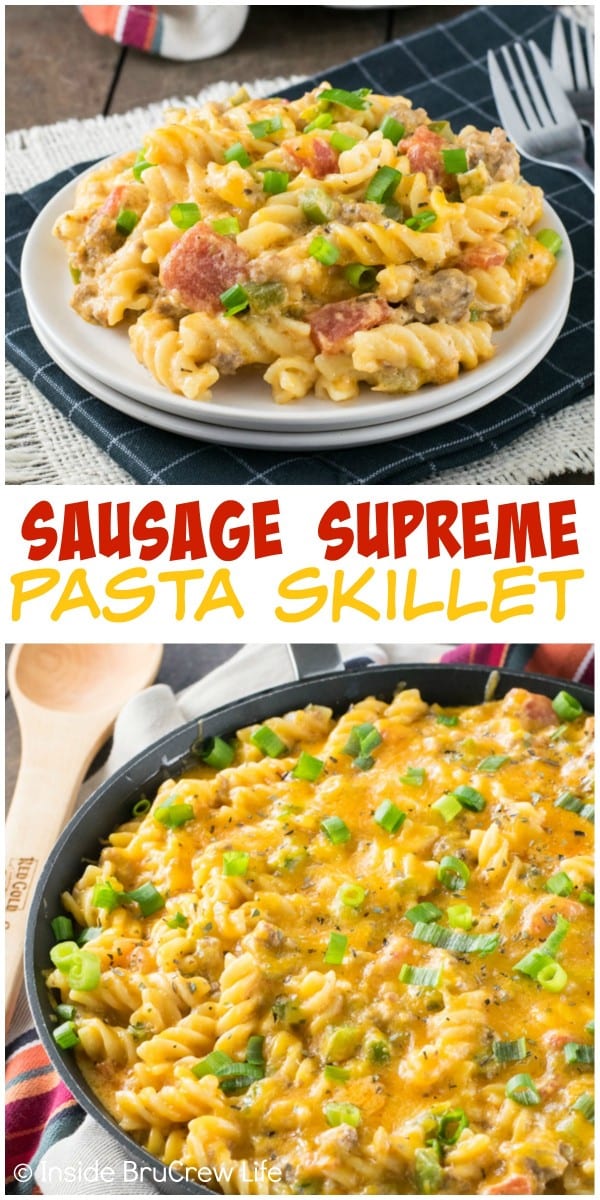 *I was provided with a trip to the Red Gold headquarters, but no other compensation was given. All opinions and thoughts in this post are 100% my own.