Chocolate covered strawberries are the top thing for Valentine's Day treats....these Strawberry Fudge Magic Bars are much easier than dipping strawberries though.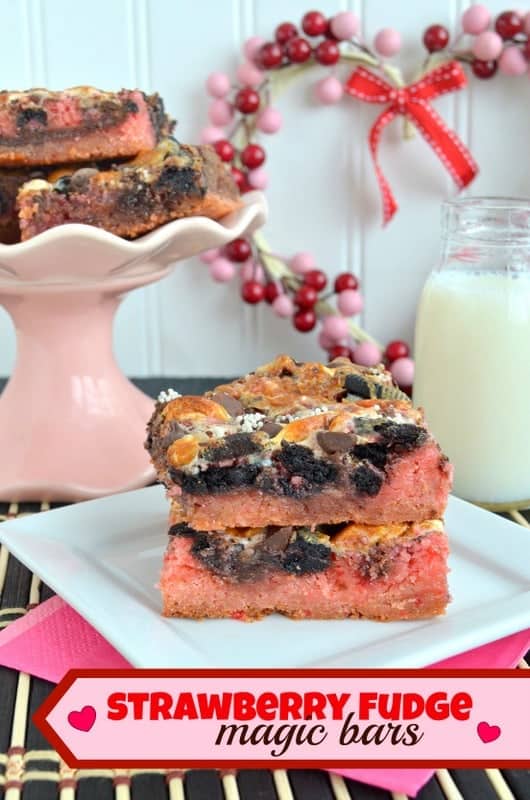 Last week I asked everyone on Facebook what was the first thing you think of when you think of Valentine's Day desserts. Almost everyone said chocolate covered strawberries!
I was planning on making some cute cupcakes with those flavors, but then I ran out of time for that. Lucky for all of you chocolate and strawberry lovers, I already had made this pan of Strawberry Fudge Magic Bars. I know it isn't quite the same or as fancy, but the taste is out of this world.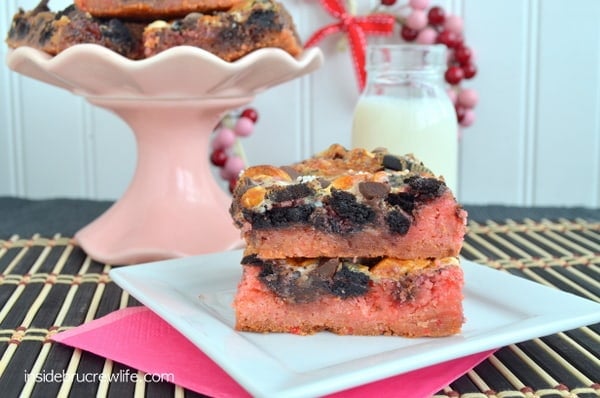 I love how you can throw a bunch of ingredients into a pan and cover it with the sweetened condensed milk, and when it comes out of the oven something magical has happened to it. Think unicorns and fairies...yup, just as magical as those.
The milk seeps into all the parts of the bars, and it becomes this delicious gooey bar that you just can't resist. I say can't resist because...well, I kept sneaking little bites of these until I finally sent a box over to the church and threw the last couple bites into the garbage.
Anyone else do that at times too? Not send the goodies away, but throw away the rest and then cover it with coffee grounds or dust or something like that?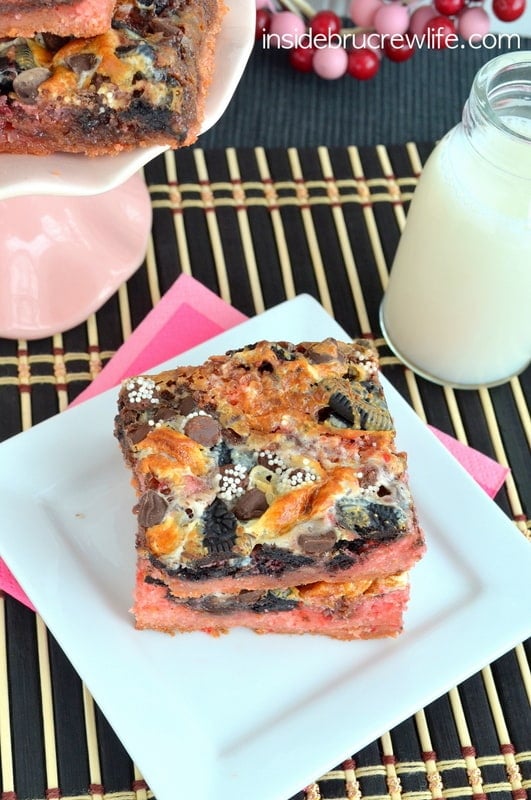 Let's talk Valentine's Day for a minute? Do you have big plans?
We usually don't do anything big or special for the day. I think it is more important to show love and affection throughout the entire year instead of focusing on one day. But this year, we are actually going out on a hot date.
There is a mall about an hour away from us that is called the "fashion mall". We went there once and walked around. Let's just say they call it the fashion mall because it is every high end store you can think of...we felt a little out of place walking around in our jeans. The few people we did see were dressed up in business suits and heels. It's safe to say we stood out! A lot!!
So, we are going to get all dressed up and walk around the mall, act all snooty, and talk with British accents. It's going to be a blast! Then we are headed to The Cheesecake Factory for dinner and of course cheesecake.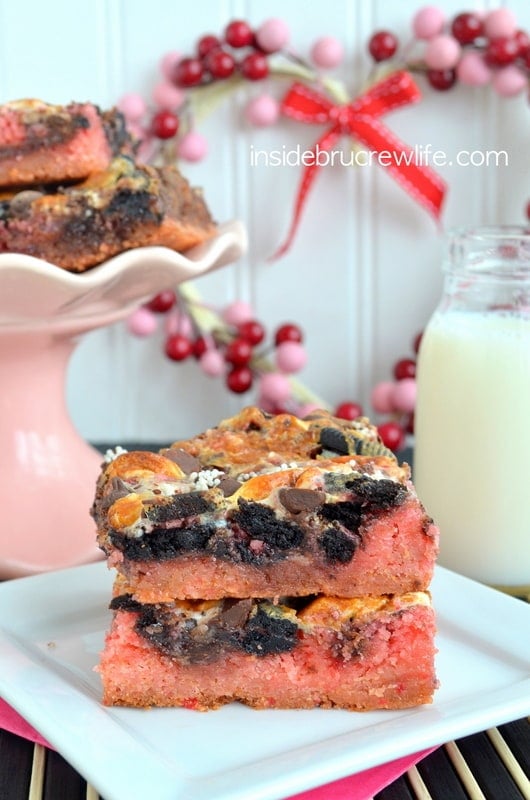 Make sure you don't miss any of the crazy baking
by following the BruCrew here:
FACEBOOK | PINTEREST | TWITTER | INSTAGRAM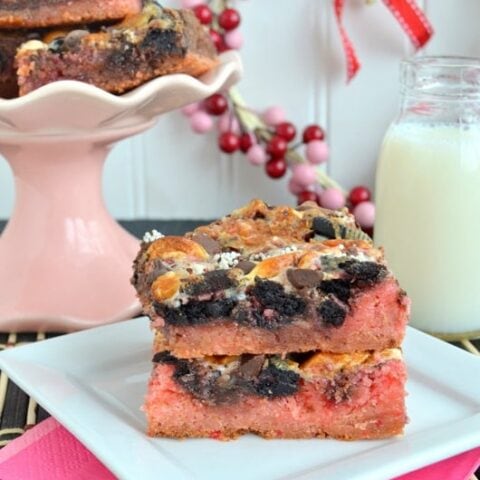 Strawberry Fudge Magic Bars
Chocolate covered strawberry cake bars...the best Valentine's magic bars.
Ingredients
1 Strawberry cake mix
8 Tablespoons butter, softened
1 large egg
1 teaspoon vanilla extract
½ cup strawberry ice cream topping
½ cup hot fudge topping
½ cup chocolate chips
1 cup miniature marshmallows
2 cups Oreo cookie chunks
1 (14 ounce) can sweetened condensed milk
¼ cup snowcap candies
Instructions
Preheat oven to 350 degrees. Spray a 9x13 pan with nonstick baking spray.
In a mixing bowl, combine the cake mix and butter until crumbly. Add the egg and vanilla and mix completely. The dough will be very thick. Press into the bottom of greased pan.
Spread the fudge topping over the cake mix dough. Sprinkle with the marshmallows, chocolate chips, and cookie chunks.
Drizzle the strawberry topping over the top. Pour the entire can of sweetened condensed milk over everything. Sprinkle with the snowcap candies.
Bake for 35-38 minutes. Remove and let cool completely before trying to cut into squares.
Nutrition Information:
Yield:

24
Serving Size:

1
Amount Per Serving:
Calories:

214
Total Fat:

11g
Saturated Fat:

5g
Trans Fat:

0g
Unsaturated Fat:

5g
Cholesterol:

23mg
Sodium:

149mg
Carbohydrates:

29g
Fiber:

1g
Sugar:

18g
Protein:

2g
Nutrition facts are an estimate and are not guaranteed to be accurate. If you need special diet advice, please see a registered dietician.
Here are a few more Valentine's Day desserts that we love: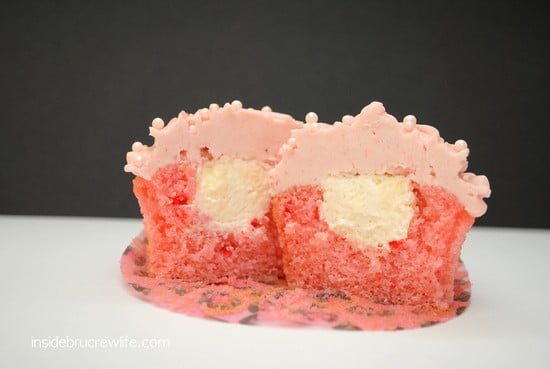 Strawberry Cheesecake Cupcakes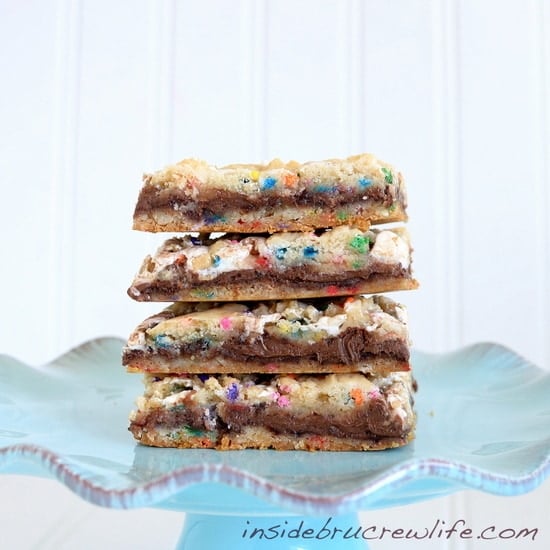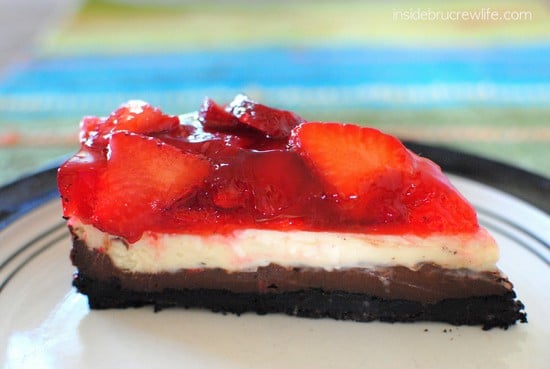 Strawberry Chocolate Cheesecake