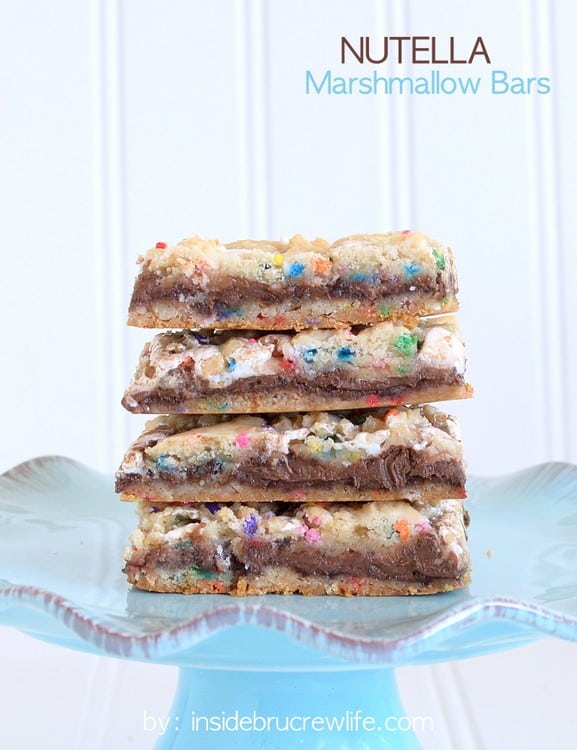 I am really sorry to do this to you...again. But I have a good feeling you are going to love these Nutella Marshmallow Bars.
Fine. You and I both know that I'm not sorry one little bit to have to share these awesomely deliciousness bars with you guys.
There are certain things in life that just make sense...like peanut butter and chocolate or sprinkles and ice cream.
Want to know what doesn't make sense? Sitting in a wrestling meeting where they talk about conferences and meets and a whole bunch of letters together that mean absolutely nothing to me.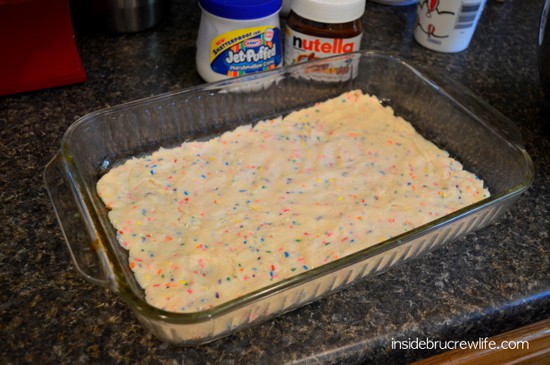 The oldest Bruboy has decided to try his hand at wrestling this year. I know...wrestling!!!
I've tried warning him about the "leotard"...and the grappling of boys on a mat, but he still wants to give it a go. So I am all for it...just for him. Even going to the "meet the new coach" meeting.
I totally felt like Charlie Brown listening to the teacher. You know the waaahhh waaahhh waaaaahhh waaahhh? I didn't understand much of anything that night.
All I do know is that I signed a paper and added our contact info as it came around.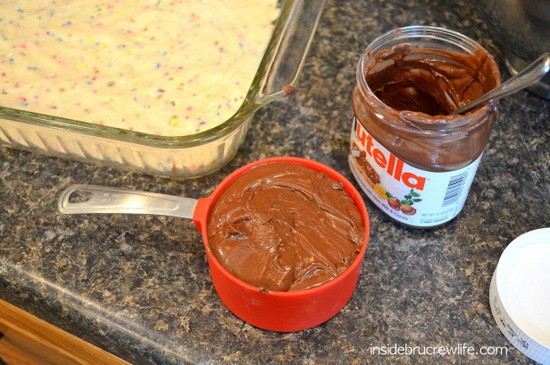 Want to know what kept me going in the meeting? The thought of these yummy Nutella Marshmallow Bars sitting back at my house.
Believe me...any bar that has a full cup of Nutella ANDa full cup of marshmallow fluff will keep you awake too!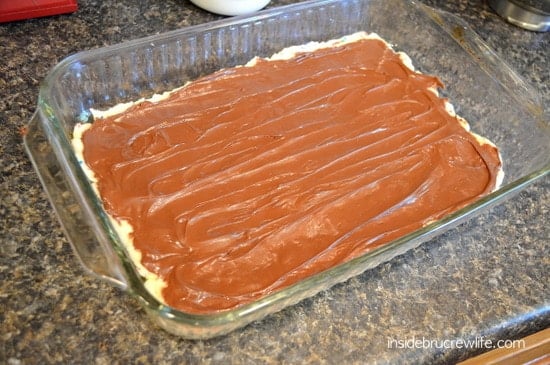 Yup, fluff and Nutella...just makes sense in my world.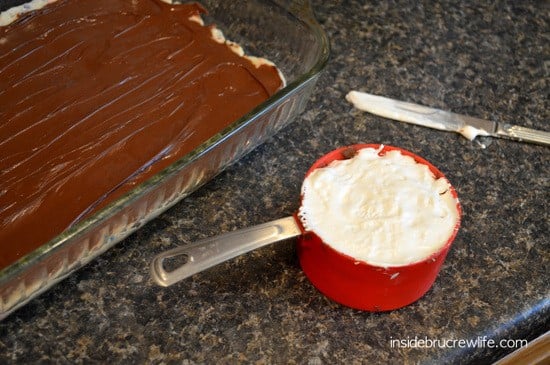 Maybe I should plan on making these bars to hide in my purse for every wrestling meet we go to this coming year. I think these chewy bars will help me make it through.
Wrestling has never made sense to me...maybe now that is my own kid, it will be more fun.
Or maybe it will just be even funnier? Not sure which.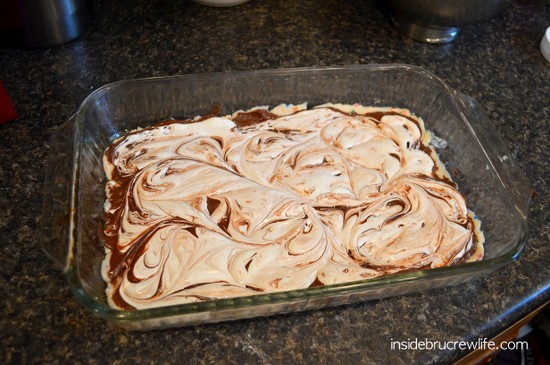 These bars almost didn't make it into the oven.
I was "this close" to grabbing a spoon and digging into the cake batter fluff Nutella mess!!!
Instead the spoon and I went to town on the last little bit of Nutella in the jar...and it's pretty possible that there were a few scoops of fluff that went down with it too.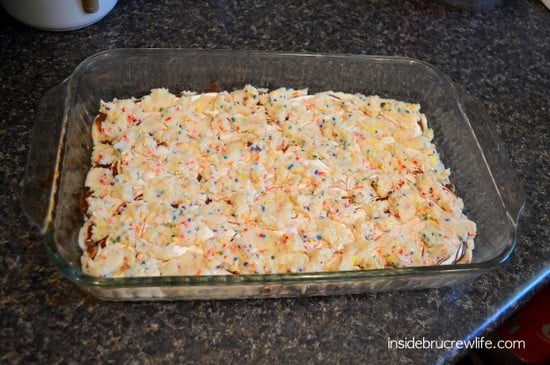 Baking it up was totally worth the wait though.
I mean I did get my living room dusted while I waited. Shew...glad that's done for another month!
LOL! Priorities people. Dusting isn't one of mine!!! It's just going to come right back in an hour.
Again...doesn't make much sense :-)Now these Nutella Marshmallow Bars...they make total sense!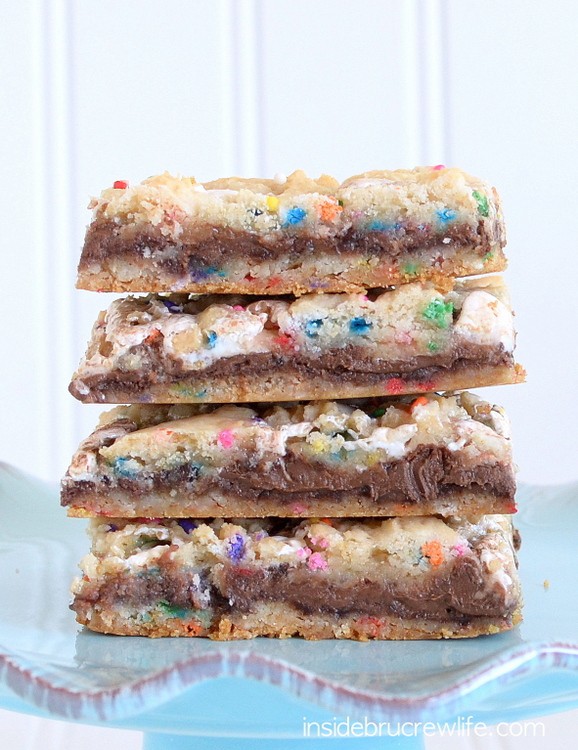 More Nutella recipes you may enjoy:
Stay up to date on all the BruCrew baking
by following here:
BLOGLOVIN | FACEBOOK | PINTEREST | GOOGLE+ | TWITTER | INSTAGRAM
Sign up for the BruCrew email: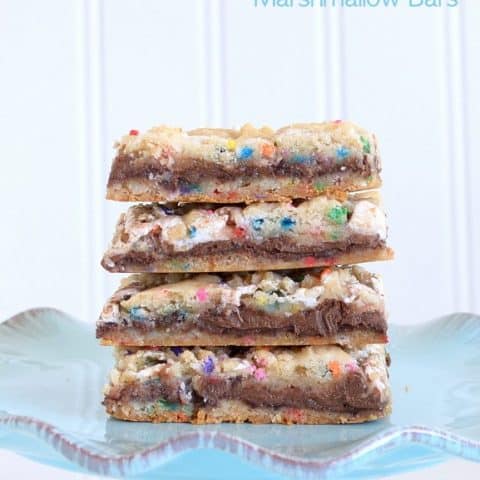 Nutella Marshmallow Bars
Funfetti cake bars filled with Nutella and Marshmallow Cream. These will disappear every time you make them.
Ingredients
1 Funfetti cake mix
⅓ cup butter, melted
⅓ cup milk
1 cup Nutella
1 cup Marshmallow Cream
Instructions
Preheat oven to 350 degrees. Spray a 9x13 pan with nonstick baking spray.
In a mixing bowl, combine cake mix, melted butter, and milk. The dough will be very sticky.
Press half the batter in the prepared pan. Spray your hands with nonstick spray to help keep it from sticking to you.
Spread the Nutella on top of the dough. Very carefully spread the marshmallow fluff on top and swirl lightly.
Crumble the remaining batter on top of the fluff. Bake for 25 minutes. Do not over bake.
Let cool completely before cutting. Store in a covered container.
Nutrition Information:
Yield:

24
Serving Size:

1
Amount Per Serving:
Calories:

170
Total Fat:

6g
Saturated Fat:

5g
Trans Fat:

0g
Unsaturated Fat:

1g
Cholesterol:

7mg
Sodium:

188mg
Carbohydrates:

27g
Fiber:

1g
Sugar:

17g
Protein:

2g