These Strawberry Cheesecake Cupcakes have a creamy no bake cheesecake center and and are topped with homemade strawberry frosting. These easy cupcakes are bursting with flavor and are the perfect dessert for every spring celebration.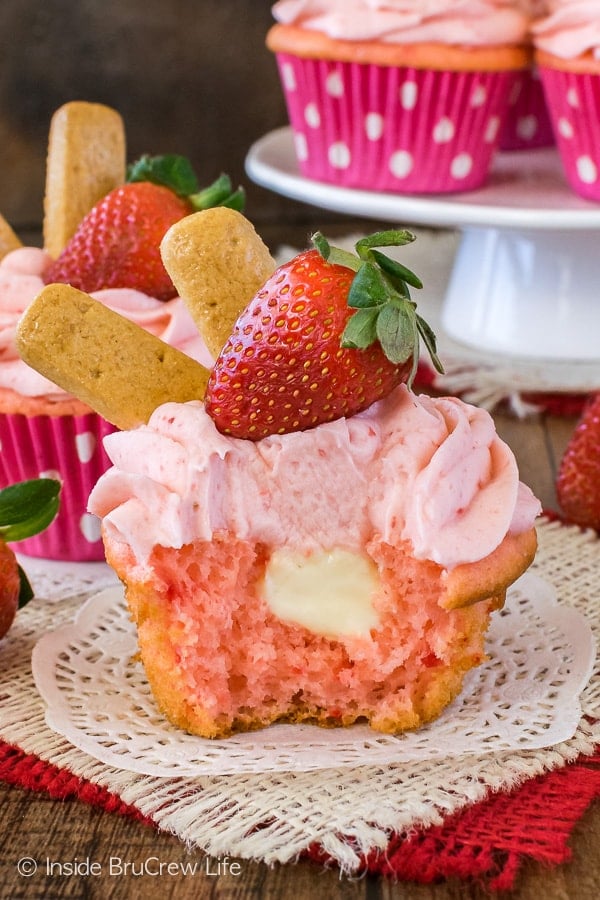 I have decided to give up sugar for a week or two. This is very hard for my sweet tooth to handle. So far it has been good, but it has only been one day. Thank goodness for this Healthy Chocolate Lava Cake! I may eat one every day.
I want to see if it makes a difference in my weight. Sadly, that means I can't bake for that time either because I always find myself taste testing when I am baking. That kinda breaks the no sugar rule. It's all lean and green recipes this week!!!
Now I know some of you are cheering because you think that means no sugary pictures to tempt you and make you drool. Well, that's just not true because I have plenty of ones that I haven't even shared yet.
So, even though I might not be eating things like these Take 5 Bars this week, I am still going to share with you.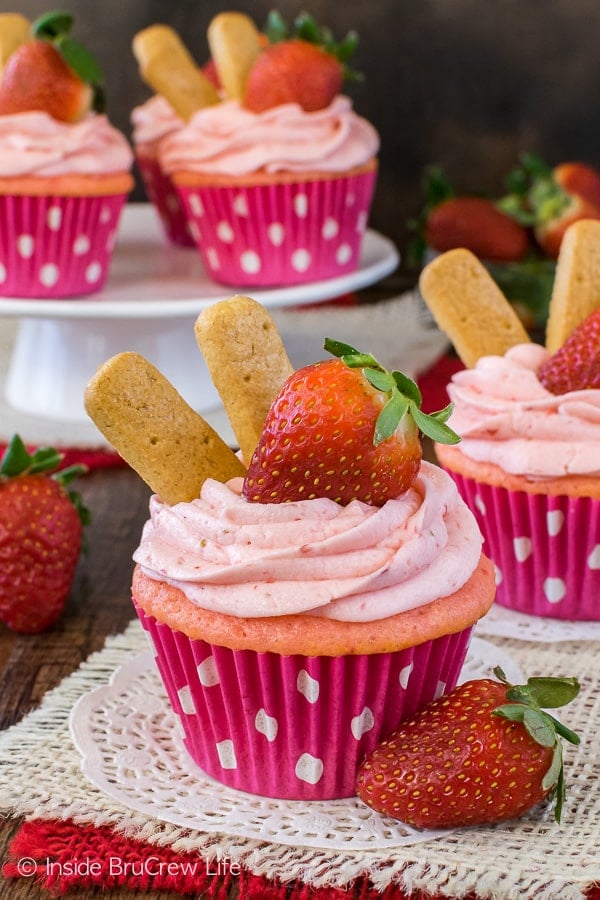 Let's get started with some strawberry cupcakes with cheesecake filling. I mean cupcakes that have fresh fruit and dairy in them can't be a bad thing, right?
Ok, ok. I'll just share how to make them and you go enjoy them for me until I come to my senses and start enjoying sugar again.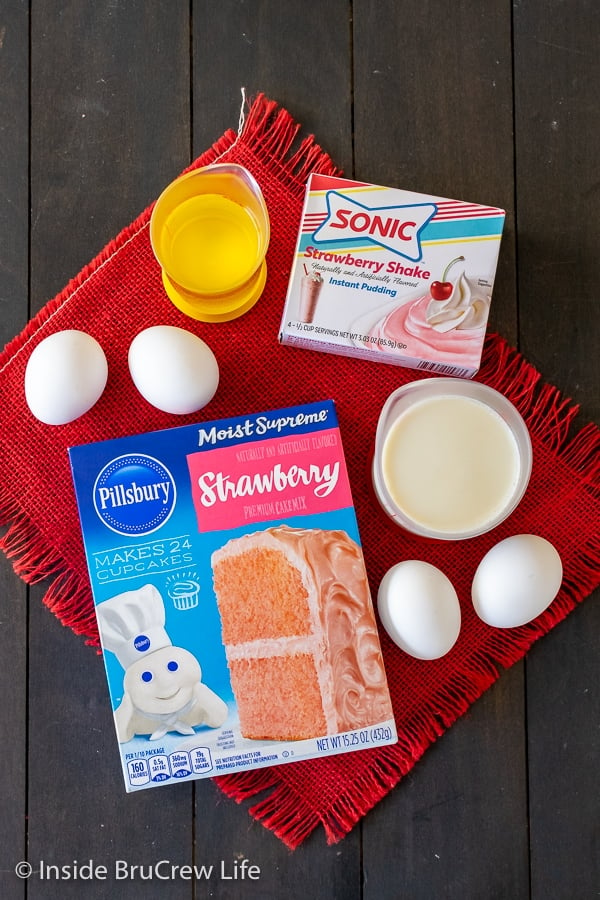 Key Ingredients
For the Strawberry Cupcakes
Strawberry Cake Mix - This particular recipe uses a box cake mix. Doctored up cake mixes are my specialty. If you like to bake from scratch, that works too.
Instant Strawberry Pudding Mix - Adding a pudding mix to a cake mix gives it more structure and makes it bake more moist.
Oil - This helps the cake to bake moist, fluffy, and tender. You can use melted butter, but butter has water added to it. So, while it may taste better, the texture isn't the same.
Eggs - They provide structure in recipes. Make sure you buy the size of the eggs called for in a recipe because of the amount of liquid they provide.
Milk - Using milk instead of water makes a cake mix taste more like a homemade cake. Using buttermilk will also add a rich flavor.
For the Homemade Strawberry Frosting
Shortening & Butter - Using a combo of these 2 ingredients gives the buttercream a better structure for piping.
Salt - Balances out the sweetness.
Vanilla & Strawberry Extract - Mixing these two extracts adds a great flavor to the box mix.
Strawberries - For the best flavor, choose sweet, ripe strawberries. Puree the berries in a blender or food processor. If the berries are not juicy, add a little bit of water.
Powdered Sugar - Thickens the strawberry buttercream and adds sweetness. Use more if you want a thicker frosting, although this will affect the strawberry flavor.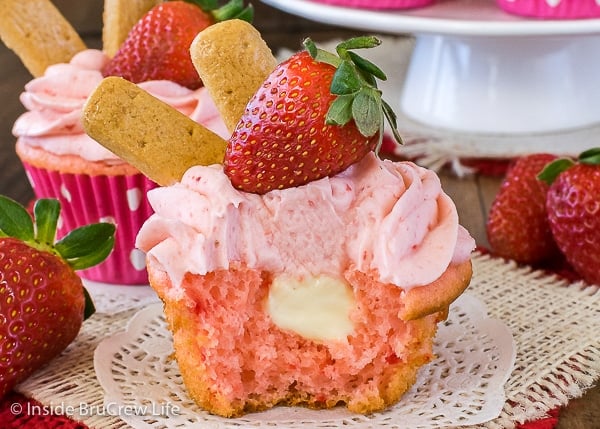 How to make Strawberry Cheesecake Cupcakes
Mix together the strawberry cake mix, pudding mix, eggs, oil, and milk. Divide the batter evenly in the muffin liners and bake for 18-20 minutes.
Cool the cupcakes completely then remove the center of the cupcakes using a cupcake corer or a small knife.
Whisk together the pudding mix and milk. Beat the cream cheese until creamy, then add the pudding mixture and beat again.
Fold in the Cool Whip gently. Fill the centers of the cupcakes with the no bake cheesecake mixture.
Puree the fresh strawberries in a blender or food processor.
Mix together the frosting ingredients until nice and creamy.
Swirl the frosting on top of the cupcakes and refrigerate until you are ready to serve them.
Top with a fresh strawberry and graham cracker sticks right before serving, if desired.
CLICK HERE TO PIN THIS RECIPE FOR LATER!
What can I use if I can't find a strawberry pudding mix?
Feel free to use an instant vanilla or white chocolate pudding mix. You can also add 1-2 spoonfuls of strawberry jello to the batter to amp up the strawberry flavor.
Can I use melted butter instead of oil in a cake mix?
Yes. Melted butter is a fine substitution for oil. Although, cakes and cupcakes baked with oil tend to bake up with a better crumb texture and stay moist for longer.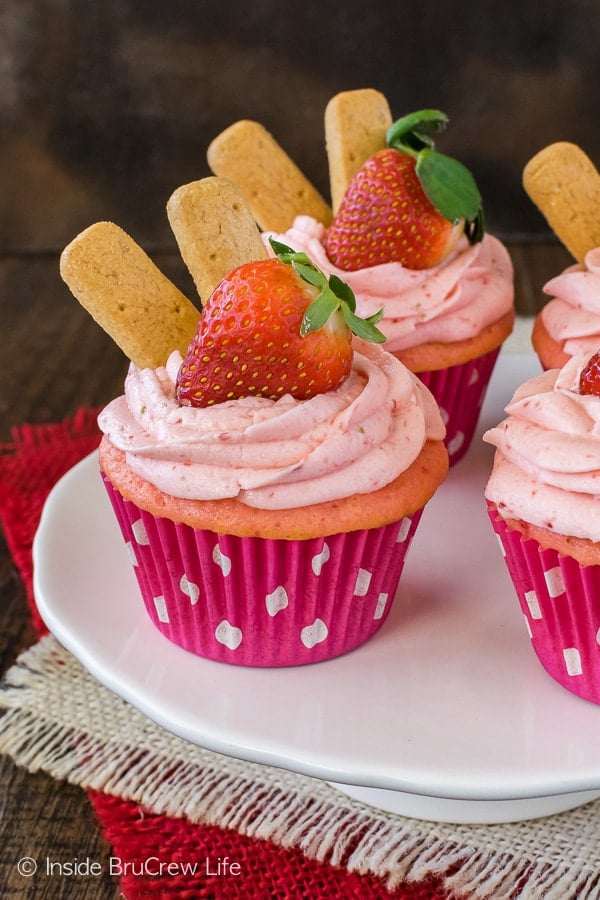 More strawberry recipes
It only takes a few minutes to make and then to enjoy fresh Homemade Strawberry Pie Filling. It is perfect for pies, cakes, breakfast pastries, or spreading on toast.
Layers of fruit, yogurt, and granola make these Healthy Strawberry Yogurt Parfaits an easy and fresh breakfast choice. Start the day out right by grabbing a jar as you walk out the door.
Layers of cake cubes, no bake cheesecake, and fresh fruit makes this Strawberry Key Lime Cheesecake Trifle an easy dessert to make for spring or summer dinners.
This dreamy Strawberry Cream Pie is the perfect way to showcase these luscious berries.
Homemade Strawberry Waffles are just the thing to make your weekend awesome. Everyone loves a day that starts with waffles, right?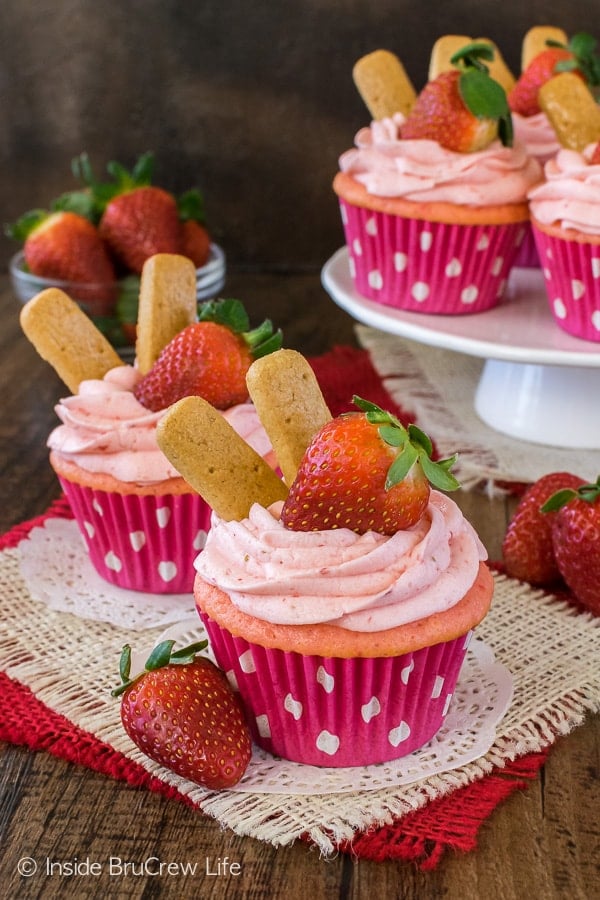 Do you love a recipe you tried from Inside BruCrew Life?
Please leave a 5-star ⭐️ rating and a review in the comments section below.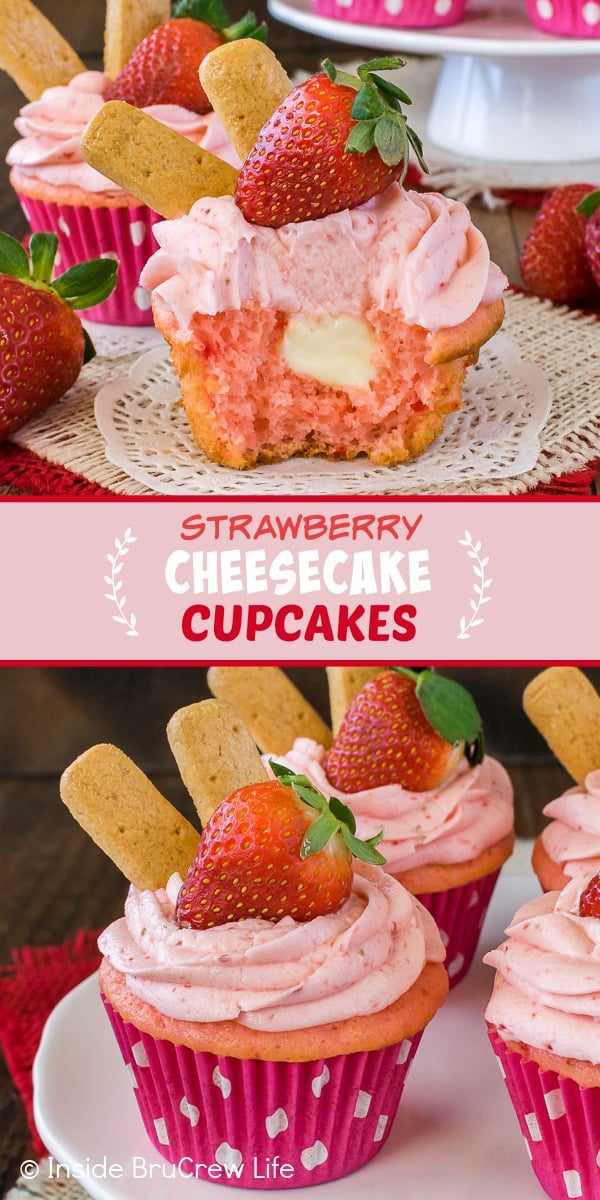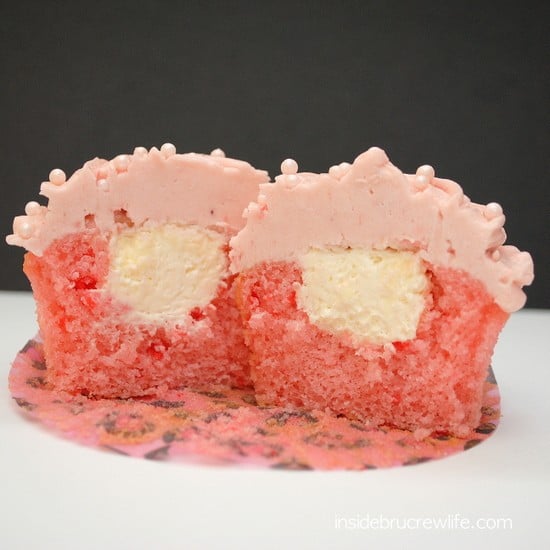 (original photo from April 2011)
*The post for Strawberry Cheesecake Cupcakes was first published April 26, 2011. The pictures & recipe were updated March 2017. The post was republished January 30, 2021.