A hidden cookie and creamy peanut butter frosting make these Tagalong Cookie Cupcakes a fun dessert to share with friends and family.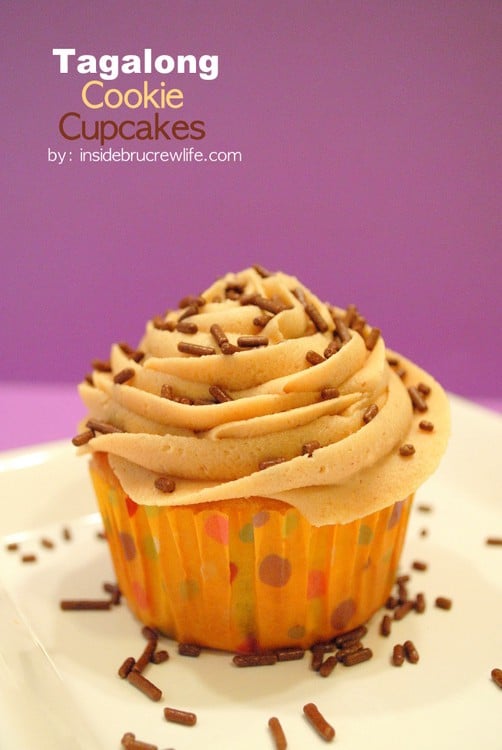 Beware the Girl Scouts...
They are out in full force trying to sell you little boxes of goodness!
I did my duty and purchased a few boxes
from some of the girls in our church.
(even though I can't believe the cost for such a tiny treat)
But then I think how much I pay for a drink at Starbucks,
and that only lasts 30 minutes.
At least the box of cookies will last longer if we ration them.
Now when I head to Walmart,
I have to keep my head down.
Can't make any eye contact with the girls on the sidewalk!
Gotta pretend like there is a dire emergency...
I just have to get in fast!
If you walk like you are on a mission, you can bypass them
without buying more cookies.
Funny thing...I probably filled my cart with
all sorts of sugar items once I got into Wally World!
So the other day I had some vanilla cake batter left from a cake order,
and I decided to play around with a few flavors and bake ins.
This one has a Tagalong cookie
baked in the bottom and is topped with the
Best Honey Peanut Butter Frosting!
Yes they were amazing!
If you have extra boxes of GS cookies...
walk, no run to your kitchen.
You wanted to bake today, right???