This White Chocolate Caramel Mousse Brownie Cake has two layers of creamy no bake mousse on a fudgy brownie bottom. Easy, but impressive dessert for dinner parties.
*Like these recipes? Sign up for our free BruCrew Life email. You will get these recipes in your inbox each time a new one is shared.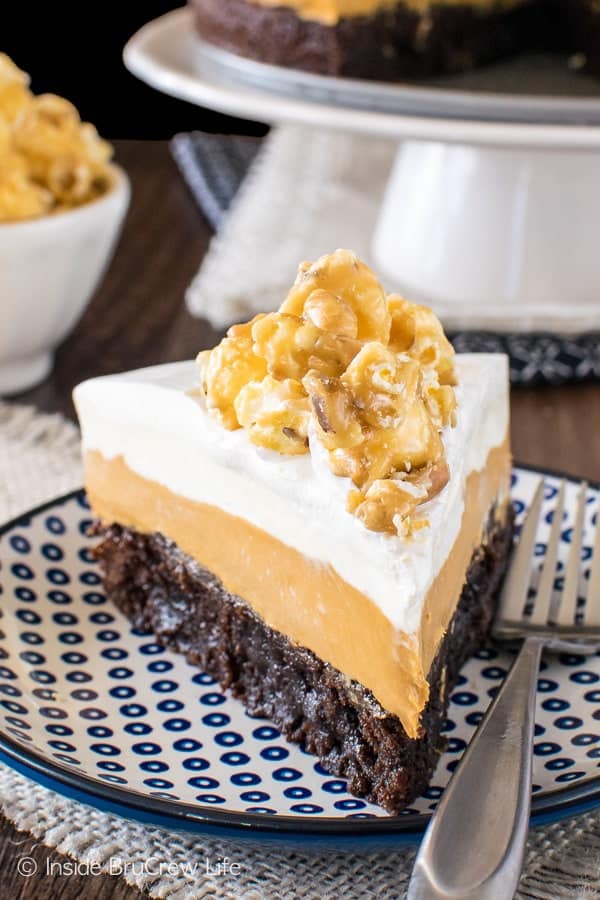 CLICK HERE TO PIN THIS RECIPE FOR LATER!
*This post is sponsored by J.M. Smucker Company. I am partnering with them to create a recipe and fun family night.
Does anyone else feel like people are tied to their phones or computers all the time? With three teenagers in the house, it seems like someone is always on an electronic device at any given moment. Games, texts, youtube, Pinterest...the list of things to "check" goes on and on.
And since my job requires me to be active on social media, I am guilty of checking my phone way too often as well.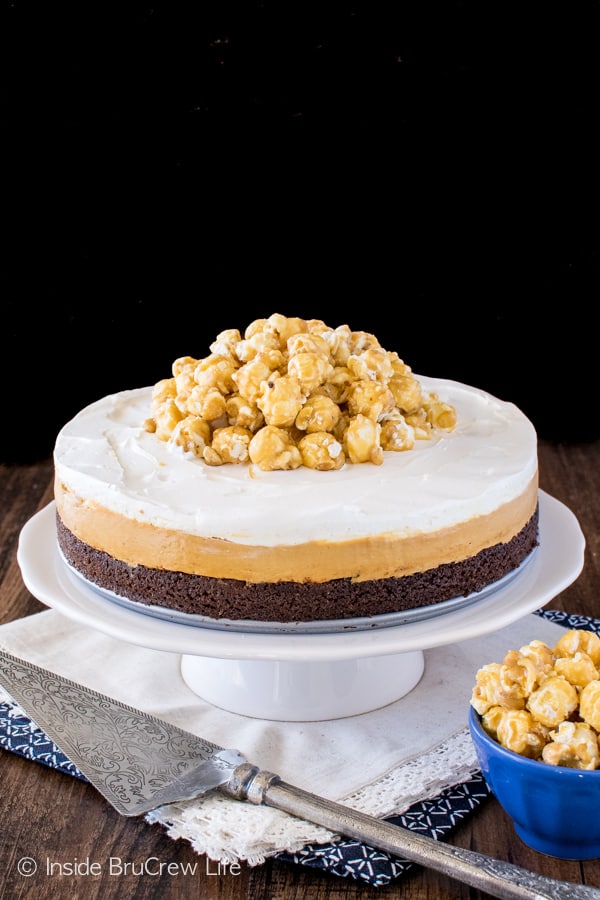 This month Pillsbury asked our family to go "technology-free" for one evening. Since we regularly do this with our kids throughout the month, I knew it wouldn't be too hard to ask them to go another evening without their devices.
Usually we play boardgames and eat pizza and popcorn for our family nights. The bare Christmas tree was staring at us though, so this night we spent time as a family pulling out the decorations and putting them on the tree. The kids had a blast looking at all the ornaments that they had made us over the years.
There was also quite a bit of laughing at the little school pictures that were attached to a few of those ornaments. I can't believe how big our kiddos are now. It seems like just yesterday that they were coming home from school with those little ornaments.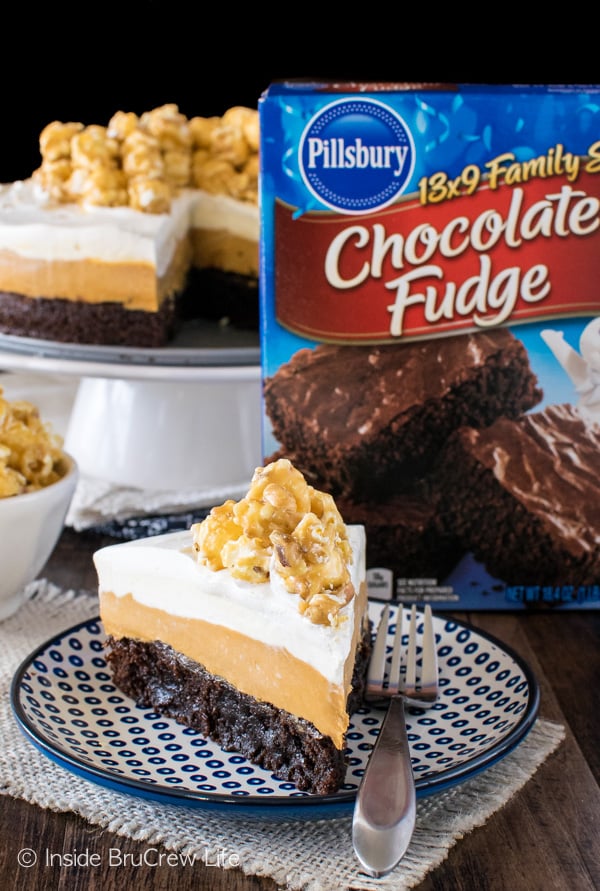 Of course, a sweet treat for dessert is always a must around here most nights. Our youngest says he only likes plain brownies, but I've seen him eating a few of the other things I've made. He has become quite the pro at making brownies by himself, so I always keep a few Pillsbury mixes in our pantry for when the brownie urge hits.
This time I had him make the brownie in a 9-inch springform pan. I like to line the bottom with some parchment paper because it will come out easier after it is done baking.
For the 9x13 mix, we baked our brownie between 40-42 minutes. The edges will be slightly crispy, but the center will still be nice and fudgy, even after refrigerating it.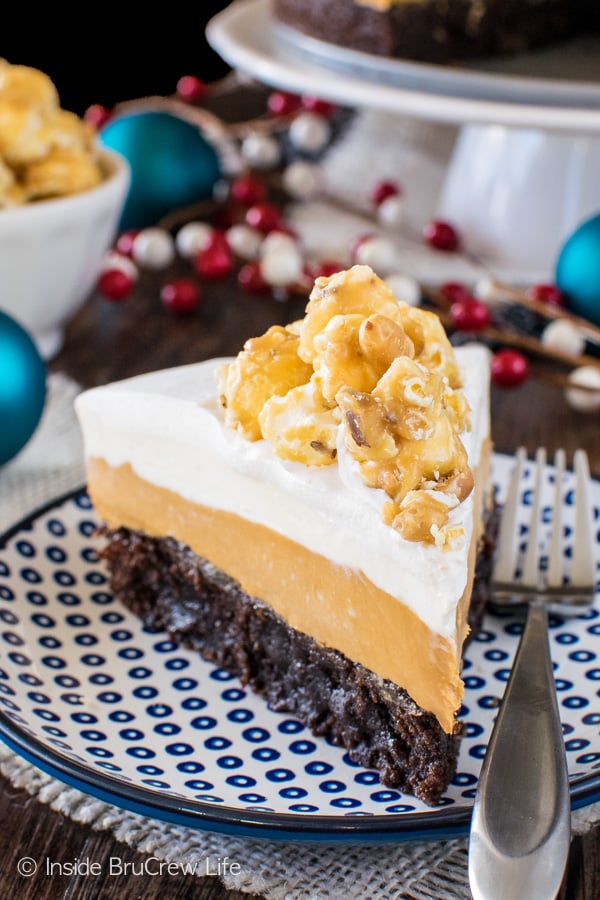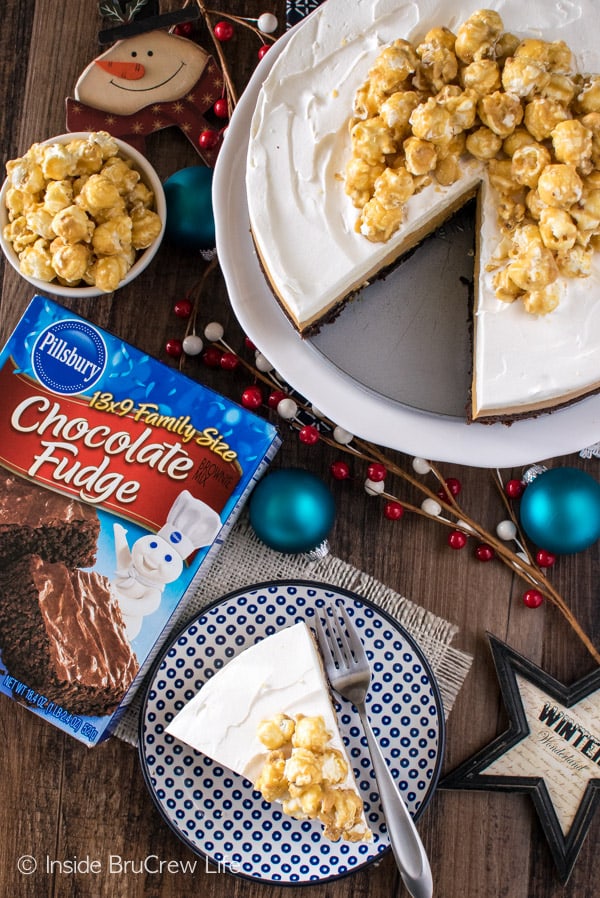 Once the brownie is completely cool, it is time to make the layers. Since they are both no bake, it doesn't take much time at all. It's the refrigerating time at the end that makes you have to wait for dessert.
For the first layer, beat the cream cheese until creamy. Then slowly add the dulce de leche. FYI I usually find this canned caramel in the international food aisle at most stores.
If you warm the caramel up in the microwave slightly, it mixes into the cream cheese easier. A little bit of Cool Whip added at the end adds a little bit of fluff to the layer.
Melted white chocolate and Cool Whip makes up the next layer. Beat those two things together and it results in a fluffy truffle-like mixture. I may or may not have beat the kids to licking the bowl first. Layer those mixtures on the cooled brownie and place it in the refrigerator to set up.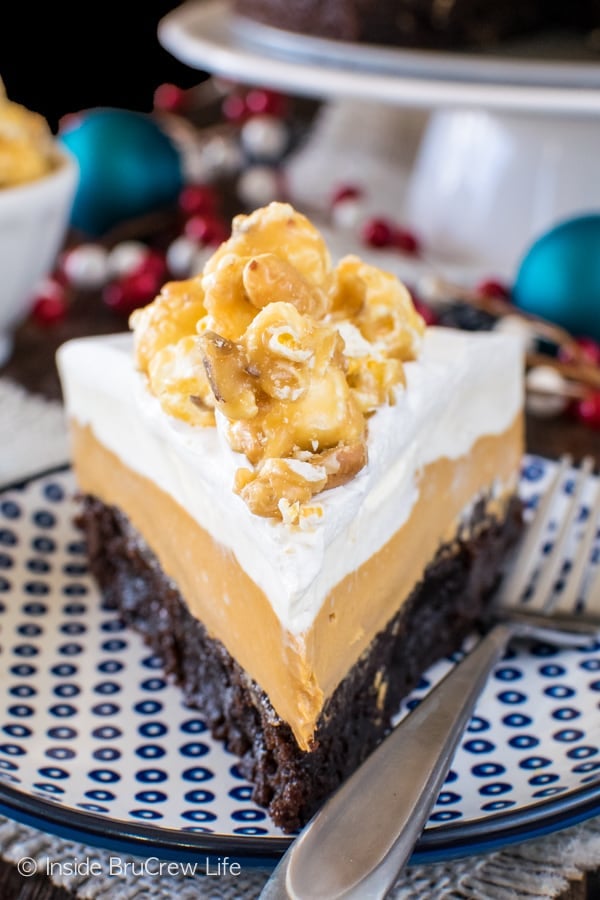 While the layers in this white chocolate caramel mousse brownie cake are setting up, turn off the phones, computers, and tv's and spend time with your family. Quality time laughing and bonding together is where the memories are made.
Who needs a phone in your hand when you have a fork and a big slice of brownie cake, right?
I challenge you and your family to go technology free for one evening as well. Turn off all those electronics, make a decadent dessert, and life enjoy together!
Connect more with Pillsbury:
Website | Facebook | Pinterest
White Chocolate Caramel Mousse Brownie Cake
Total Time:
1 hour
10 minutes
This White Chocolate Caramel Mousse Brownie Cake has two layers of creamy no bake mousse on a fudgy brownie bottom. Easy, but impressive dessert for dinner parties.
Ingredients
1 - 13x9 Pillsbury Chocolate Fudge Brownie mix
⅔ cup oil
¼ cup water
2 eggs
1 - 8 ounce cream cheese, softened
1 - 13.4 ounce can dulce de leche
1 - 12 ounce Cool Whip, thawed
1 - 4 ounce white chocolate baking bar
caramel corn
Instructions
Preheat the oven to 350 degrees. Line the bottom of a 9-inch springform pan with parchment paper.
Mix the brownie mix, oil, water, and eggs according to the brownie package directions. Spread the mixture evenly in the bottom of the prepared pan and bake for 40-42 minutes or until the center is baked. Insert a toothpick into the center, and if it comes out with a few crumbs it is done. Remove and cool complete.
Loosen the springform pan ring and flip the brownie out onto a plate. Remove the parchment paper and place the brownie back in the springform pan gently.
Place the cream cheese in a mixing bowl and beat it until creamy.
Spoon the dulce de leche into a microwave safe bowl and heat for 20 seconds at a time until warm. Do not melt it! Beat the warm dulce de leche into the cream cheese until creamy.
Fold 1 cup Cool Whip into the caramel mixture gently. Spoon the caramel mixture on top of the cooled brownie and spread it out evenly.
Break apart the white chocolate baking bar and place in a microwave safe bowl. Heat for 30 seconds and stir. Repeat until the chocolate is melted and creamy.
Pour the chocolate into a mixing bowl and add 2 cups of Cool Whip. Beat until creamy. Use a spatula to push the mixture down from time to time, so all the chocolate gets mixed in evenly.
Spoon the white chocolate mixture evenly onto the caramel cheesecake and spread out evenly. Refrigerate for 3-4 hours or until completely set. Spread 1 cup Cool Whip on the very top evenly.
Run a warm knife along the edge of the pan to loosen everything. Remove the springform pan ring gently and place the brownie on a serving plate or stand. Top with caramel corn right before serving.
Nutrition Information:
Yield:

10
Serving Size:

1
Amount Per Serving:
Calories:

551
Total Fat:

41g
Saturated Fat:

18g
Trans Fat:

0g
Unsaturated Fat:

20g
Cholesterol:

77mg
Sodium:

176mg
Carbohydrates:

42g
Fiber:

0g
Sugar:

36g
Protein:

7g

* Pillsbury compensated me to create this recipe and post. All opinions expressed in this post are 100% my own.