If you have extra boxes of girl scout cookies, maybe these Tagalong Cookie Cupcakes are just the thing you need.
Beware the Girl Scouts…
They are out in full force trying to sell you little boxes of goodness!
I did my duty and purchased a few boxes
from some of the girls in our church.
(even though I can't believe the cost for such a tiny treat)
But then I think how much I pay for a drink at Starbucks,
and that only lasts 30 minutes.
At least the box of cookies will last longer if we ration them.
Now when I head to Walmart,
I have to keep my head down.
Can't make any eye contact with the girls on the sidewalk!
Gotta pretend like there is a dire emergency…
I just have to get in fast:-)
If you walk like you are on a mission, you can bypass them
without buying more cookies.
Funny thing…I probably filled my cart with
all sorts of sugar items once I got into Wally World!
So the other day I had some vanilla cake batter left from a cake order,
and I decided to play around with a few flavors and bake ins.
This one has a Tagalong cookie
baked in the bottom and is topped with
Honey Peanut Butter Cream!
Yes they were amazing!
If you have extra boxes of GS cookies…
walk, no run to your kitchen.
You wanted to bake today, right???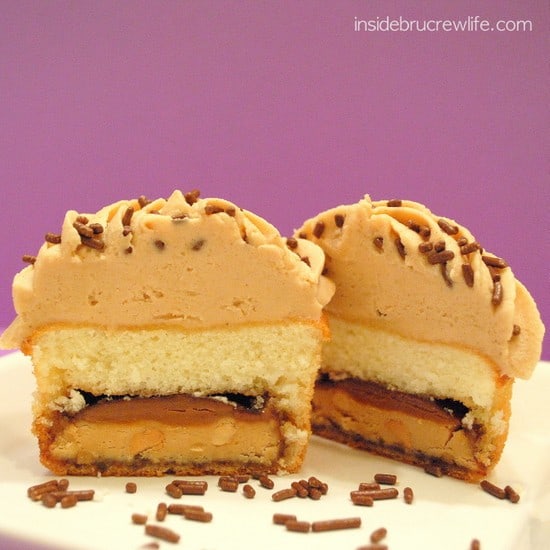 Vanilla cupcakes with a Tagalong Girl Scout Cookie in the bottom and topped with a Peanut Butter Frosting.
Ingredients
Tagalong Cupcakes
1 white cake mix (18 oz.)
24 Tagalong Girl Scout Cookies
Peanut Butter Butter Cream
1 cup butter, softened
1/2 cup creamy peanut butter
2 Tablespoons whipping cream
2-4 Tablespoons honey
1 teaspoon vanilla extract
1/8 teaspoon salt
4 cups powdered sugar
Instructions
Preheat oven to 350 degrees. Place liners in cupcake pan. Mix up the cake mix according to the directions on the back of the box.
Put 2 Tablespoons of batter in the liner. Set a cookie on top and then finish filling the liner with batter. Fill it at least 3/4 of the way full. Bake 18-19 minutes. Cool completely.
Cream the butter and peanut butter. Add the whipping cream, salt, and vanilla and cream again. Slowly add the powdered sugar. Beat in the honey until creamy. Frost cupcakes. Store in a sealed container. Makes 24 cupcakes.
http://insidebrucrewlife.com/2011/03/tagalong-cookie-cupcakes/
Copyright Inside BruCrew Life