These little Oreo Coconut Cream Truffles start with a mini Oreo cookie that has been filled with a homemade coconut cream filling.  A quick dip in chocolate seals all the goodness inside an easy to eat truffle.  They are the perfect little Easter treat.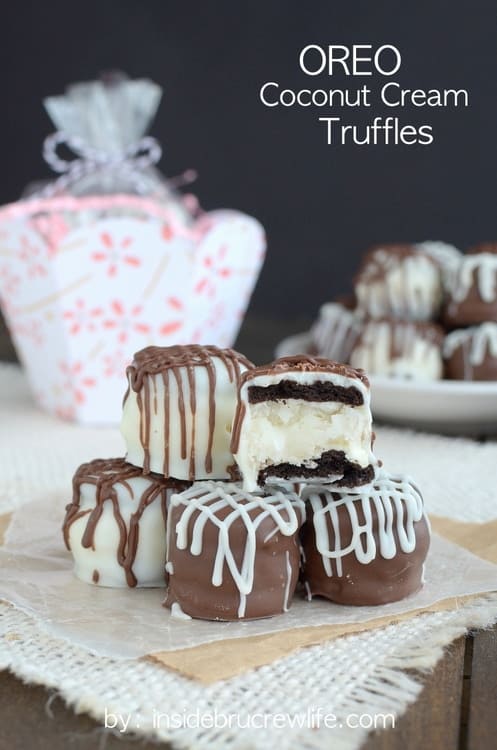 Right now I cannot get enough coconut.   I am normally obsessed with coconut any time of year, but the past few weeks I have gone completely bonkers for the stuff.
Good for me…not so good for my family.  You see, I am really the only one that loves the white stuff.  My hubby likes it too, but he likes the fresh stuff from the actual coconut.  I go for the already shredded stuff in a bag from the store.  Yes, I'm the lazy one in the family.  Or the smartest…because I get to eat coconut faster than he does.  I can be munching on the sweet stuff, and he is still outside with a hammer trying to get through the shell.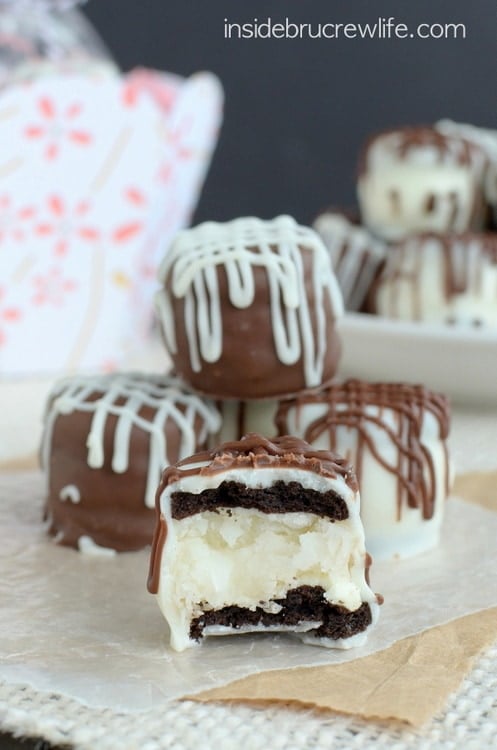 I have actually had the idea for these coconut truffles swirling around in my head for a few months.  Boy, am I glad I finally got around to making them.  They are everything I imagined them to be.
The homemade coconut filling is easy to make.  These truffles have shredded coconut and cream of coconut milk to double up on the coconut flavor.  It has just enough coconut to stand out from the Oreo cookies and chocolate.
These truffles really are easy to make.  Start by opening each mini Oreo cookie with a knife.  A small round ball of coconut cream filling goes in between each cookie piece.   Gently press the truffle into melted chocolate and use a spoon to cover all the sides.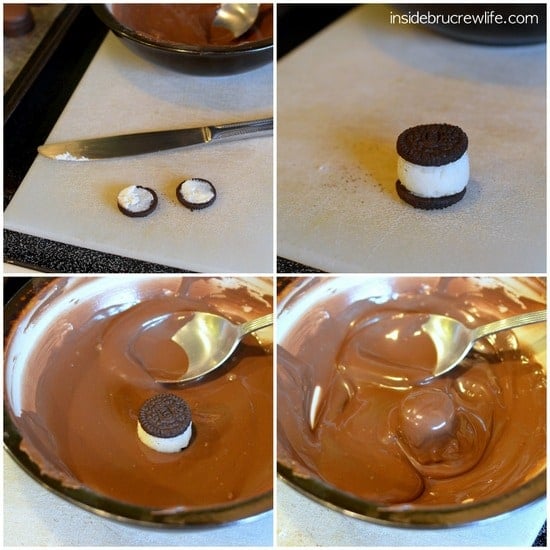 Use a fork to lift the truffle from the chocolate bath.  Gently tap the sides of the bowl to get the excess chocolate to drip off.  You can also very carefully drag the truffle bottom along the edge of the bowl, so you do not end up with a chocolate puddle under each truffle.  Place the chocolate covered truffle on a piece of wax paper and let them set.
After all the truffles have been dipped, place the remaining chocolate in a plastic baggie and cut one tip off.  Drizzle over the tops of the truffles in a random criss cross pattern.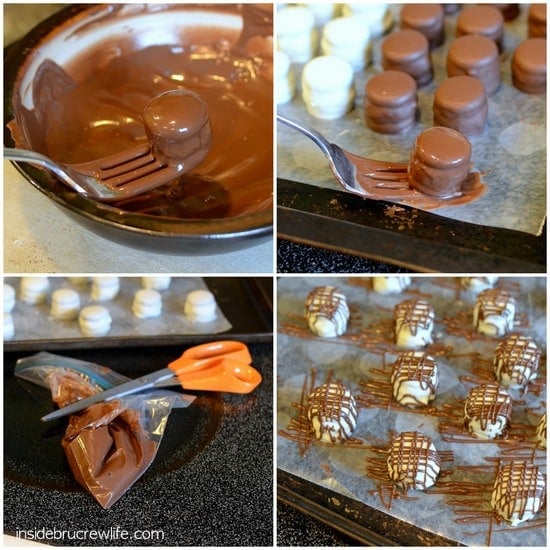 Go ahead and taste a few truffles.  You know you want to!
But then bag up the rest and make some fun little Easter packages to hand out to friends and family.  Just make sure you target the coconut loving friends.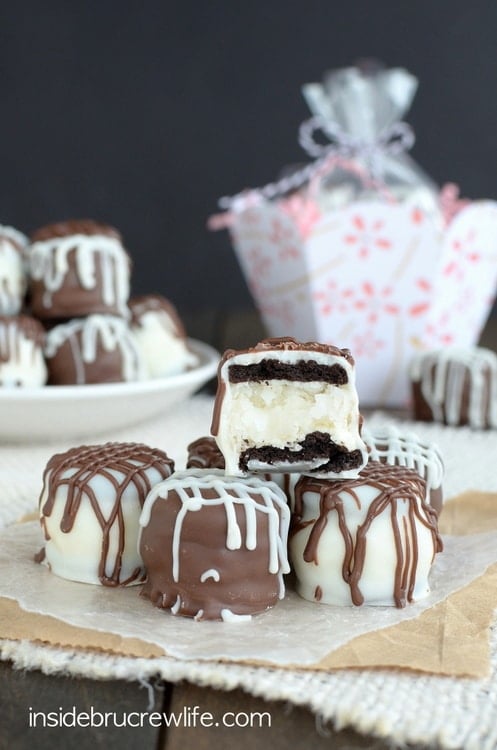 Each month, I have fun creating little food packages with die cuts that I receive from We R Memory Keepers and LifeStyle Crafts.
The Petal Container Die Cut was the cutest little package for the Oreo Coconut Cream Truffles.   Their die cuts are so easy to use.  Run it through a die cutting machine and fold along the edges.  A little bit of Sticky Thumb adhesive runner holds everything in place.
If you want to get crafty, feel free to use the code BRUCREW to save 20% off your order at We R Memory Keepers.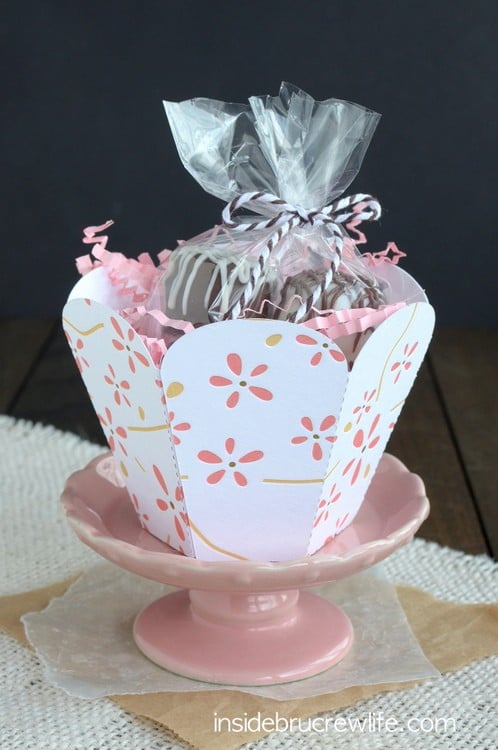 Fill each container with a little bit of Easter grass and a bag of truffles tied with twine.
Cutest little package to giveaway ever!!!!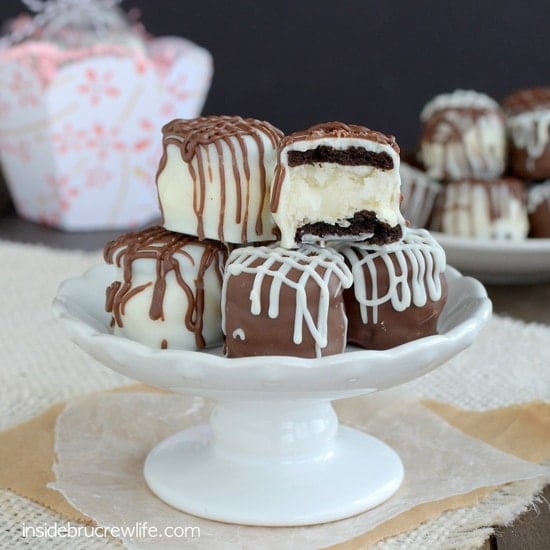 Stay up to date on all the BruCrew baking here:
FACEBOOK | PINTEREST | GOOGLE+ | TWITTER | INSTAGRAM | BLOGLOVIN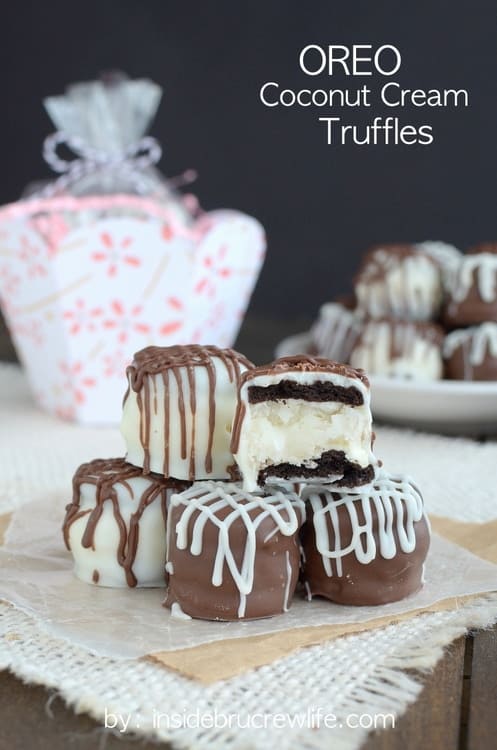 Homemade coconut cream truffles inside mini Oreo cookies dipped in chocolate makes a fun and delicious treat.
Ingredients
2 cups shredded coconut
2 Tablespoons butter, softened
2 Tablespoons cream of coconut
2 Tablespoons marshmallow cream
2 Tablespoons powdered sugar
40 mini Oreo cookies
6 ounces white CandiQuik
6 ounces chocolate CandiQuik
Instructions
Beat the butter, cream of coconut, marshmallow cream, and powdered sugar until creamy. Slowly add the coconut until mixed. Roll into 40 small balls.
Use a knife to split open each mini Oreo cookie. Leave the filling. Place on coconut ball inside each cookie and place the top of the cookie back on. Gently press down. Do not press too hard though. Repeat with all the cookies and coconut balls.
Melt the white CandiQuik in a bowl according to the package directions. Place an Oreo truffle in the melted chocolate. Use a spoon to cover the whole truffle. Use a fork to remove the truffle from the chocolate. Tap the fork gently to remove the excess chocolate. Place on wax paper to set up. Repeat with half the truffles.
Melt the chocolate CandiQuik and repeat with the remaining truffles. Spoon the extra melted chocolate into 2 plastic bags with the tips cut off. Drizzle in a criss cross pattern over the truffles. Let set. Keep refrigerated in a sealed container. Makes 40 coconut truffles.
Notes
*Cream of Coconut is a non-alcoholic product, but you find it in the alcoholic aisle of the store.
http://insidebrucrewlife.com/2014/03/oreo-coconut-cream-truffles/
Copyright Inside BruCrew Life
Other delicious ways to enjoy coconut: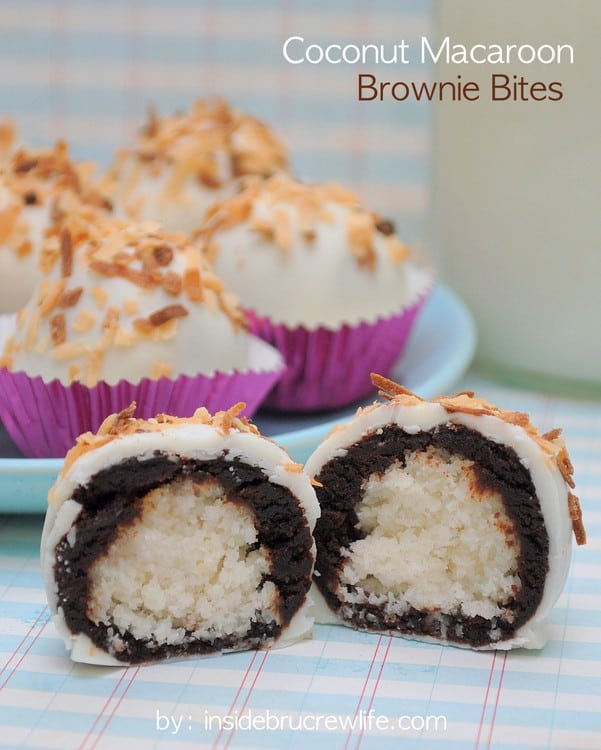 Coconut Macaroon Brownie Bites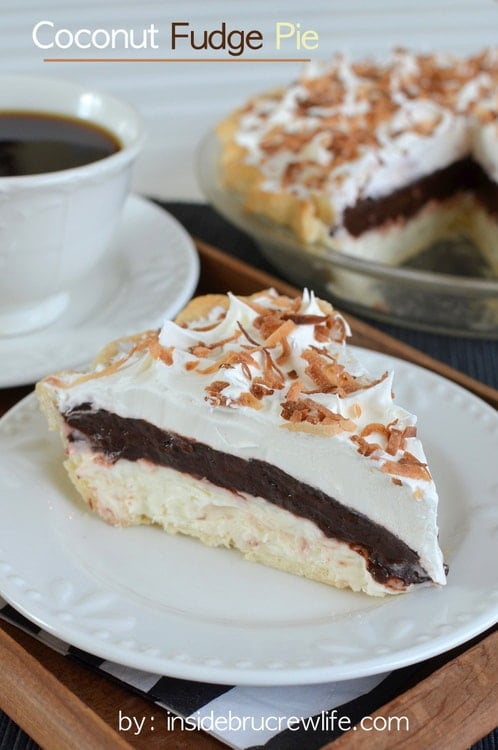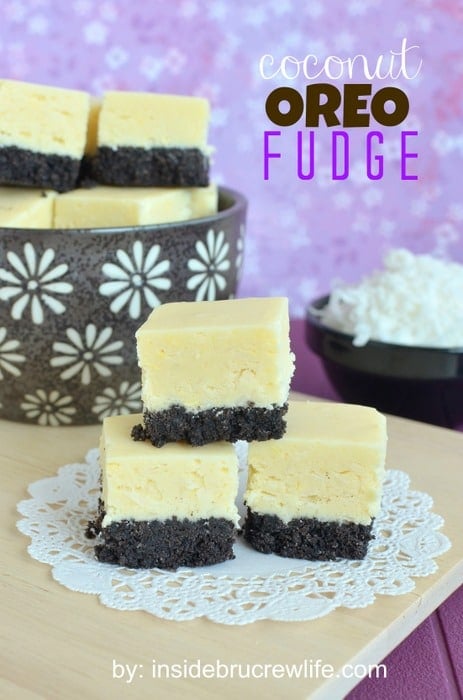 *I am a studio member for We R Memory Keepers/Lifestyle Crafts.   I am sent products in exchange for sharing fun projects on my blog.  No other compensation is given.  All opinions are 100% my own.