The rich and creamy layers in this Coconut Chocolate Pie recipe will make this pudding pie a hit with everyone. No bake coconut cheesecake and chocolate pudding will have you going back for another slice in a hurry!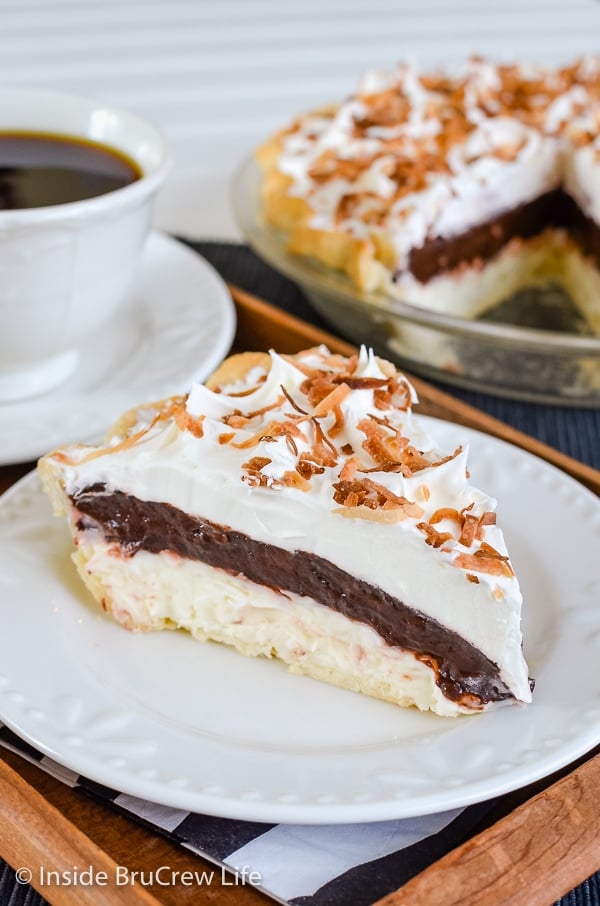 Chocolate Pudding Pie with Cheesecake:
The other day I was craving pie like crazy. I'm not sure why. Usually when I want something sweet, I crave these Homemade Chocolate Chip Brownies.
But for whatever reason I couldn't get the idea of a creamy pie out of my mind. So, I looked through the pantry and refrigerator to see what I could come up with.
I found a few boxes of chocolate pudding, shredded coconut, cream cheese, and Cool Whip. I knew right away that a pudding pie with a no bake cheesecake layer had to happen right away.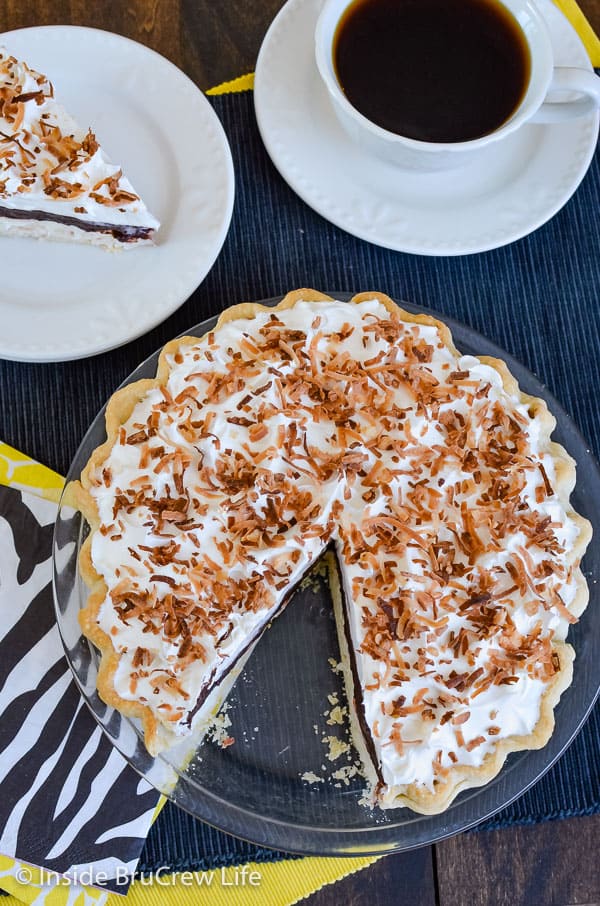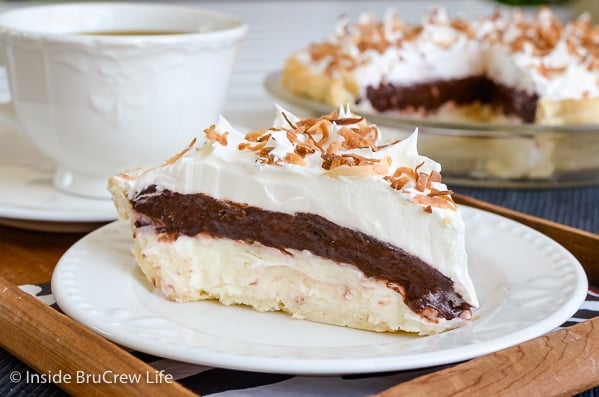 Pudding pies are one of the easiest pies known to man. Whisk the pudding mix and milk and spoon it into a no bake cookie crust. Easy, peasy, right?
Today I decided to add a coconut cream layer to a chocolate pudding pie because chocolate and coconut just belong together.
Recipe Ingredients:
Pie Crust - use a baked pie crust, Oreo cookie crust, or graham cracker crust
Cream Cheese - set this out ahead of time so it mixes easily
Powdered Sugar - sweetens the cream layer
Coconut Extract - adds more coconut flavor
Cool Whip - adds a fluffy texture to the cream layer and decorates the top of the pie. You can also use this Homemade Whipped Cream recipe if you like.
Shredded Coconut - it is a coconut pie after all
Milk - use 2% or full fat milk so the pudding mix sets up
Chocolate Pudding Mix - any flavor of chocolate pudding will work, but we prefer the chocolate fudge.
I couldn't wait to dig into this chocolate coconut pie. It was the perfect dessert to enjoy on PI day. And yes, I am crazy enough to make a coconut pie just so I can eat a slice.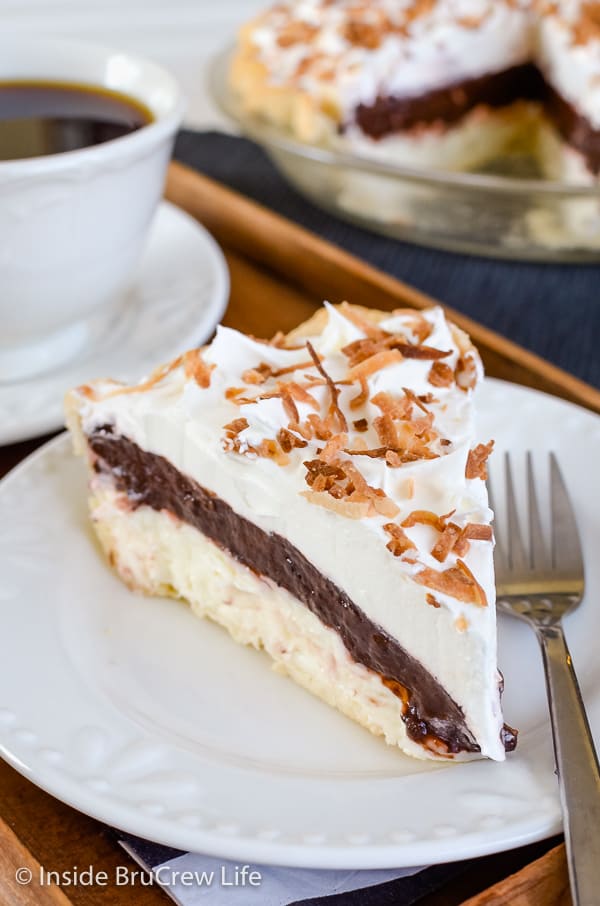 How to make a Coconut Chocolate Pie:
Step One: Bake and cool a pie crust.
Step Two: Make the coconut layer.
Beat the cream cheese, powdered sugar, and extract until creamy. Add some Cool Whip and mix it again.
Stir in shredded coconut and then gently spread the no bake cheesecake layer in the bottom of the cooled crust.
Step Three: Make the fudge pudding layer.
Whisk together the milk and pudding mix. Refrigerate for a few minutes to thicken it up.
Spoon the pudding gently on top of the coconut cream layer and spread it out.
Refrigerate the pie for a few hours or until it is completely set up.
Step Four: Decorate the coconut cream pie.
Pudding Pie Toppings:
Cool Whip, shredded coconut, toasted coconut
Cool Whip, Almond Joys or Mounds candy bars, shredded coconut
Cool Whip, chocolate curls, shredded coconut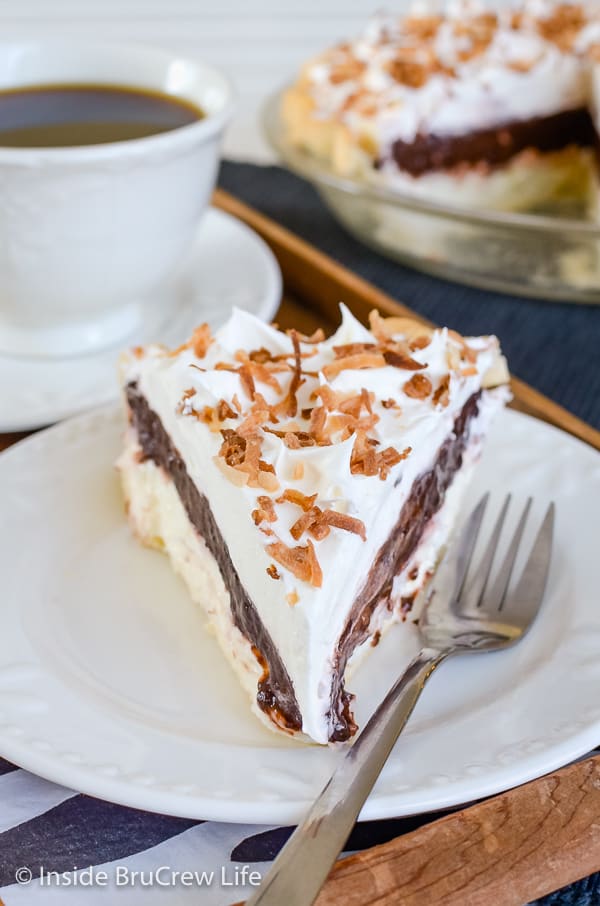 Recipe Questions:
Can you make this a no bake pie?
Yes, you can. Make a graham cracker crust or Oreo cookie crust instead of using a baked pie crust.
How do you store a pudding pie?
Store the pie in an airtight container in the refrigerator. You can also wrap it tightly with plastic wrap. The pie will keep for 2-3 days, after that it starts to get runny.
More easy pie recipes: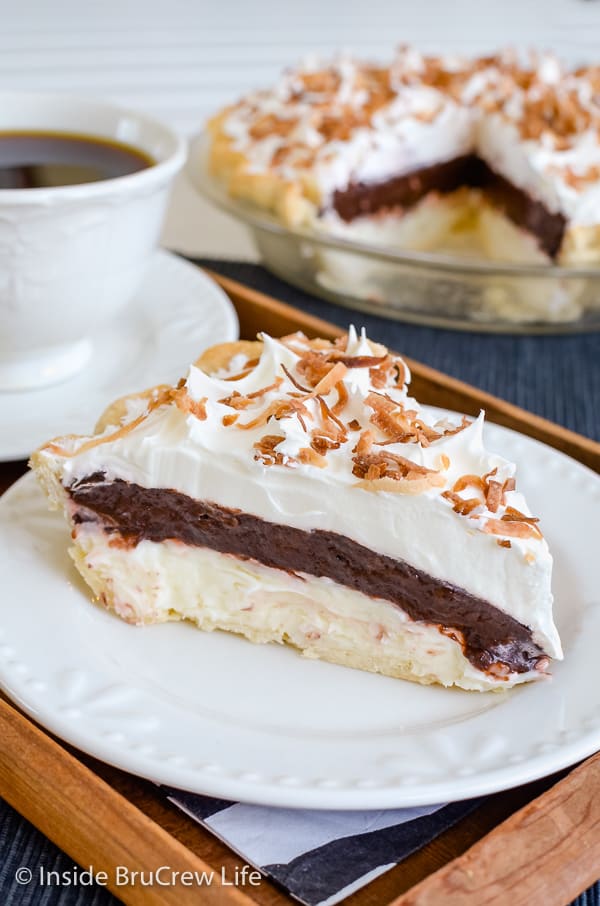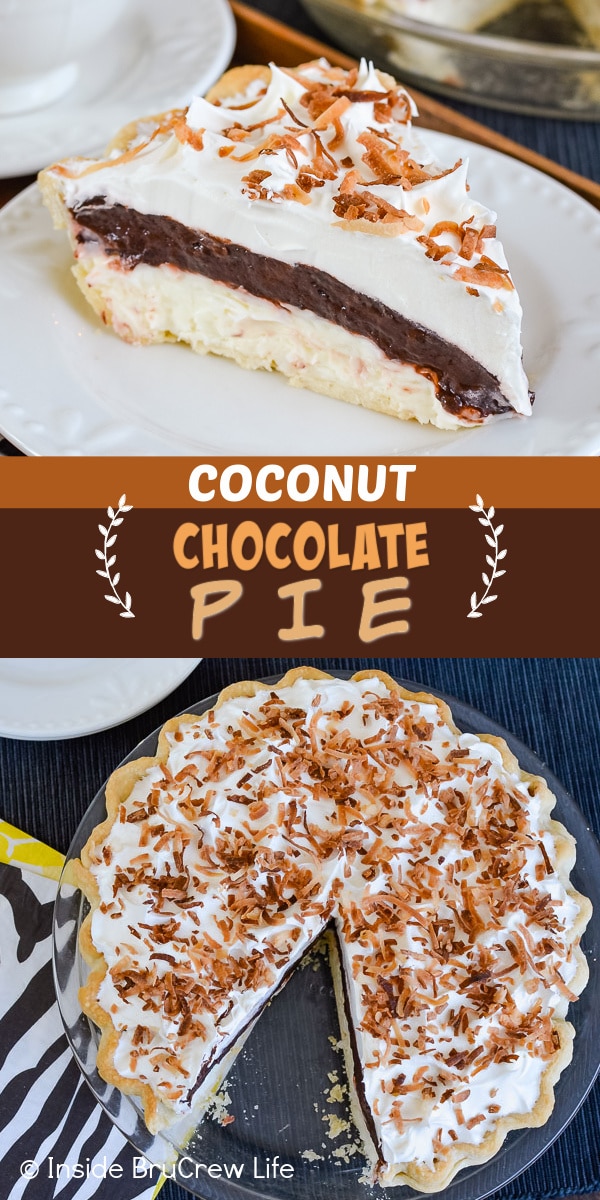 *The recipe for Coconut Fudge Pie was originally published on March 14, 2014. The photos have been updated and it was republished on March 28, 2021.