This post has been brought to you by Silk. Chocolate, Almond Milk, and coconut turn this easy, homemade hot chocolate into a gourmet drink without all the extra calories.  Try one of these Almond Joy Hot Chocolate drinks the next time you need a drink to warm you up.
*Make sure you sign up for the BruCrew email, so you see these recipes in your inbox each morning.**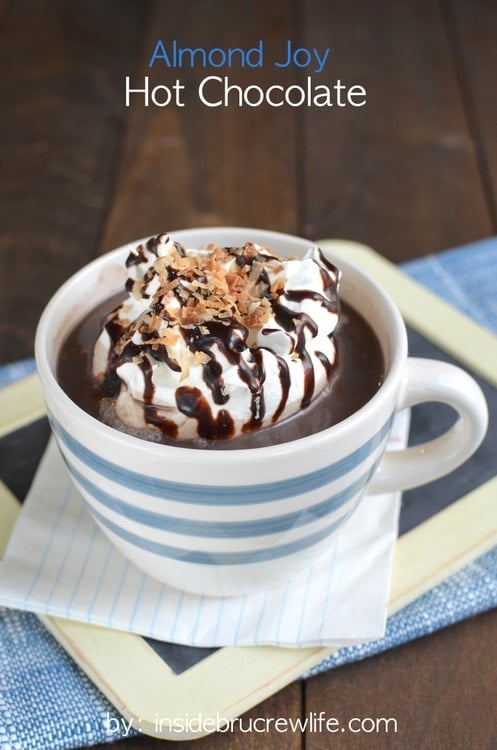 Fall has arrived completely here. The leaves on the trees have changed into the vibrant reds and oranges. The crisp smell of bonfires and leaves greets our noses each morning. We have been enjoying a bonfire on our deck a few nights a week, so the morning after the lingering smell of smoke greets you as you walk out the door. These chilly nights around the fire call for the three staples of hot dogs, s'mores and hot chocolate.
Not just any regular hot chocolate though. This Almond Joy Hot Chocolate is my newest fun creation using only 3 ingredients. Usually I just buy the big box of packaged mixes and keep those in my cupboard for easy grabbing when the kids want a warm drink. But now that I know how easy it is to make homemade, this one will be happening quite often around here.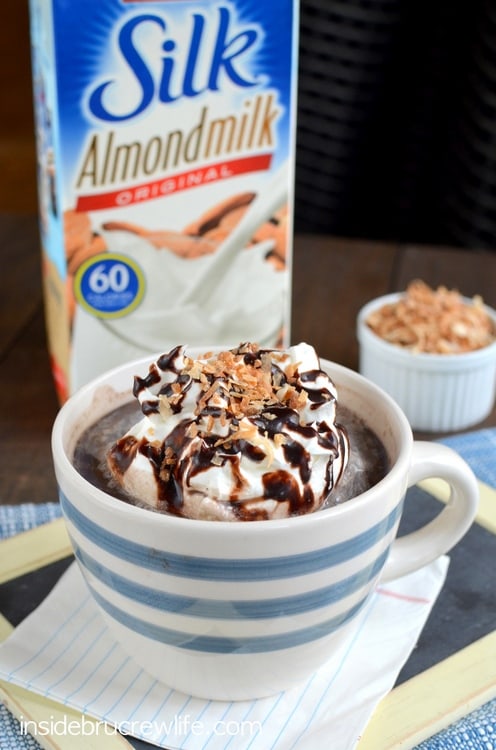 Recently Silk asked me to do a taste test with their Almond Milk. Now I love using these milks in my smoothies, but my family never seems to reach for the container when it is in the refrigerator. This was the week that was going to change. When the regular milk ran out, I didn't buy any more. I placed the container of original Almond Milk at the front of the refrigerator shelf and waited to see if anyone would go for it. Every day they passed it by and refused to have their cereal this way.
Finally I got out three small condiment cups, lined them up on the counter, filled them with just a small amount, and called our three kids into the kitchen. You should have seen their faces when I told them what we were going to do. But thankfully they all willingly took a sip. My oldest looked up with surprise and said that he actually didn't mind it. The younger two were a little bit harder to convince. Next taste test was on a bowl of cereal. I lined up the small bowls and filled them with Golden Grahams. Again my oldest said he actually liked how the flavor of the milk made the cereal taste even better. So for now I am 1 out of 3 for my Almond Milk conversions. I'm going to keep working on the younger ones.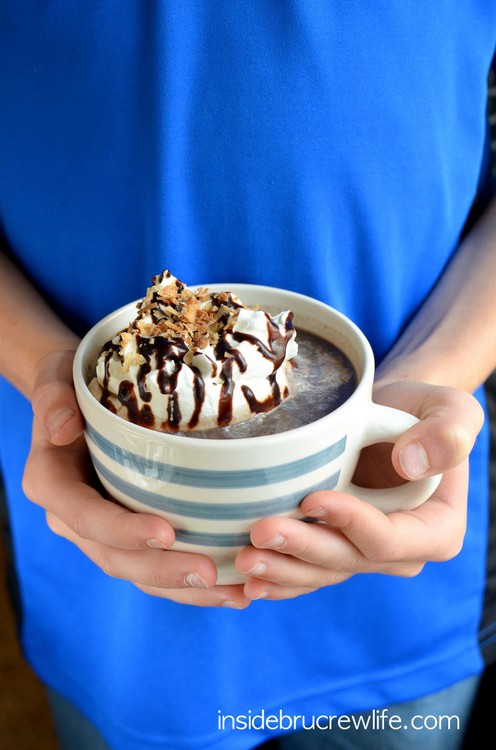 What my younger two don't know is that I used the original Almond Milk in their hot chocolate the other day. I'm kind of sneaky like that.
Using a little bit of cream of coconut and cocoa powder, I created a chocolate syrup that I heated up with some of the milk in a pan. Just a few minutes of warming the milk, and the hot chocolate was ready.
A big dollop of Cool Whip, some chocolate drizzles, and toasted coconut turned this simple hot chocolate into a gourmet drink. There is no need to hit up those coffee shops when you can make one that tastes better for half the price in your own home and in your comfy clothes.
Plus, with no extra added sugar in this drink, you are saving calories too. Definite bonus!!!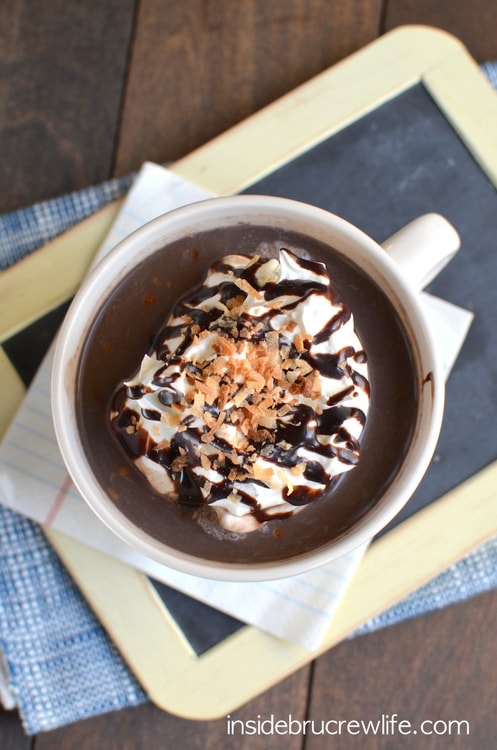 Stay up to date on all the BruCrew baking here:
FACEBOOK | PINTEREST | GOOGLE+ | TWITTER | INSTAGRAM | BLOGLOVIN
Sign up to receive an email in your inbox for each new recipe:
EMAIL SUBSCRIPTION
Yield: 1 serving
Almond Joy Hot Chocolate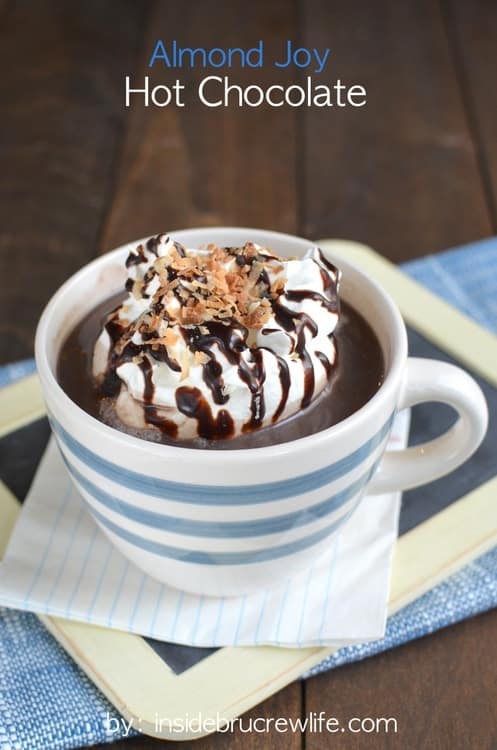 Almond Milk, coconut, and chocolate come together to make an easy and light hot chocolate. Perfect gourmet drink without spending the extra money.
Ingredients
2 Tablespoons dark cocoa powder
2 Tablespoons Stevia in the raw
1/2 teaspoon coconut extract
1 cup unsweetened almond milk, divided
Instructions
Whisk together the dark cocoa powder, cream of coconut, and 2 Tablespoons of the almond milk over low heat until a syrup forms.
Whisk in the rest of the milk and heat over medium heat until hot. Do not boil.
Pour into a mug and top with Cool Whip, chocolate syrup, and toasted coconut, if desired. Makes 1 serving.
Notes
Optional:
1/4 cup Cool Whip, optional
1 Tablespoon chocolate syrup, optional
1 teaspoon toasted coconut, optional
Nutrition Information:
Yield:
1
Serving Size:
1
Amount Per Serving:
Calories:

50
Total Fat:

4g
Saturated Fat:

0g
Trans Fat:

0g
Unsaturated Fat:

2g
Cholesterol:

0mg
Sodium:

5mg
Carbohydrates:

36g
Fiber:

3g
Sugar:

1g
Protein:

3g
Want a few more gourmet drinks that won't break the bank?  Try these fun homemade drinks.
Want to conduct your own taste test with your family? Sign up for the Silk eNewsletter and receive a free coupon to try Silk. You will also receive additional coupons, a birthday offer, and monthly chances to win a year's supply of Silk.
Follow along with Silk's Facebook page.
This conversation is sponsored by Silk. The opinions and text are 100% mine.  Thank you for letting me share about brands we love.