Make an Almond Joy Hot Chocolate the next time you need a drink to warm you up. This easy, low carb hot chocolate tastes just like a gourmet drink, so no one will miss the sugar and calories.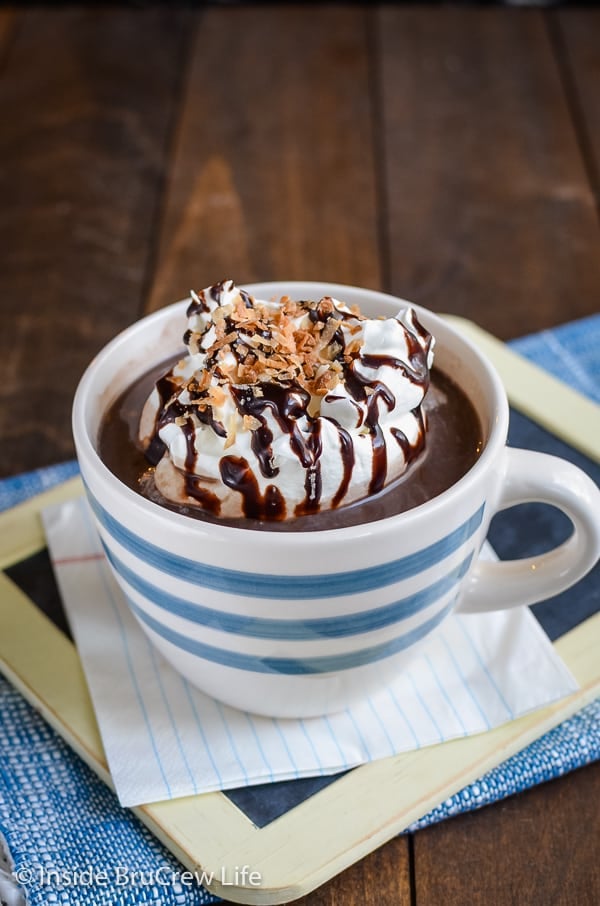 CLICK HERE TO PIN THIS RECIPE FOR LATER!
This past week we have been completely and totally enjoying the cold weather here in Florida. Although, I guess I should just say it is cool weather because we used to live in the Midwest. And those of you that live there know that is truly cold territory.
I can honestly say I do not miss those frigid, cold months. We do miss having a bonfire in our backyard though. There is just something about sitting around a warm fire and then waking up and smelling that lingering campfire smoke the next morning.
Those chilly nights around the fire always called for the three staples...hot dogs, s'mores, and hot chocolate. Not just any regular hot chocolate though. I recently realized how easy it is to make homemade hot chocolate using a few ingredients that we always have on hand.
Usually I would buy a big box of packaged mixes and keep those in the cupboard to mix up when the kids wanted a warm drink after playing outside. But now that I know how easy it is to make hot chocolate, it will be happening quite often around here.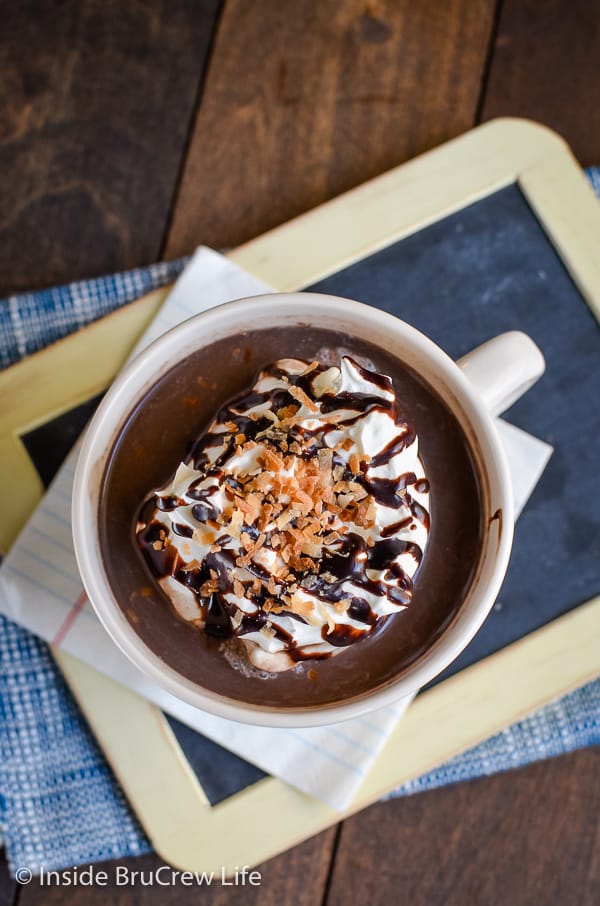 The boys in our house never reach for the almond milk in the refrigerator. So, when their regular milk ran out, I didn't buy any more.
I placed the container of almond milk at the front of the refrigerator and waited to see if they would drink it. Now our daughter is ok with it because she doesn't drink dairy, but every day the boys passed it by and refused to eat cereal this way.
Finally I got out some small cups, filled them with a small amount, and called them into the kitchen. You should have seen their faces when I told them what we were going to do.
Thankfully they willingly took a sip. My oldest looked up with surprise and said that he actually didn't mind it. The youngest was a little bit harder to convince, so I will have to keep working on him.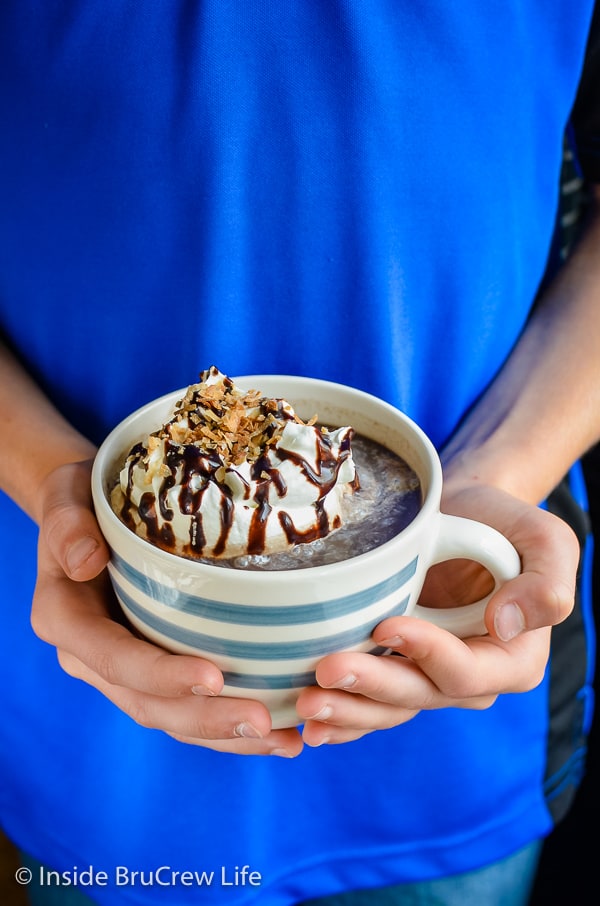 What the kids don't know is that I used almond milk in their dairy free hot chocolate the other day. I'm kind of sneaky like that. I have also been using it in this Dark Chocolate Latte.
How to make Almond Joy Hot Chocolate:
Whisk together cocoa powder, monk fruit sweetener, almond and coconut extract, and a little bit of milk in a pan over low-medium heat to create a chocolate syrup.
Once everything is dissolved and mixed together, pour in the remaining milk.
Stir until heated through to your desired temperature. Do not let it boil.
Pour into a large mug and add toppings, if you like.
Hot Chocolate Toppings:
Whipped Cream - Cool Whip, dairy-free whipped topping, coconut whipped cream
Syrup - chocolate, caramel, butterscotch, peanut butter
Toppings - sprinkles, toasted coconut, crushed cookies, marshmallows, cinnamon, peppermint bits
There is no need to go to coffee shops when you can make a gourmet drink that tastes better for a fraction of the cost. Plus, the added bonus is that you can stay home and wear jammies.
Plus, there is no added sugar to this keto hot chocolate, so you are saving calories too. That is a definite bonus!!!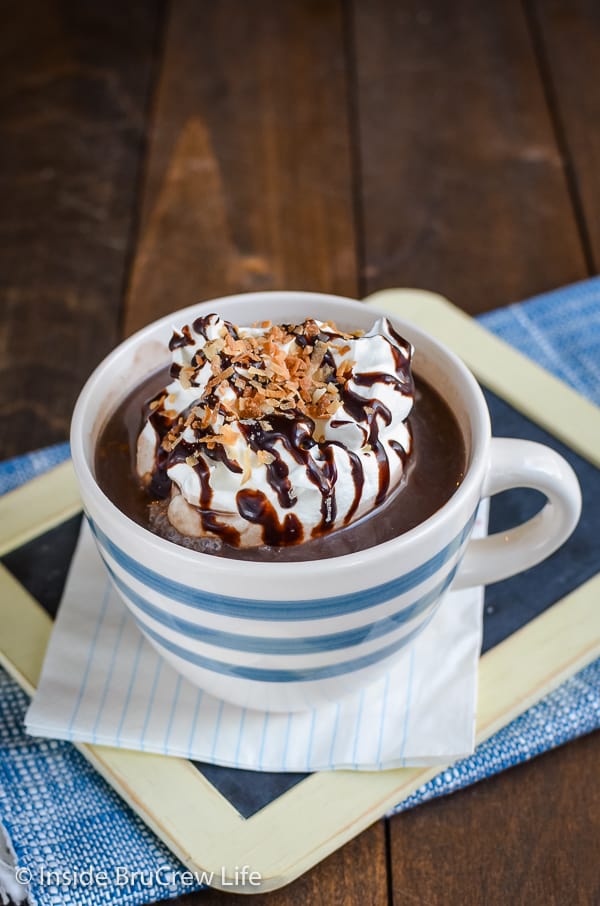 More homemade hot chocolate and latte recipes you may like: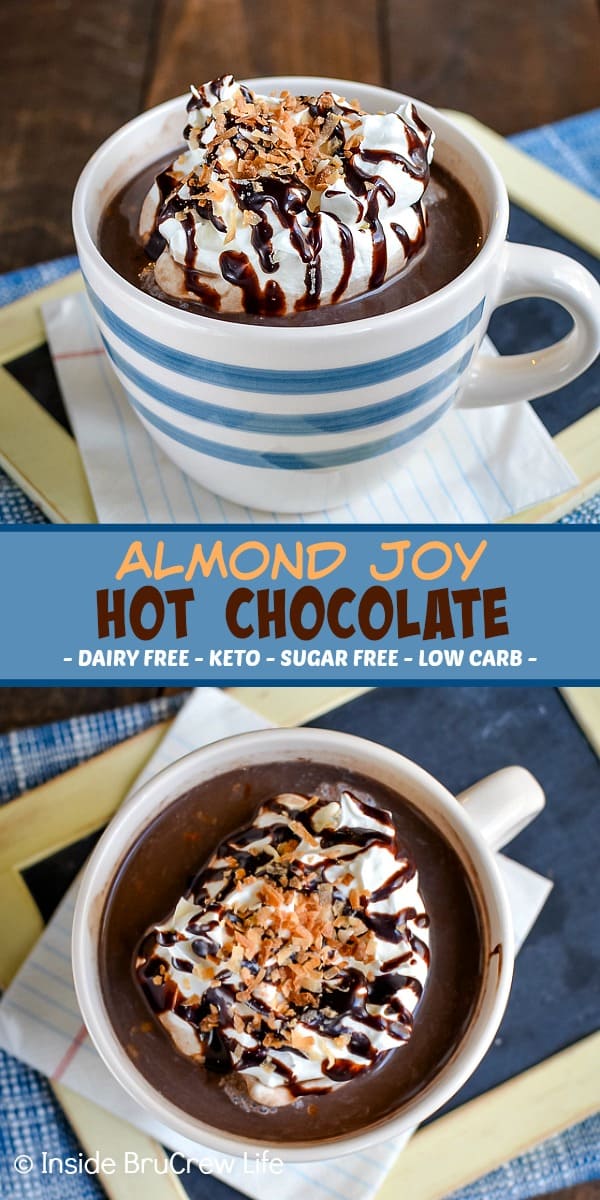 *This Almond Joy Hot Chocolate was first published on October 24, 2014. The photos and post have been updated and republished on January 27, 2020.