Make a Salted Caramel Mocha at home with this Starbucks copycat recipe. It's made with coffee and milk and topped with whipped cream and a drizzle of caramel sauce. Trust me, you'll want to enjoy this delicious drink all year.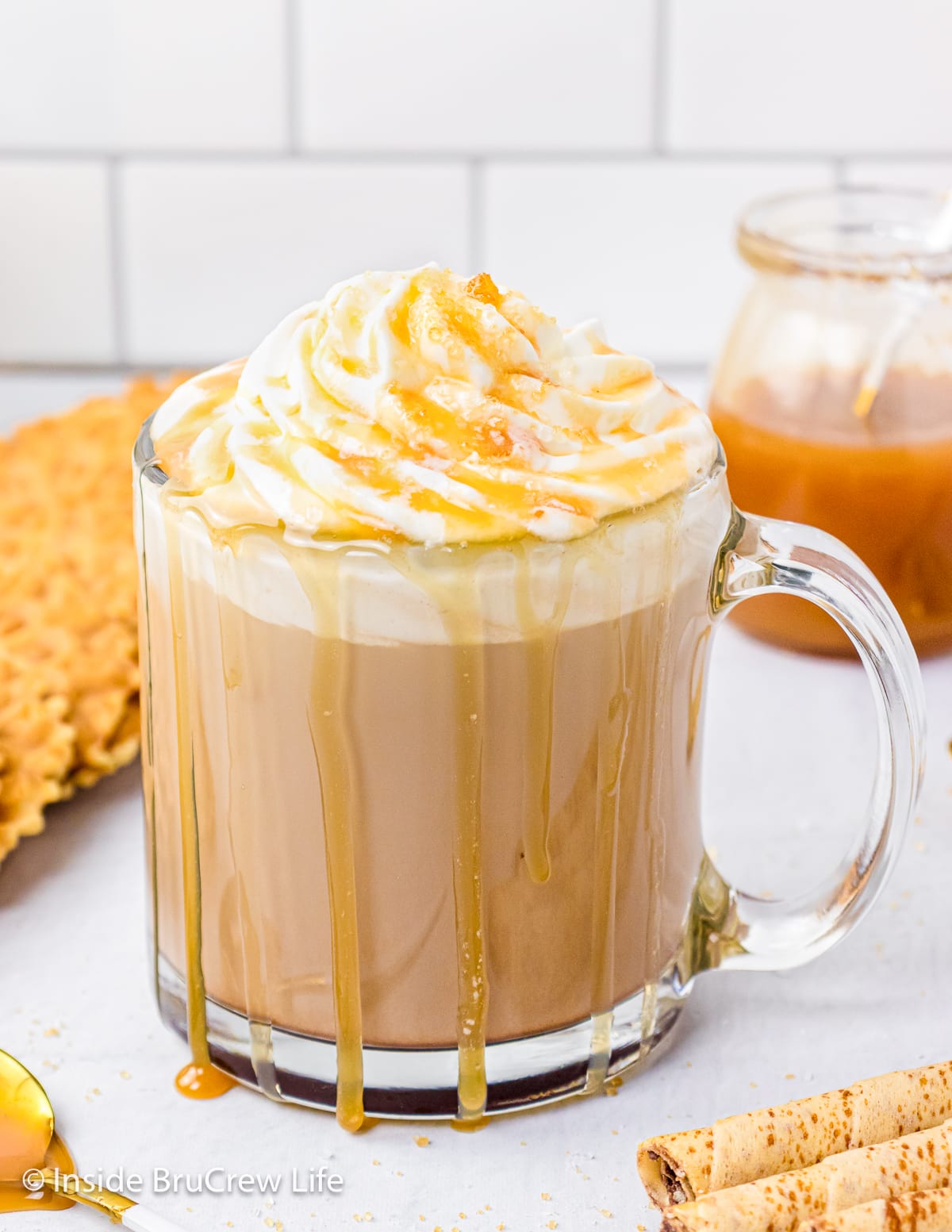 Jump to:
A salted caramel latte and pumpkin cream cold brew are my two favorite fall drinks. I can't get enough of either of them!
Unfortunately, the salted caramel mocha was discontinued in 2021. It makes me sad that the popular seasonal drink is not on the Starbucks menu anymore.
I am going to show you just how easy it is to make one at home, though. In just minutes, you will be sipping on a delicious latte and thinking about how much money you saved.
Why You Will Love This Caramel Latte
Mixing chocolate, caramel, hot coffee, and steamed milk creates a delicious homemade version even better than at a coffee shop.
Saves money. Buying drinks at coffee shops can be expensive over time. Making homemade allows you to enjoy the same flavors without the high price tag.
Convenient and easy. Making the drink at home eliminates the need to travel to a coffee shop and wait in line. It's a great option, especially for those who want to enjoy their favorite Starbucks drink without leaving the house.
Available all year. Enjoy seasonal drinks year-round by making your favorite copycat recipes at home.
What is a Mocha Latte?
A mocha latte is a delicious coffee drink with an espresso shot, steamed milk, and chocolate syrup. It's often called a "mocha."
What's the difference between a mocha and a latte? A latte is an espresso with steamed milk poured on top. A mocha is the same drink with chocolate syrup added to it. It is sweeter and has less coffee flavor because of the added syrup.
Key Ingredients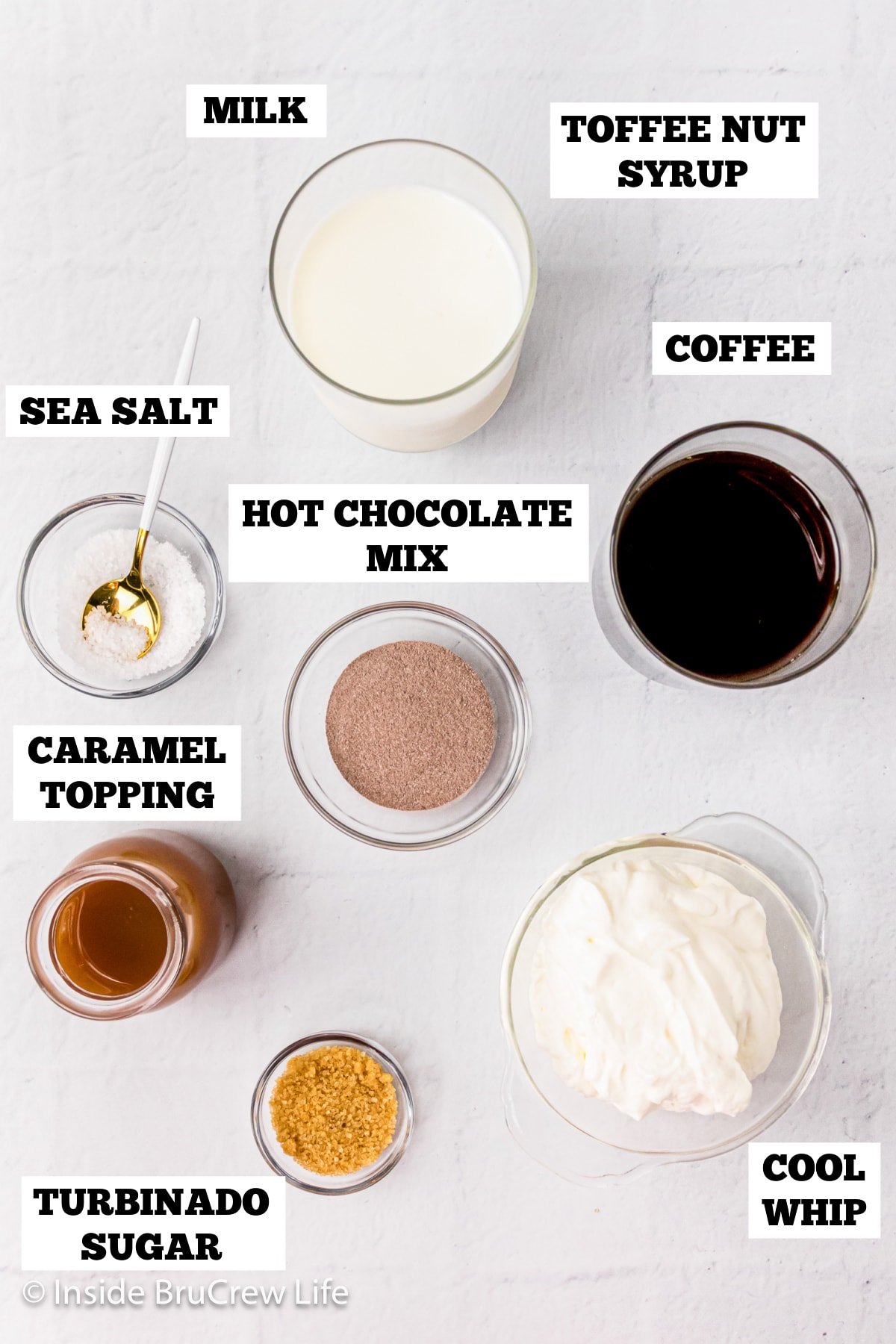 Make this salted caramel mocha recipe with a few simple ingredients in your kitchen. What sets it apart from other drinks is the sea salt sprinkle that goes on top.
Milk - You can use any variety of milk for your mocha. Whole milk will froth the best, but I prefer fat-free or 2% to reduce the calories.
Caramel Topping - This gives the drink a great caramel flavor. Plus, the extra caramel drizzle makes the drink look pretty. Use store-bought or homemade caramel sauce.
Hot Chocolate Mix - You can use chocolate syrup instead of the powdered mix.
Coffee - Use strong brewed coffee or two espresso shots for best results. To make strong brewed coffee, increase the coffee grounds but not the water. You can also use a French press or espresso maker.
Turbinado Sugar - Find this coarse raw sugar in large boxes or individual packets.
Sea Salt - Make sure you use coarse ground sea salt, or your topping will be too salty. If you want it to taste like Starbucks, use smoked sea salt.
Toffee Nut Syrup - This is optional, but it will make your homemade drink taste exactly like the Starbucks salted caramel mocha. Use it instead of the caramel in the milk.
How to make a Salted Caramel Mocha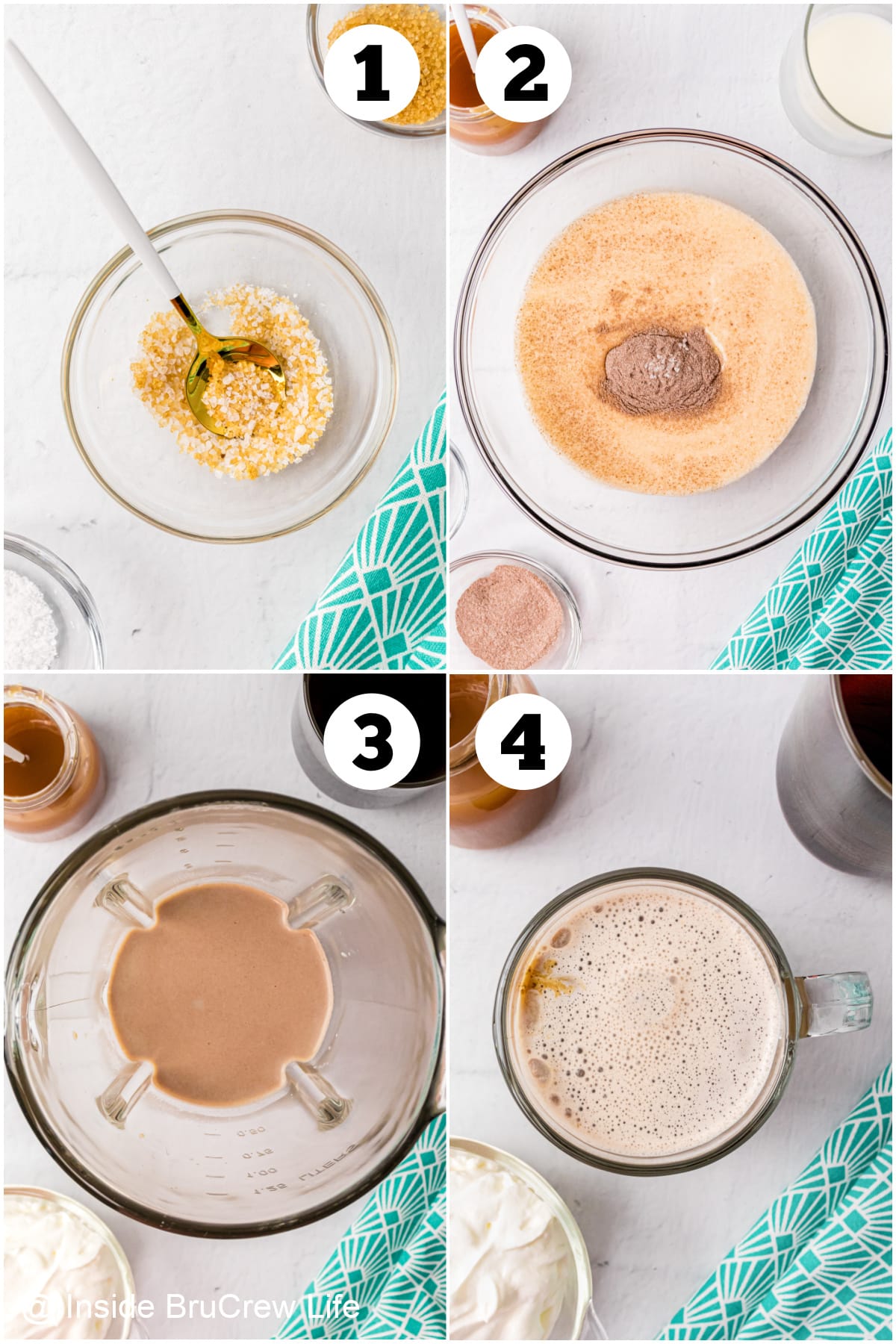 This salted caramel mocha latte can be made in less than 5 minutes. Heat, froth, and pour over hot coffee. Don't forget the whipped cream and caramel drizzles because it really does add a delicious flair to the coffee drink.
Stir together the sea salt and raw sugar in a small bowl.
Mix milk, caramel topping, hot chocolate powder, and sea salt in a small saucepan. Heat over low heat until very warm. Do not let it boil.
Use a handheld frother or a blender to pulse the mixture until foamy.
Pour coffee into a mug and top with steamed chocolate milk. Add Cool Whip, a drizzle of caramel syrup, and a pinch of salt and sugar.
Tips and Tricks
Buy high-quality ingredients. Use good coffee beans or espresso pods for the best-tasting coffee base. A better quality caramel will also add to the flavor.
Try other milks. Any milk or milk alternative can be used in this recipe. Certain types of milk may froth less than others.
Add toffee nut syrup. To mimic the Starbucks caramel mocha, replace the caramel in the milk mixture with 2 tablespoons of the syrup. There are a couple of online stores (Torani or Monin) that you can order from.
Substitute chocolate syrup. You can use Hershey's chocolate syrup instead of the hot chocolate mix.
Use a microwave. Heat the milk mixture in the microwave to make this caramel mocha even quicker.
Make an iced version. Brew the coffee as normal, but let it cool slightly. Do not steam the milk. Stir together the cold milk, powder, and caramel. Pour over ice and add the coffee.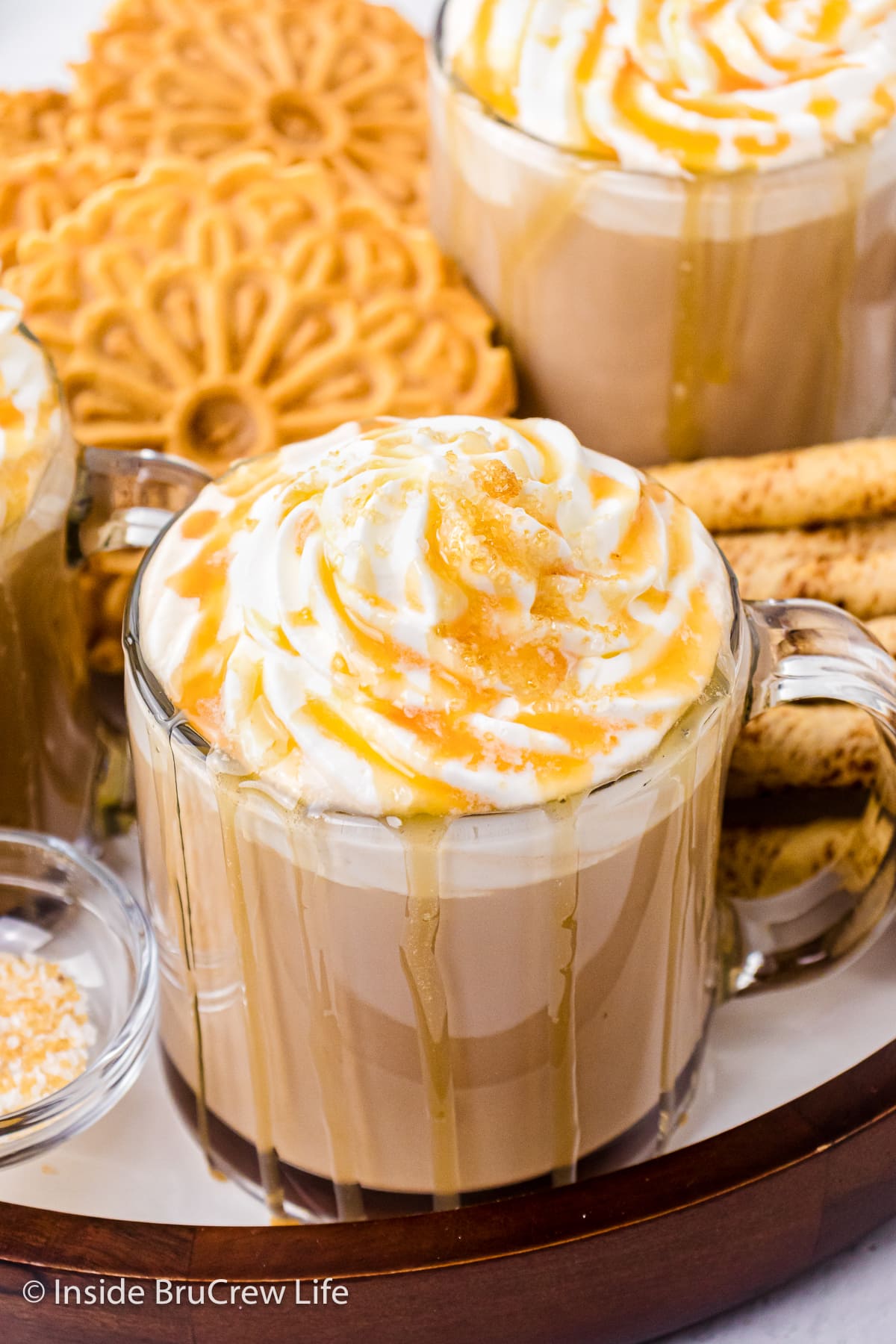 FAQs
How do you froth milk for a latte?
To froth the milk mixture, you can use a hand-held aerolatte, a blender, an immersion blender, or a milk frother. You can also pour the warm mixture into a mason jar, tighten the lid, and shake until frothy.
What kind of milk do you use in a homemade latte?
You can use any milk in this caramel latte, so feel free to use whole, 2%, or fat-free dairy milk. Use coconut, oat, or almond milk. Keep in mind that some milk will froth less, but the taste will still be the same.
Can you make this latte dairy-free?
Yes, you can. Almond, soy, and coconut milk are great options. Top the latte with vegan whipped cream before serving.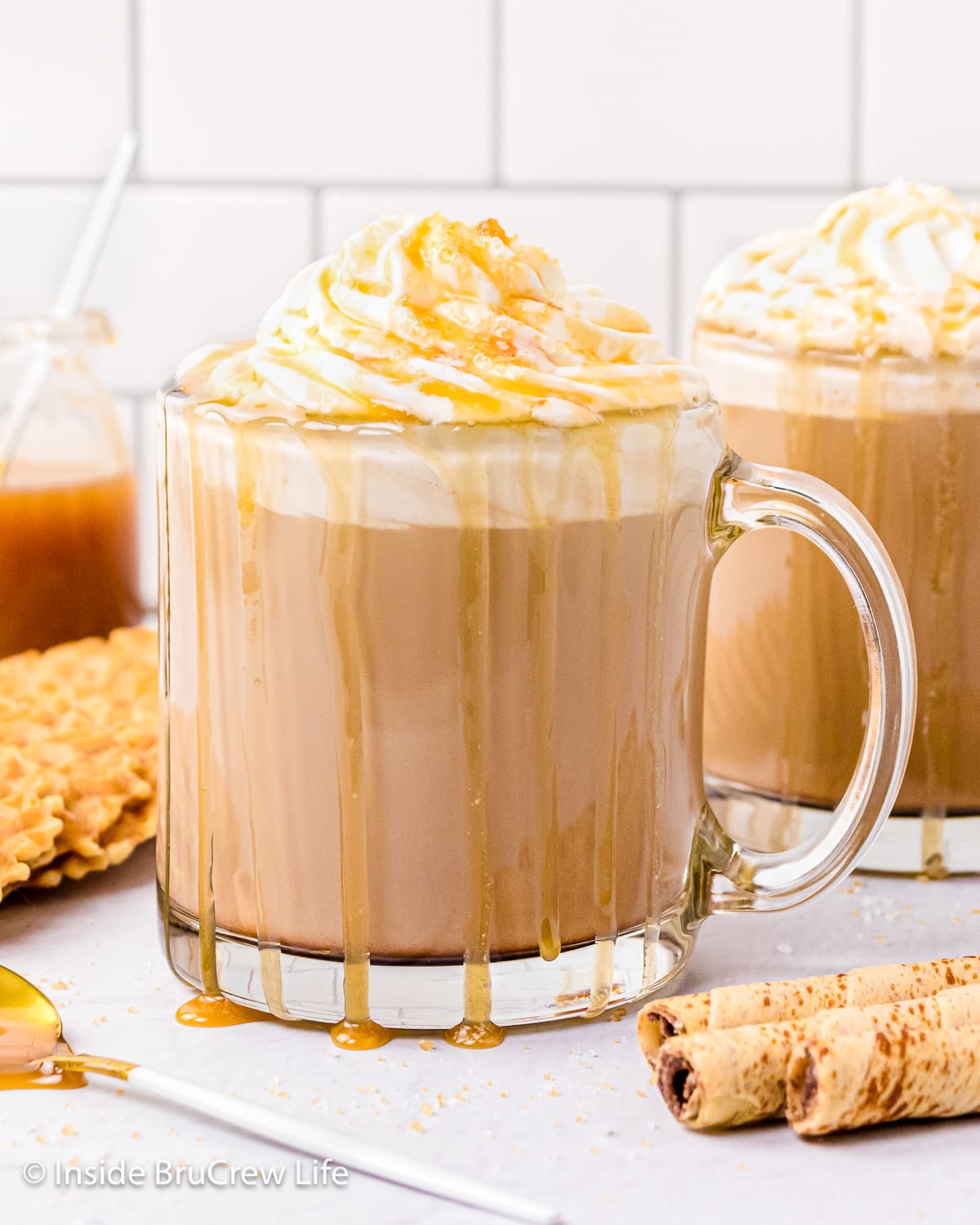 Other Coffee Drinks
Do you love a recipe you tried from Inside BruCrew Life?
Please leave a 5-star ⭐️ rating and a review in the comments section below.
*This post was first published in October 2013. The photos were updated in August 2021, and it was republished in August 2023.