Adding cookie crumbles to the rim of your glass isn't necessary, but it sure does make this Thin Mint Latte more fun to drink, especially on a Monday.
*Love these recipes? By signing up for the BruCrew email, these recipes will be delivered to your inbox each day.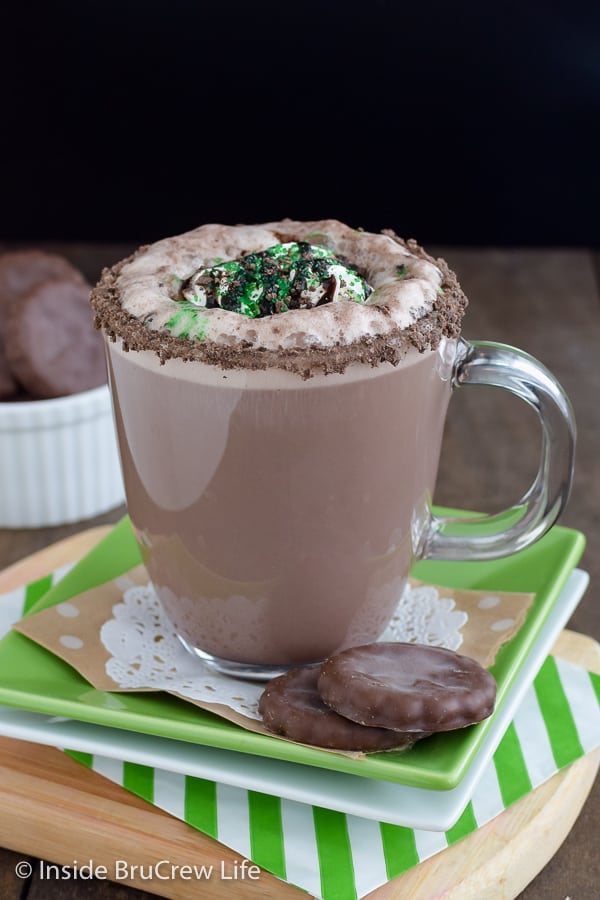 CLICK HERE TO PIN THIS RECIPE FOR LATER!
I have to admit that I love living in Florida where we do not have winter storms anymore.
A few years ago when we lived in IN, we had a huge winter storm roll through and dump about 12 inches on our town. Those who live in the Midwest know that you shouldn't rule out winter just because it's March.
A homemade latte is the perfect way to stay warm from snow…or from having your air conditioner set really low. Yes, that's the only chilly weather I am experiencing right now. LOL!
The good thing about making these coffee drinks at home is that I do not have to go anywhere. Yay for not having to get ready to go out for the day. Plus, not spending $5 on one drink is always a good reason to keep making them at home.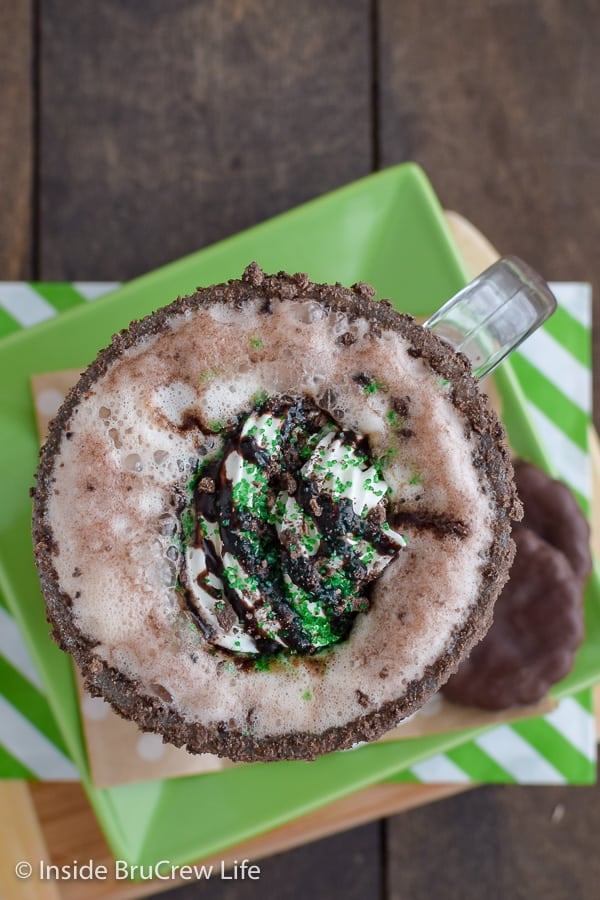 With a certain cookie season in full swing, I decided to add those flavors to a homemade latte recipe. Chocolate and mint add such a great flavor to a cup of coffee.
After the third cup, I decided to have fun with the presentation. A cup of coffee with cookie crumbles on the rim and on top, plus Cool Whip and chocolate drizzles looks and tastes pretty amazing.
I also did a mug with a rim of green sugar.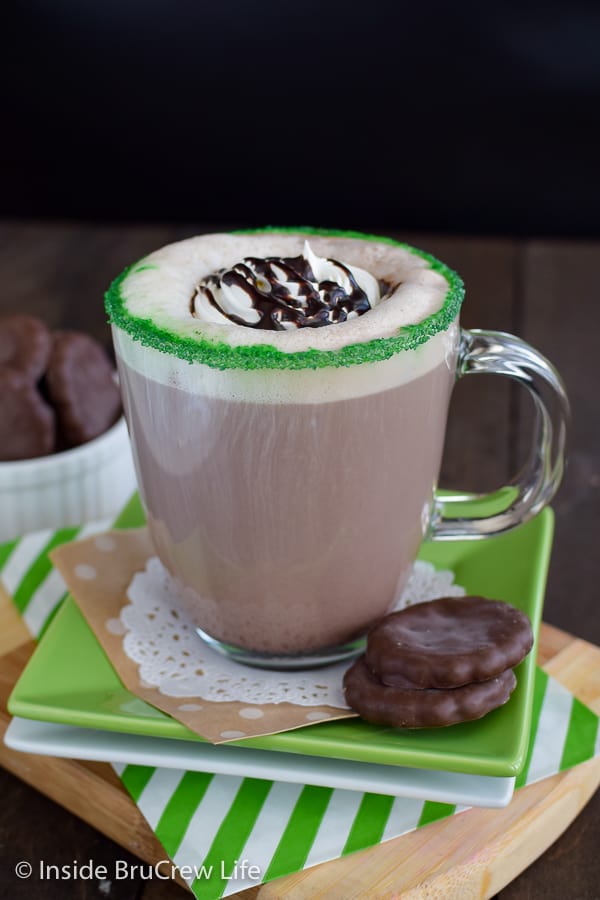 The cookie crumbs or green sugar is totally optional, but I think you should totally try it.
Why? 1. Because it is so fun! 2. It makes the homemade latte taste so much better!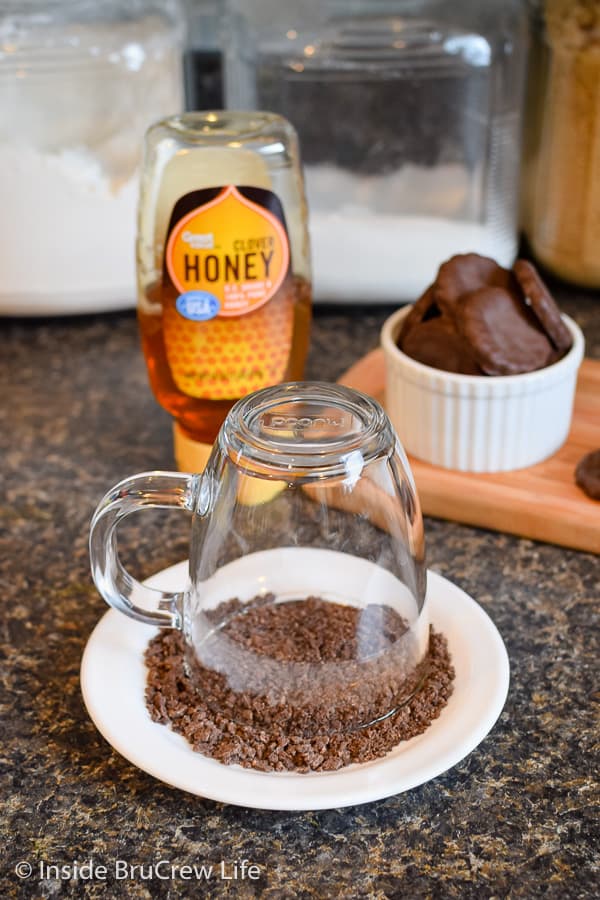 A Thin Mint latte with a rim of green sugar or cookies definitely needs to happen in your life. I loved both, but the rim of cookie was my favorite.
Dip the top of the glass in honey, then dip the rim in crushed cookies.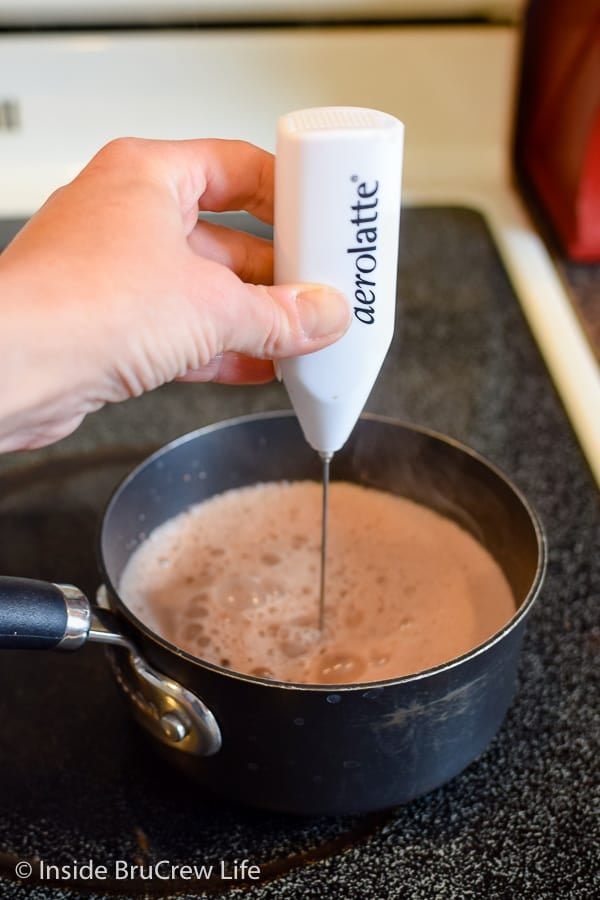 How to make a Homemade Latte:
Make a cup of strong coffee and pour it into a measuring cup.
Then heat the milk, syrup, and extract on the stove on low to medium heat until it is hot.
I bought this Aerolatte milk frother a few months ago, and it is my new favorite kitchen toy. It's perfect for making a Coconut Nutella Latte or this Dark Chocolate Latte too.
Pulse the hot milk until you get a nice layer of foam on top. You can also pulse the milk in a blender to make it frothy.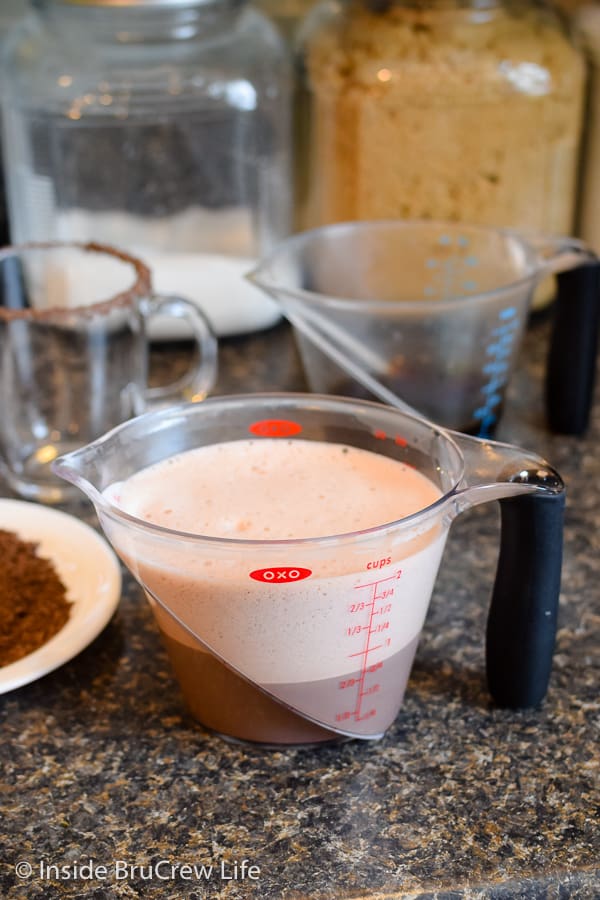 Tips for pouring a Thin Mint Latte:
When you are making a drink with a fun dipped rim you need to have the frothed milk and coffee in a container that can pour easily. The first one I poured the coffee in from a regular coffee cup, and the coffee went all over the sides of my cup. Bye, bye fun rim of cookie!
An angled measuring cups works great for pouring the coffee and frothed milk into the mug without spilling it on the rim.
As you are pouring, use the back of a spoon to keep all the foam from going into the cup if it is smaller. If your mug is large, then you can pour everything in right away.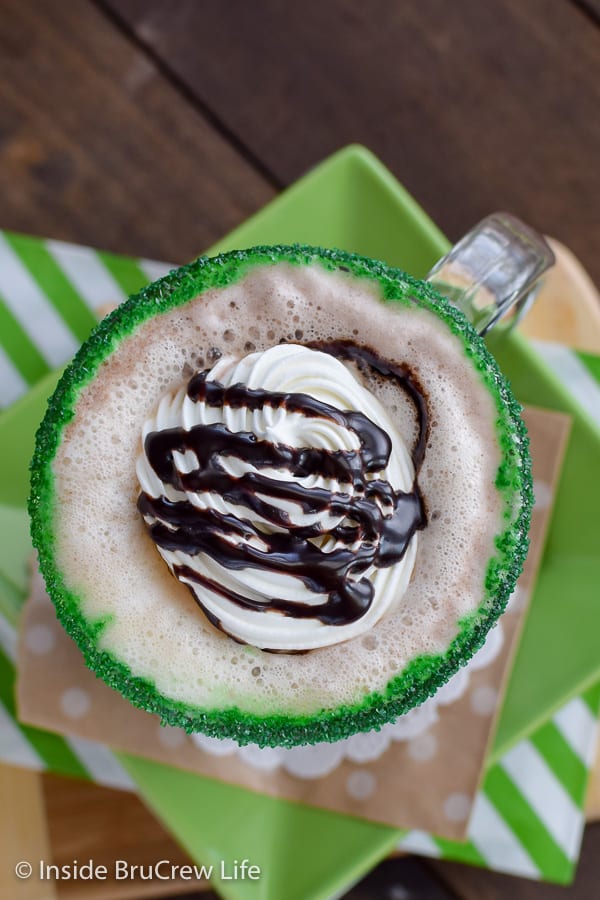 Now if I were you, I would go find a box of Thin Mints. Crumble 1 cookie to dip your coffee cup in, then enjoy a few more while you sip your Thin Mint Latte.
I'm confident that you will be making this one over and over again. How do I know? Because I had 4 in 4 days…yup, they are that good.
More ways to enjoy Thin Mint cookies:
Layers of creamy mint cheesecake and a soft chewy brownie will make this Thin Mint Cheesecake Brownie Cake your new favorite dessert to share with friends.
Three times the mint candies and cookies and marshmallows make these Mint S'mores Brownies a dream come true for chocolate and mint lovers.
A batch of this Fudge Mint Popcorn will disappear in a hurry! Chocolate covered popcorn loaded with mint cookies and candies is a good idea.
Thin Mint Cupcakes with a cookie baked in the bottom and topped with a mocha frosting is a must make dessert.
You are only two ingredients away from having gooey Thin Mint S'mores in your life. What are you waiting for???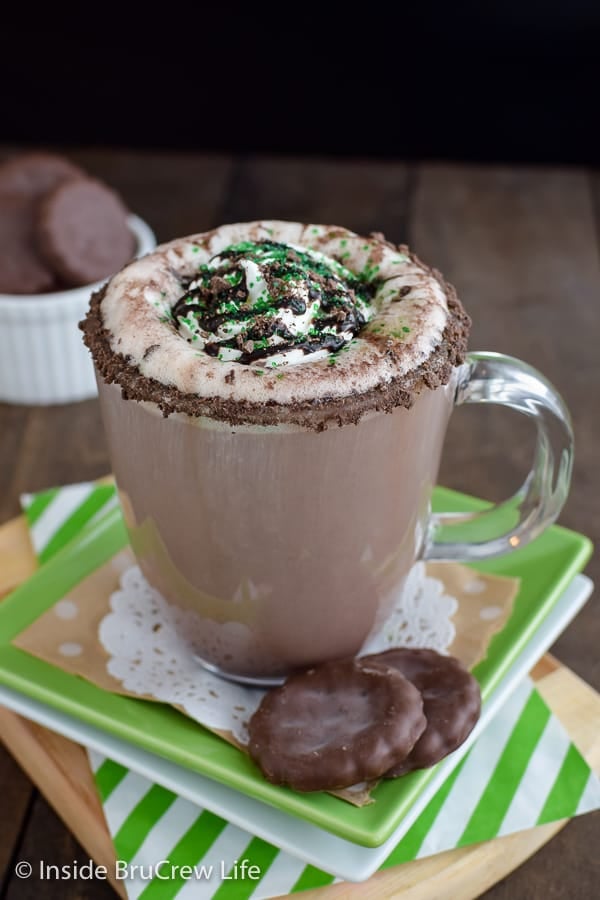 Connect more with Inside BruCrew Life!
Follow us on social media, so you never miss a post.
Email Subscription | Facebook | Pinterest | Twitter | Bloglovin
I also created a fun new Facebook group, and I would love for you to join. It's a group where you can share your favorite recipes, ask questions, share photos, and see what's new with the BruCrew. If you would like to check it out, you can request to join HERE.
Be sure to follow me on Instagram and tag #brucrewlifebaking, so I can see all the Inside BruCrew Life recipes you are making.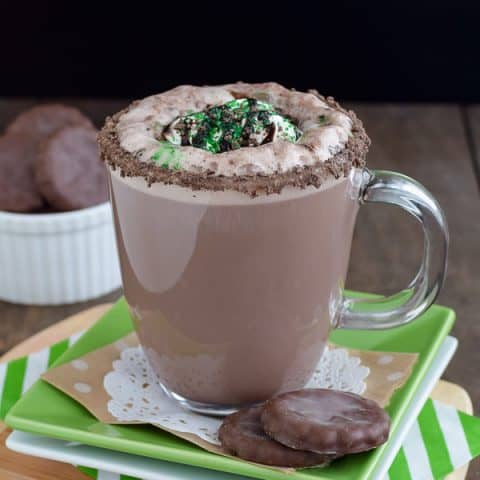 Thin Mint Latte
Adding cookie crumbles to the rim of your glass isn't necessary, but it sure does make this Thin Mint Latte more fun to drink, especially on a Monday.
Ingredients
1 Tablespoon honey
2 Thin Mint cookies, crumbled
1/2 cup strong brewed coffee
1 cup fat free milk
3 Tablespoons chocolate syrup + extra for garnish
1/4 teaspoon mint extract
2 Tablespoons Cool Whip
1/4 teaspoon green sanding sugar
Instructions
Dip the rim of the cup in honey. Dip it in crushed cookies next. Set the cup aside.
Brew the coffee and set aside.
Stir the chocolate syrup and mint extract into the milk. Heat the milk on low to medium heat until very hot, then remove from the stove.
Use a blender or frothing tool to create a generous foam. Pour the frothed milk and coffee into a large mug.
Top with desired amount of foam, Cool Whip, syrup, cookie crumbles, and green sugar. Serve immediately.
Recommended Products
As an Amazon Associate and member of other affiliate programs, I earn from qualifying purchases.
Nutrition Information:
Yield:

1
Serving Size:

1
Amount Per Serving:
Calories:

421
Total Fat:

7g
Saturated Fat:

5g
Trans Fat:

0g
Unsaturated Fat:

1g
Cholesterol:

5mg
Sodium:

210mg
Carbohydrates:

81g
Fiber:

2g
Sugar:

67g
Protein:

10g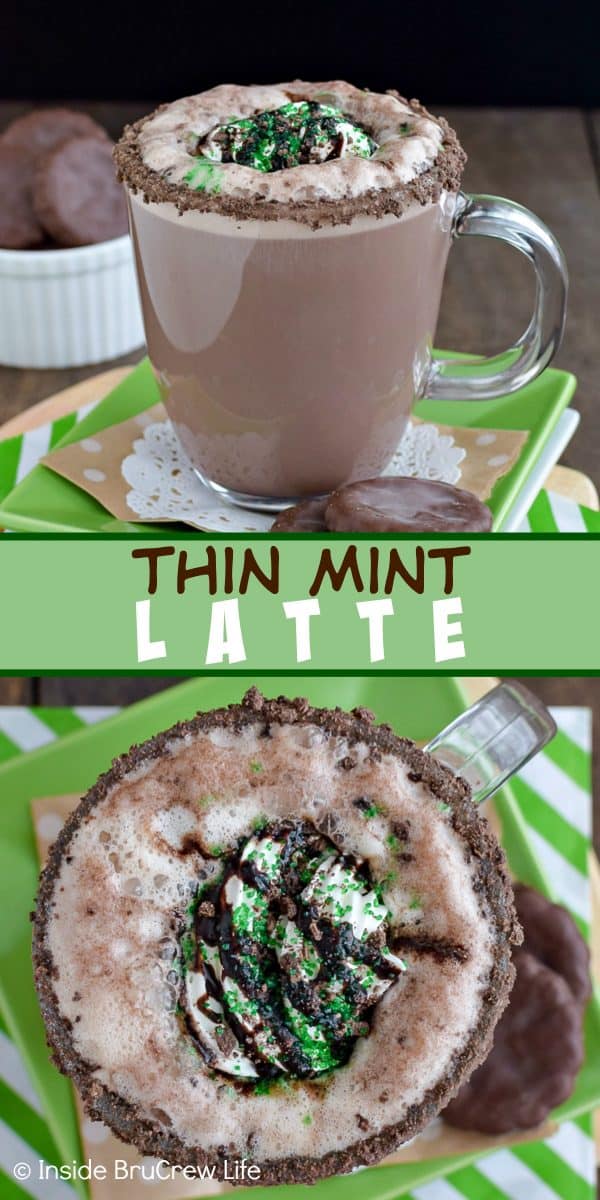 *The post for this Thin Mint Latte was first published on March 2, 2015. Photos have been updated and republished on March 4, 2019.
**This post may contain affiliate links. Buying these products or clicking through generates a small commission for me. Thank you for letting me share the products I use and love and for supporting BruCrew Life this way.