This Coconut Nutella Latte is the perfect coffee drink to enjoy when you have time to sit and relax. It also is a great travel coffee when you put it in a to go cup for the drive to work.
I know that most of you are enjoying warm summer like days already. But I have been seeing some of my blog friends share pictures of snow on the ground still, so hot coffee is still welcome.
It is definitely warming up here. Yesterday was in the 80's, and it was quite warm in the sun watching our son's first baseball game. But the mornings are still cool enough to enjoy a warm cup of coffee or a warm cup of this Coconut Nutella Latte.
If you came over for coffee or a latte, I would make you some Banana Muffins, and we could sit and chat. Something that I might share with you is that I recently found out my baby boy likes a girl.
Now I realize he is going to be 14 and liking a girl isn't something new. But man, I'm not ready for the whole girl thing.
I mean I should have realized it was coming. He cares about his hair and has been "borrowing" the Axe body spray. He's still my baby in my eyes, and I'm not ready for the whole dating thing.
We were driving to his dentist appointment the other day, and I was casually questioning him. You know the easy, simple questions that we as parents do to see what kind of a reaction you get out of them.
I asked how the boys in his class were behaving. Then I asked how the girls were. He got that that silly little grin, and I knew what that meant.
I pulled out of him that she's an older girl, and she has dark blonde hair, but those are the only details he gave up. I had to get her name from one of his friends.
At least he is still too young to date. I have a few more years before I have to worry about that. All these kids liking kids has me needing a stronger drink! Are you ready for your second cup of coffee? Let me make you another latte.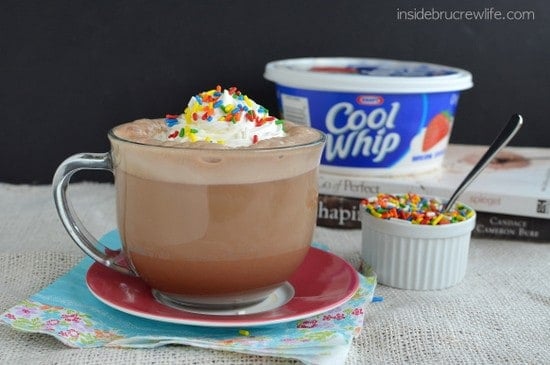 How to make a Coconut Nutella Latte
This coffee is seriously so easy to make. You start by making a strong pot of coffee. Then place the milk and Nutella in a saucepan and heat it until warm. Pour the warm milk into a blender or use an Aerolatte.
I know I have heard of blenders exploding because of the heat inside. I leave the pour spout open until the very last second, so the heat doesn't build up in the glass.
Then blend the milk for 1-2 minutes to get a good foam. Pour that in your mug and pour the hot coffee carefully on the side.
Top with some Cool Whip and sprinkles because that always makes your hot drinks more fun.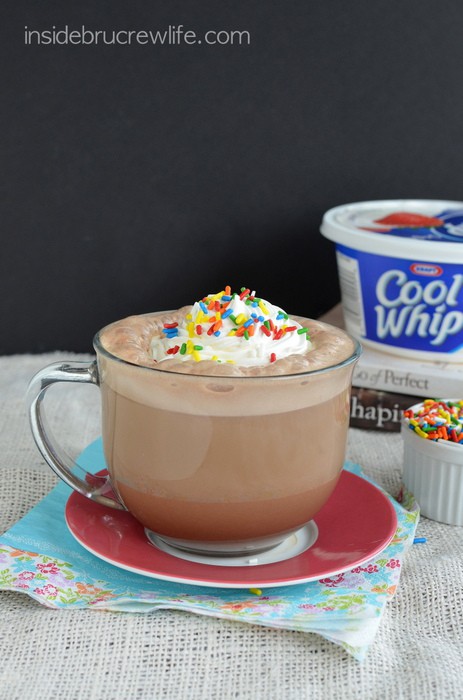 What would you share with me during our coffee chat?
Do you love a recipe you tried from Inside BruCrew Life?
Please leave a 5-star ⭐️ rating and a review in the comments section below.
Heath Latte Muffins