Andes Mint Cookie Dough Truffle Bars: No bake cookie dough truffles get even easier to make when you spread them into a pan and cover them in mint chocolate.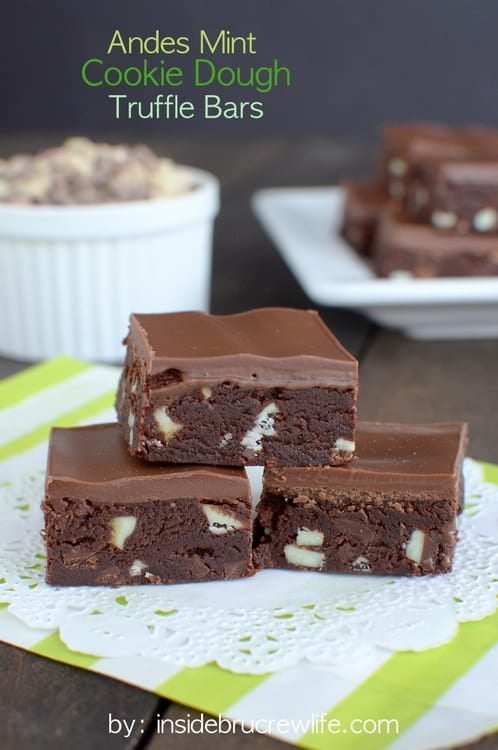 Want to know something crazy about me?
I am a big time talker. Oh, but not out loud and to anyone. That's right. I talk to myself. Really I think it is just because I have so many ideas going through my head at once that some of them have to come out somehow or I'll explode. That and for some reason actually saying things out loud helps me process my ideas even more. Tell that to my hubby! He just thinks I'm plain crazy. As long as I'm just talking about cookie dough and treats, I think I'm totally sane...right?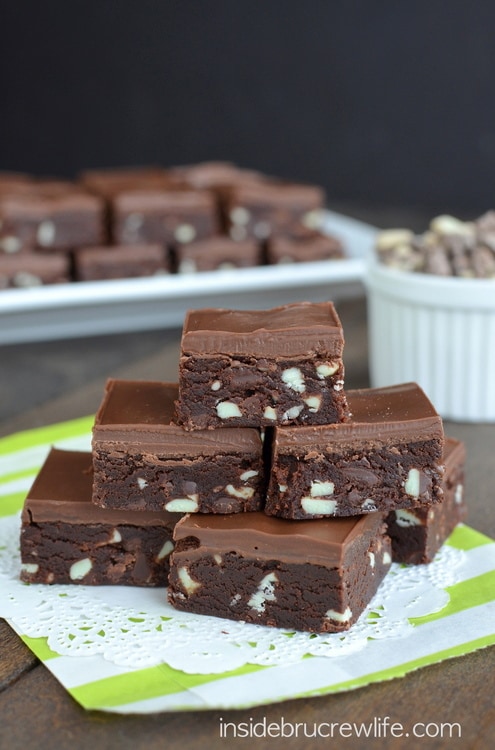 The other day my hubby and I were running some errands, and we stopped for gas. The next thing I know my husband is outside the window just cracking up. He opened the door and started looking all over the van to see if there was someone else in the van with me. Apparently I was having a full blown conversation with hand gestures and everything. At least that's what he says...I totally disagree on this one! Ok, fine there might have been a whisper going on, but there were definitely NOT hand motions. #imnotthatcrazy
He finished pumping the gas, got back in the van and started laughing again as he handed me the receipt and asked me AND "my friend" to log our gas amount for the budget. Yeah, he's a funny one that guy!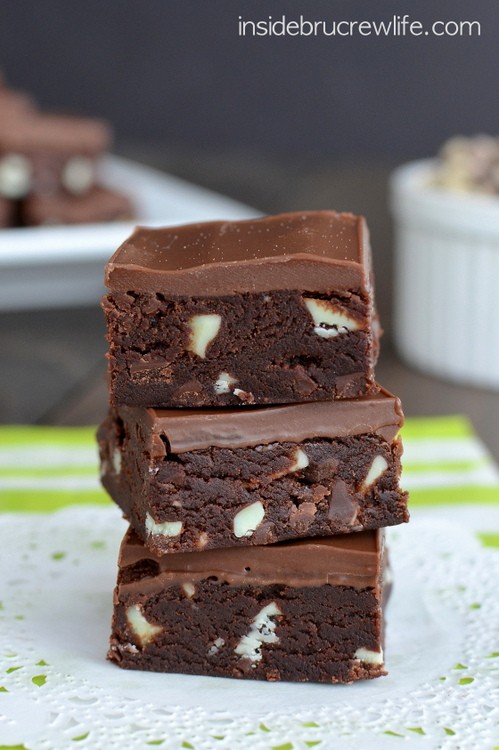 I have had a bag of Andes Mint baking chips in my cupboard just waiting to make cookie dough truffles with. The only problem is that when I was "talking" them through in my head, I kept talking myself out of making them. Mainly because I'm lazy and I didn't want to roll and dip truffles. At least not now...that hasn't stopped me before though. So the bag of Andes Mints have stayed put in the cupboard for probably a month or longer.
Until a few weeks ago when I saw my bestie Aimee post a picture of cookie dough truffles AS BARS on her instagram. Mind blown on this one!!! Why had I never thought to do truffles as bars? Then I started looking around online, and I saw so many other people have made truffles into bars too. I may never roll another truffle again! At least that's what I'm telling myself now.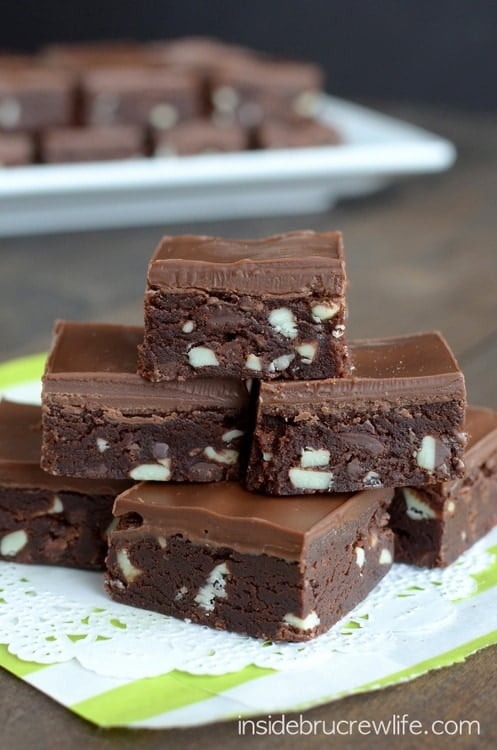 I couldn't get into the kitchen fast enough to make the mint truffles. Seriously these cookie dough truffles come together in about 15 minutes. Your mixer does all the work for you. Just toss it into the bowl a little at a time and beat it until a nice soft dough forms. Then press it into an 8x8 pan and melt some chocolate for the top. Easy peasy!
This chocolate cookie dough has two times the mint goodness going on it it. There are mint baking chips inside the dough, and then more melted and spread on top. These cookie dough truffle bars only take about 30 minutes to set up.
Do the dishes, vacuum, go for a run to prepare for eating 10 truffle bars, or just sit and chat with yourself about how good these are going to be. Any one of those options works for me. As long as it ends with a cookie dough truffle in each hand.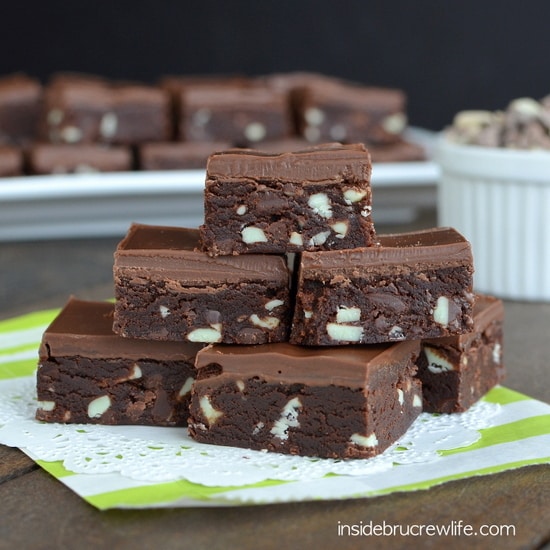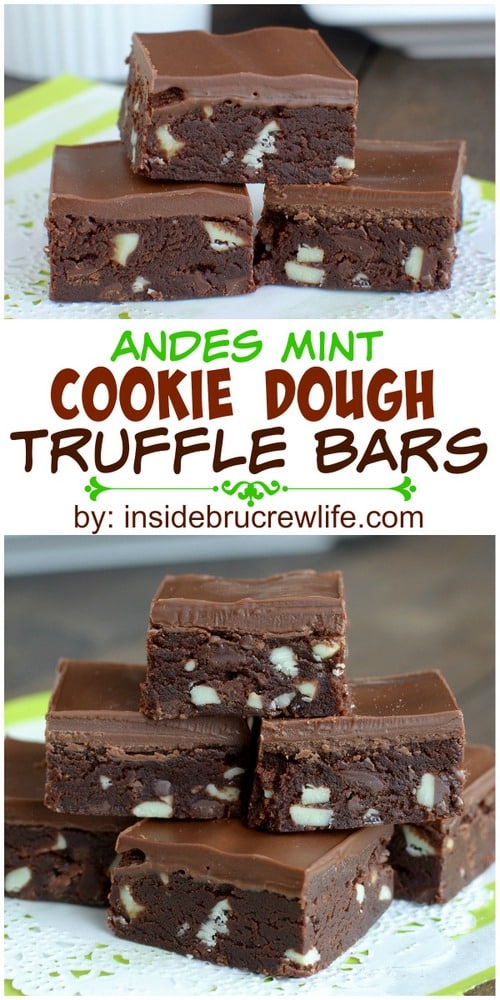 Other fun ways to make and eat cookie dough truffles: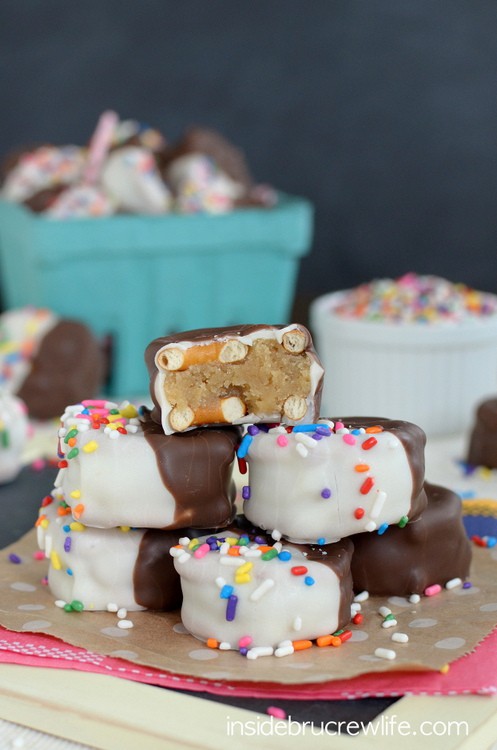 Caramel Pretzel Cookie Dough Bites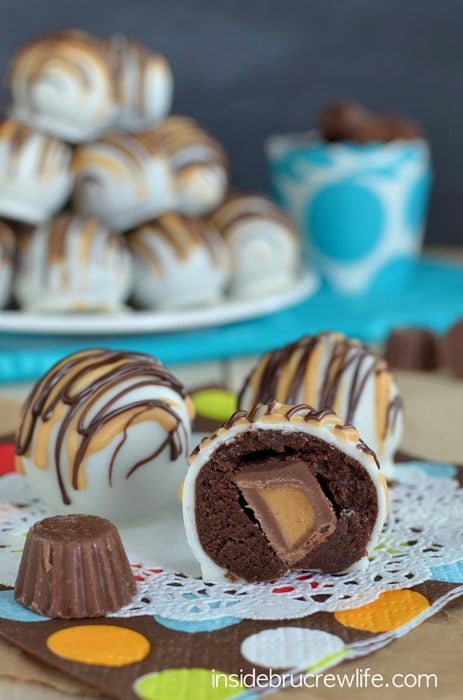 Chocolate Peanut Butter Cup Cookie Dough Truffles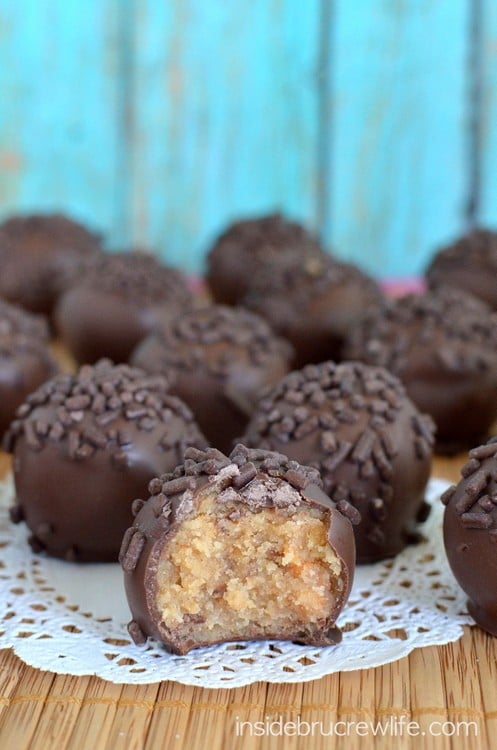 Butterfinger Cookie Dough Truffles
More cookie dough treats from around the web:
Peanut Butter Oatmeal Cookie Dough Truffles from Crazy for Crust
Funfetti Cookie Dough Truffles from Shugary Sweets