Looking for easy treats to make on these last few hot summer days?  Butterfinger Cookie Dough Truffles are a sweet treat that will not last long around anyone.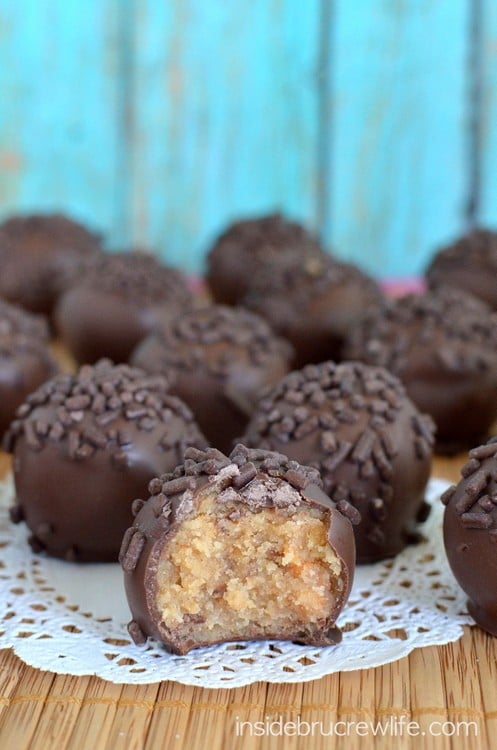 I really like drinking a cup of coffee every day.  It doesn't matter if it is hot outside or not, I like the first hot cup of coffee to start the day.  It kind of helps get me going for the day.  Then sometimes I will have another cup of coffee later in the evening.  Sometimes that one is cold, or I might go for another hot cup.  The problem is if I drink regular coffee that late at night, then I am not sleepy when it comes to bed time.
It will be 11, 12, maybe 1 am, and I am still wide awake.  Everyone else in my house is snoozing away while I lay there with random stuff just popping to my head.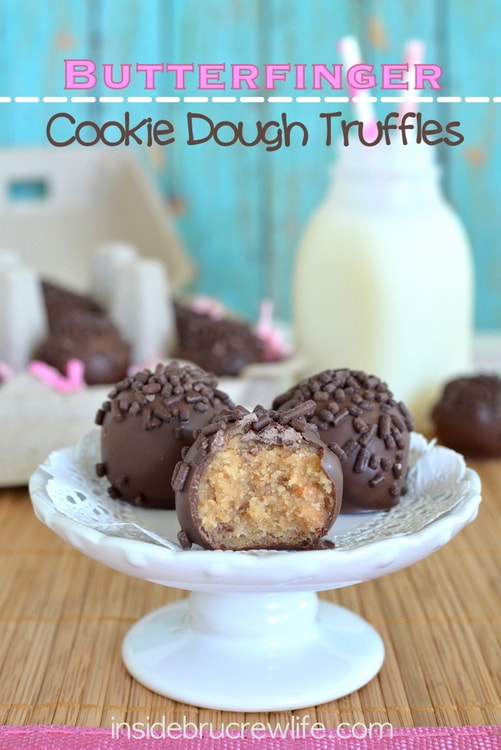 One great thing that occurred to me on one of those nights was a cookie dough truffle filled with Butterfinger Bars.
Yes, I lay awake thinking of yummy treats to make…apparently the sugar side of my brain never sleeps.
The biggest problem with not being able to sleep.  Well, besides getting very hungry thinking up all this yummy stuff!  When it is time to get up in the morning and to take the kids to school, I am kind of a cranky mc-crankerson!  Have you seen that sign or card that says "Don't talk to me until I have had my coffee" ?  That's me.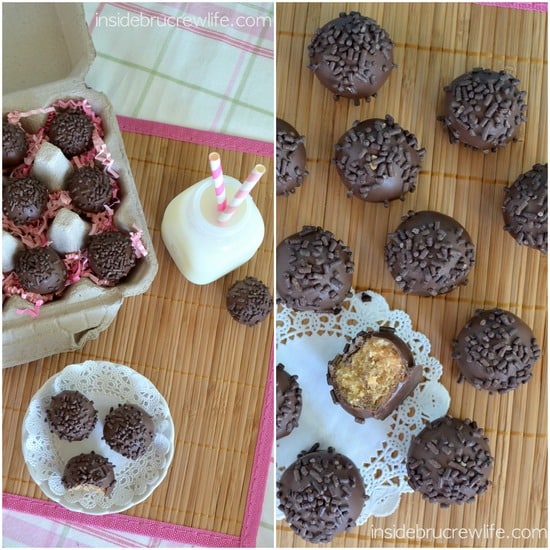 Back to the truffles..Butterfinger is in my top 5 favorite candies, so this seemed like such an obvious choice for a new cookie truffle.
I started with an easy no bake cookie dough.  It is the same dough that I used for these Cookie Dough S'mores.  It is so easy to customize it…I hope you are ready for some more truffles.  I might go truffle crazy, although I promise to try to space them out for you 🙂
Mix everything together in one bowl.  You do need to let the mixture refrigerate for a little bit.  It just helps the truffles stay together better when you are dipping them in melted chocolate.
The easiest way I have found to dip truffles is with a toothpick.  If you have a better way, I would love to hear it.  But poke the toothpick into the melted chocolate and use a spoon to cover the whole truffle.  Pull it out and tap very gently on the side of the bowl.  Then place them on a tray lined with wax paper.  Let it sit for a few seconds before twisting the toothpick out.  Don't wait too long because you want your sprinkles to stick.  And the sprinkles are what hide that toothpick hole.  Another way to hide the hole is to drizzle chocolate over the top, but sprinkles are just easier and way more fun.
Don't expect these truffles to stick around very long.  Cookie dough, butterfinger, chocolate…I mean it's only normal to eat about 10 at once.  Right?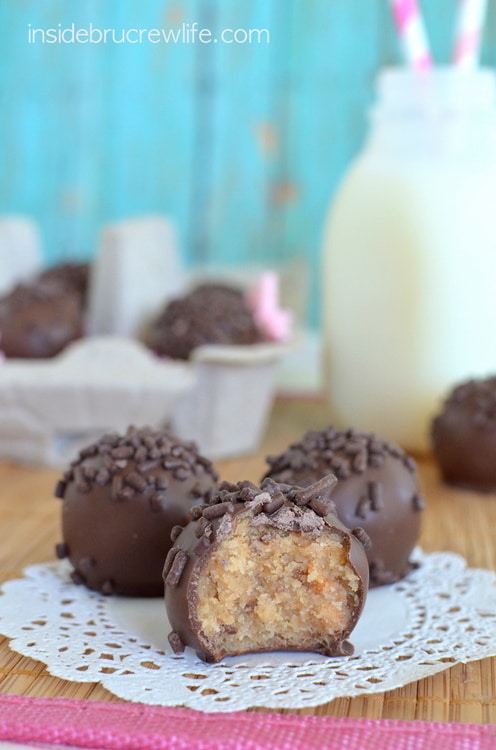 Stay up to date on all the BruCrew baking here:
FACEBOOK | PINTEREST | GOOGLE+ | TWITTER | INSTAGRAM | BLOGLOVIN
Yield: 35 truffles
Butterfinger Cookie Dough Truffles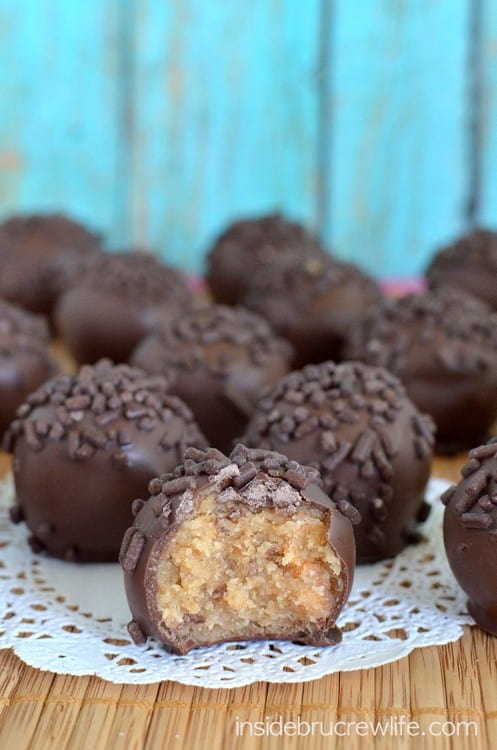 Butterfinger cookie dough dipped in chocolate makes a great treat on a hot summer day.
Ingredients
1/2 cup butter, softened
3/4 cup brown sugar
1 teaspoon vanilla extract
1/4 teaspoon salt
1 Tablespoon + 1 teaspoon milk
1 1/4 cups flour
1 cup crushed Butterfinger bars
1 - 10 ounce bag chocolate melts
chocolate sprinkles
Instructions
In a mixing bowl, cream the butter and sugar. Add the vanilla, salt, and milk and cream again.
Slowly beat in the flour until mixed in. Stir in the Butterfinger bars by hand.
Roll the dough into 35 truffles. Refrigerate 20-30 minutes.
Melt the chocolate melts according to the package directions. Dip the truffles into the chocolate covering the whole truffle.
Set on wax paper and top with chocolate sprinkles right away. Let set. Keep in a sealed container on the counter for 3-4 days. They can be refrigerated if they last longer.
Nutrition Information:
Yield:
35
Serving Size:
1
Amount Per Serving:
Calories:

122
Total Fat:

6g
Saturated Fat:

4g
Trans Fat:

0g
Unsaturated Fat:

2g
Cholesterol:

9mg
Sodium:

55mg
Carbohydrates:

16g
Fiber:

1g
Sugar:

10g
Protein:

1g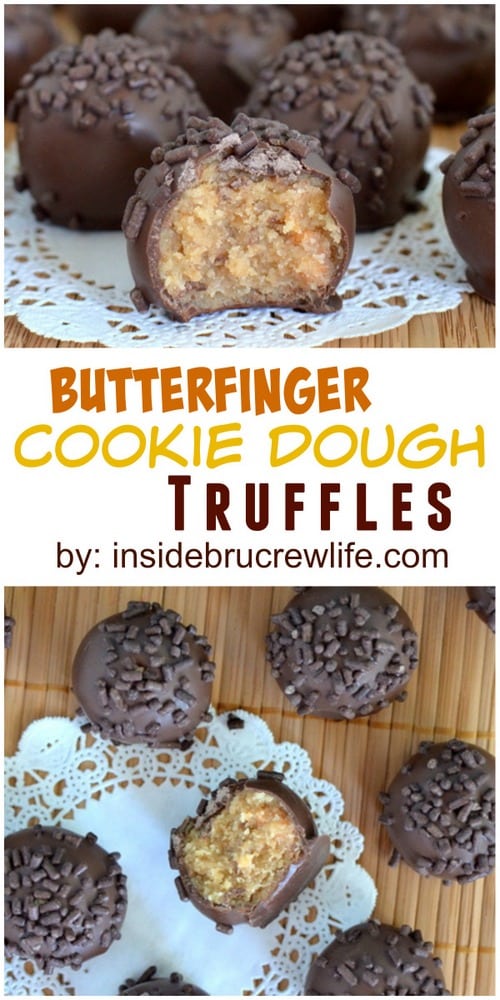 Other fun ways to include Butterfinger Bars in your baking: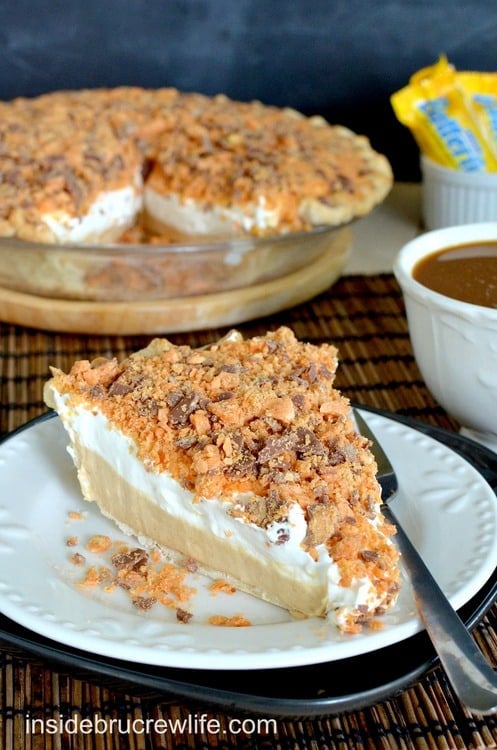 Peanut Butter Butterfinger Pie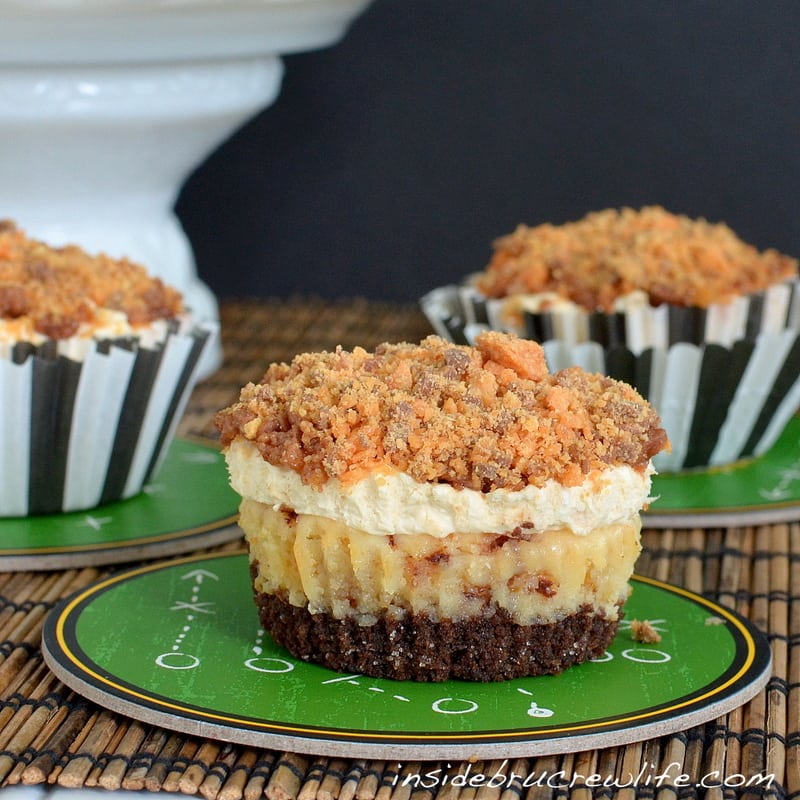 Butterfinger Mousse Cheesecakes