These chocolate dipped Butterfinger Cookie Dough Truffles are a sweet treat that will not last long. The bite sized no bake treats are easy to make and totally safe to eat.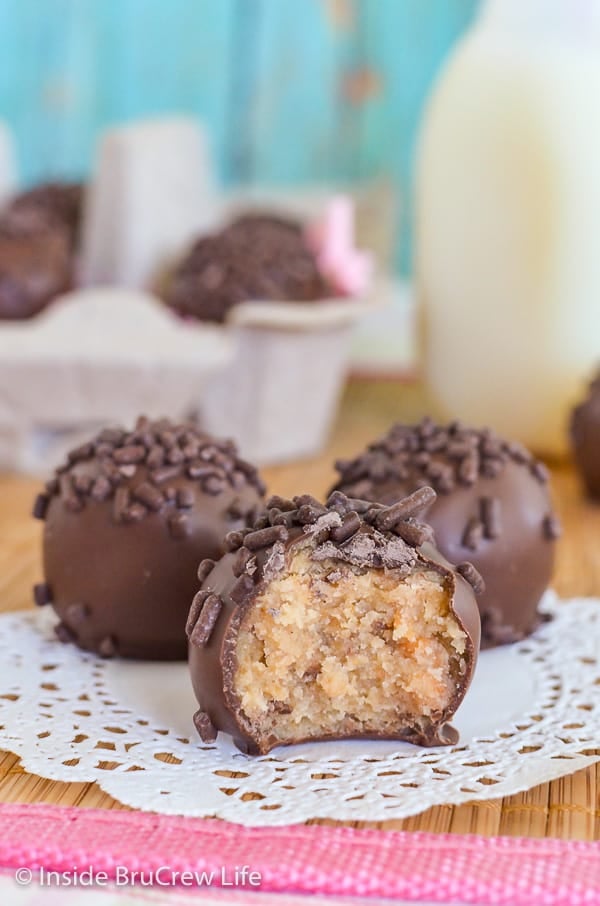 One of my guilty pleasures is eating cookie dough. Yes, I realize the danger involved in eating cookie dough made with raw eggs and raw flour. That still hasn't stopped me from digging in with a spoon each time I make a batch of cookies.
The other day I was craving cookie dough so, I decided to make a batch of edible cookie dough to snack on. These little Cookie Dough Truffles are the perfect way to indulge your sweet tooth.
The best part is that you can totally customize the flavors and textures to appeal to everyone's taste buds. Plus, no bake treats are the best when it is too hot to turn on the oven.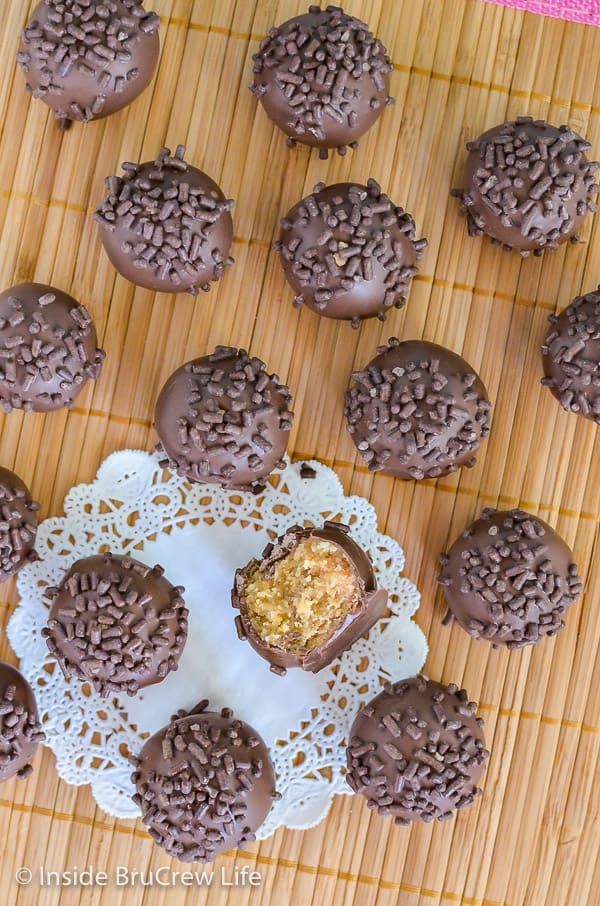 The other night I could not fall asleep, and I started thinking about a candy bar cookie dough truffle. Yes, I lay awake thinking of yummy treats to make. Apparently, the sugar side of my brain never sleeps.
I knew I had an extra bag of Butterfinger bars hiding in the pantry, this seemed like an obvious choice to add to cookie dough balls.
Butterfinger candy bars are one of our top 5 favorite candy bars. There is just something about that crunchy chocolate and peanut butter bar that our family adores. They love when I make these Butterfinger Mousse Cheesecakes or this Peanut Butter Butterfinger Pie.
Actually, I think it is because they like to steal the candy bars BEFORE I can make more dessert with them.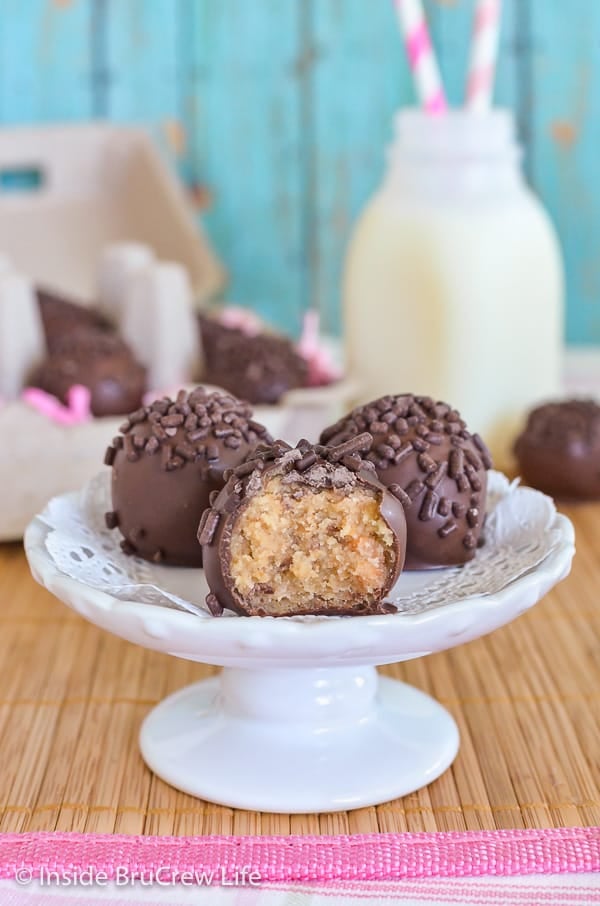 I started with an easy no bake cookie dough. It is the same dough that I used for these No Bake Cookie Dough S'mores. It is so easy to customize it, so I hope you are ready for some more truffles.
How to make Butterfinger Cookie Dough Truffles:
Beat butter and sugar until light and creamy. (full recipe at bottom of post)
Add vanilla, salt, and milk and beat again.
Slowly mix in flour until it becomes thick. Add the crushed candy bars and mix again.
Roll into 36 dough balls and refrigerate at least 30 minutes.
Use a toothpick to dip the cookie dough truffles in melted chocolate.
Place on a wax paper lined tray, remove toothpick, and add chocolate sprinkles.
Tips for making Cookie Dough Truffles:
Set the butter out ahead of time. It makes it much easier to beat it into the sugar when it is soft.
Heat treat the raw flour before adding it to the batter. Spread it out on a tray and bake at 350 degrees for 5 minutes. Cool before using.
Use different candy bars, nuts, or mini chocolate chips in place of the Butterfinger bars.
Dip the chocolate balls quickly. The chocolate will start to harden right away because the dough is cold.
Use white, milk, or dark chocolate to cover the cookie dough truffles. Or skip the chocolate coating and enjoy an edible cookie dough recipe instead.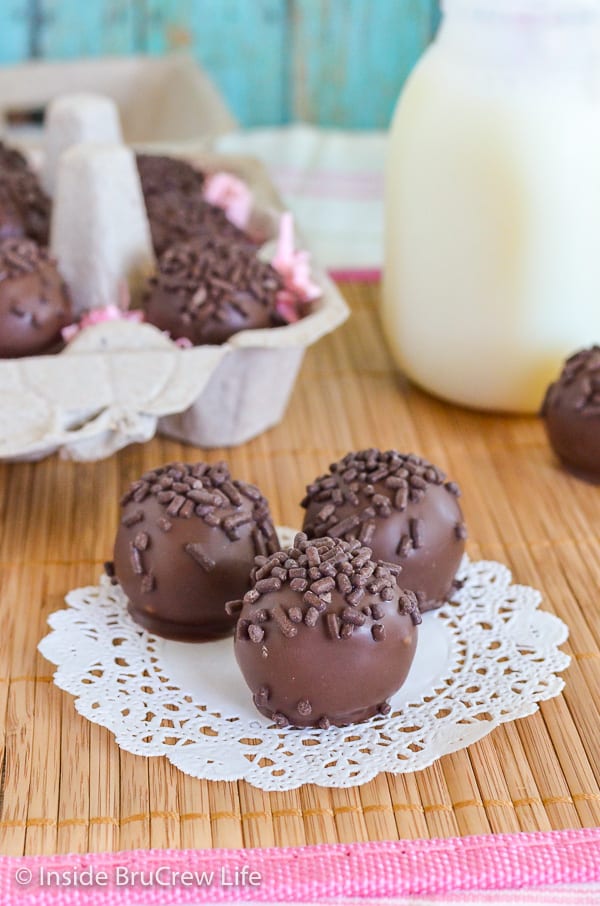 Is edible cookie dough safe to eat?
As long as your cookie dough is made without eggs and with heat treated flour, it is completely safe to eat. So go ahead and indulge in a few cookie dough bites.
How to heat treat flour:
Buy - You can buy bags of heat treated flour to use in no bake desserts.
Oven - Spread the flour on a baking sheet. Heat at 350 degrees for 5 minutes. Cool before using.
Microwave - Place raw flour in a bowl in the microwave and heat for 1 minute 15 seconds, stirring after 15 second intervals.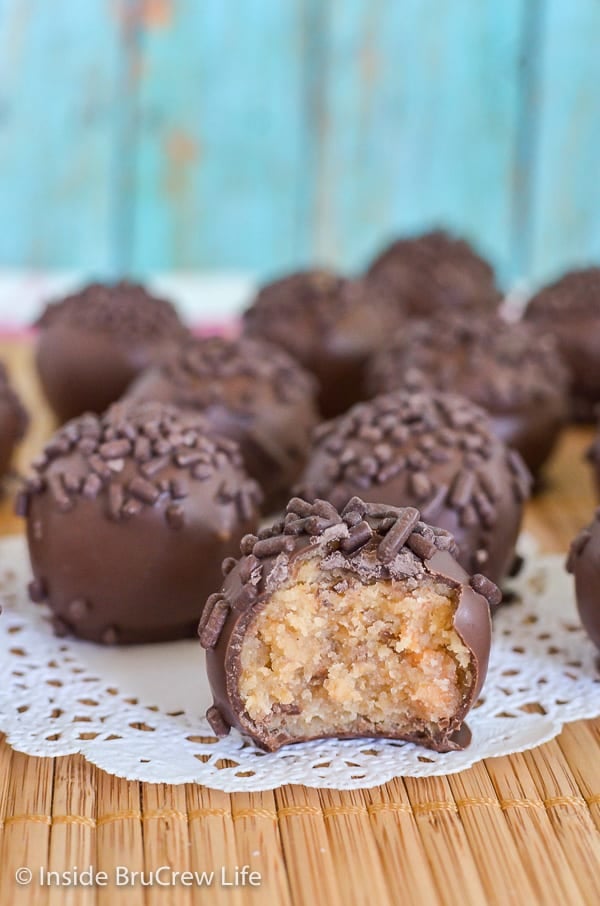 Other cookie dough recipes you may like: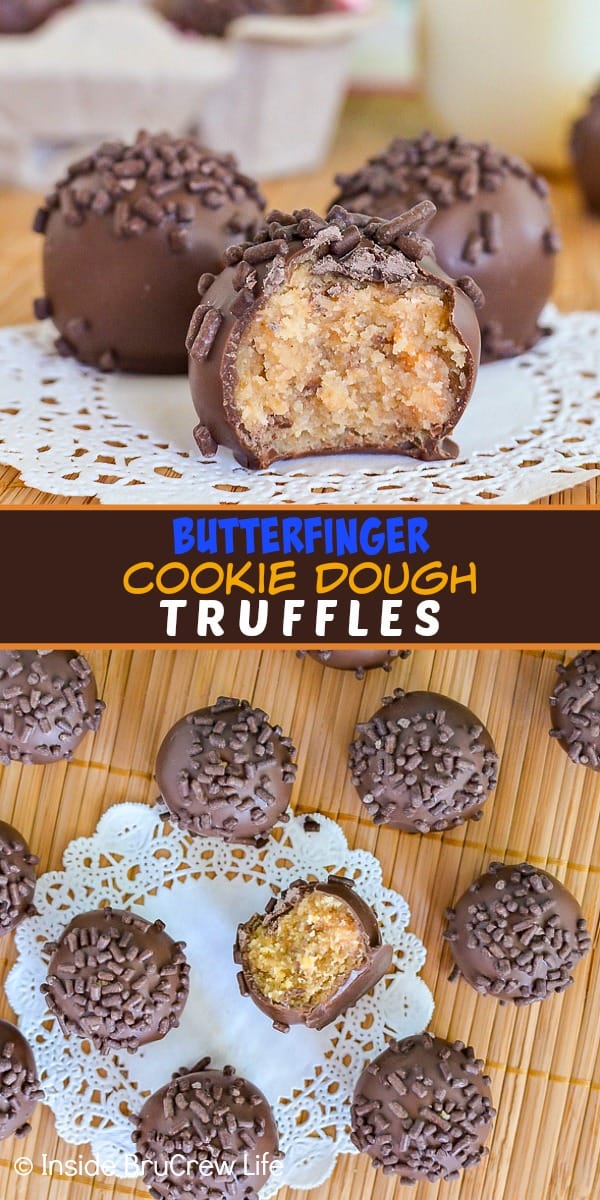 *The post for Butterfinger Cookie Dough Truffles was first published on August 27, 2013. The photos and post were updated and republished June 10, 2020.