Everyone should have an easy no bake dessert that they can make at any time of the day.  These Chocolate Peanut Butter Cup Cookie Dough Truffles didn't last very long in our house.  Try them and see what happens with your family.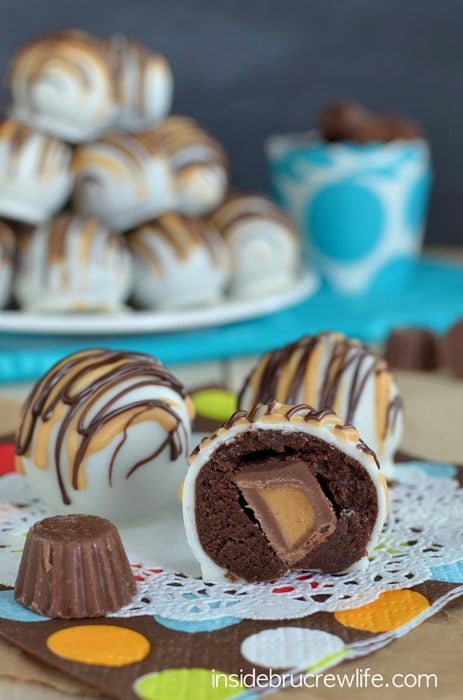 Some days just call for cookie dough.   Other days call for peanut butter cups.  Then there are days that you put the two together, and you realize that these are your new favorite treat!
I ate way too many of these little bites of awesomeness.  #truestory
Some days during the summer it is too hot to make cookies, but we still like to have cookies on hand.  No egg cookie dough truffles are the answer to that first world problem.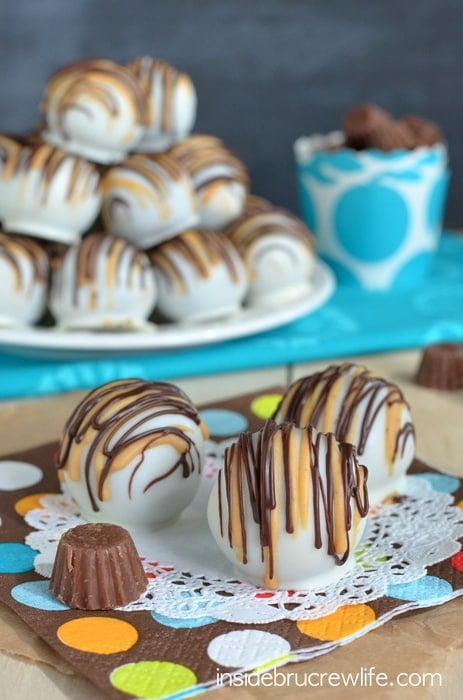 This chocolate cookie dough was delicious on it's own, but then the candy in the cupboard started talking to me.
I kept hearing voices saying "pick me" and "I want to be part of those truffles".  Yes, I know I'm a little strange.  I'm ok with that!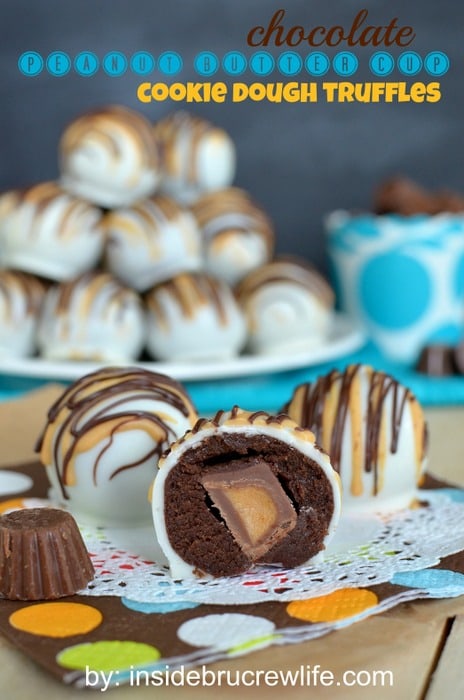 I had to listen to the candy voices.  They get me every single time.  As soon as I opened the door to the cupboard, the peanut butter cups won hands done.
Chocolate and peanut butter…it is a match that just cannot be equaled. Ever!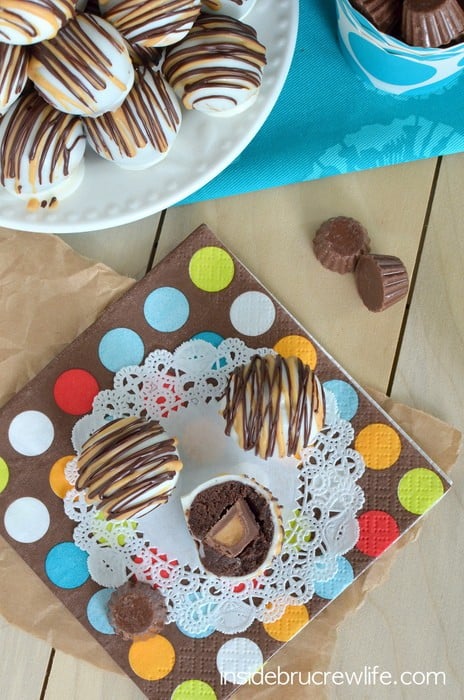 I decided to dip the chocolate peanut butter cup cookie dough truffles in white candy melts.  But feel free to use whatever flavor you like or have on hand.  Chocolate on chocolate would be pretty awesome too!
Drizzle some melted peanut butter and chocolate chips on top to make it pretty…and to hide the toothpick holes.
I find that toothpicks are the easiest way to dip truffles.
Refrigerate the truffles for at least 30 minutes.
Stab them with toothpicks and dip in melted chocolate.  I also use a spoon to pour more chocolate over the truffles.  This way I can make sure the truffle is completely coated.
Place the truffle on a wax paper lined tray and let set slightly before taking out the toothpick.  If you remove it too soon, it will make the chocolate on the bottom spread out too much.
Drizzle with chocolate and peanut butter to make them pretty.
Eat the whole batch…or share with friends.
I ate way too many of these bad boys the other day.  I think another batch is in order very, very soon.  Just don't tell my jeans what I am planning.  I don't think they are very happy with my "dieting" plans.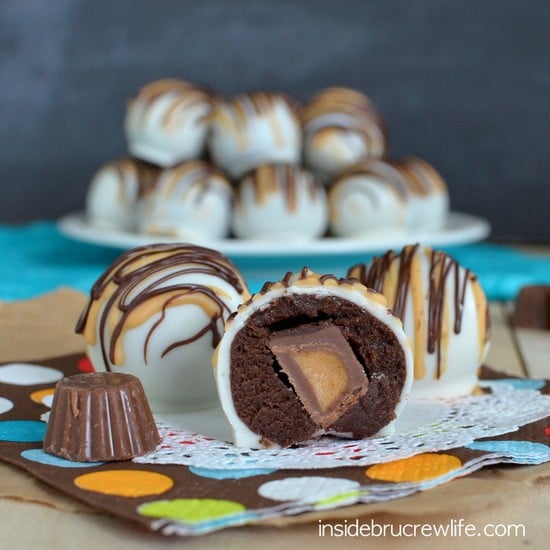 Stay up to date on all the BruCrew baking:
FACEBOOK | PINTEREST | GOOGLE+ | TWITTER | INSTAGRAM | BLOGLOVIN
Yield: 35 truffles
Chocolate Peanut Butter Cup Cookie Dough Truffles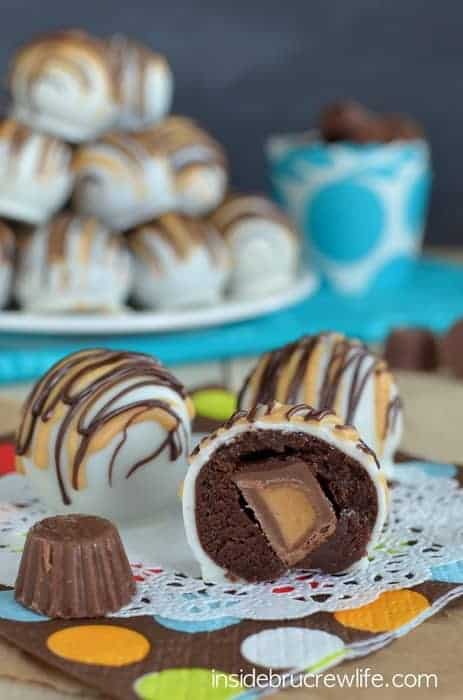 A hidden mini Reese's peanut butter cup makes these chocolate cookie dough truffles a fun treat to bite into!
Ingredients
1/2 cup butter, softened
1/2 cup brown sugar
1/4 cup sugar
1 teaspoon vanilla
1 1/4 cup flour
1/2 cup cocoa powder
1/4 teaspoon salt
1 Tablespoon + 1 teaspoon milk
35 mini Reese's peanut butter cups (the unwrapped minis)
1 10 ounces bag white chocolate candy melts
1/4 cup peanut butter chips
1/4 cup chocolate chips
1 teaspoon shortening, divided
Instructions
In a large mixing bowl, cream the butter, sugars, and vanilla.
Slowly add the flour, cocoa powder, and salt. Beat in the milk until creamy.
Roll the dough into 35 equal balls. Flatten the dough balls slightly. Place a peanut butter cup in the center and fold the dough around the candy.
Roll again into a ball shape and place on a wax paper lined tray. Refrigerate 30 minutes.
Melt the white chocolate according to the package directions. Using a toothpick, dip each cookie dough truffle into the melted chocolate. Place on a wax paper lined tray until set.
Place the peanut butter chips and 1/2 teaspoon shortening in a microwave safe bowl. Heat for 30 seconds and stir until creamy. Heat again for 15-20 seconds if needed.
Spoon the melted chocolate into a plastic baggie with one tip cut off. Drizzle over the tops of the cookie dough truffles. Repeat with the chocolate chips. Let set.
Store in a container on the counter for a few days. You can also refrigerate in a sealed container for up to 7 days. Makes 35 truffles.
Recommended Products
As an Amazon Associate and member of other affiliate programs, I earn from qualifying purchases.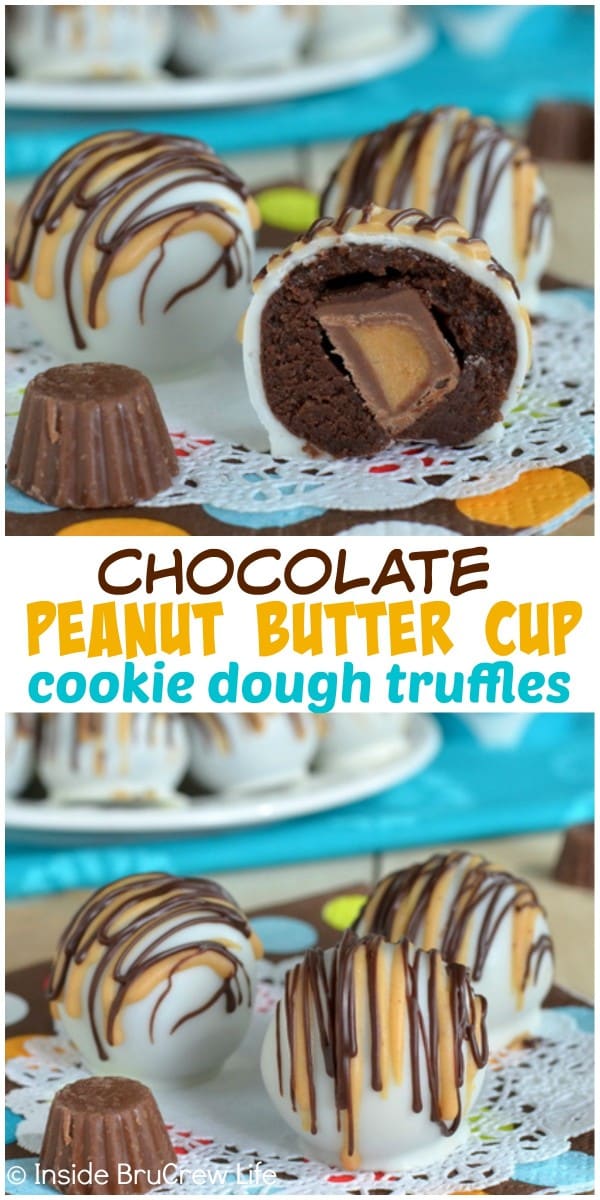 Other fun No Bake treats that we love: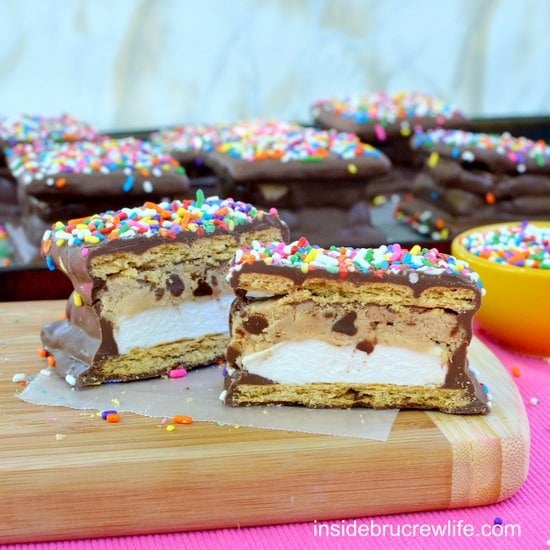 Cookie Dough S'mores – cookie dough inside graham crackers and marshmallows and dipped in chocolate with sprinkles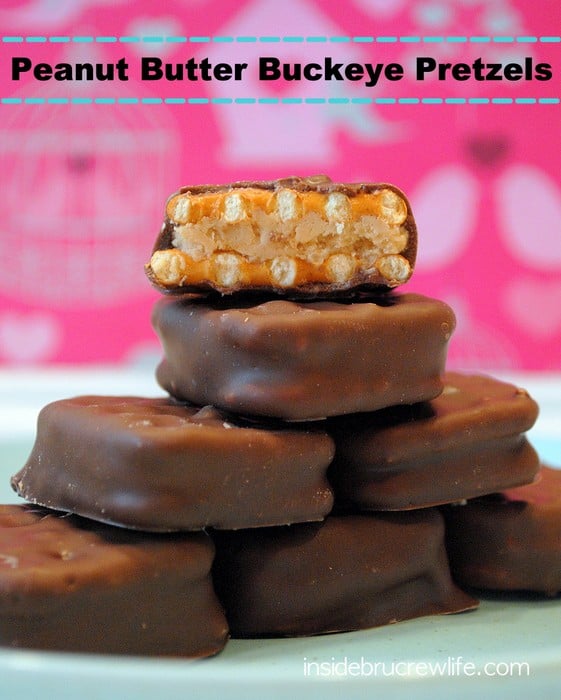 Peanut Butter Buckeye Pretzels – peanut butter buckeyes inside pretzels dipped in chocolate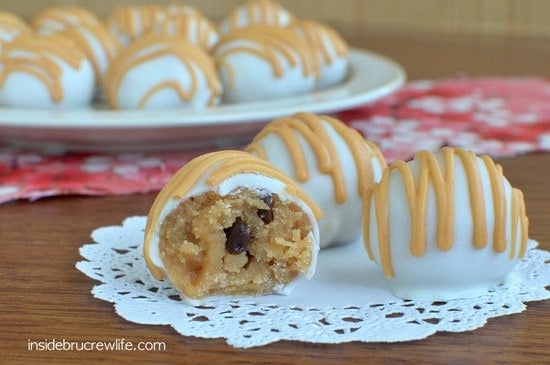 Peanut Butter Cookie Dough Truffles – peanut butter chocolate chip cookie dough dipped in white chocolate