A hidden candy inside these Chocolate Peanut Butter Cup Cookie Dough Truffles will surprise everyone. These bite sized cookie dough truffles are easy to make and safe to eat.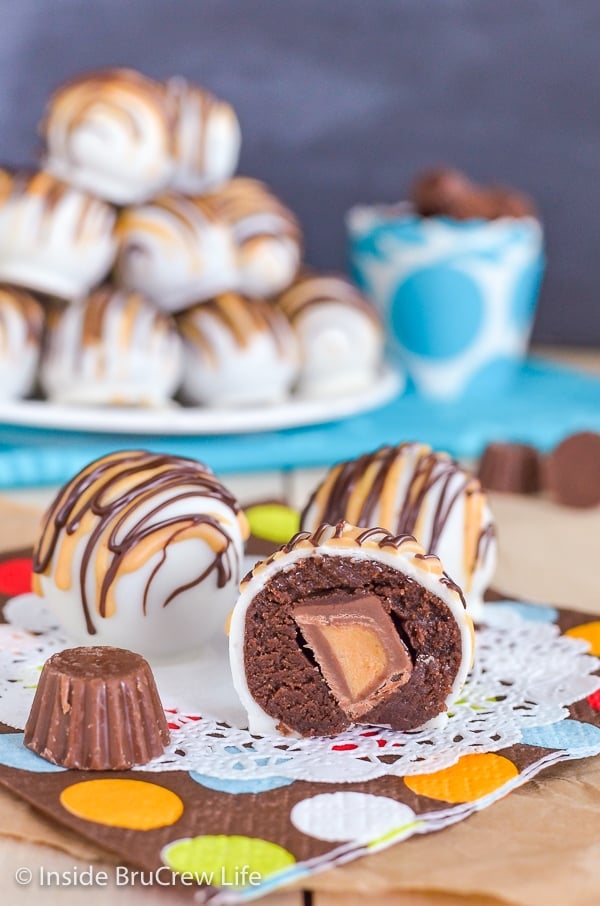 Cookie Dough Truffles
Everyone should have an easy no bake dessert that is easy to make when you need a sweet treat. Some days just call for bowls of Edible Cookie Dough. Other days call for peanut butter cups straight from the bag.
Then there are days that you put peanut butter cups inside cookie dough and realize that these are your new favorite treat!
Trust me and share these cookie dough truffles with a friend because they are very dangerous to be around. I may have eaten more than I should have...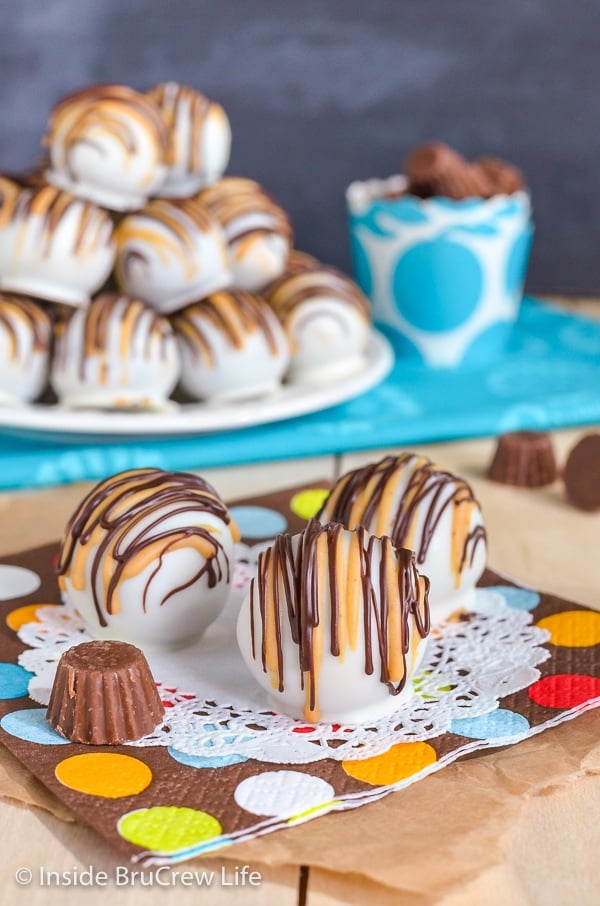 This week I just have not been able to get back into a baking mood, so these no egg cookie dough truffles were the perfect answer to ease back into the kitchen.
At first I was just going to make a batch of these Peanut Butter Cookie Dough Truffles. But then all I could think about was chocolate cookie dough, so I had to change it up.
Chocolate and peanut butter...it is a match that just cannot be equaled. Ever!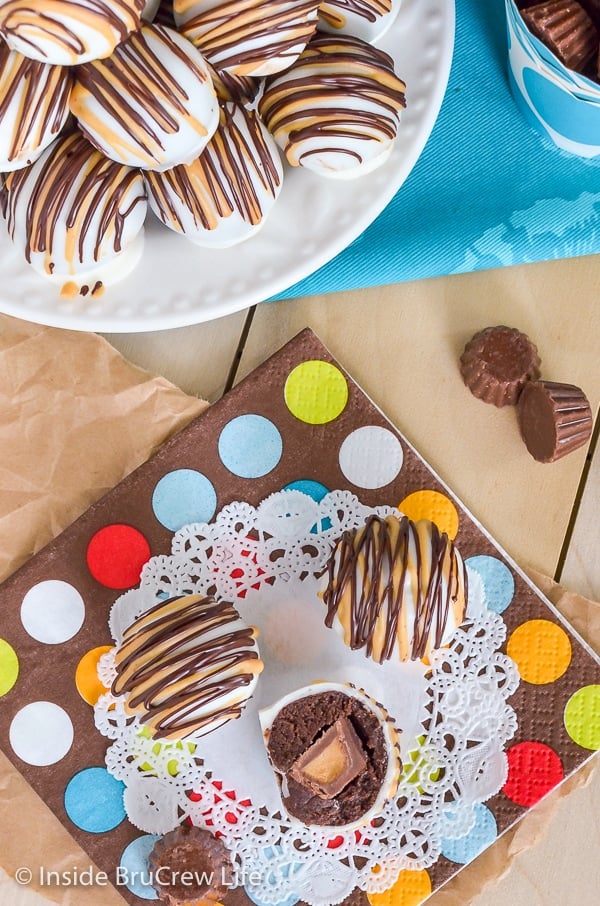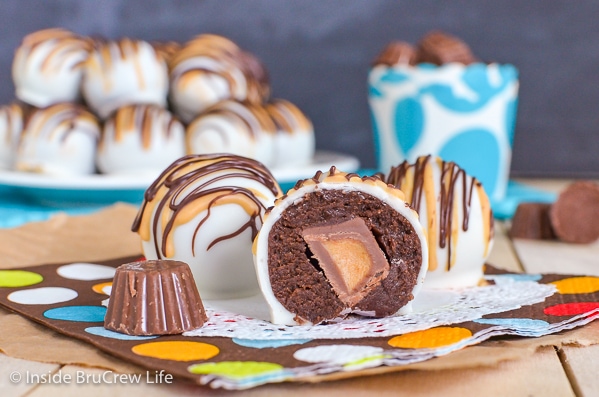 I decided to dip the peanut butter cup cookie dough truffles in melted white chocolate. But feel free to use whatever flavor you like or have on hand.
Using all chocolate would make these death by chocolate truffles! Oh, yeah!
How to make Chocolate Peanut Butter Cup Cookie Dough Truffles
Beat softened butter, sugar, and vanilla until creamy. (full recipe at bottom)
Mix together flour, cocoa powder, and salt and mix into butter mixture slowly.
Add milk a little at a time until a soft dough forms.
Roll into 35 even balls. Flatten slightly and wrap each one around a peanut butter cup mini.
Place on a wax paper lined tray and refrigerate for at least 30 minutes.
Drop chilled cookie dough truffles one at a time in melted white chocolate. Lift out with a fork and tap off excess chocolate.
Place on wax paper to set. Drizzle with melted chocolate and peanut butter chips.
The extra melted peanut butter and chocolate on top isn't necessary, but it makes them pretty and hides the toothpick holes. Plus, who is going to argue about more chocolate. Am I right?
Is edible cookie dough safe to eat?
As long as your cookie dough is made without eggs and with heat treated flour, it is completely safe to eat. So go ahead and indulge in a few cookie dough bites.
Heat Treated Flour
Buy – You can buy bags of heat treated flour to use in no bake desserts.
Oven – Spread the flour evenly on a baking sheet. Heat at 350 degrees for 5 minutes. Cool before using.
Microwave – Place raw flour in a bowl in the microwave and heat for 1 minute 15 seconds, stirring after 15 second intervals.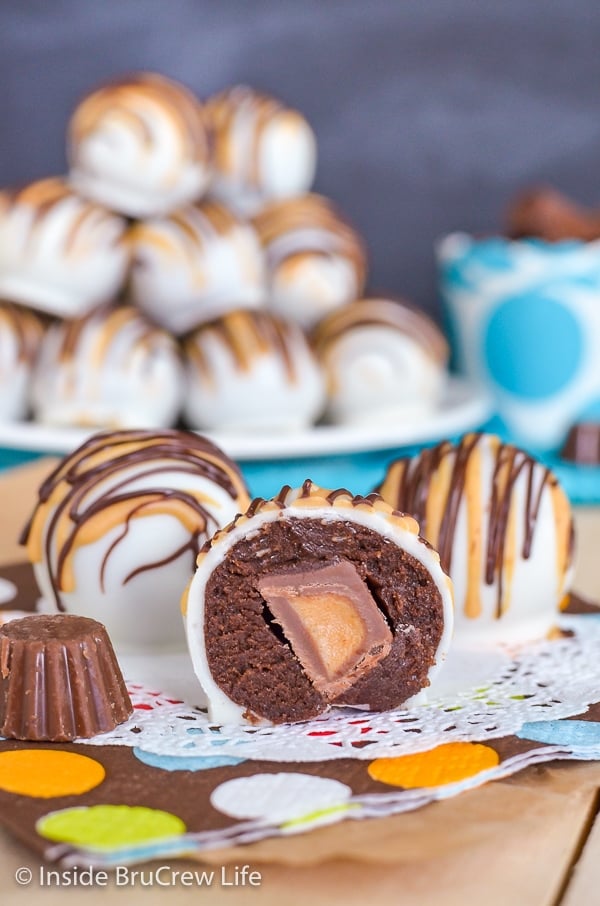 More Cookie Dough Recipes
*The post for Chocolate Peanut Butter Cup Cookie Dough Truffles was first published August 3, 2013. The photos and post were updated and republished January 7, 2021.