This simple tutorial will show you How to Heat Treat Flour in the oven or microwave in minutes. Heat treating or baking raw flour makes it safe to eat in no bake recipes.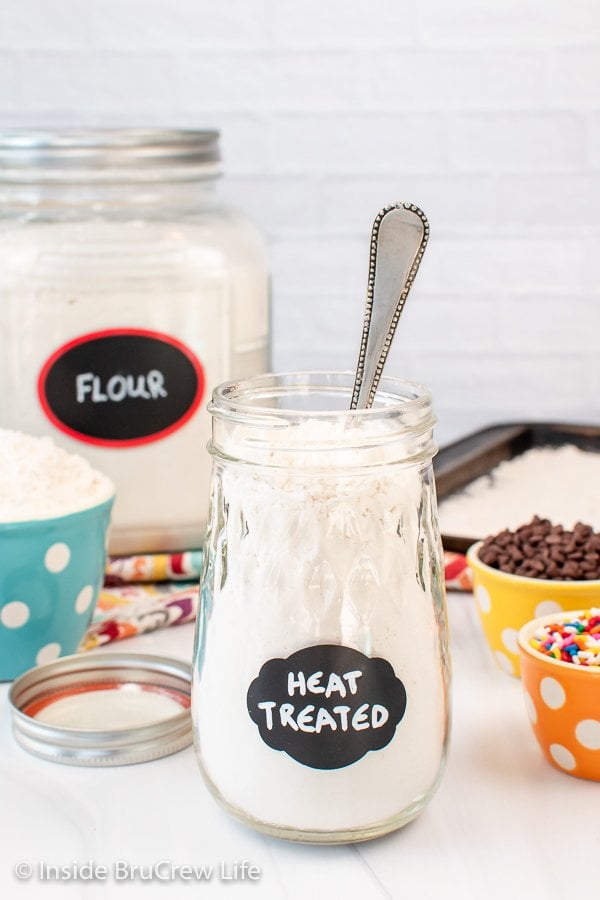 Who hasn't licked the beaters or bowl after making a batch of cookies? Most people know the risks associated with consuming raw eggs, but did you know that raw flour can also be harmful?
Whether you are using flour in edible cookie dough or cookie dough truffles, using baked flour is a must. It is easy to do, and your treats will be safe to eat.
Why Do You Heat Treat Flour?
The FDA has shared that raw flour may contain traces of salmonella or E coli which can be harmful. The process of grinding and making flour does not involve any heat, and therefore does not kill any bacteria that may be present.
Usually flour is used in recipes that are cooked or baked, so this does not pose any issues. The issue comes when you use that flour in no bake recipes.
Heat treating the flour helps to kill any bacteria that may be lurking in your flour bag, so you can use it in no bake desserts
Luckily, it's easy to make this flour safe to use in no bake recipes. Learn how to bake flour with these two easy methods. It takes just a few minutes and is well worth the peace of mind.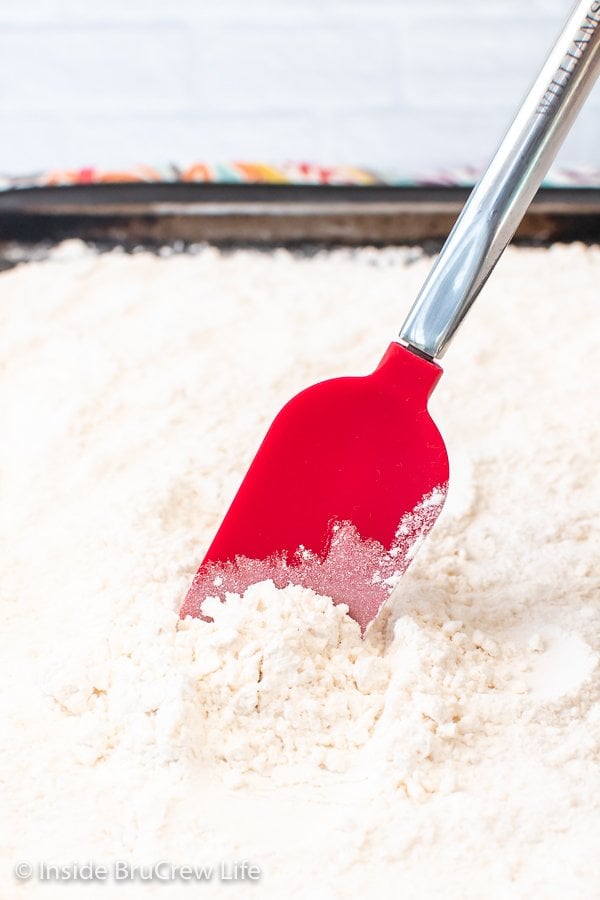 What You Need
Heat treating flour is easier than you think. All you need to heat treat flour is a sheet pan or a microwave safe bowl and a bag of raw flour.
Oven or Microwave
Sheet Pan
Microwave Safe Bowl
Food Thermometer
All Purpose Flour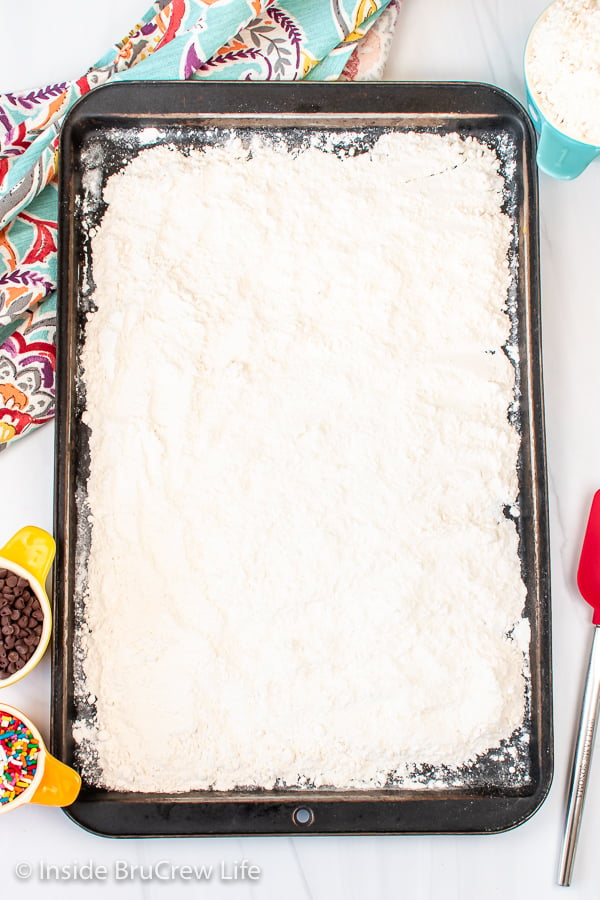 How to Heat Treat Flour
Baking flour is easy to do using your oven or microwave. Go ahead and make a batch now, so you have some on hand when you want to eat raw cookie dough.
You do not need to heat treat flour that is going to be used in recipes that will be baked in the oven or cooked on the stove top.
Heat Treat Flour in the Oven
This is the most convenient way to make heat treated flour because you can make more at once using a baking sheet.
Preheat oven to 300°.
Spread 2-3 cups of flour on a rimmed baking sheet. You can line the pan with parchment paper or Silpat to keep the flour from sticking, if you like.
Bake for 2 minute intervals, stirring and moving the flour around after each. Repeat until the flour reaches 165 degrees.
Remove the flour from the hot pan and place it in a clean bowl. Do not use any of the flour that is stuck on the pan.
Heat Treat Flour in the Microwave
The microwave method is the fastest and easiest way to make small batches of heat treated flour. This is a great option in the summer when you do not want to heat up the kitchen.
Place ½ - 1 cup of all purpose flour in a heat safe bowl.
Microwave for 30 seconds at a time, stirring after each one to break up "hot" spots.
It can take anywhere from 1-2 minutes to get the temperature to 165° because every microwave is different. Use a food thermometer to see what the temperature is after each interval.
Be careful not to overheat the flour causing it to turn brown and lumpy. Brown flour can still be used but will have a toasted flour taste to it.
Buy Heat Treated Flour
There are companies and brands that now sell bags of heat treated flour. This is a great option if you do not want to do this on your own.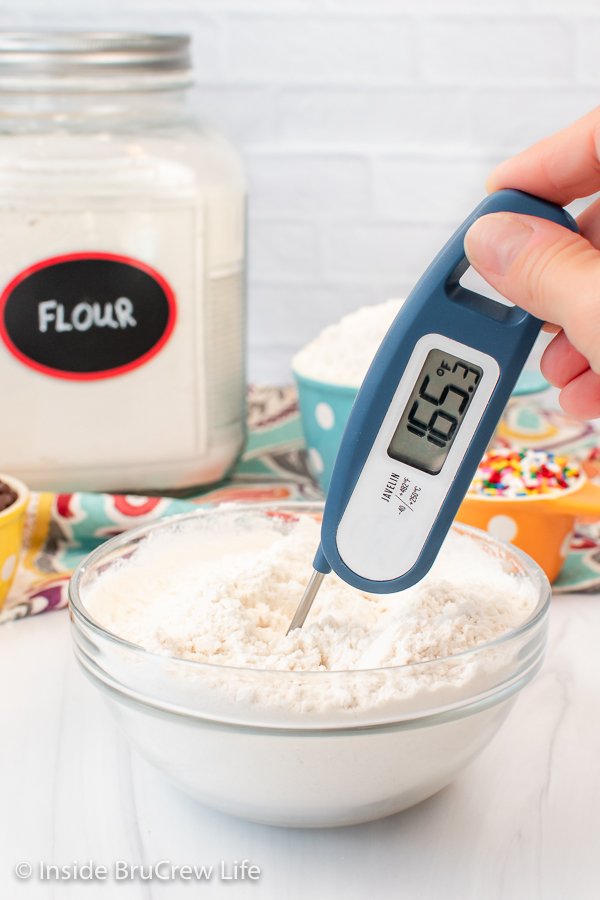 Storage Recommendations
Spoon the cooled toasted flour into an air tight container at room temperature. The baked flour will keep for 6-12 months.
Recipes Using Baked Flour
Now that you have a container of heat safe flour, you may be wondering what you can do with it. Here are a few of our favorite things to make with it.
Tips and Tricks
Use a sheet pan with sides, so the flour does not spill all over the place.
Stir the flour ever time you check the temperature. This helps to heat it all evenly and break up hot pockets.
Remove the flour from the hot bowl or pan, so it does not continue to cook. This will also help it cool faster.
Let the flour cool completely before using it in any recipe.
Use these methods to heat treat a dry cake mix if you want to use it in a no bake recipe.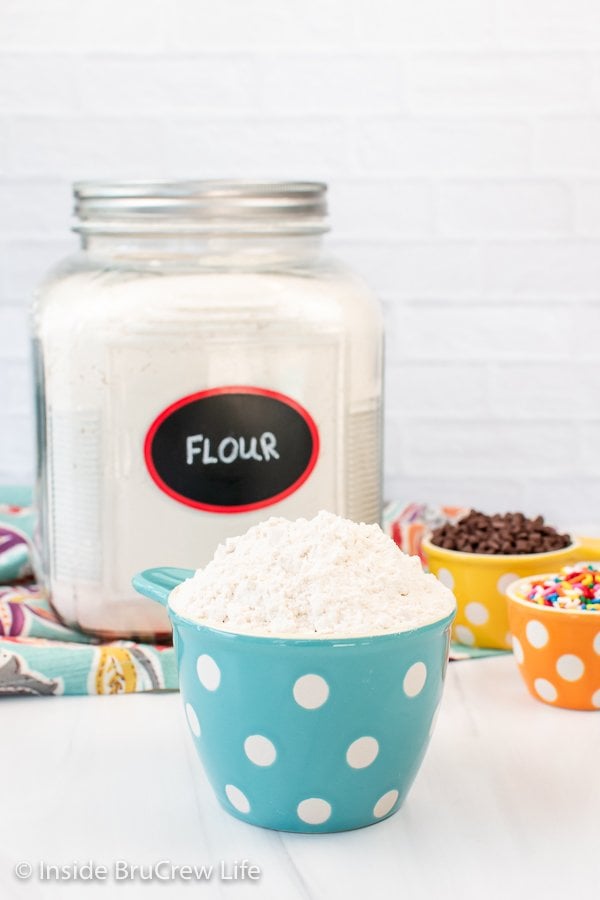 FAQ'S
What is heat treated flour?
It is flour that has been heated to 165°. Flour you buy in the store is raw because it hasn't been cooked in any way. Heating flour in the microwave or oven helps to eliminate any bacteria that may be present.
Is there any raw flour that is safe to eat?
Yes, there are a few flours that are safe to eat without treating or cooking. Oat flour is safe to eat raw. Coconut flour and almond flour are ground from dried coconuts and almonds and are also gluten free.
Two other safe flours are corn flour and chick pea flour, but both have a bad taste when eaten raw.
How long will heat treated flour last?
If kept in an air tight container, it should last 6-12 months.
Other Baking Basics
Do you love a recipe you tried from Inside BruCrew Life?
Please leave a 5-star ⭐️ rating and a review in the comments section below.