Layers of streusel, apples, and no bake cheesecake make these Apple Pie Cheesecake Parfaits a fun summer dessert. Parfaits are an easy treat to make and share at picnics or barbecues
A batch of this Homemade Apple Pie Filling makes these little parfaits taste the best.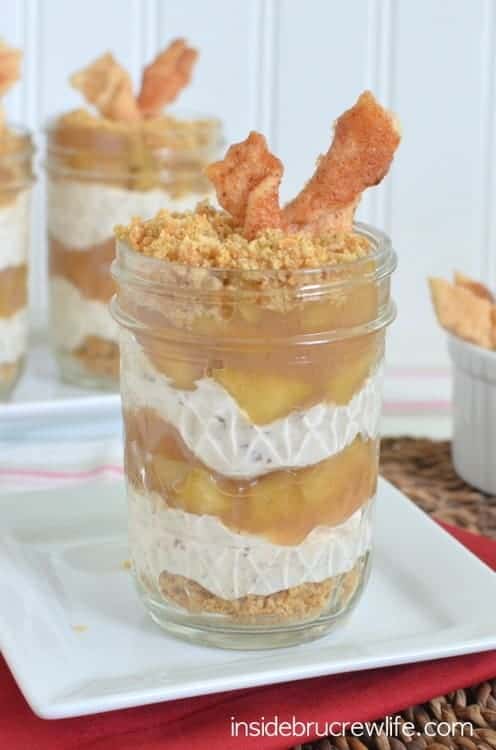 Sometimes I surprise myself with the things I make in our kitchen. These little parfaits were one of those treats that made me stop and smile.
The flavors in all the layers work so well together. The crunchy streusel, creamy cheesecake, and sweet apple pie filling in every bite was so good.
And of course you can't have a pie dessert without a pie crust, right? The topper is totally optional, but I think it adds a fun little touch to the apple dessert.


How to make Apple Pie Cheesecake Parfaits:
Start out by making the apple pie filling. Cut up your apples and simmer them in a sugar glaze. Let it cool for a few hours or overnight so it has time to set up.
Combine the streusel ingredients and press it into a pan. Bake for a few minutes to give a crispy texture.
Unroll the pie crust and spread butter on both sides. Sprinkle with cinnamon sugar. Cut the pie crust into strips and twist each one. Bake until golden.
Mix together cream cheese, pudding, Cool Whip, and toffee bits to make the no bake cheesecake layer. Are you drooling yet? Because yes, it is THAT good. I caught my daughter digging into it with a spoon before I had a chance to make the parfaits. She didn't want any apples, just the filling!
Layer the pie filling and cheesecake into 8 small mason jars. Top with the pie crust twists right before serving.
More recipes to use apple pie filling in:
Cinnamon Apple Icebox Cake - layers of cinnamon cheesecake, apple pie filling, and graham crackers make a delicious and easy no bake dessert in minutes.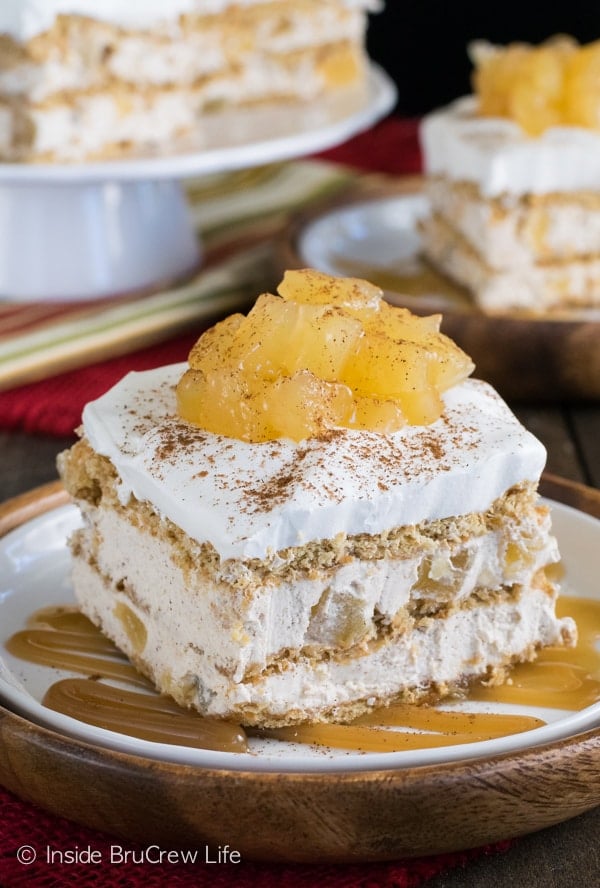 Apple Turtle Cheesecake Tart - layers of cheesecake and apple under the nuts and caramel topping will make the tart disappear in a hurry.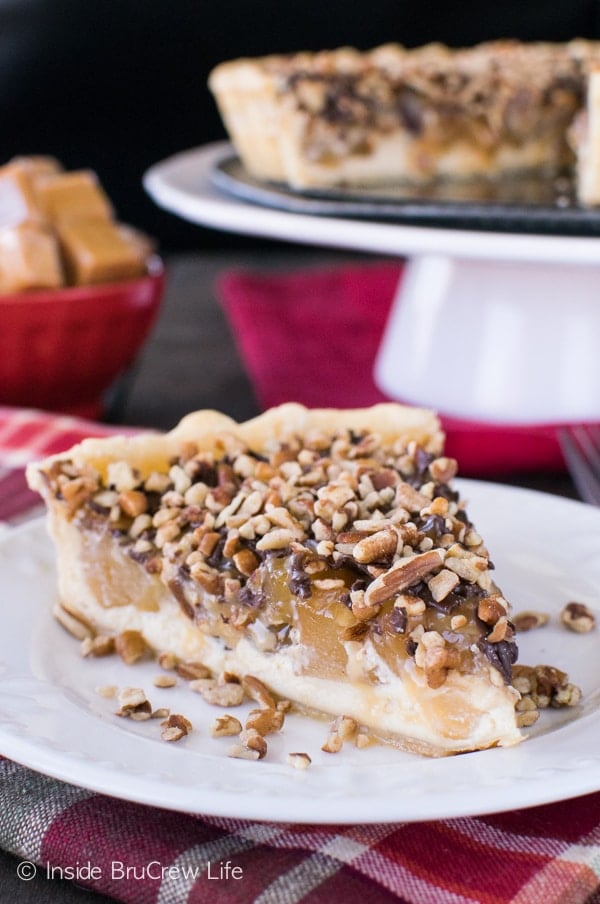 Cinnamon Sugar Apple Cheesecake Danish - creamy cheesecake and apple pie filling make this pastry a great start to any day.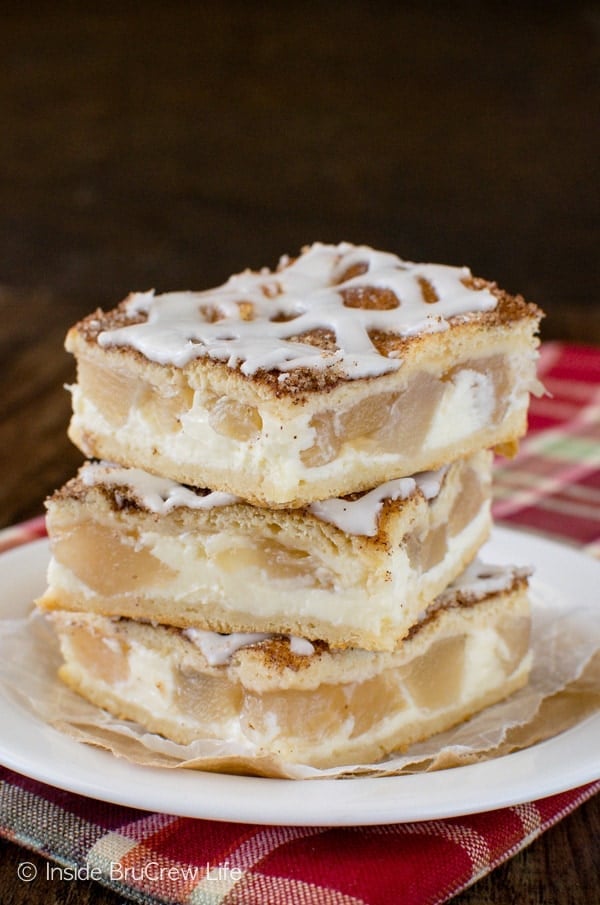 This apple week has been fun. I have enjoyed eating all the things apple in our kitchen and watching everyone else share photos of their fun apple creations.
More apple recipes to try: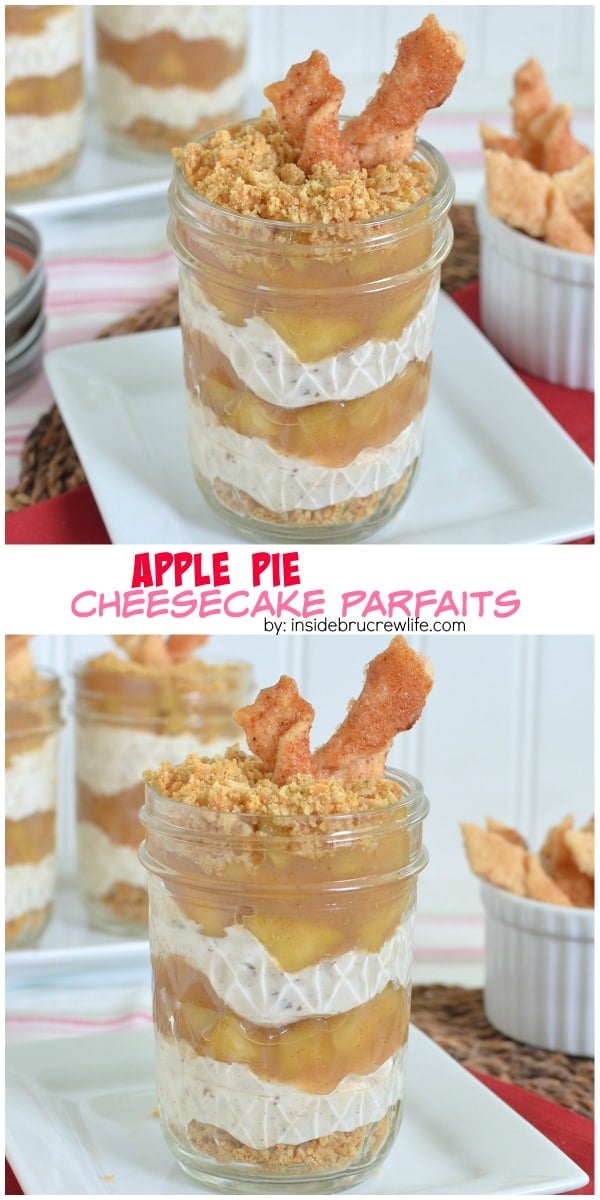 Apple Pie Cheesecake Parfaits recipe: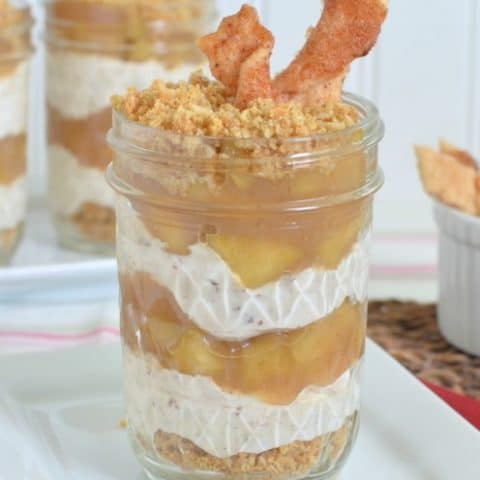 Apple Pie Cheesecake Parfaits
Total Time:
1 hour
5 minutes
Layers of streusel, apples, and no bake cheesecake make these Apple Pie Cheesecake Parfaits a fun summer treat. They are easy to make and are perfect for taking to a picnic or dinner.
Ingredients
For the Streusel
2 cup graham cracker crumbs
¼ cup oatmeal
1 teaspoon cinnamon
6 Tablespoons butter, melted
For the Cheesecake Filling
1 - 8 ounce package cream cheese, softened
1 cup sour cream
½ cup milk
1 3.4 ounce package instant cheesecake pudding
1 - 8 ounce container Cool Whip, thawed
1 cup baking toffee bits
For the Pie Crust Toppers
1 sheet refrigerated pie crust
2 Tablespoons butter, softened
6 Tablespoons cinnamon sugar
Instructions
Preheat the oven to 375 degrees.
Combine the crust ingredients and press into a greased 9x13 baking pan. Bake for 8 minutes. Cool.
Unroll the pie crust onto a baking sheet. Spread the butter on both sides and sprinkle with the cinnamon sugar.
Cut the crust into strips and twist each one a few times. Place the twists on a baking sheet and bake for 12-14 minutes. Cool.
In a mixing bowl, beat the cream cheese and sour cream until creamy.
Whisk together the milk and pudding mix. Refrigerate for 5 minutes.
Add the pudding to the cream cheese mixture and beat for 1 minute. Fold in the Cool Whip and toffee bits gently.
Layer the streusel, cheesecake filling, and apple pie filling in small canning jars or in one large trifle bowl. Top with pie crust twists.
Notes
All the layers could be put into one large serving bowl, if desired.
*This Apple Pie Cheesecake Parfaits post was first posted in September 2012.