Layers of cheesecake, apple pie filling, and graham crackers make this Cinnamon Apple Icebox Cake a delicious dessert. It is an easy no bake recipe to make for fall and holiday dinners.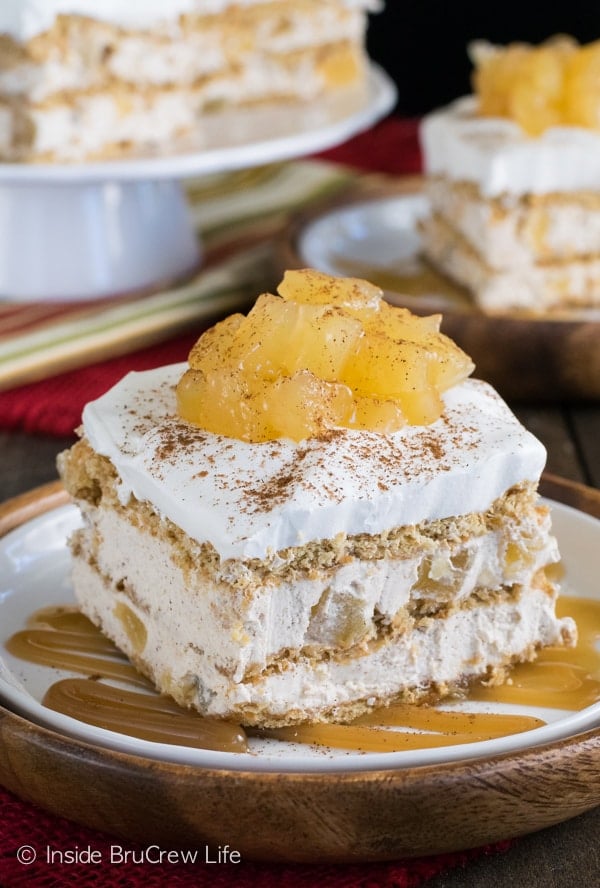 Usually when fall hits, I can't wait to bake all the things with pumpkin. But this year I have been all over apple desserts. This Apple Praline Cake started all the apple madness in our kitchen this year!
Sometimes I just want a quick and easy treat that I can put together in minutes. That is where no bake desserts come in handy. An icebox cake only uses a few ingredients. It can honestly be chilling in the refrigerator in under 15 minutes.
Adding cream cheese to an ice box cakes gives them a little bit more of a cheesecake feel. You know how much I love my cheesecakes!!!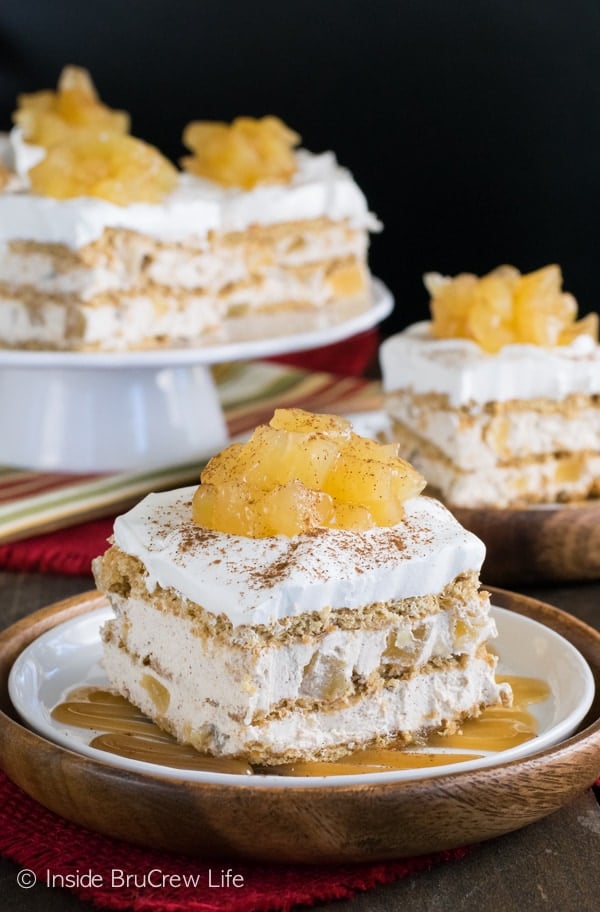 What is an icebox cake?
Years ago icebox cakes were just chocolate wafer cookies and whipped cream layered on a plate and then refrigerated. As the cake sat in the fridge (or icebox), the cookies got soft and the texture became cake like with "frosting". These cakes were also called dessert lasagna, lush dessert, or dream dessert.
Of course, now icebox cakes are a little more modern. You can use pudding, pie filling, cheesecake and any cookie or sweet cracker you like for the layers in these easy no bake cakes. One of our favorites is this Cherry Oreo Icebox Cake made with layers of dark chocolate Oreos and cherry mousse.
Normally, icebox cakes are a summer dessert, but this time I added a homemade Apple Pie Filling to give it a little bit of fall flair! The cinnamon apple cheesecake layered with graham crackers turned out to be a great idea.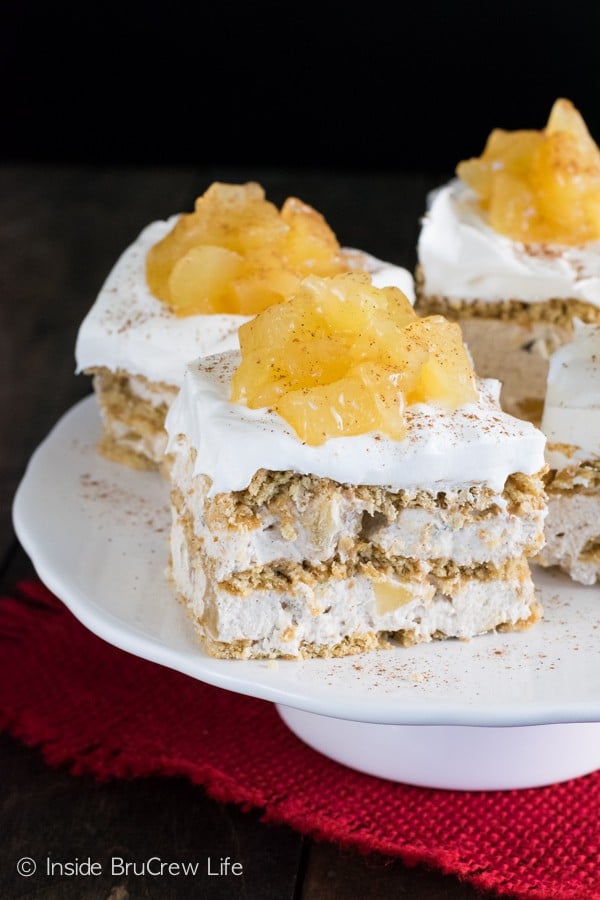 I'm thinking this easy apple dessert would be perfect for Thanksgiving dinner. With all the food prep that has to happen this week, adding an easy no bake apple dessert sounds good, right?
How to make Cinnamon Apple Icebox Cake:
Beat the cream cheese, sugar, vanilla, and cinnamon until creamy.
Stir some apple pie filling into the mixture and then fold in Cool Whip. Pro Tip: You can also make and use a triple batch of this Homemade Whipped Cream instead.
Place graham cracker squares in the bottom of a square dish.
Spoon half the cheesecake layer on top of the crackers and spread out gently.
Repeat with more crackers and the rest of the cheesecake.
Top with a layer of graham crackers and Cool Whip.
Refrigerate for a few hours until softened.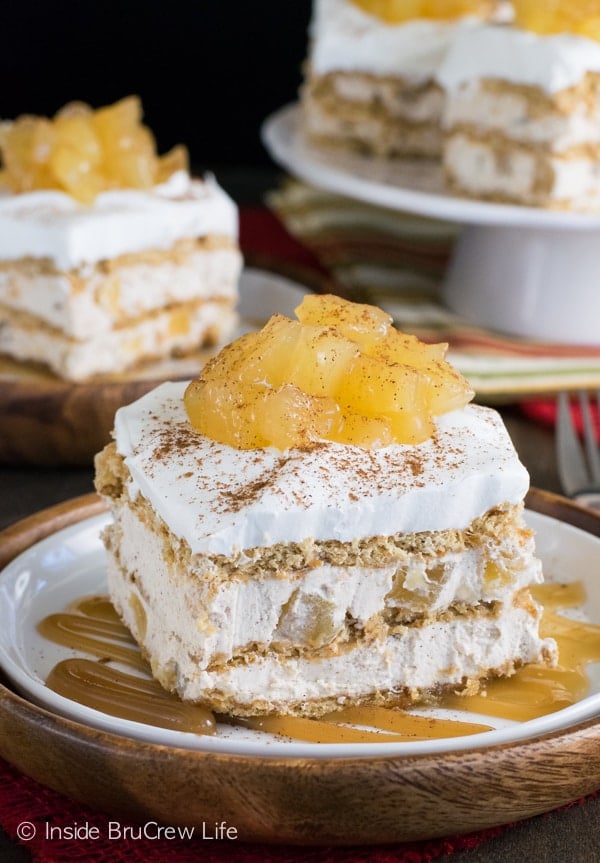 More easy apple desserts: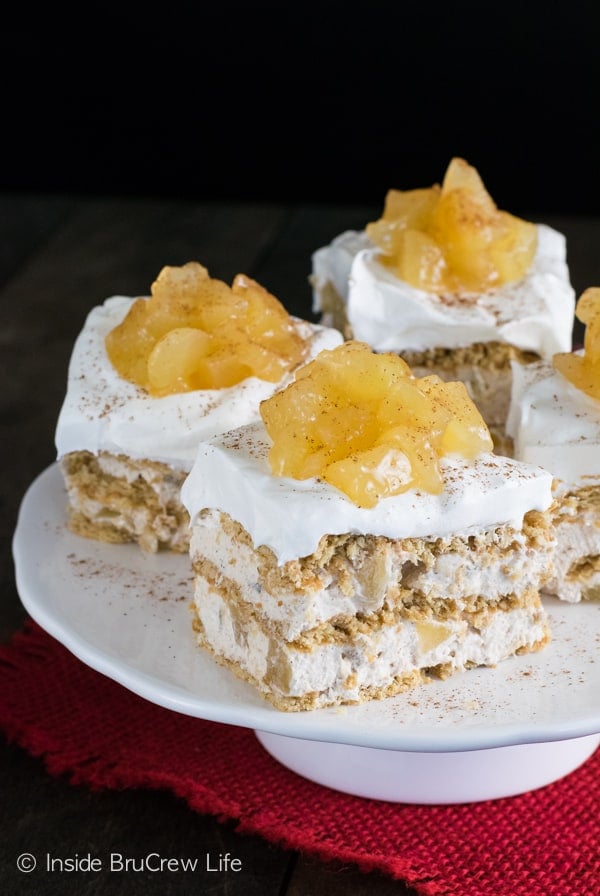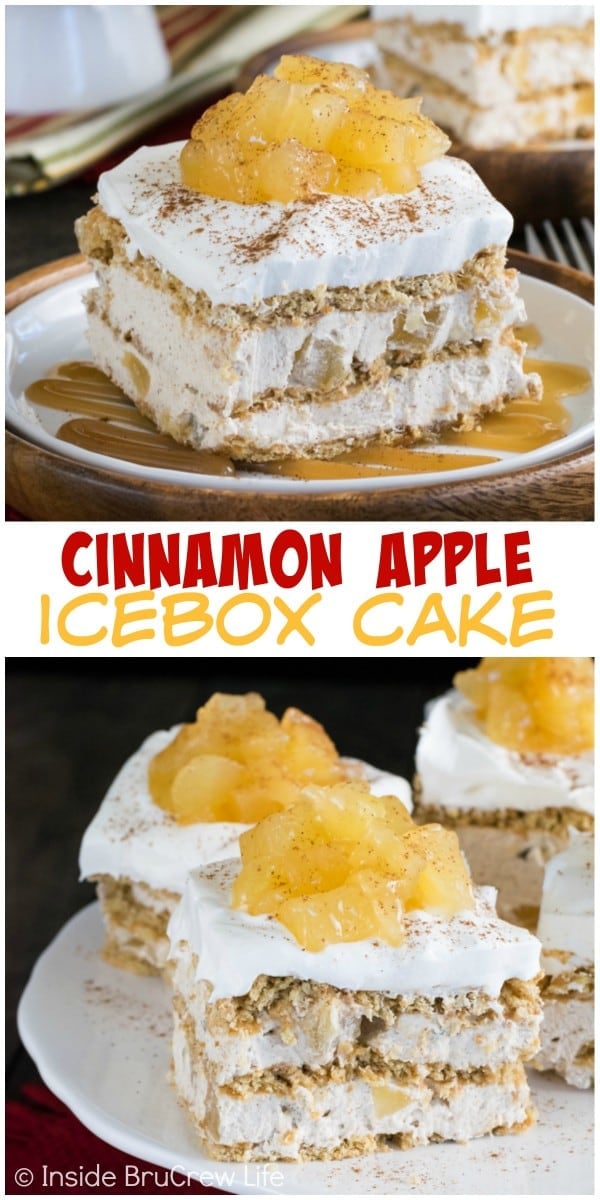 *The post for Cinnamon Apple Icebox Cake was first published November 2, 2015. The post has been updated and republished November 24, 2020.