Discover how easy it is to create the best Apple Pie Filling Recipe. With just a handful of basic ingredients, you can make this stovetop recipe in a matter of minutes. Follow our step-by-step instructions, then say goodbye to store-bought fillings forever!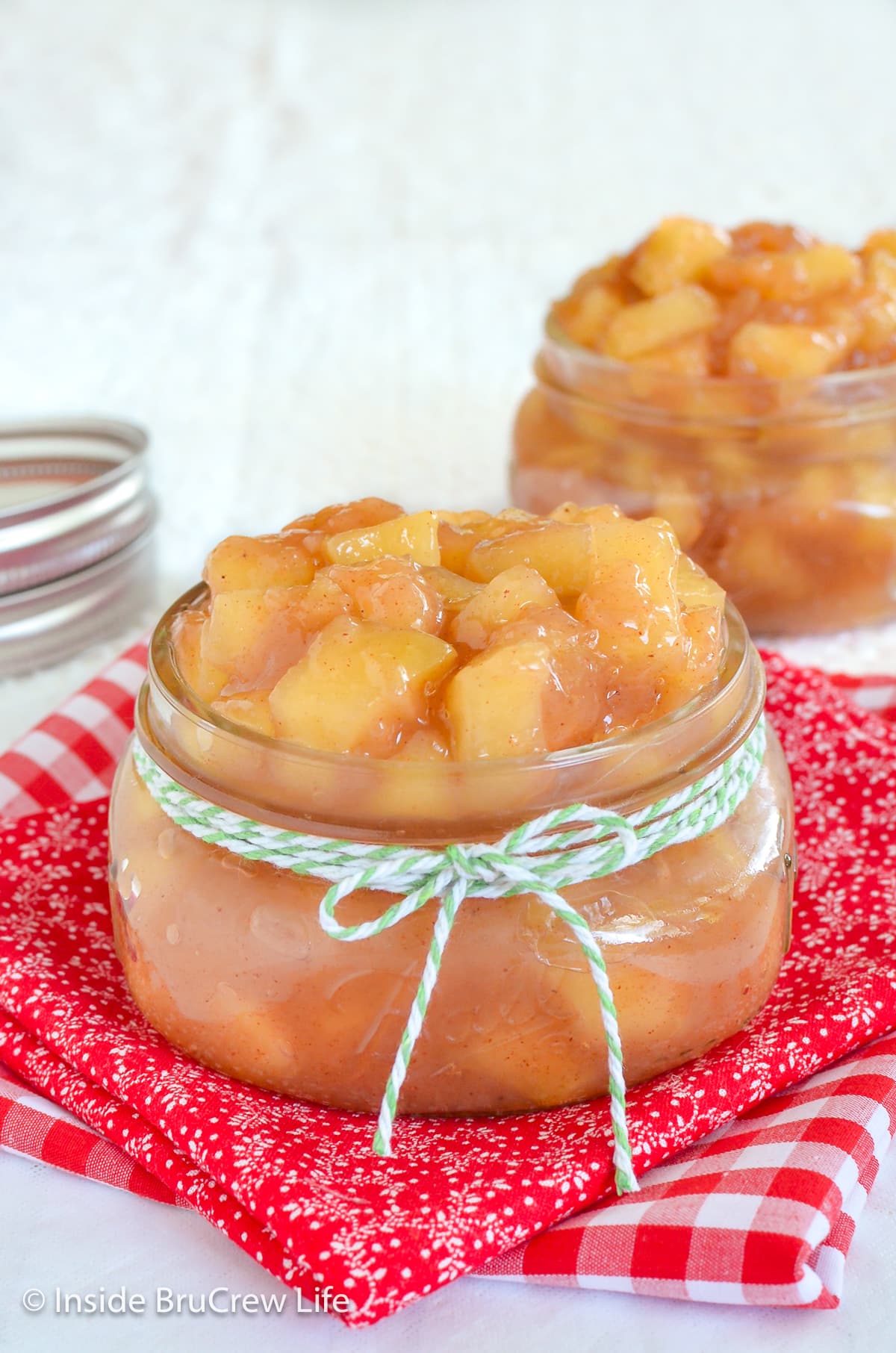 Make your own pie filling and serve the best homemade apple pie this year! The flavor, texture, and freshness of a homemade filling are very different from those of a store-bought one.
When preparing this fruit filling, there is no need for preservatives or stabilizers. And the best part? It is ready in just 20 minutes!
This recipe is perfect for making an apple crisp pie, apple icebox cake, or apple cream cheese bars.
Why Make this
Stovetop Apple Pie Filling
You can buy a canned pie filling at the store. However, once you see how simple this easy apple pie filling really is, you'll have no desire to use cans again!
Quick and easy. It's easy to make apple pie filling at home. In 20 min, a flavorful and tender filling is ready.
Use pantry staples. You probably already have sugar, cornstarch, warm spices, and salt. It's that simple.
Incredible flavor. Using fresh, raw apples adds so much flavor! You can use any apple or mix different types for a delicious texture and new taste.
So versatile. Apple pie filling makes the best apple pie. You can also eat it over ice cream, cheesecake, yogurt, or even in a little bowl, all on its own. So yummy!
What is Homemade Apple Pie Filling
There are two ways to make apple filling. One option is to slice fresh apples and coat them in a mixture of flour or cornstarch, spices, and sugar. As the pie cooks, the apples release moisture and cook together.
An alternative to this method is to precook apple pie filling. You cook the ingredients together on the stove instead of waiting for them to soften in the oven.
Key Ingredients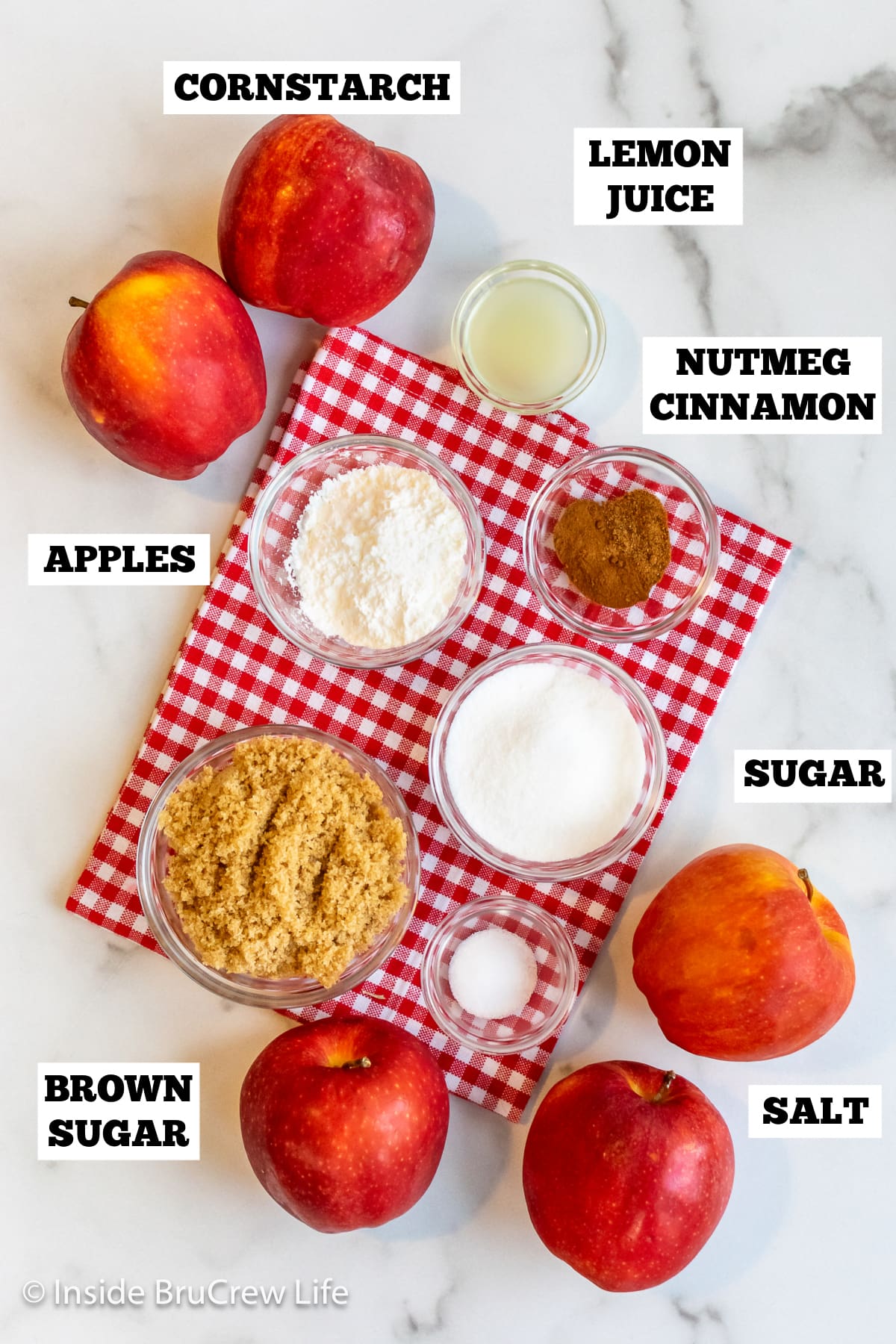 You only need a few ingredients to make this apple pie filling recipe. Most of these ingredients are probably in your pantry right now!
Apples - I like to use Gala apples for all my baking because they are a little sweeter and my favorite. Feel free to use your favorite apple varieties. Granny Smith apples and other sweet-tart apples hold up well and aren't too sweet. We prefer peeled apples, but you can leave them on if the skins don't bother you.
Lemon Juice - A little lemon juice concentrate keeps the apples from turning brown.
Sugar - I like using a mixture of brown sugar and granulated sugar.
Cornstarch - You'll make a simple cornstarch slurry to thicken the filling into gooey, delicious goodness.
Spices - Cinnamon and nutmeg give this filling a fall taste. They're key to the best apple pie recipe!
Salt - Just a pinch helps balance the sweetness and adds depth to the flavor.
How to make Apple Pie Filling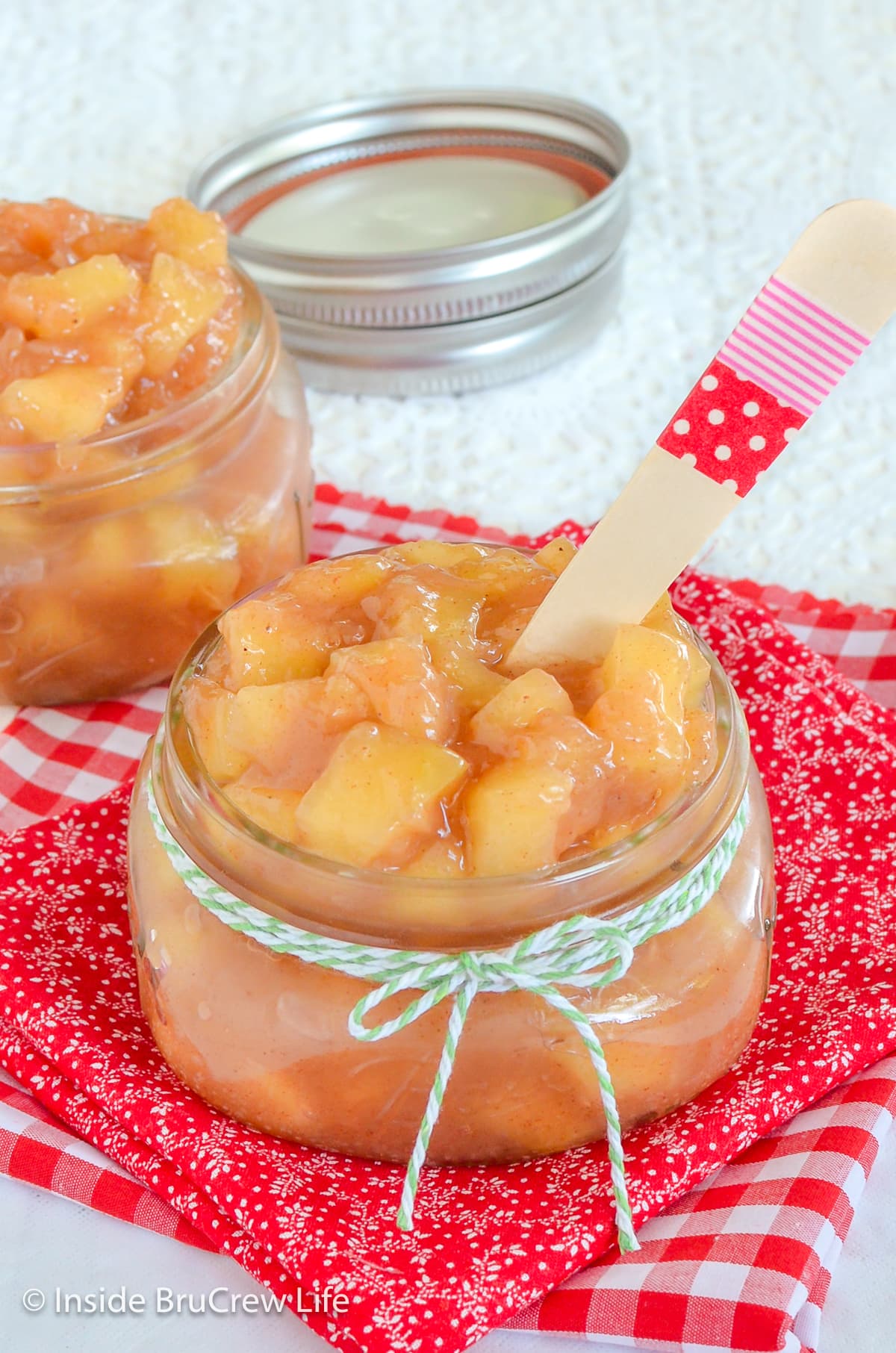 Homemade apple pie filling is so easy to make. You can use it immediately, refrigerate it to use all week, or freeze it for later. It is the best apple filling recipe around!
Cut your peeled apples into bite-sized chunks before tossing them with lemon juice.
Combine sugar, water, and cornstarch to make a glaze. Let this boil for about a minute before stirring the diced apples into the hot mixture.
Bring it to a boil, then reduce to medium heat and simmer for 10-12 minutes.
Remove from the heat and cool in the pan for 1-2 hours. The filling will thicken as it cools.
Spoon it into jars or a large bowl, then place it in the refrigerator to continue cooling.
Storage Recommendations
In the Refrigerator - Store leftovers in an airtight container or jar in the fridge for 4-5 days.
In the Freezer - Freeze the cooled mixture in a freezer bag or container for several months. To use, thaw in the fridge overnight.
Uses for Homemade Apple Pie Filling
There is no wrong way to use this fruit filling. My favorite is digging in with a spoon.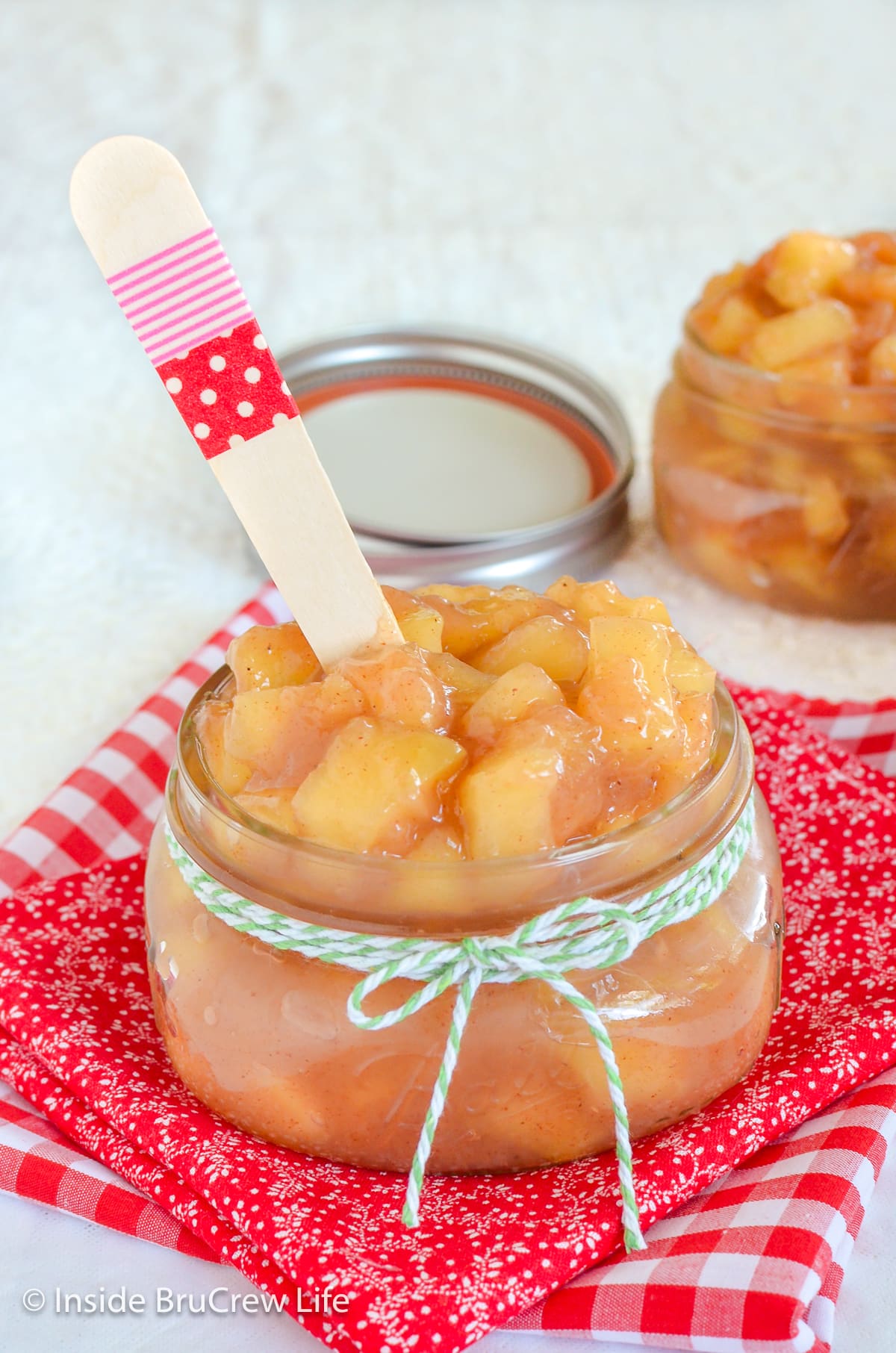 Tips and Tricks
Choose the right apples. Slightly tart, crisp apples have the best flavor and will hold up to cooking. Look for varieties like Granny Smith, Honeycrisp, and Pink Lady. You can also use sweeter apples like Gala or Golden Delicious, but avoid grainy apples that fall apart.
Peel or don't. Peeling your apple slices is optional. The peels will soften as they cook, making them tender. Use an apple peeler to speed up the process if you choose to peel.
Keep everything cold. To make the perfect apple pie, the crust must be cold before entering the oven. If your pie filling is hot, the butter in the crust will melt, and you'll have a soggy crust. For best results, chill the filling in the fridge overnight before baking a pie.
Pick your crust. Whether you want to make your pie dough or buy store-bought crust, you have many options! Try a double crust (top and bottom crust) or a lattice pie crust(bottom crust and a woven top).
Variations
Apple Butter - Add a spoonful of apple butter to your filling for a rich, concentrated apple flavor.
Butter - Add a tablespoon of butter for a glossy, rich filling. This may keep the mixture from bubbling on the stove and add a delicious flavor.
Bourbon - Add an extra flavor layer with a bourbon or whiskey splash. The alcohol will burn off, leaving a delicious taste that pairs perfectly with spiced apples.
Lemon Zest - Add the zest of one lemon to your sliced apples as they cook for a more robust lemon flavor.
FAQs
What kind of apples should you use for pie filling?
I use Gala apples when making this apple pie filling. Granny Smith, Fuji, Honey Crisp, and Red Delicious apples are also good. You can also use a mixture of different baking apples for a unique flavor.
Can you freeze this quick apple pie filling?
Yes. Spoon the cooled mixture into freezer-safe bags or containers. Freeze for 3-4 months. Thaw in the refrigerator before using.
Can you use homemade apple pie filling in place of canned pie filling?
Most 21-ounce cans of pie filling have about 1 ½ cups in them. For any recipe calling for a can of pie filling, substitute 1 ½ cups of homemade filling instead.
Can I make apple pie filling without cornstarch?
There are a few ways to thicken a pie filling without cornstarch. Regular flour is the most common choice, but tapioca flour, arrowroot, and clear gel are three options for thicker consistency.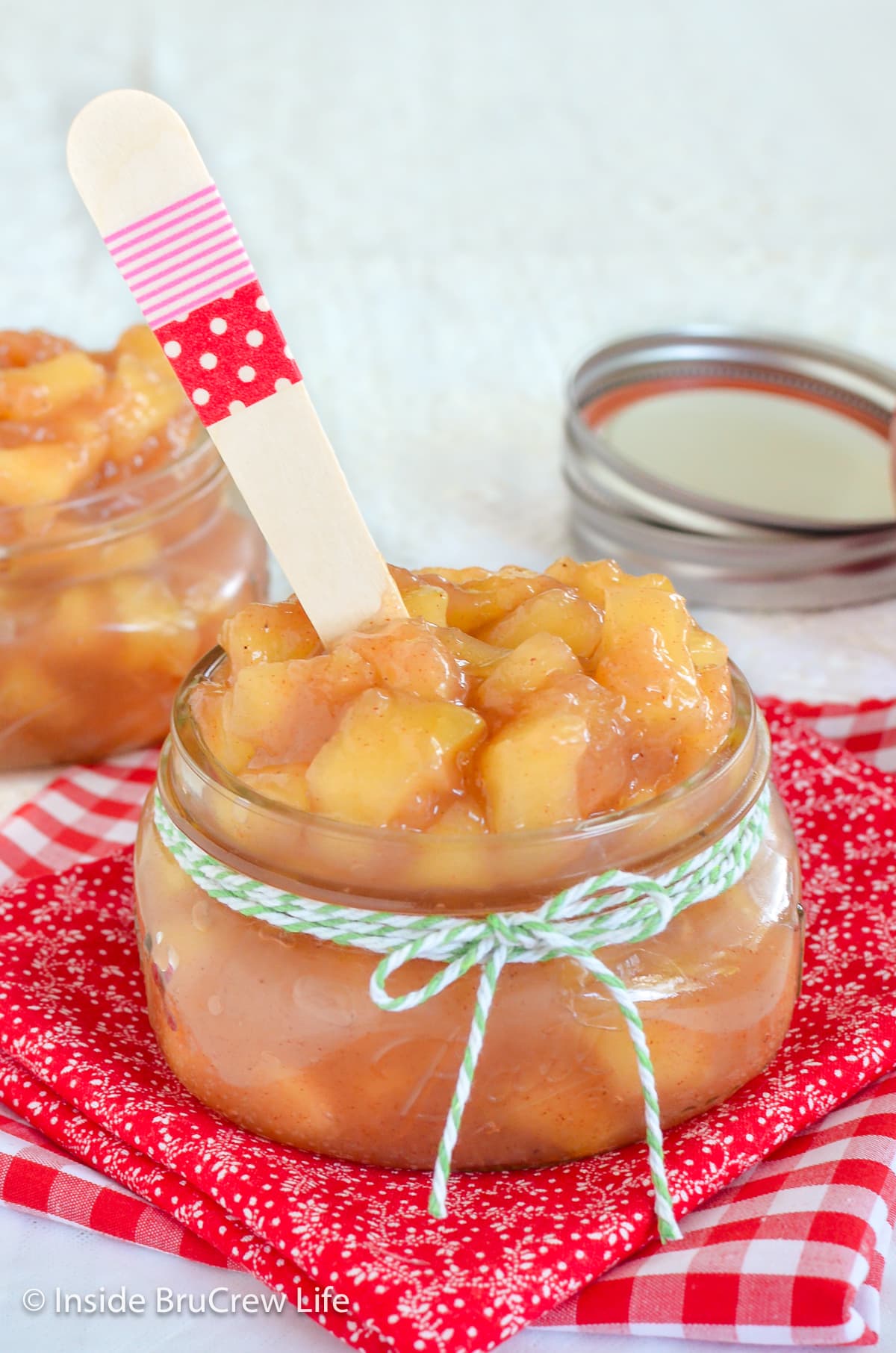 Other Easy Pie Fillings
Do you love a recipe you tried from Inside BruCrew Life?
Please leave a 5-star ⭐️ rating and a review in the comments section below.
*This post was first published in May 2013. It was updated and then republished in October 2023.