This Baked Biscoff Oatmeal is a warm and delicious way to start out any day!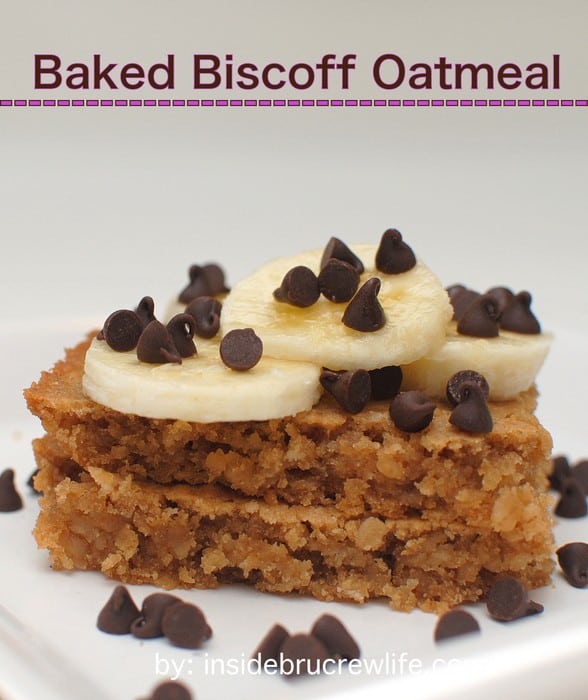 I am so excited to share in my very first secret recipe club reveal. There are so many amazing food blogs that are now participating in this fun "club".
So many recipes to choose from, not enough time in the month to try them all though.
For my first month I was assigned to April's blog Angel Foods Kitchen. I like how she shares so many family friendly recipes that are really easy to make.
I have to admit her chocolate chip cookie recipe was calling out to be made by me, but then I came across her baked peanut butter oatmeal.
I knew right away that I HAD to make this using the jar of biscoff spread that I had been saving for just the right recipe. This recipe was definitely it!!!!
I love how April made this recipe healthy by switching out the sugar and the milk, but I didn't have those on hand so I just used the regular stuff.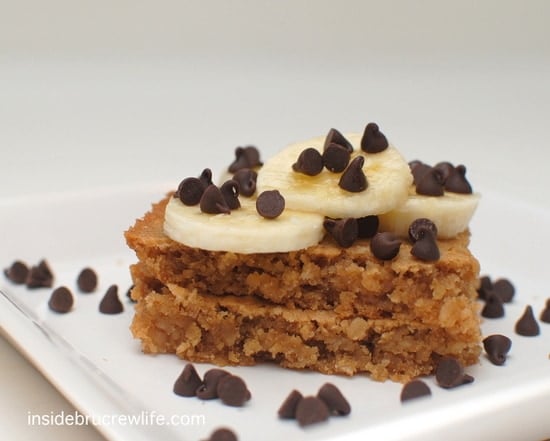 This was so yummy, especially fresh from the oven with melted chocolate chips and banana slices. It was just like eating a a giant oatmeal cookie.
My kids are actually not huge breakfast eaters, so we had it for a bedtime snack. And they just gobbled this Baked Biscoff Oatmeal down in a hurry and even wanted more!
I would say that is a baking success!!!
Baked Biscoff Oatmeal recipe: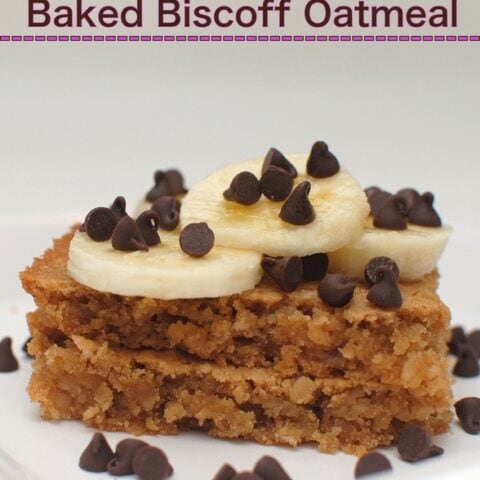 Baked Biscoff Oatmeal
Baked oatmeal gets a fun twist with Biscoff spread, bananas, and chocolate chips. Breakfast never tasted better.
Ingredients
1/4 cup sugar
3/4 cup milk
1 egg
3/4 cup Biscoff spread
1 1/2 cups quick oatmeal
1 teaspoon baking powder
1 teaspoon vanilla
1/4 teaspoon salt
1/4 teaspoon cinnamon
bananas
chocolate chips
Instructions
Whisk together the sugar, milk, egg, and Biscoff. Sift together the dry ingredients and slowy add to the milk mixture until thoroughly combined.
Spread into greased 9x13 pan and bake for 20 minutes, or until edges are golden brown. Slice and serve warm with banana slices and chocolate chips. Makes 24 squares.