A big bowl of this Honey Nut Granola with milk is delicious for breakfast or an afternoon snack. Add it to a bowl of yogurt or chia pudding for a healthy start to the day.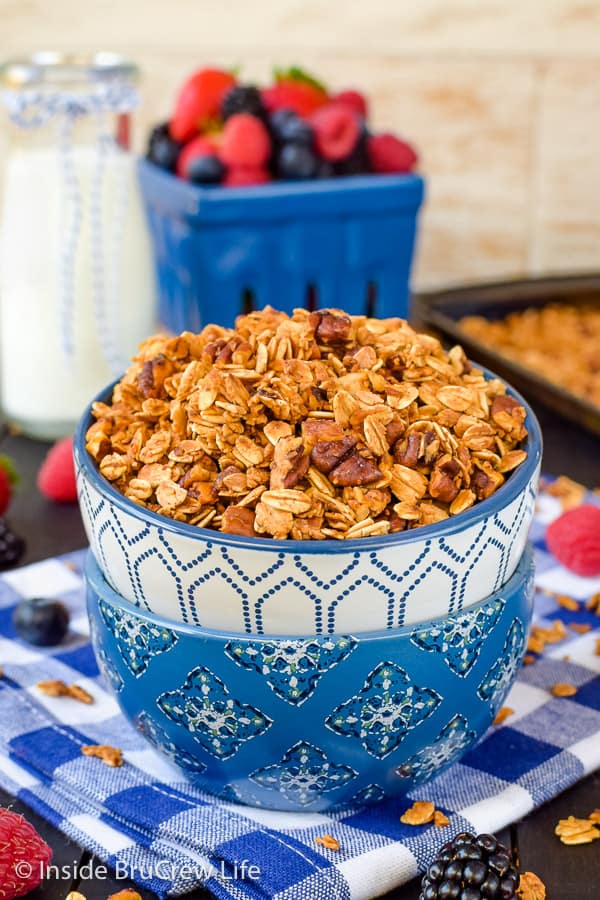 We have been making our own homemade granola for a while now. A few months ago I forgot to buy a bag for my daughter, so I had to dig through the pantry to see what I could come up with.
It turns out homemade granola is extremely easy to make. Now that I know how to make it, I'm not sure I will ever buy those bags of overpriced granola at the grocery store. Plus, it's so fun to come up with fun flavors to munch on.
So far we have made four different flavors, but I think this Chocolate Covered Strawberry Granola was our favorite. I mean, how can you argue with chocolate for breakfast? Am I right?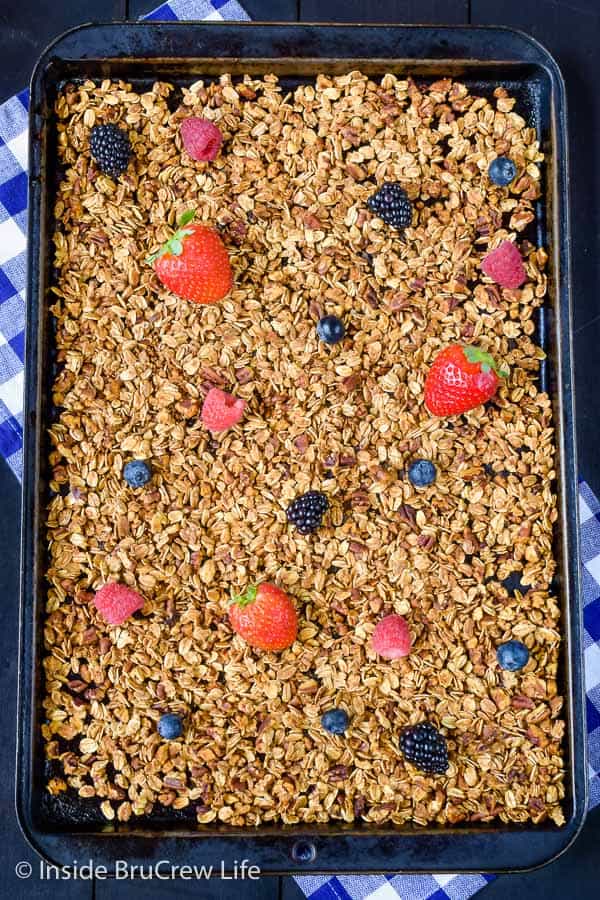 Now normally I like to make granola from scratch for us to eat with milk. My homemade granola is more like crunchy cereal. One of these days, I'm going to play with the recipe and get chunky granola for snacking on.
The real reason I made THIS particular quick granola though was because of these Chia Seed Pudding Parfaits. You see my son and I went out to breakfast one day, and I had this particular recipe at the restaurant.
It was so good that I came home and figured out a copycat recipe, so that I could eat it any time I wanted it. Their breakfast pudding bowls had homemade Honey Nut Granola in them, so that's what I made too.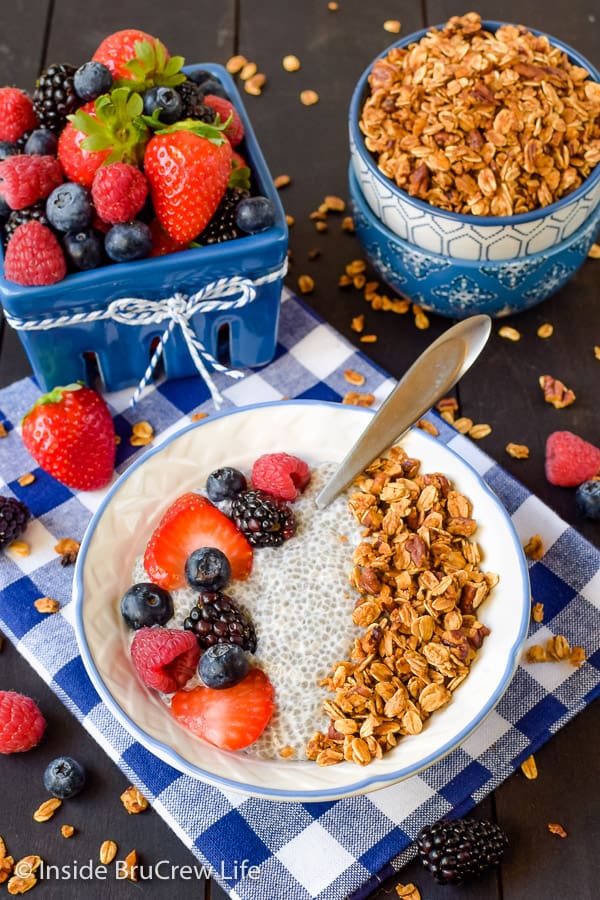 Ingredients for Honey Nut Granola
Rolled Oats - old fashioned or whole oats are chewier and heartier
Honey - to sweeten the snack mix. You can also use agave or maple syrup.
Raw Nuts - you can use walnuts, pecans, almonds, or whatever other nut you enjoy
Cinnamon and Vanilla - adds a great flavor to the granola
Salt - a pinch of salt really does make a difference in the taste of any granola
Things to Add to Homemade Granola
Oil - add a few Tablespoons oil if you like to make your granola crisper
Dried Fruit - stir in raisins, craisins, banana chips, freeze dried strawberries or raspberries, or any other dried fruits
Seeds - use a mixture of half nuts and half seeds to change it up
Other seasonings - change it up with all-spice, nutmeg, pumpkin pie spice
Mini Chocolate Chips - chocolate is always a good idea, just make sure to add it after your granola has cooled

How do you make Honey Nut Granola
Whisk together the honey and vanilla.
Stir the oats, nuts, cinnamon, and salt in a bowl.
Pour the honey on the oat mixture and stir until coated.
Spread out on a baking sheet and bake for 30 minutes, stirring every 10 minutes.
Let cool completely before storing in a sealed container.

FAQ
How long can you store homemade granola?
You can keep it in an airtight container for up to two weeks.
Can you freeze granola?
You sure can. Package it in an airtight container with very little empty space. Freeze for up to 3 months. Let it sit out on the counter overnight before using.
If you are freezing the granola, add dried fruit after you thaw it.
Other easy breakfast recipes