Enjoy a slice of this warm Peanut Butter Chocolate Chip Baked Oatmeal drizzled with honey for a delicious and healthy breakfast or snack. It is delicious anytime of day.
I do love a bowl of hot oatmeal for breakfast. But I'm kind of picky on how that oatmeal has to be. It cannot be watery or slimy.
Yeah, I pretty much only add a little bit of water and make it thick. Oh, but it can't be thick like paste either. And it has to have brown sugar and raisins in it.
It's ok, I know what a picky oatmeal eater I am.
A few years ago I tried this Baked Biscoff Oatmeal and really enjoyed eating oatmeal that way. I had completely forgotten about it until recently when I was trying to come up with something different for our kids to eat for breakfast.
As I looked through some of our old breakfast recipes I saw this baked oatmeal, and I knew I need to make it again.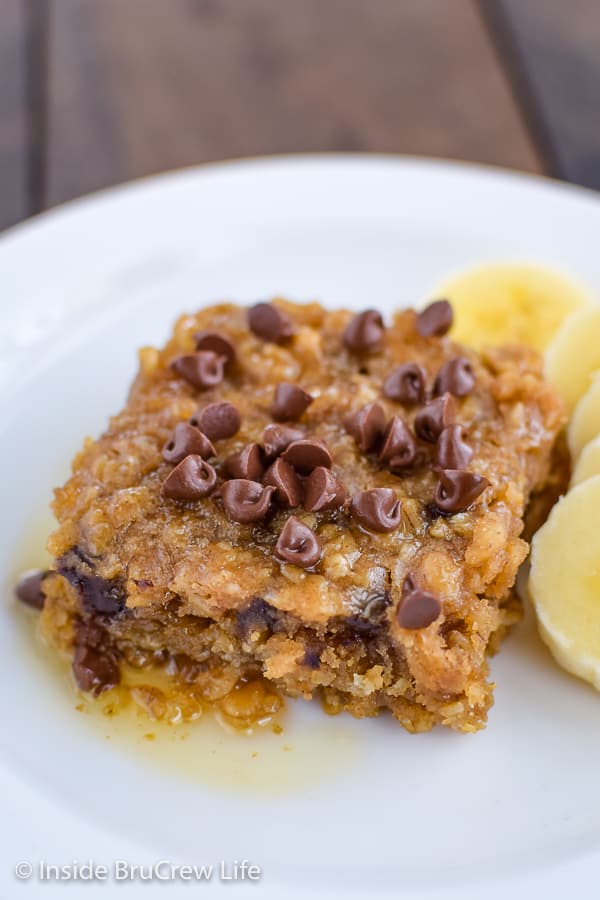 For this baked oatmeal I took one of my favorite sandwich flavors and turned it into breakfast food.
Peanut butter and honey sandwiches were one of my favorites when I was in elementary school. The honey would soak into the bread and kind of harden by the time we ate lunch. Oh, those sandwiches were so good.
This baked oatmeal has peanut butter and a few chocolate chips mixed into the batter. Chocolate for breakfast is always a good idea.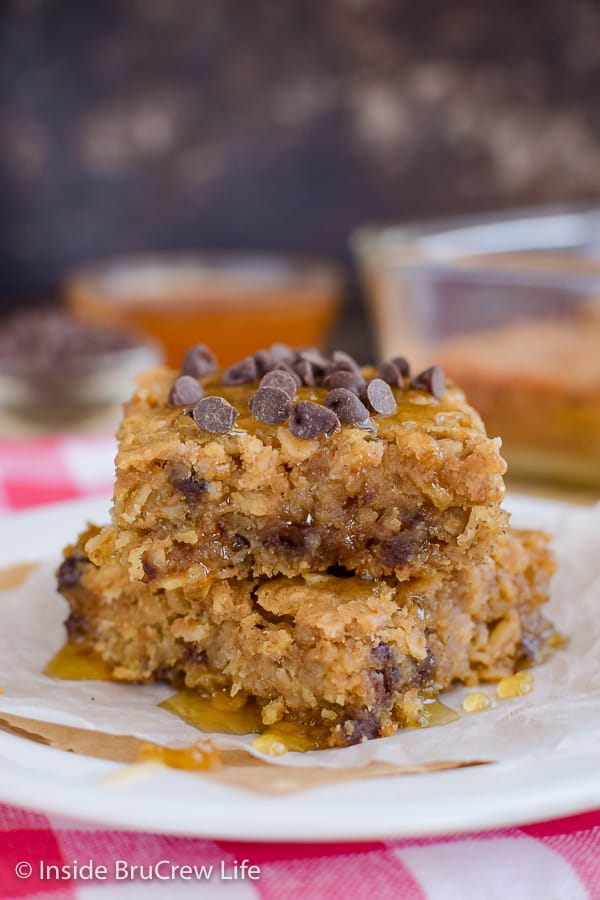 And another great thing about baked oatmeal casserole is that I made it with applesauce.
There is also no butter or oil in this healthy baked oatmeal. The peanut butter and applesauce give it all the goodness it needs.
Now there is a little bit of sugar and some chocolate, but when you spread it out over the whole pan, it is not very much. Well, unless you eat the whole pan by yourself. And trust me, that is easy to do.
What you need to make the Best Baked Oatmeal:
Peanut Butter - I prefer using a creamy peanut butter, but crunchy would work fine too. I have not tried this with a natural peanut butter, so I'm not sure how it would work.
Applesauce - this ingredient replaces the egg. If you want to, leave out the applesauce and use 1 egg.
Brown Sugar - there is a little bit of sugar in this oatmeal to sweeten it. You could also use honey or a sugar substitute that is good for baking.
Vanilla and Cinnamon - these give the oatmeal a little bit of flavor and spice
Baking Powder and Salt - gives the baked oatmeal a little bit of lift and the salt balances out the sweetness
Old Fashioned Oats - I like the texture of old fashioned oats, but you could also use quick oats if that's all you have.
Milk - I like to use fat free milk in this baked oatmeal, but any milk would work.
Mini Chocolate Chips - just because anything with peanut butter is always better with chocolate. It's totally optional if you want to leave them out. You can also add fruit or nuts instead.
Full Recipe - keep scrolling to the bottom of the post to see the amounts and instructions.
How to make Peanut Butter Chocolate Chip Baked Oatmeal:
Preheat your oven and spray a 8x8 pan with nonstick spray.
Mix the peanut butter, applesauce, and brown sugar until creamy.
Stir in the oats, cinnamon, salt, baking powder and milk and mix until everything is incorporated.
Stir in the chocolate chips and pour it into the prepared pan.
Bake and serve warm with honey, bananas, and extra chocolate chips.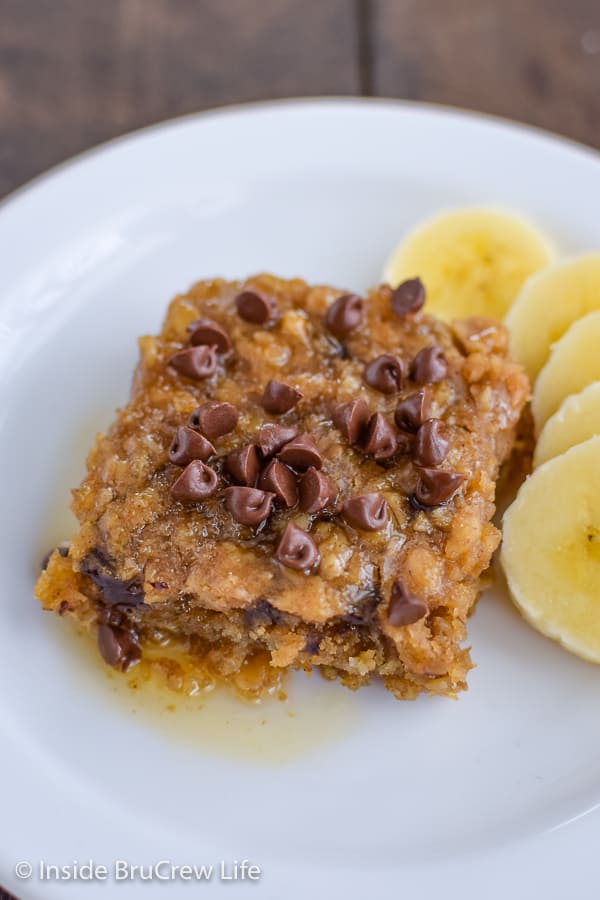 This peanut butter baked oatmeal is great because it bakes up pretty sturdy. It's almost like a soft granola bar if you cut it and eat it cold. The first day I had some cold with a drizzle of honey. Oh, it was so delicious.
But then the second day, I popped the plate in the microwave for about 15-20 seconds, drizzled on the honey, and sprinkled some chips and about died when I took a bite!!!
Seriously!!! You need to try this warm! It will blow your mind!!! The honey soaks into the oatmeal and the chocolate chips get all melty and amazing!
There is a second pan of Peanut Butter Chocolate Chip Baked Oatmeal now waiting on our counter now because I may have finished off the rest of the first pan!
Trust me and make yourself a pan today!!!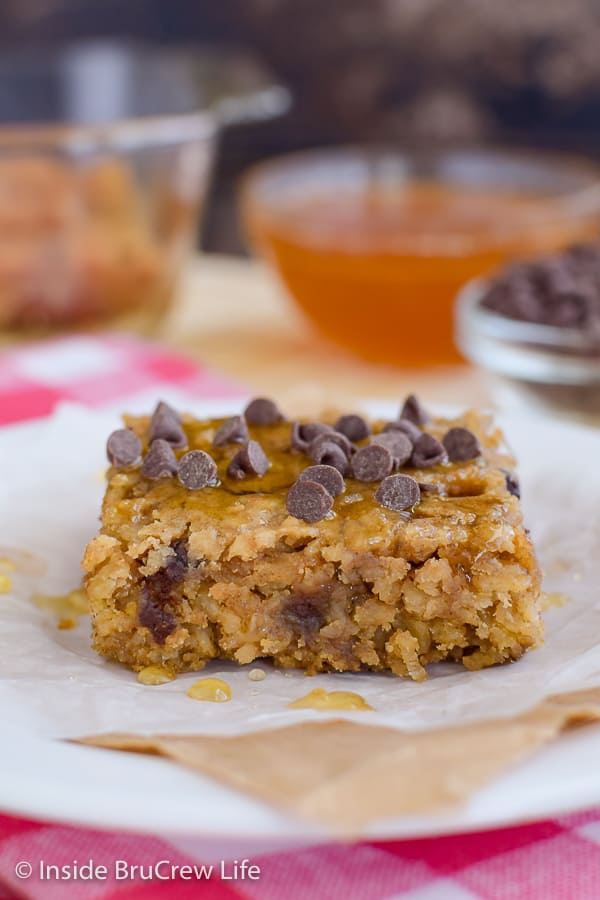 Other easy baked oatmeal recipes: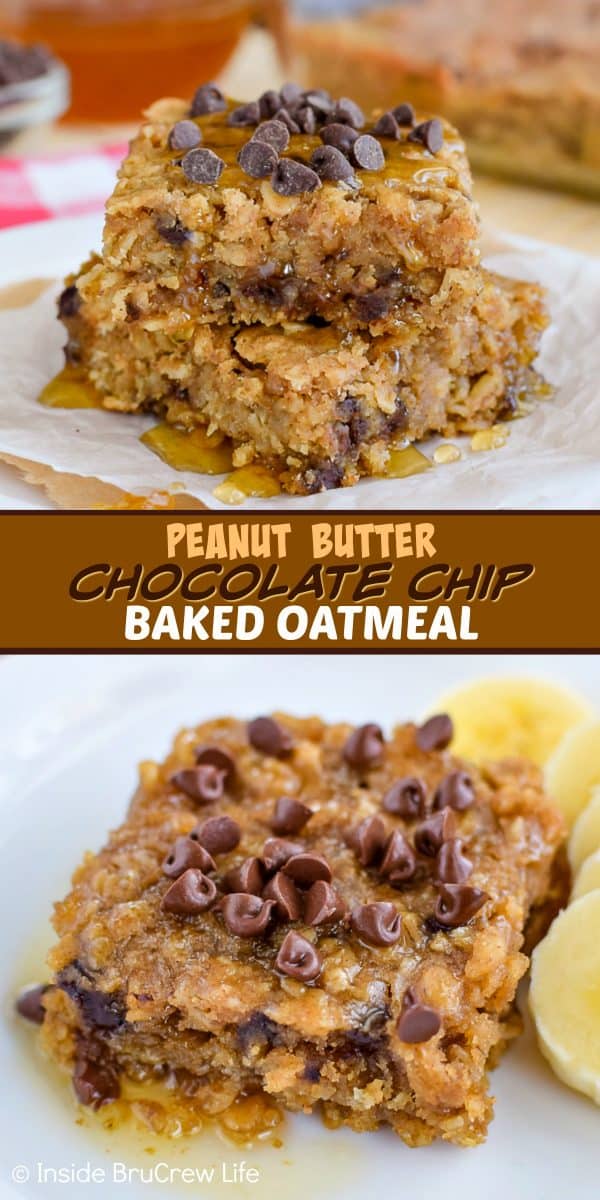 *The post for Peanut Butter Chocolate Chip Baked Oatmeal was first published on January 9, 2015. The post and photos have been updated and republished on January 17, 2020.