This easy Salted Chocolate Grain Free Granola is a delicious breakfast or after school snack choice. The grain free, gluten free, and vegan snack mix is great with all milk, in yogurt parfaits, or eaten by the handfuls.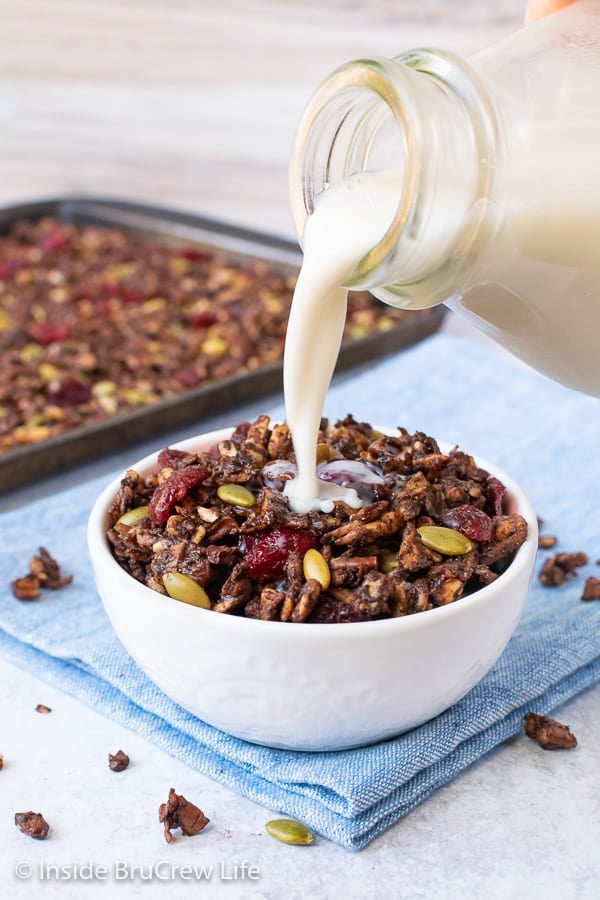 Granola was one of those snacks that I always bought. It was just easy to throw a bag or two in the cart every time we went grocery shopping.
Then one day I forgot to buy a bag, so I decided to try making homemade granola for our daughter's after school snack. I had no idea granola was so easy to make.
One batch of this Raspberry Chocolate Chip Granola totally changed my mind. It's quick and easy to make, it's cheaper, and so much tastier.
In fact, until recently we have just made a bunch of different flavors like this Chocolate Covered Strawberry Granola to enjoy for breakfast and snacks.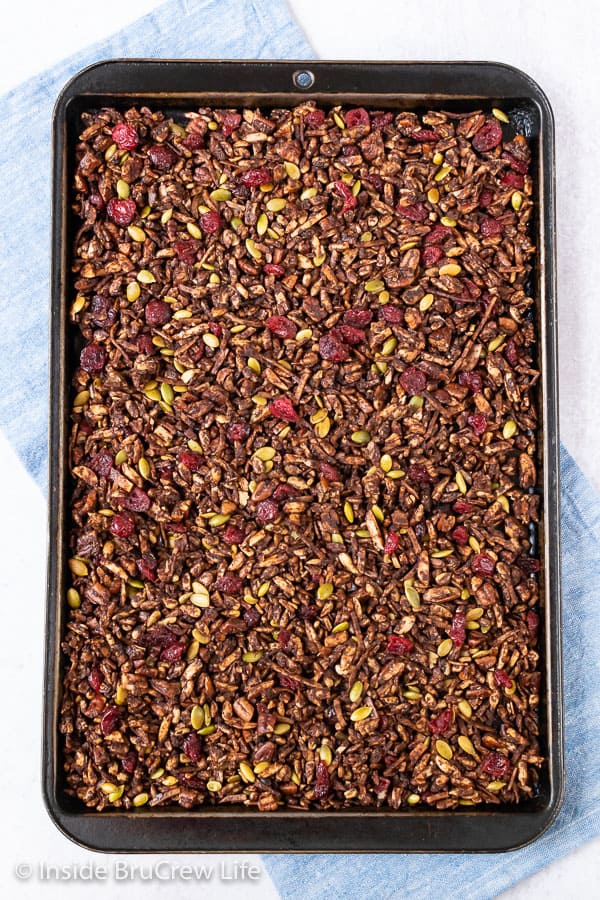 A few months ago though our daughter figured out that her skin issues were food related, so she cut out gluten and dairy to see what would happen.
We found some grain free granola and granola bars at Costco, so we bought one of each to see how the flavor was. We all loved this nut granola, but holy cow is that small bag expensive.
I'm a cheapskate, so after buying one bag of that expensive snack mix, I decided to figure out how to get that same flavor in a homemade batch of grain free granola.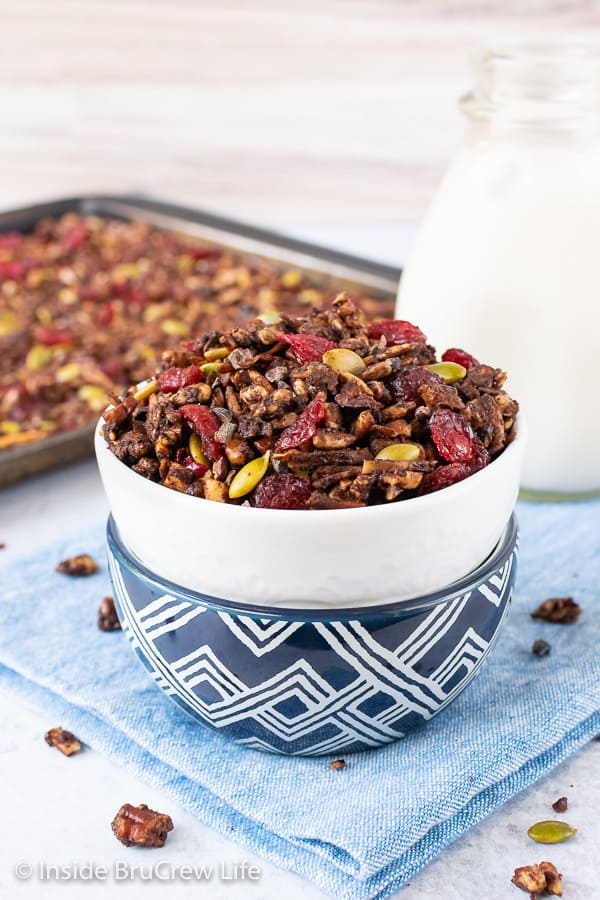 So what does grain free mean, exactly? It means this granola recipe doesn't call for oats, which most classic granola recipes do. We keep a bag of gluten-free oats in our cupboard at all times, but they're high in carbs so we limit their consumption.
You can use any nut in place of grains for this granola. It's so customizable. The varieties are endless. You can switch up the nuts and mix-ins for a new flavor every time you make it.
What is in grain free granola?
Nuts - these add the crunch and protein to your snack mix. You can use any variety or blend of nuts.
Coconut - use unsweetened shredded coconut to bulk up the granola
Almond Butter - adds flavor to the granola. You can also use peanut butter if you like.
Pure Maple Syrup - this adds a little bit of sweetness to the snack mix. You can also use honey or agave if that's what you have.
Coconut Oil - helps the granola bake up crunchy and brown.
Mix-ins for homemade granola:
Dark Cocoa Powder - gives it a great chocolate color and flavor. You can leave it out if you want a plain granola.
Vanilla and Cinnamon - adds flavor. You could change it up by using nutmeg, allspice, or pumpkin spice depending on the season.
Sea Salt - a pinch of salt really does make a difference in homemade granola
Dried fruits - stir in raisins, craisins, banana chips, freeze dried strawberries or raspberries, or any other dried fruits that you like
Chocolate - chocolate is always a good idea, just make sure to add it after your granola has cooled. Cocao nibs or mini chocolate chips are delicious in granola.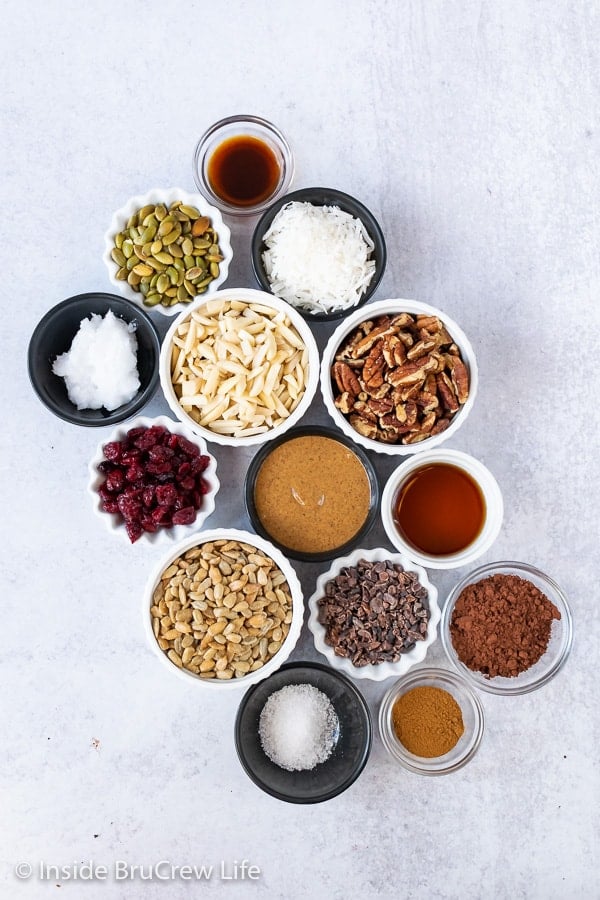 To hold together the granola and to give it a good crunch, I used a mixture of pure maple syrup and coconut oil. A little bit of cocoa powder and sea salt makes this the best grain free granola recipe. If you prefer a plain granola, feel free to leave out the cocoa.
How to make Salted Chocolate Grain Free Granola:
Mix together your favorite chopped nuts in a bowl. Add some unsweetened shredded coconut and cocoa powder and stir together.
Melt coconut oil in the microwave, then stir in almond butter, vanilla, maple syrup, cinnamon, and sea salt.
Pour the oil mixture over the nut mixture and stir until coated.
Spread the granola out on a sheet pan and press it together with the back of a spoon.
Bake for 20 minutes, then stir. Bake another 20 minutes.
Let cool completely on the pan before adding mix ins.
FYI: The key to getting clusters in your granola is to let it cool completely on the pan before moving it. This helps it clump together and form clusters.
Once it is cool, you can stir in different mix-ins and then transfer it to an air tight container for 3-4 days.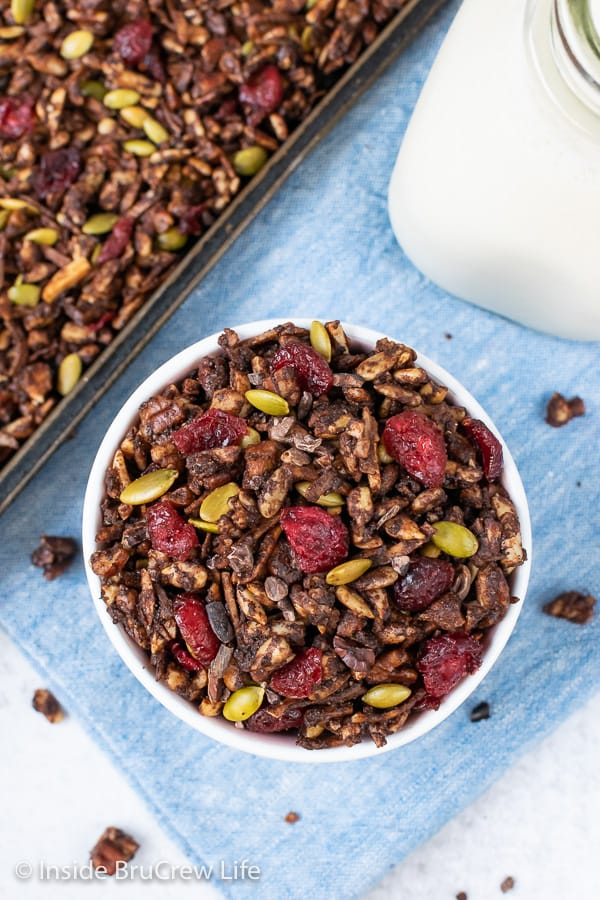 Other easy healthy breakfast recipes you may like: