Behind BruCrew Life has always been a post where I shared cute and funny instagrams from the past weeks. I am going to start changing that up some. There will still be the personal pictures and behind the scenes from the BruCrew, but I am going to add in other fun finds that I come across and also product reviews. What do you think? Now I just need to come up with a cute name for the new series...anyone have any ideas?
1. This week Shari's Berries sent me some Mother's Day treats to review. I love my job 🙂 I have never ordered chocolates or strawberries online before, so I didn't know what to expect. I couldn't wait for the truck to deliver them on my scheduled day. The box was very well packed and was still chilly, even though my delivery confirmation email said they left the building the day before. The strawberries were so large and perfectly decorated. I didn't know which one to bite into first. Of course the all-chocolate one won out! The strawberries were fresh and juicy!
That night my husband and I sampled the mini cheesecakes that came with them. Oh my goodness! The cheesecakes were so creamy and delicious! It is a good thing we have 3 kids to help us out with sampling...because I really wanted to hide in a closet with the cheesecake. I also received a box of Mother's Day Truffles! The chocolate creamy centers were amazing! So far my family hasn't realized that I cut open the bottoms of most of them to see what they were 🙂
You need to order some of these for Mother's Day this weekend, either for mom or for yourself! I'll leave that one up to you! They have so many different gift ideas to choose from.
2. My husband and I had the opportunity to go to a dinner banquet in our town to learn more about a program called Life Care. It is a pregnancy care center located near a large college here. It always amazes me to hear the statistics on teen/college age pregnancy. We will be visiting their office soon to see what type of volunteer opportunities are available for our church life group to get involved in.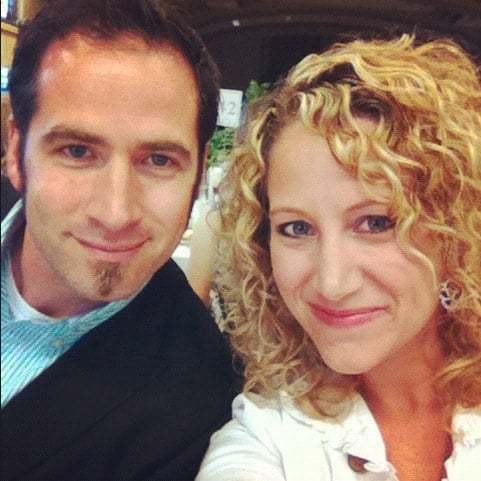 3. Have you had your ½ price Fraps yet??? This week only Starbucks is offering Happy Hour from 3-5 pm. I see a mocha cookie crumble in my very near future! That is if I get over this stomach bug!
4. I love how Dessert for Two made a classic jell-o salad into these Strawberry Pretzel Parfaits for breakfast. Aren't they just gorgeous?
5. This week this super cute quote from Best Friends For Frosting. popped up in my Instagram feed. I absolutely love it and need to print it for something! I'm thinking a kitchen print, a cover for my notebook, and maybe one for my pocket calendar.
6. Of course this would be the week I spilled sprinkles ALL.OVER.MY.KITCHEN. I'm still vacuuming up those color bits! My super power obviously isn't cleaning 😉 But they sure did look cute on top of my Nutella Latte.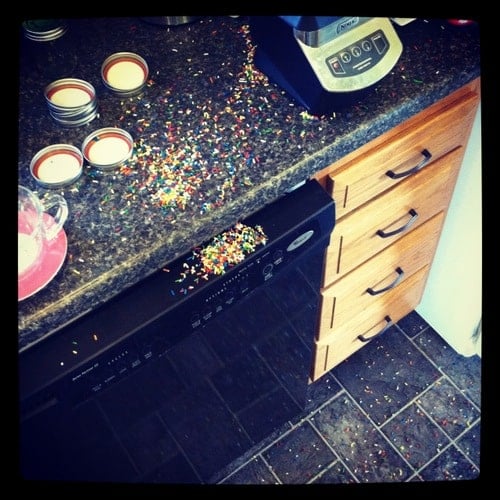 7. I absolutely love easy cinnamon rolls like these Mocha Chip Rolls, but Tonia from The Gunny Sack took her cinnamon rolls to a whole new level. I mean seriously...Cinnamon Roll Whoopie Pies. I die!!!
8. Target Dollar Spot gets me every single time. I went in just looking for brown pants for my son's wax museum costume. Are you laughing with me too? Trying to go in Target and only buying what you came for is next to impossible. I came out with chalkboard labels, napkins, earrings, cupcake gum, and notepads. Oh, and no pants! (They didn't have the color I was looking for.)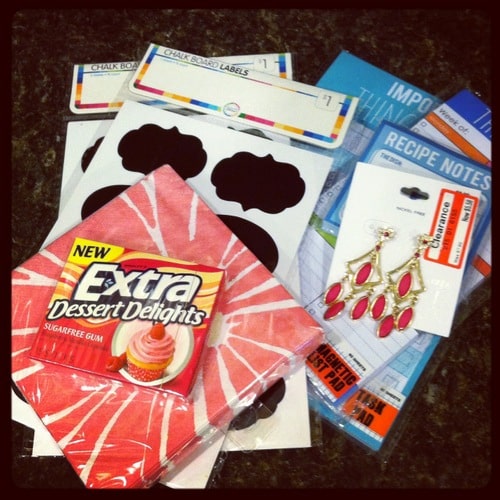 9. Looking for a cute teacher appreciation gift? Shaken Together has an adorable orange themed gift that you can put together from Target. Yay!!! Another reason to go to my favorite store 🙂
10. I'm thinking these Pasta Salad Skewers would be so fun for all the barbecues coming up soon. Memorial Day weekend is only 2 weeks away.
What fun things have you made or seen this week? Keep me posted...I love to check out cool things!!!
Have a wonderful weekend celebrating Mother's Day with your family!!!
*There are affiliate links in this post. Thank you so much to Shari's Berries for sending me chocolates to review. All opinions are 100% mine.