These easy no yeast cinnamon rolls are the perfect weekend breakfast. You can have Mocha Chip Cinnamon Rolls on your plate in under one hour.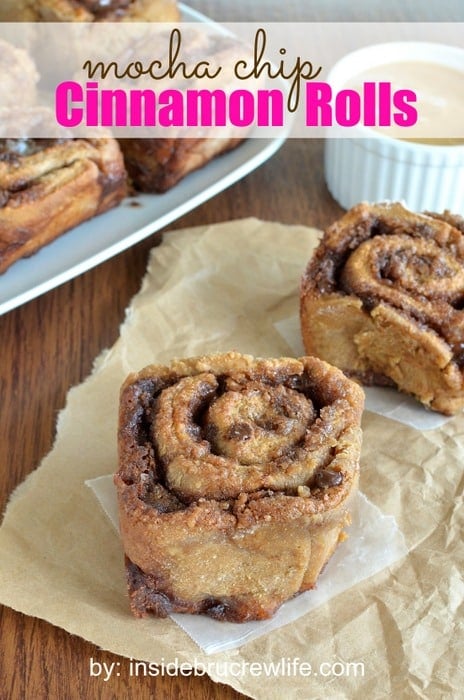 These cinnamon rolls are ones that I have been making for a few years. I posted these Oreo Truffle Cinnamon Rolls a few years back, but I wanted to update the pictures and the recipe. Cinnamon rolls that don't take yeast or have any rise time are definitely my favorite way to make breakfast.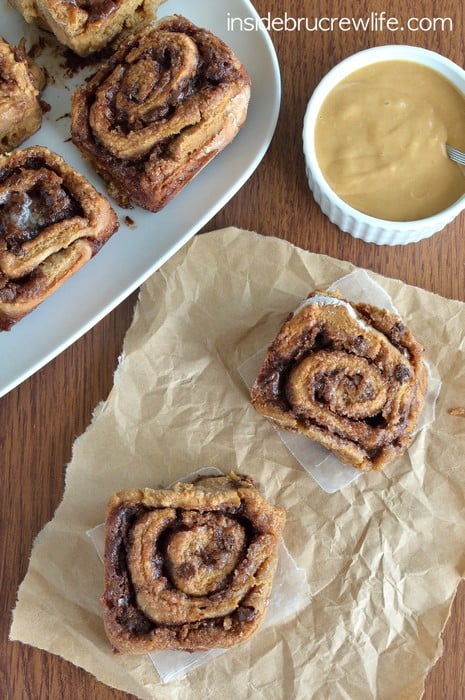 A few weeks ago my daughter had a friend spend the night. We got up the next morning and I told them I would make cinnamon rolls for breakfast…errr brunch.
This dough is seriously so easy to make and fill. It can be rather sticky, so I keep my counter covered with a good layer of flour. After you knead it about 10 times to work in a little bit of flour, then start pressing it with your hands until you have a rectangle about 16 inches by 10 inches. It should be fairly thin, but even all around. Spread out some melted butter and cover with the cinnamon sugar mixture. It may seem like a lot, but trust me. When you bite into an ooey gooey roll, you will thank you me for all the goo.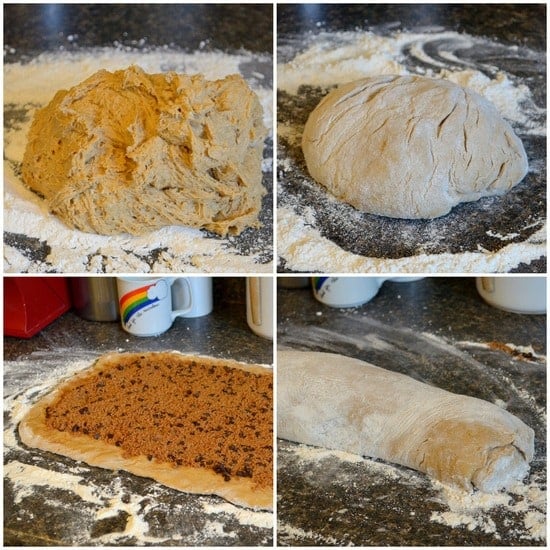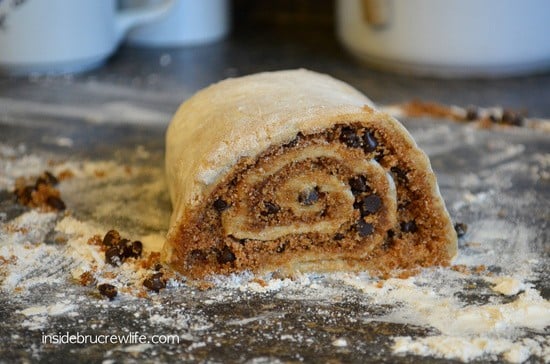 Of course I wasn't thinking when I decided to take pictures of these cinnamon rolls right away. If you have ever had 4 hungry kids looking over your shoulder at their breakfast, you will understand. I had them wait while I snapped a bunch of shots. Then I realized that about 4 of the rolls weren't really in the picture, so I appeased the hungry munchkins for about 2 minutes.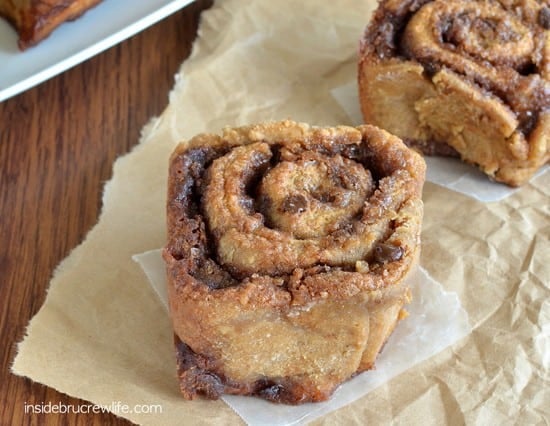 2 minutes was all I needed to cover the rolls with some of the mocha glaze and take a few more pictures. I could hear them gobbling down the rolls and coming back for another roll. Ok, whatever pictures I took were going to have to do…they weren't going to wait much longer for their second cinnamon roll.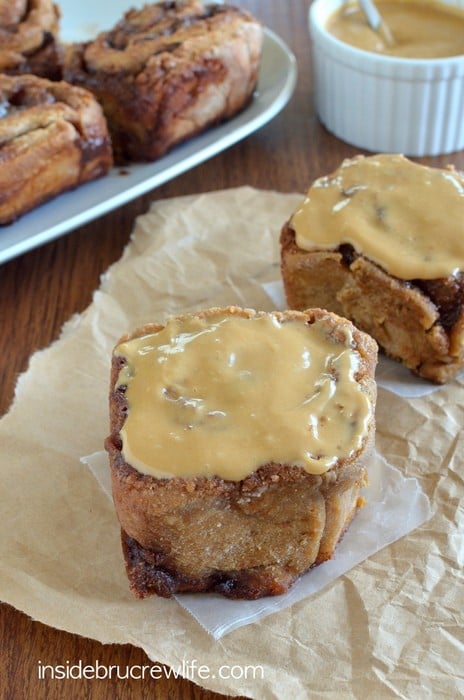 See all that goo…you would come back for another roll right away too!!!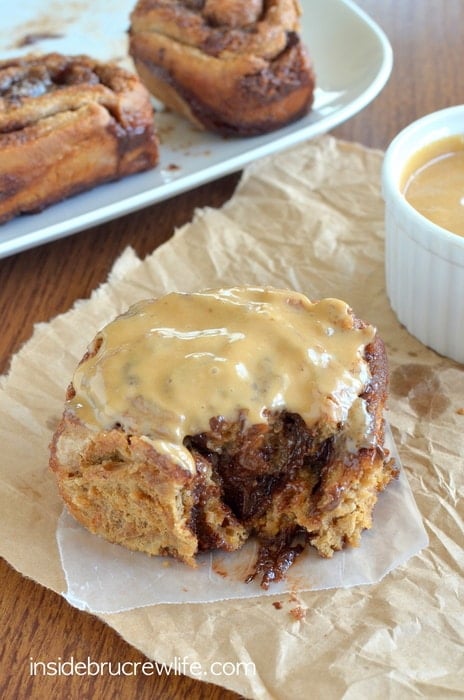 Make sure you don't miss any of the crazy baking
by following the BruCrew here:
FACEBOOK | PINTEREST | GOOGLE+ | TWITTER | INSTAGRAM | BLOGLOVIN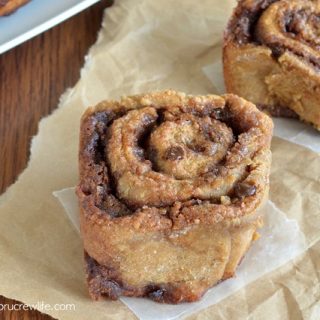 Mocha Chip Cinnamon Rolls
Easy No Yeast Cinnamon Rolls made with coffee and chocolate chips are sure to get your day started right.
Ingredients
For the Filling
3/4 cup brown sugar
1/4 cup sugar
2 teaspoons cinnamon
1/4 teaspoon nutmeg
1 Tablespoon butter, melted
1/2 cup miniature chocolate chips
For the Dough
2 1/2 cups flour
2 Tablespoons sugar
1 1/2 teaspoon baking powder
1/2 teaspoon baking soda
1/2 teaspoon salt
1 1/4 cups buttermilk
2 Tablespoons instant coffee
7 Tablespoons melted butter, divided
For the Glaze
1 Tablespoon cream cheese, softened
1 Tablespoon buttermilk
1/2 teaspoon instant coffee
1/2 cup powdered sugar
Instructions
Preheat oven to 425 degrees.
Combine all the filling ingredients and mix until it resembles coarse sand. Set aside.
Stir together the buttermilk and instant coffee for the dough. Set aside.
Combine the flour, sugar, baking powder, baking soda, and salt. Add the coffee milk and 2 tablespoons of melted butter to the flour. Mix until combined.
Transfer the dough onto a well floured surface. Knead about 10 times to get some flour incorporated into the dough.
Press the dough into a rectangle about 16 inches by 10 inches. Spread the dough with 2 tablespoons of melted butter and top with the filling. Keep the filling about an inch away from the edges all the way around.
Starting at one end, gently roll the dough up. Press the ends together and into the roll. Cut into 9 even rolls.
Cover the bottom of an 8x8 pan with 1 tablespoon of butter. Place the rolls into the pan. Bake for 18-20 minutes.
While the rolls are baking, make the glaze. Dissolve the coffee in the buttermilk whisk in the cream cheese and powdered sugar. Let the rolls cool slightly before topping with the glaze.
Notes
If you are not a fan of coffee, you can leave out the instant coffee for regular cinnamon chip rolls.
Nutrition Information:
Yield:

9
Serving Size:

1
Amount Per Serving:
Calories:

399
Total Fat:

14g
Saturated Fat:

9g
Trans Fat:

0g
Unsaturated Fat:

5g
Cholesterol:

30mg
Sodium:

429mg
Carbohydrates:

65g
Fiber:

2g
Sugar:

36g
Protein:

5g
Other easy breakfast ideas: