Layers of Oreo cookies and strawberry cheesecake make this easy Berry Oreo Icebox Cake completely irresistible! It is the perfect picnic cake or "just because you feel like it" cake. Give this sweet treat a try the next time it is too hot to bake.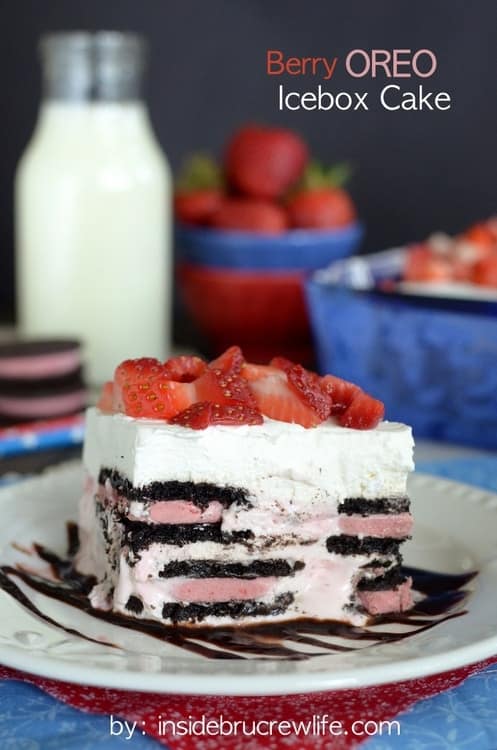 CLICK HERE TO PIN THIS RECIPE FOR LATER!
Oreos and strawberries are the two things that get "stolen" in our house.
I have hiding places for the Oreo cookies, but my children have gotten wise to my ways. It's probably definitely time to find a new hiding place...or learn Jedi mind tricks to keep them out of the "blog" food.
And don't get me started on the strawberries. There are only so many places to "hide" things in a refrigerator. My little fruit monsters sneak fruit like there is no tomorrow. Not that I mind them eating things like these healthy strawberry yogurt parfaits.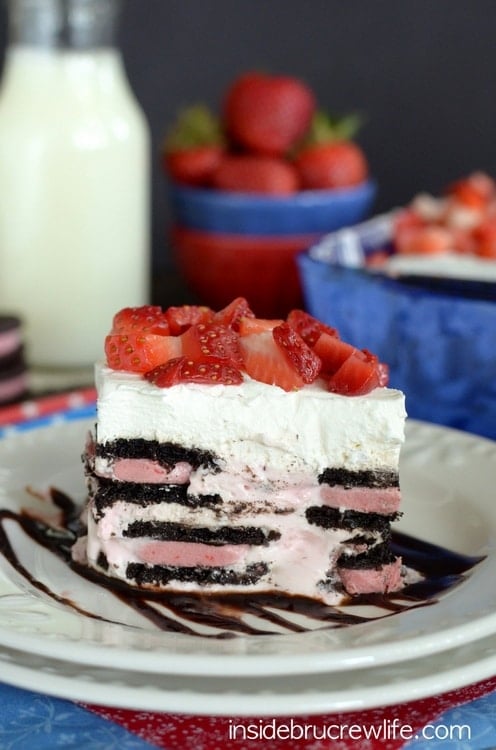 This dessert was one of those "must make" dessert ideas. You know the kind that can't wait any longer!
My hubby and I were running errands and happened to stop in Walmart for a few items for his next trip to Haiti. (You can read about our past trip HERE and HERE.)
I can't go in Walmart without going down the cookie and baking aisle. Seriously, I go down it every.single.time. It's not like I don't know what's there...I just HAVE to do it! Perks of having a dessert track mind all the time!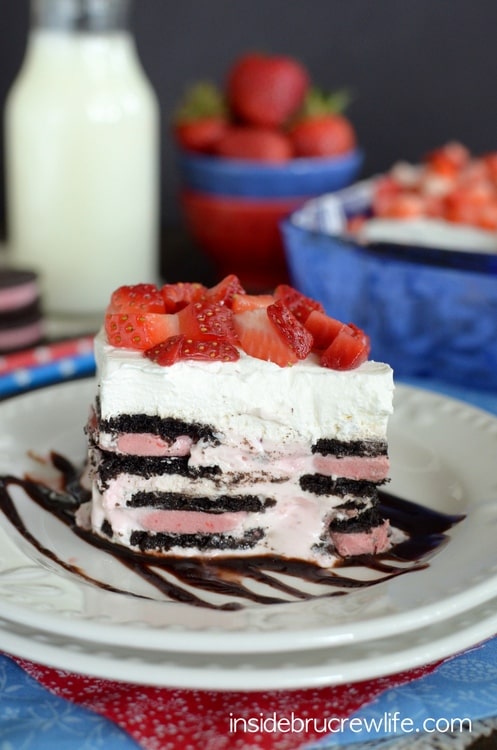 I was really trying to find the new Reese's Oreos, but unfortunately my store is lame. No new Oreos for us!
The Berry Oreos are actually a favorite of mine. I picked up a bag of them...AND then put it back on the shelf. I know...I can't believe that either!!! So of course the next day when my hubby texted me and said he was at Walmart again (yes, we like to make multiple trips and use our gas frivolously) I texted back immediately and asked him to buy 2 packages.
This crazy no bake dessert was slowly taking shape in my head. It was one of those ideas that had to be made that very minute because I couldn't stop thinking about it. Well, the minute he got home with the cookies that is. Most of the time I have a reason or place for a dessert. This time it was purely because I couldn't get this dessert out of my head.
I don't know who's idea it was first to dunk Oreos in milk and layer them with a Cool Whip based mixture...but clearly that person was a genius!!!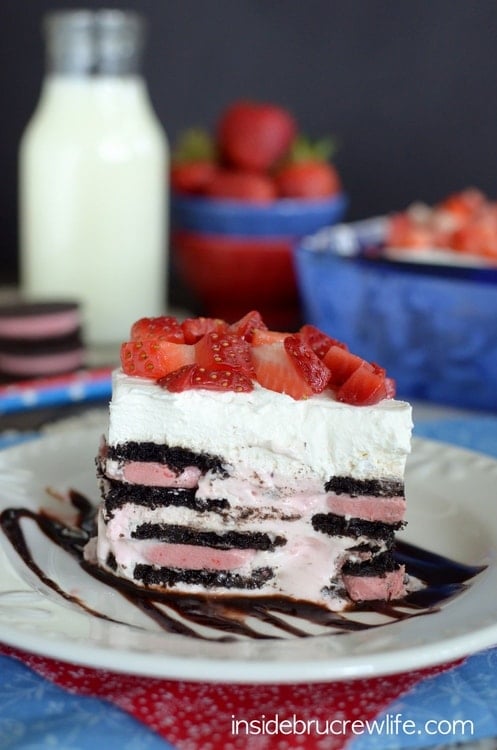 For the layers in between the cookies, I made a no bake strawberry cheesecake. Cream cheese, mashed strawberries, a little bit of sugar, and some Cool Whip all whipped together makes a pretty tasty no bake cheesecake.
The dark pink berry Oreos, light pink cheesecake, and white Cool Whip gave this dessert the prettiest neapolitan look when you cut into it. I may have done a happy dance when I cut...ok, when I butchered this cake trying to get a good piece for the pictures. It still tastes good even when hacked to pieces. #lifeofafoodblogger
More fresh berries on top totally made this dessert a winner. You could even use raspberries if you wanted. I had a hard time not eating very much of this yummy berry Oreo icebox cake. Lucky for me, the youth group girls and my kids had it gone in record time!
Hooray for yummy dessert ideas that come to life and are better than you imagined!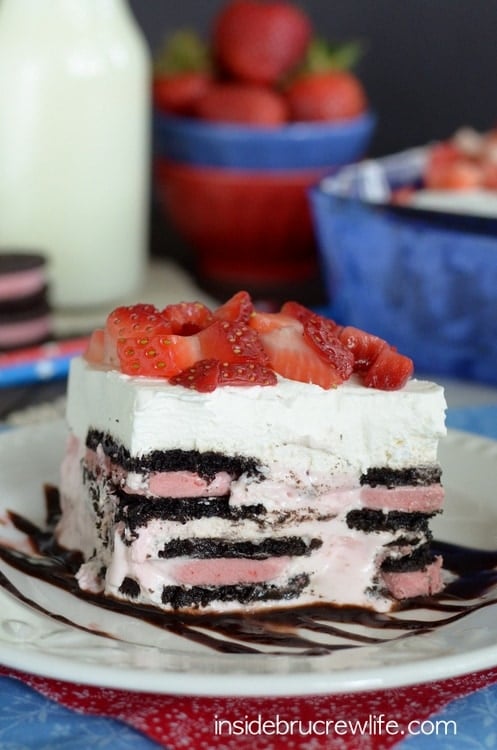 More Oreo treats from bloggers I love:
Mini Cookies & Cream Cheesecakes from Baked by Rachel
Salted Oreo Peanut Butter Cups from Chocolate & Carrots
Cookies & Cream Donuts from Shugary Sweets