Layers of fruit, yogurt, and granola make these Healthy Strawberry Yogurt Parfaits an easy and fresh breakfast choice. Start the day out right by grabbing a jar as you walk out the door.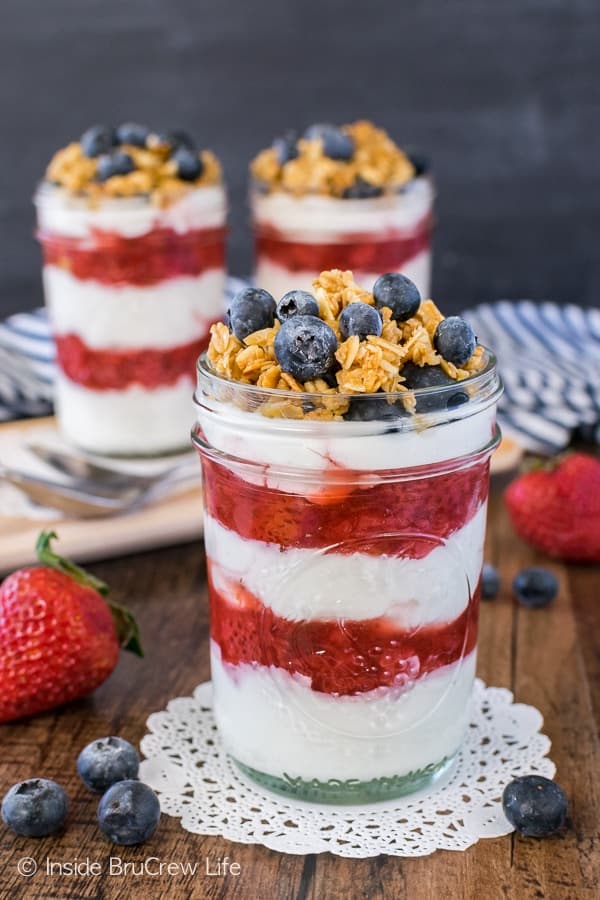 After a week or two of munching, snacking, and eating out we are ready to get back on the healthy eating train. Part of that is because our beach trip is right around the corner, and that means time to put on the swimsuits.
Yikes! Nothing like the thought of wearing that thing in public to keep me from grabbing more homemade chocolate chip brownies. Ok, so even the thought of wearing shorts, tanks, and swimsuits doesn't stop me from wanting the sweets. My sweet tooth can't ever be stopped! But there is a big difference between wanting the sweets and actually having the sweets. Right now I'm doing really good at only reaching for the healthy food. Hopefully in a few weeks I can still say that...
I have a hard time sticking to healthy eating. It doesn't matter how much we change up our healthy meals, I get bored. Am I the only one who is like that? Please tell me someone else out there gets tired of veggies and protein every.single.day. Why can't I just eat nachos and tater tots and still look good in that gosh darn swimsuit? Stinking genetics!!! LOL!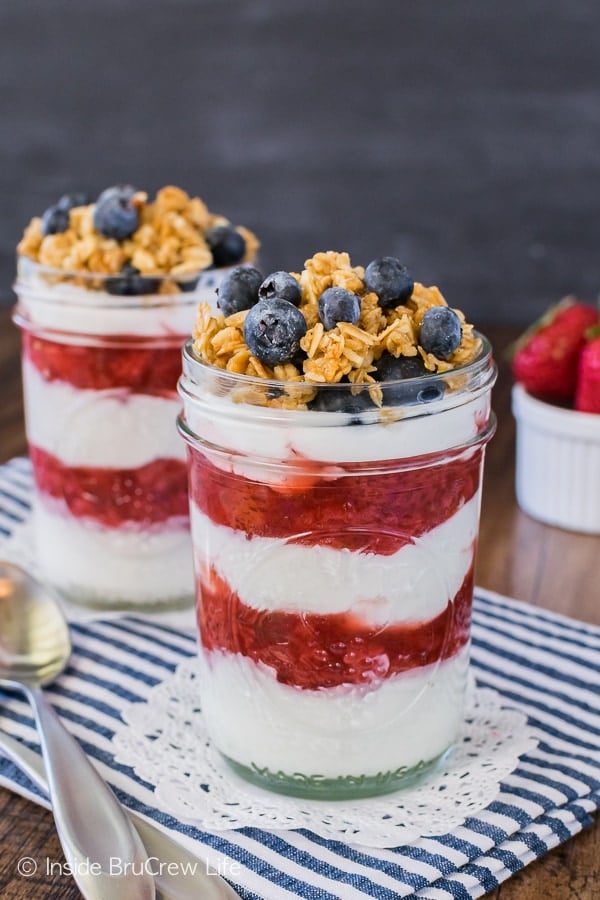 Since I am on the healthy eating train for the moment, let's talk about breakfast. It is the most important meal of the day after all. There were quite a few years where I would skip it, but I have learned the error of my ways. Now if I could only convince our youngest that he still needs to eat even when he isn't hungry first thing.
One of the things our kids like are jars of yogurt and fruit. I made this honey lime strawberry sauce last week, and it was the perfect thing to layer with some Greek yogurt. The little bit of honey in the sauce was just enough sweetness when layered with plain yogurt.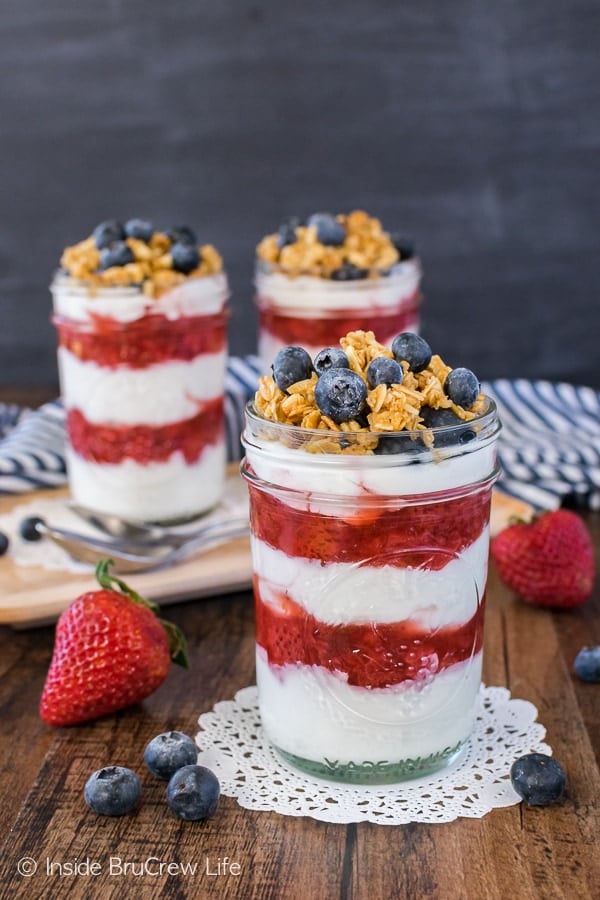 I do love a little bit of crunch with my yogurt, so I added some granola and fresh blueberries to the top. You could also adjust the layers to have some in the middle too. My oldest was quick to ask why there wasn't more granola in the middle.
Since granola can get soggy after a day of sitting in the fridge, I didn't want the granola in between the layers. The yogurt and strawberry sauce can be layered ahead of time, and then you can keep the sealed jars in your fridge for a few days. It's so nice to wake up in the morning and have breakfast already made. Perfect for the non-morning person in me.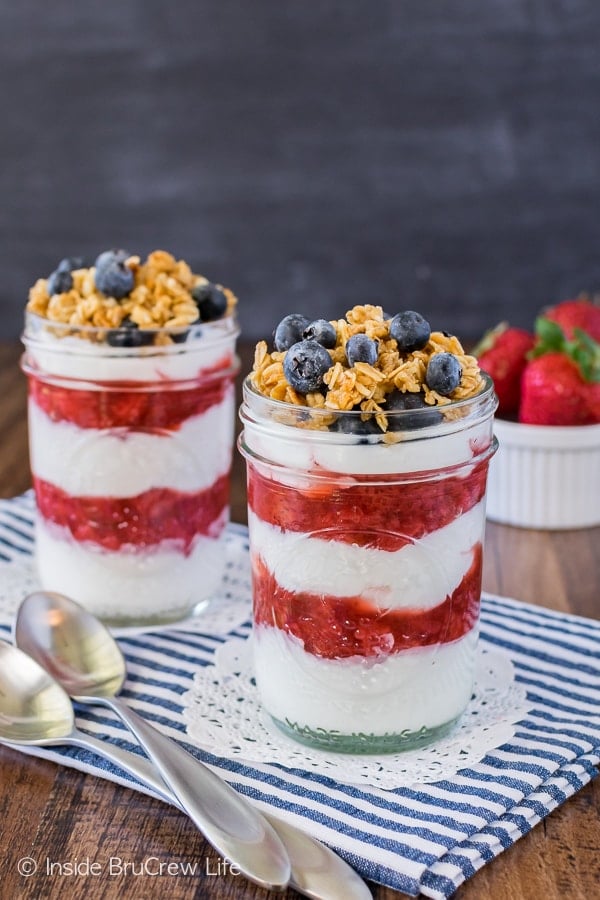 If you are taking these healthy strawberry yogurt parfaits on the go, just put the granola and extra berries in a small ziplock baggie. Then you can add it to the top when you eat it later.
Or you could leave out the last layer of yogurt. That extra space in the jar would give you room to add the toppings and still get the lid on before you walk out the door. Either way works.
If you are still looking for some other healthy breakfast ideas to keep you going this summer, you need to check out these Carrot Cake Breakfast Cookies. Cake for breakfast? I'm so there! And I love these cute little No Bake Healthy Breakfast Fruit Tarts. I'm sure we would be popping a few of those all day long. This Healthy Breakfast Bowl is another fun and easy way to enjoy yogurt for breakfast. I love that everyone can customize their bowl with their favorite fruits and toppings.