This fun and easy Birthday Candy Jar and printable is a cute gift to share with friends and family.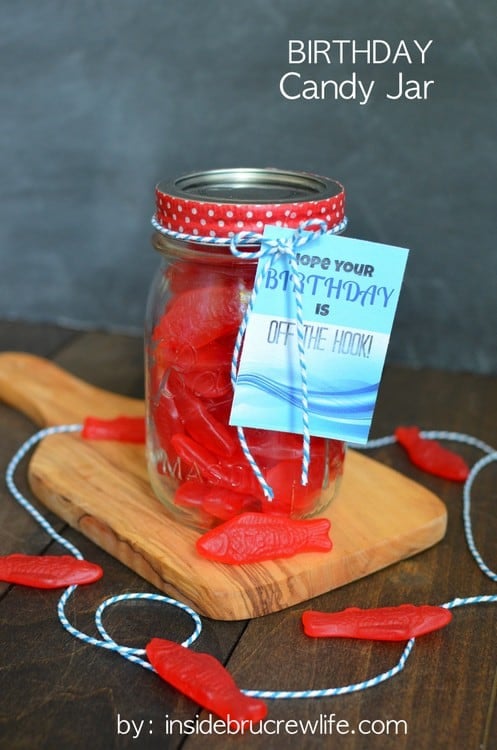 I always have candy in my cupboards and empty mason jars in my blogging stash! I decided to combine the two for a very quick and easy gift for the blog hop.
As for the other creative ideas, a lot of these gifts are versatile for any occasion, and can be a go to gift to your friends, family, or even that friend that you would like to get to know better. Even more fabulous--most gifts are under $5, and have coordinating printables to make it super simple!
As we get older, we tend to not celebrate our birthdays with friends as much. It just ends up being another day in our busy schedules with a cake bonus thrown in, if we are lucky.
Just think how exciting it would be if one of your friends showed up unexpectedly with a cute little gift to say "Happy Birthday" and "I was thinking about you today."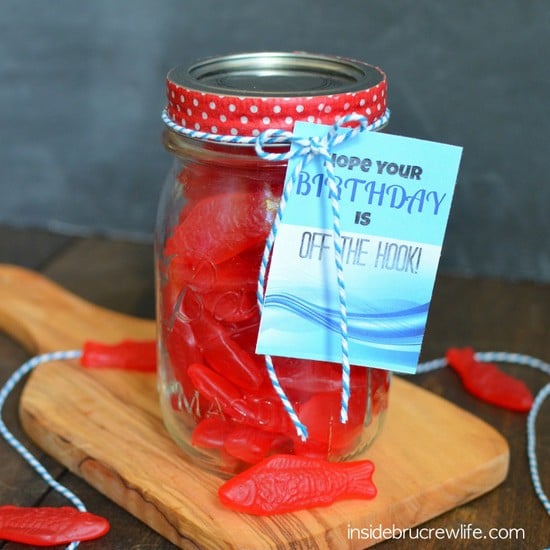 One way to show your love for a friend is to remember the little details such as what their favorite candy is. Remembering the small things about someone shows you noticed and you care. What better way to say Happy Birthday to someone than with one of their little favorites.
When I was brainstorming this candy jar, my husband actually came up with the Swedish Fish and "Off the Hook" saying. It was such a cute idea that I couldn't resist using it!
I'm telling you he helps me out all the time with things like this. He is definitely a keeper!!!
I created a printable that you can print from the link under the picture. It is already sized to fit a pint size mason jar. Just punch a hole in one corner and tie it on the jar with some twine.
I also used some washi tape around the jar lid to add some color. Feel free to use whatever ribbon or tape you have on hand. The idea is not to spend a lot of money, but to create a small gift that shows your friend how important they are in your life.