Starting out the morning with a healthy breakfast is important. These Blackberry Yogurt Muffins are light and fluffy and full of fruit goodness. Perfect for grabbing on the go on busy mornings.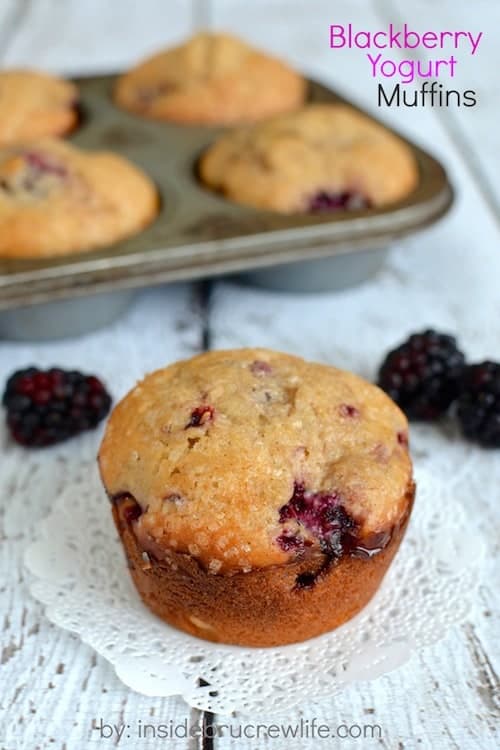 One of my favorite memories from when I was little is going berry picking. Every spring and summer we would pick strawberries, blueberries, raspberries, and blackberries. Of course as a kid, the best part was stuffing as many of those ripe juicy berries into your mouth instead of putting them in the bucket.
When I was really little we lived in a house in a small neighborhood in the woods. Along the road in the front of the house were tons of wild blackberry and raspberry bushes. It was always so much fun to hike up the hills along the road and try to find those berries. I'm sure my mom was hoping we would come back with enough for a pie, but somehow those berries always disappeared first.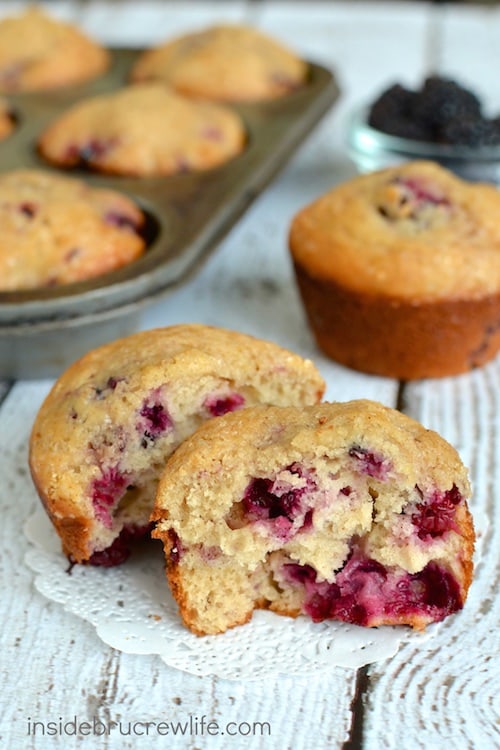 Of course, I actually never ate the raspberries and blackberries. I'm not a big fan of the seeds in my teeth. So, I'm going to blame all those missing berries on my younger brother and sisters.
Fast forward quite a few years, and now I take my kiddos berry picking in the spring and summer. I can now understand why those buckets seem to take forever to fill when I was little. The perks of being a parent is that I fill the bucket, while the kids fill their mouths and pick flowers.
I still do not like to eat blackberries fresh, but put them inside a soft, fluffy muffin and I love them. Another way I found I like them is wrapped up with cream cheese like in this Blackberry Lime Cheesecake Danish. Blackberries are definitely growing on me more! The juicy flavor is absolutely delicious.
Making muffins for breakfast happens all the time here. Sometimes they are full of goodness like these Chocolate Mocha Muffins, but then other times I try to give them a few healthier additions. Baking with yogurt makes these muffins so fluffy and light. They still have sugar in them, so I can't say they are completely healthy. But at least there is a serving of dairy somewhere in there. And a little sprinkle of sanding sugar, instead of glaze keeps the calorie count a little bit lower, right?
I am one of the Breakfast contributors for Food Fanatic. Head over there to print this Blackberry Yogurt Muffin recipe for later.