Looking for an easy, but fancy looking breakfast treat for those Mother's Day brunches coming up? This Blackberry Lime Cheesecake Danish will wow everyone who tastes it.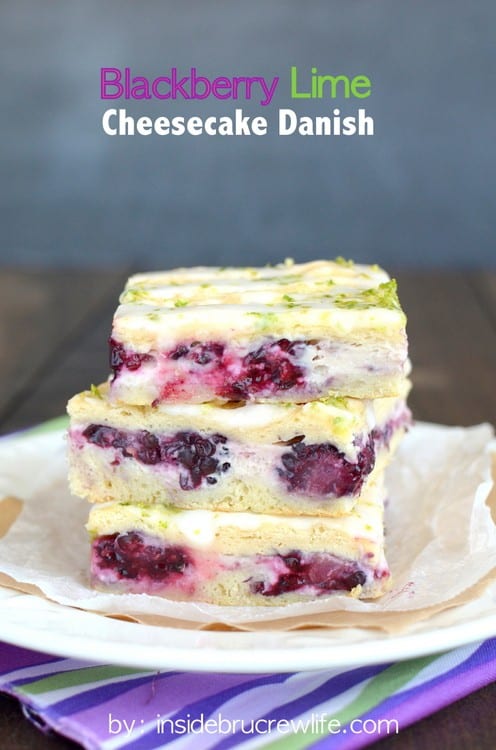 Right now I am totally all about the fruit. I have been buying strawberries, blueberries, apples, and oranges every time I am at the grocery store. Lately it seems like I have been running to the store last minute just about every day. One of those trips, I saw a box of blackberries that I had to have. Never mind that I am seriously not fond of blackberries or raspberries...I think it's the seeds that I can't deal with.
The box of blackberries were coming home with me anyway. As I rounded the corner in the produce section, it hit me.
Lime!!
No, not a real lime, silly. It was just one of those lightbulb moments! Lime would make a perfect pairing for those blackberries in my cart. I backpedaled quickly and grabbed a few limes.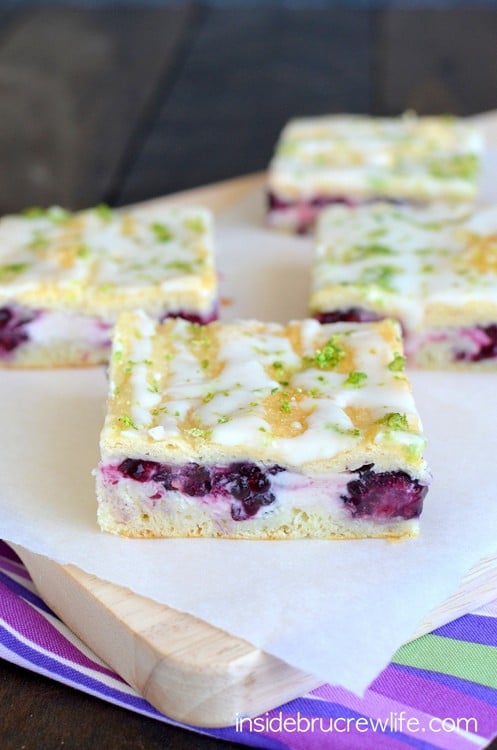 The next day those limes and blackberries were still in my fridge just waiting for inspiration. I was looking through some of my old recipes and realized that I haven't made scones in forever. Scones it is!
I am seriously not sure what I did to those scones, but they DID NOT turn out. They were tough and chewy. Not at all flakey and delicious like they usually turn out! Into the garbage they went. It makes me so sick when I have to throw out ingredients like that. #bigfatbakingfail
Now I was pretty smart at the grocery store when I bought the blackberries. You see I bought 2 boxes with the intention of using one box to bake with and one to be props in the picture.
Time for a new blackberry game plan though since the scones didn't work. Now this girl always has crescent rolls and cream cheese in the fridge waiting to be used up, I decided on a danish of sorts.
Would you believe it that the first attempt just didn't work? Grrr! Where has the baking mojo gone?!?! Now luckily, I was able to salvage all the ingredients because I definitely did not want to be throwing out any more good stuff. But it did mean an emergency run to the store in my hat and work out clothes for another can of crescent rolls. How did I only have one in the fridge?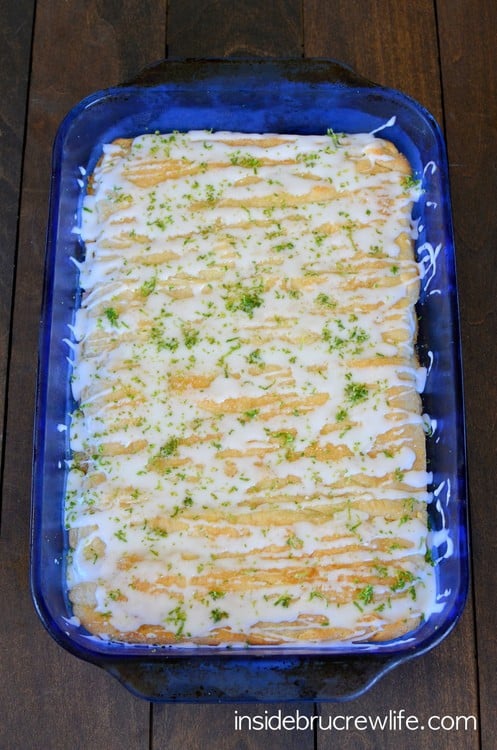 One can of crescent rolls gets pressed into the bottom of the baking dish. Spoon the blackberry cheesecake on top of this and spread it out. (If you have to run to the store in the middle like I did, just pop the dish into the refrigerator.)
The second can of crescent rolls gets layered on top of the cheesecake batter. Do not separate the rolls into triangles. Press all the seams together and lay the 4 rectangles on top. Press down on all the edges to seal in the cheesecake batter and sprinkle it with some turbinado sugar. That's natural sugar in the raw for anyone who is wondering 🙂 I love the shimmer that it gives baked goods.
Let the danish chill before adding the glaze and lime zest on top. I have found the freezer works great for when you are in a hurry. Just make sure if you are using a glass dish to let it cool off before sticking it in the freezer. #foodbloggertips
After cutting into these danishes, I was instantly so glad the scones were a bust! Oh, I'm stilled bummed about throwing out a whole box of blackberries, but one look at these, and I was over it.
I should have baking fails more often. #no #pleasedontletthathappen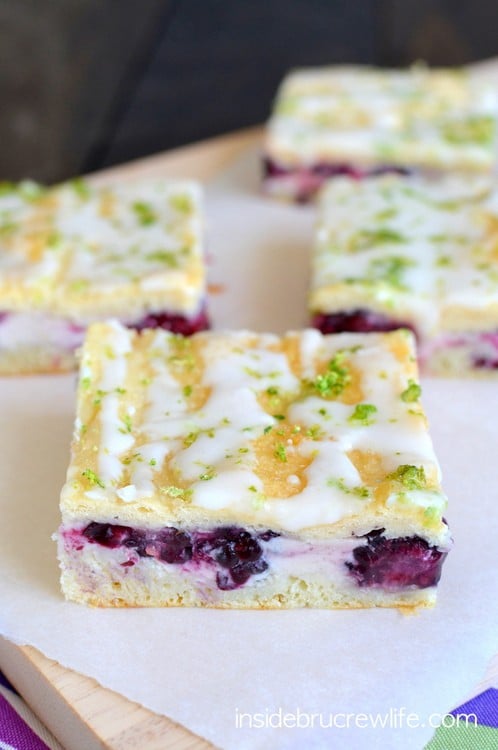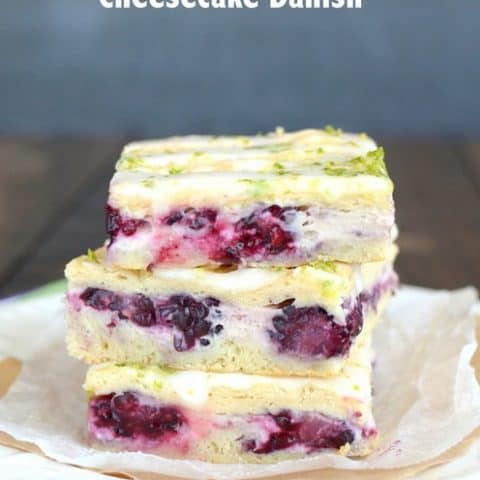 Blackberry Lime Cheesecake Danish
Yield:
24 cheesecake danish bars
Blackberry and lime in a cheesecake danish makes a fun and exciting breakfast choice for any brunches or parties you will be attending.
Ingredients
2 packages crescent rolls (8 rolls each)
1 - 8 ounce cream cheese, softened
¼ cup sugar
1 egg
1 cup halved fresh blackberries
2 Tablespoons lime zest divided
1 Tablespoon turbinado sugar
1 cup powdered sugar
5 teaspoons lime juice
Instructions
Preheat oven to 375 degrees. Spray a 9x13 pan with nonstick spray.
Unroll 1 package crescent rolls. Press the rectangles lengthwise in the bottom of a greased 9x13 pan.
Beat the cream cheese and sugar until creamy. Add the egg and 1 Tablespoon lime zest and beat again.
Gently stir in the blackberries. Spoon onto the crescent rolls in the pan.
Unroll the second package of crescent rolls. Do not separate into triangles. Press together the seams on each rectangle.
Place the 4 rectangles evenly across the cheesecake. Press the edges down all around the pan. Sprinkle with the turbinado sugar. Bake for 18 - 20 minutes. Cool completely.
Whisk together the powdered sugar and lime juice. Drizzle over the cooled danish.
Sprinkle with the remaining lime zest. Let set. Keep refrigerated in a sealed container.
Nutrition Information:
Yield:

24
Serving Size:

1
Amount Per Serving:
Calories:

79
Total Fat:

4g
Saturated Fat:

2g
Trans Fat:

0g
Unsaturated Fat:

1g
Cholesterol:

19mg
Sodium:

49mg
Carbohydrates:

10g
Fiber:

0g
Sugar:

8g
Protein:

1g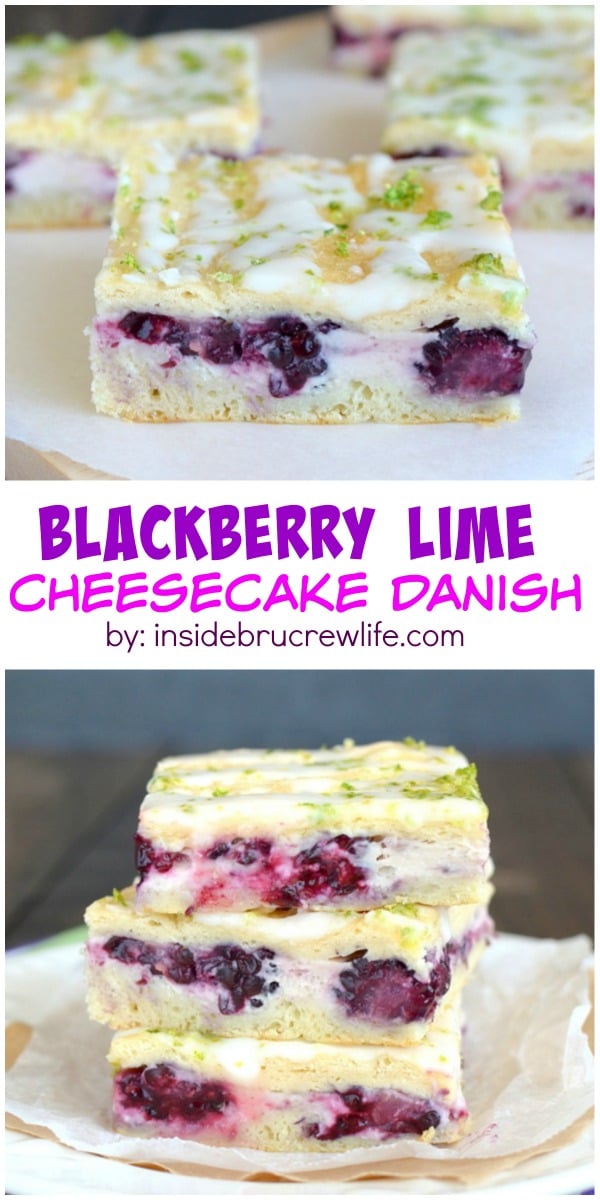 More fun and delicious danishes that will be devoured at any brunch or party: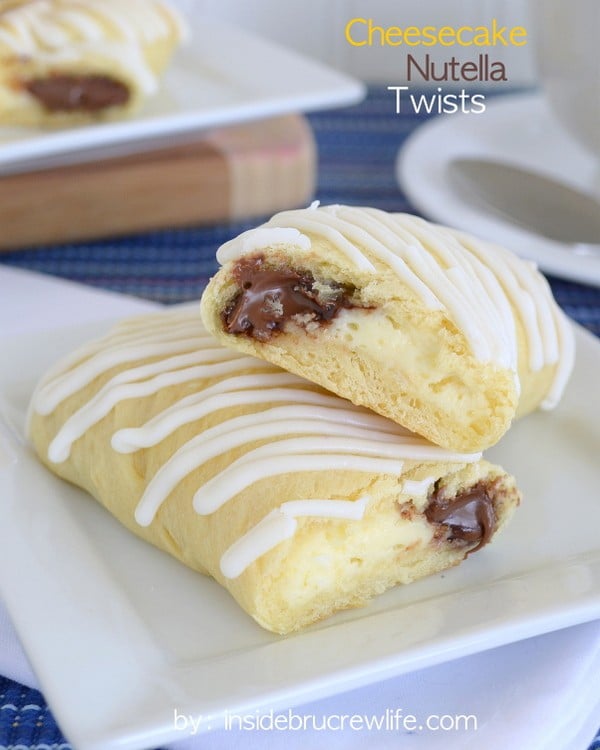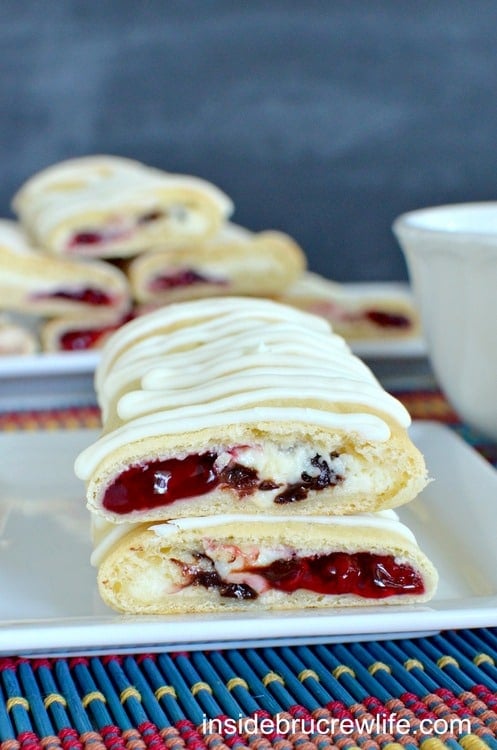 Raspberry Chocolate Chip Cheesecake Rolls