Looking for a cute and easy dessert for your next event? These Brownie Batter Chocolate Chip Cheesecakes are the perfect mini dessert bites.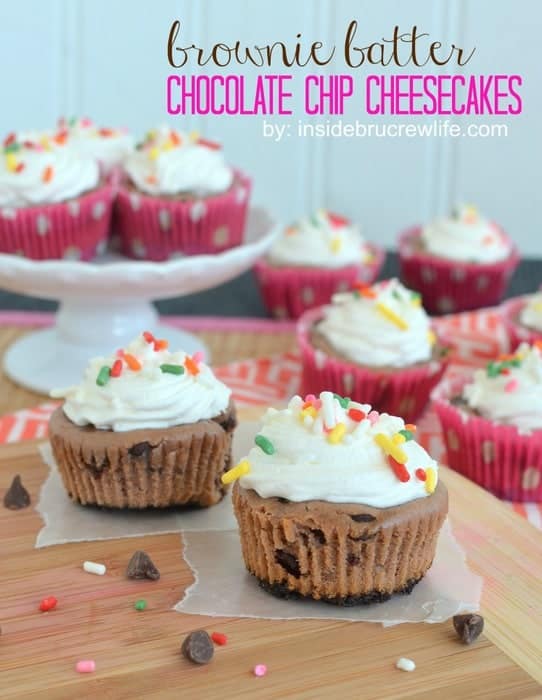 So, I have come to realize that as I get older, the way my kids "celebrate" my birthday is getting more technological.
Yesterday morning (and by morning, I really mean the middle of the night) I was awakened by the most obnoxious sound. Now when you are not used to hearing alarms go off at 4 am, it isn't the easiest to determine where it is coming from. The sound was coming from right beside my bed, so at first I thought it was my phone. Nope, not it. My laptop was also right there. I honestly thought the sound must be coming from it, but I had no idea how to turn it off. Like I said, I'm not used to getting up that early, so I might have been a little confused.
Now my husband already knew this was going to happen because my oldest son had told him about my birthday "present". So he turned the light on and laughed as I struggled to figure out what was happening. On the corner of the table by my bed was an old iPhone box hiding behind some books. I finally realized the annoying and very loud sound was coming from the box. As I opened the box trying to figure out why a box would be waking me up, a card fell out...along with my son's iPod.
That little stinker thought it would be funny to be the first one to say Happy Birthday to me.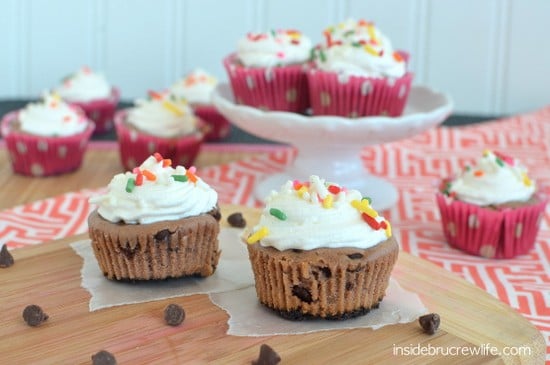 Then around 6:30 (mind you, I'm not a morning person, so that's still too early to get up usually) my daughter brought me her present...her cute little self singing happy birthday. Only it wasn't live! She had recorded it on her iPod and it was turned up as loud as possible and she put it right beside my ear. Yes, I was feeling the birthday love for sure 🙂 Thank goodness the next two "presents" were a little more loving. My youngest just had a card and a hug to wake me up with, and my hubby let me sleep in while he took the kids to school. Then he brought me coffee in bed to wake me up later. It was a good day for sure, even after being awakened "loudly".
I may or may not have enjoyed a few of these Brownie Batter Chocolate Chip Cheesecakes for breakfast yesterday too. Hey, calories totally don't count on birthdays right? I sure hope not because I ate way too much yesterday. It was a good calorie kind of a day. Cheesecake for breakfast, Alfredo for dinner, and cupcakes and cheesecake cake for dessert...I'm thinking I should run extra for the rest of the week to make up for it.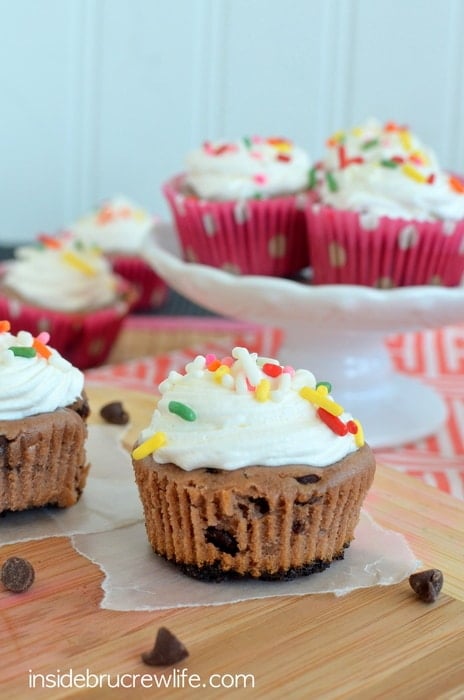 These mini cheesecakes are the perfect little treat for anytime of day or any party. They have just enough brownie mix to make them taste like brownie but still taste like cheesecake. The small Oreo crust and the extra mini chocolate cheesecakes give it that little bit of extra chocolate without going overboard.
They are teeny tiny, so you won't feel guilty eating 5-6 at a time. The Cool Whip and sprinkles are optional, but it makes them look so much more fun, so why leave it off?
Stay up to date on all the BruCrew baking
by following here:
BLOGLOVIN | FACEBOOK | PINTEREST | GOOGLE+ | TWITTER | INSTAGRAM
********************************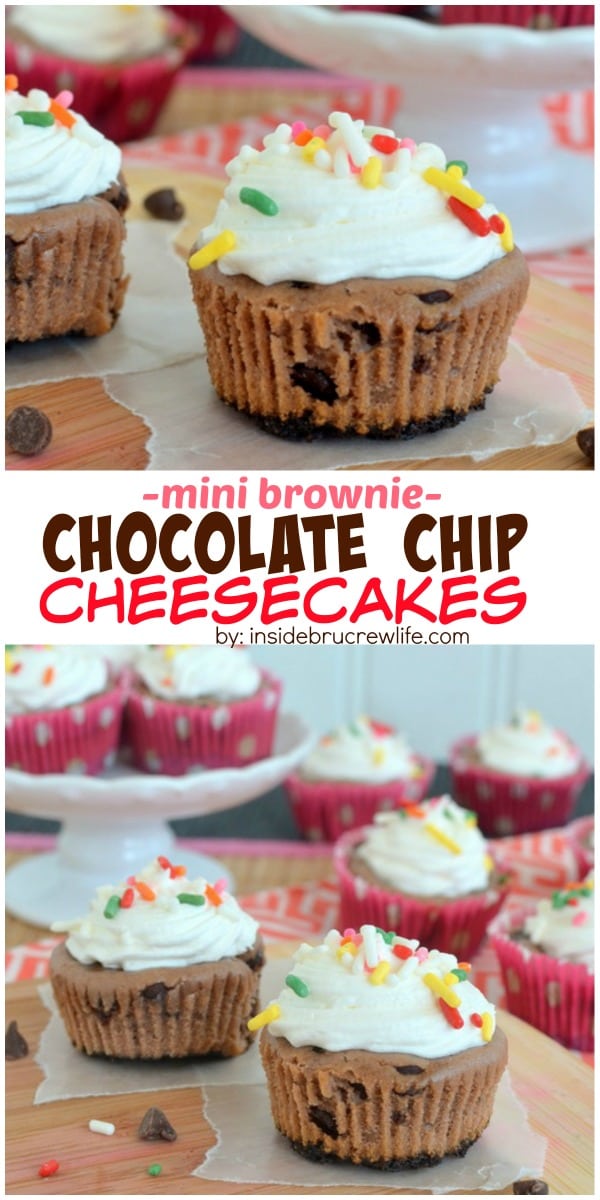 Other Cheesecakes that we have enjoyed are: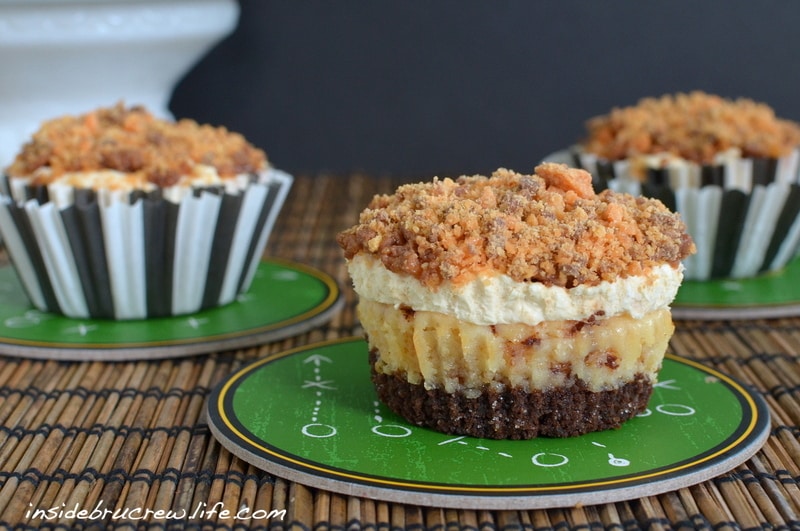 Butterfinger Mousse Cheesecake