Three times the chocolate makes these Mini Triple Chocolate Cheesecakes a dream dessert for the chocolate lovers in your life.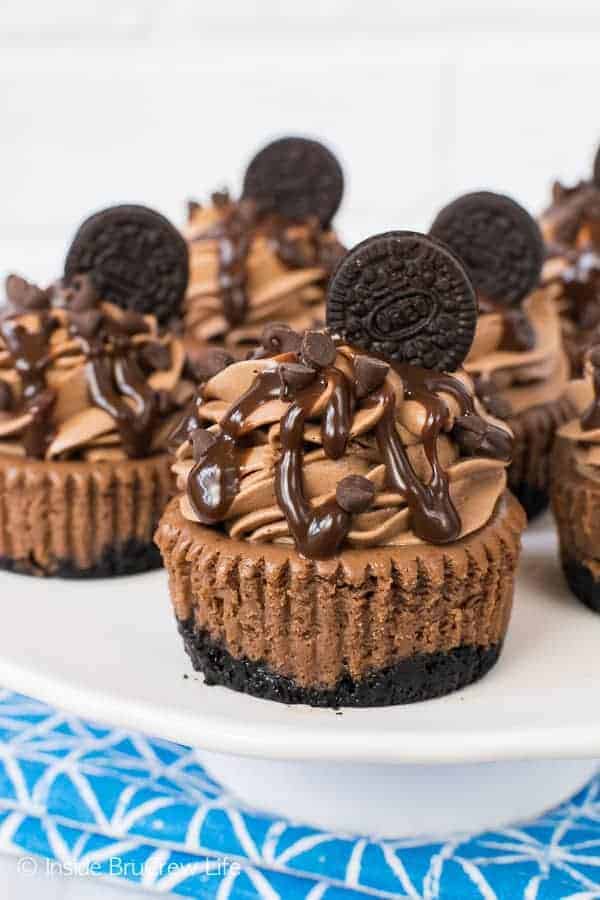 Cheesecake is one of our absolute favorites around here. I was going to wait until next month to share this recipe, but have you looked at these bad boys???
Chocolate upon chocolate upon chocolate just had to be shared immediately.
These little chocolate cheesecakes were one of the treats I made to share at a party we were headed to the other day.
It's a good thing we had somewhere to go with all these holiday treats because I can't be trusted around cheesecake and Buckeye Buttons.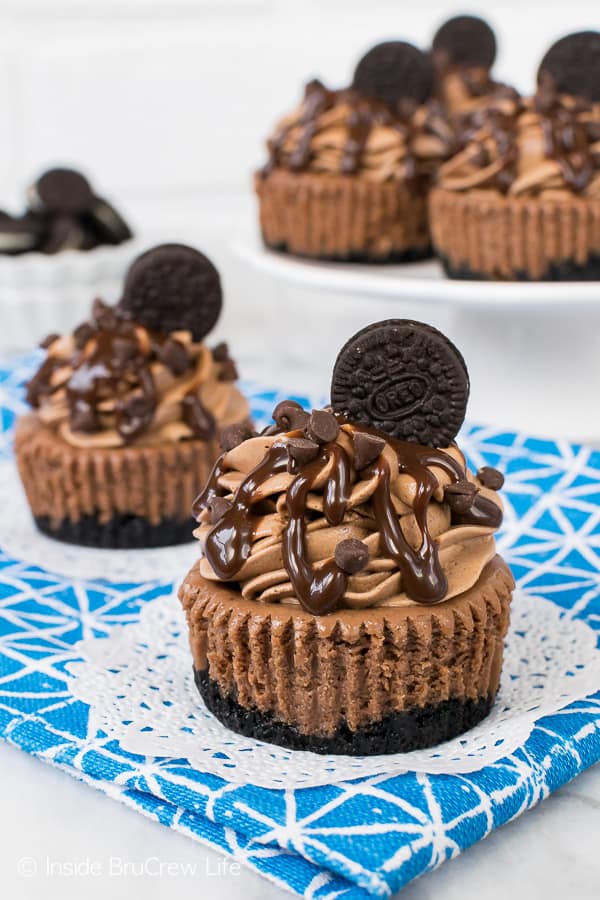 I just couldn't wait any longer to share this recipe with you because they were so good. These mini chocolate cheesecakes are made with layers of chocolate that make them kind of irresistible!!!
Ok, absolutely and completely irresistible! I might have consumed more than a person eating healthy should have, but hey, that's the beauty of it.
I can choose to eat whatever I want whenever I want. It's all about eating things in moderation.
Drinking lots of water and getting exercise also helps to balance out things like Congo Bars and Cheesecake Apple Pie.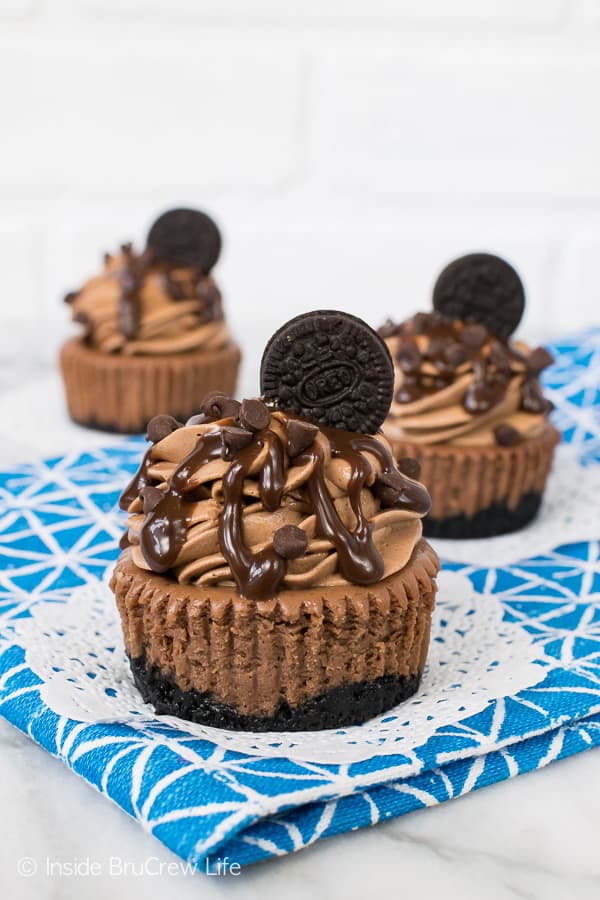 These triple chocolate cheesecakes are just the right size to share at parties and events.
A large full-sized cheesecake is amazing and impressive, but sometimes I just want a little bite of cheesecake without all the time and effort.
By making cheesecake batter in a muffin tin you can create tiny little mini cheesecakes that everyone will go crazy for.
Line your pan with cupcake liners because then you never have to worry about your crust sticking to the bottom of the pan.
Plus, it also makes them easier to pass out at parties.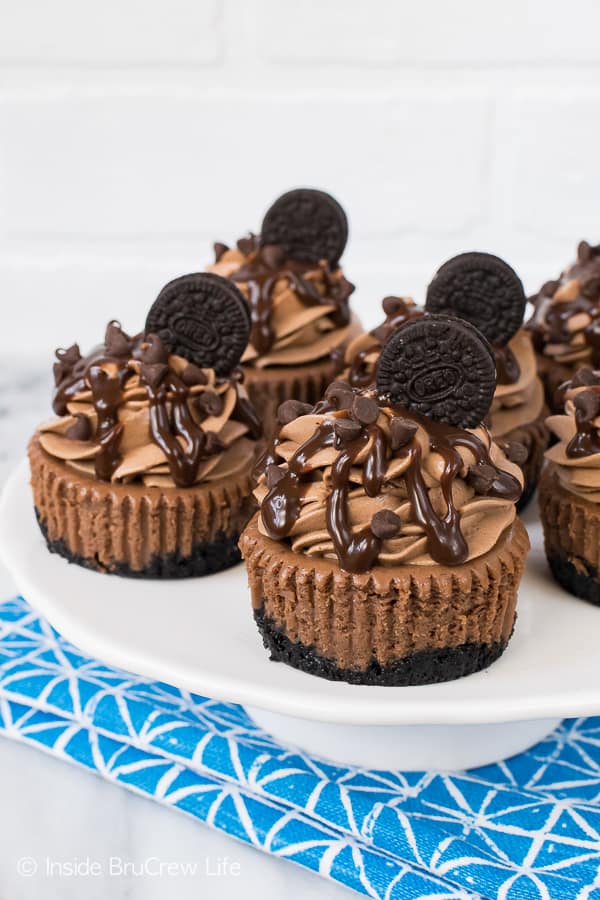 Tips for making Mini Triple Chocolate Cheesecakes:
Layers of different chocolates make these mini chocolate cheesecakes taste amazing.
Start by crushing your cookies and adding a little bit of butter to hold it together. You don't need much because you will also leave the frosting in the cookies.
Divide that evenly into the cupcake liners and press it down firmly with a tart shaper or a smaller sized cup that fits in the bottom of the liner.
Mix up your chocolate cheesecake layer and spoon that onto the crust. Bake and chill the mini cheesecakes.
Add a swirl of creamy no bake cheesecake layer with a decorating bag and icing tip 1M.
Then add chocolate drizzles, chocolate chips, and mini chocolate cookies. How's that for a little bit of chocolate? Ha!
More chocolate recipes you make like: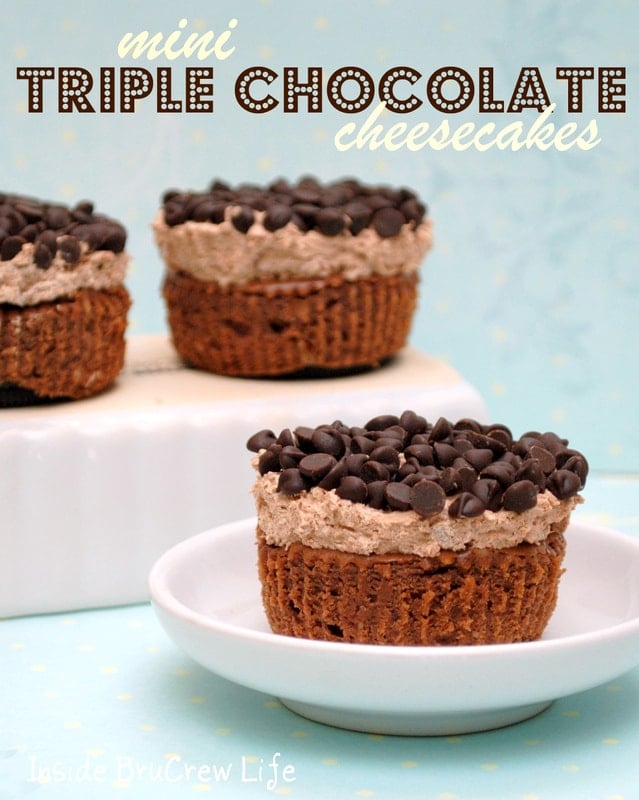 (original photo from December 2011)
*The post and recipe for Mini Triple Chocolate Cheesecakes was originally published December 28, 2011. The pictures and recipe have been updated and the post has been republished on December 27, 2018.