These sweet little Butterfinger Mousse Cheesecakes are loaded with candy bar goodness. Make a batch of these easy cheesecake desserts for parties and watch them disappear.
Fall is right around the corner. I can almost feel it, even though it is still hot and humid here in Florida. The kids are back in school, and sports teams have started practicing for the upcoming fall season.
I have to be honest with you. I'm not really into football. When my hubby turns the tv on to watch a game, I have to have something else I can work on. Flowers for my shop or cookbooks to read through.
Sometimes I get up and go bake M&M Blonde Brownies because baking is just more fun. He doesn't even notice that I'm gone most times. Mostly because he falls asleep to the game. LOL!
Now just because I'm not into the game doesn't mean I don't support it. I like to make food for those days because I am a huge fan of football food. Just hand me a bowl of this Easy Buffalo Chicken Dip and some Stuffed Crust Pepperoni Pizza Bites, and I'm a happy camper.
Mini cheesecakes are always a winning treat on game days too. Small, bite sized and full of lots of candy. Just the way I like them.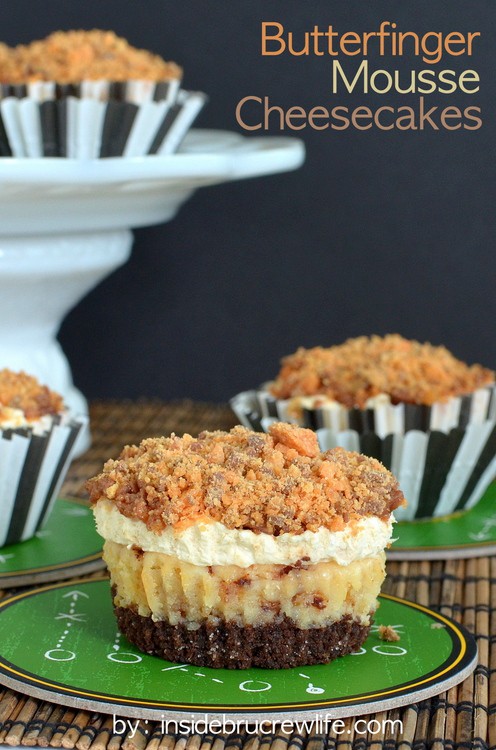 See, I told you these little cheesecakes were full of candy.
A whole bag of candy bars was chopped up and is going into these little mini Butterfinger cheesecakes.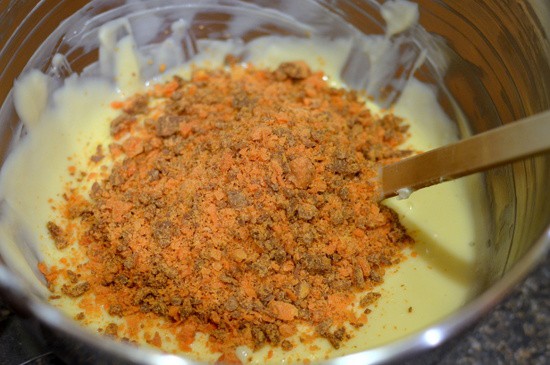 Chocolate Graham Cracker Crust
Have you used chocolate graham crackers before?
A mixture of graham cracker crumbs, sugar, and butter adds a great flavor and crunch to this easy crust.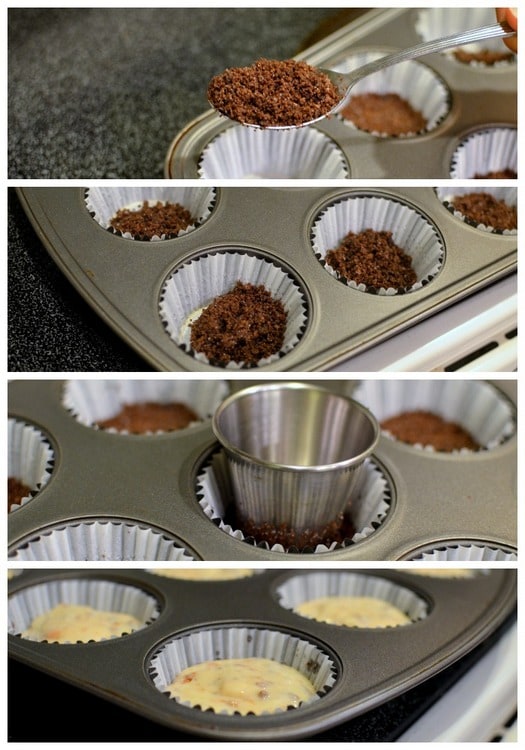 Butterfinger Mousse Cheesecakes
Fill each liner with a generous scoop of the chocolatey graham goodness and press it down firmly. I had these little condiment cups that worked perfectly, but a tart shaper works great too.
How to keep a cheesecake from cracking: Place a pan of water on the very bottom rack of the oven as it preheats. This creates a steamy atmosphere in the oven as the cheesecakes bake which will keep them nice and creamy and crack free.
Go ahead and spoon the cheesecake batter onto the crusts and bake them for about 20-22 minutes.
Just so you know, the Butterfinger cheesecake cupcakes will fall slightly when you take them out of the oven. That's totally ok. Remember it gives us more room for the fluffy peanut butter mousse and more candy!
More candy is always better in my books.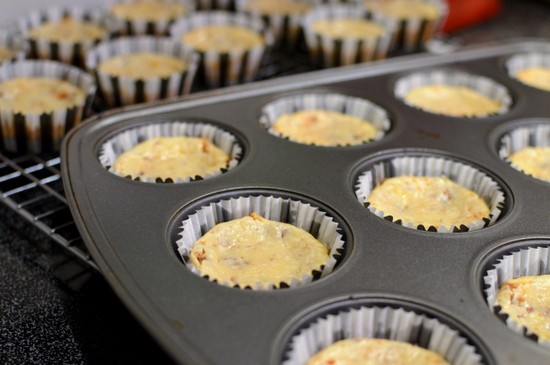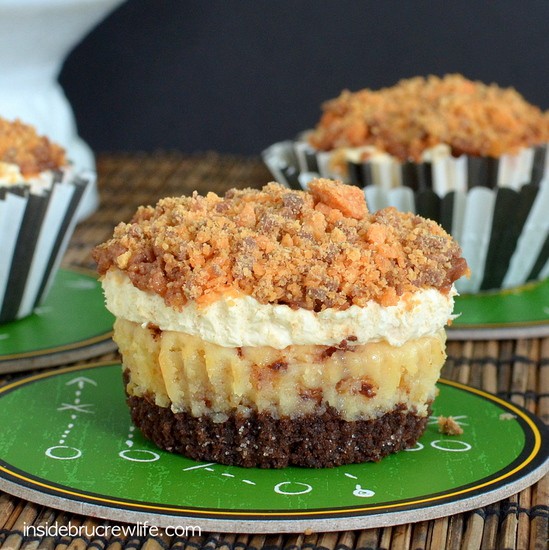 More Cheesecake recipes you may enjoy:
Connect with Inside BruCrew Life! Follow us on social media, so you never miss a post.
Email Subscription | Facebook | Pinterest | Twitter | Instagram | Bloglovin
I also created a fun new Facebook group, and I would love for you to join. It's a group where you can share your favorite recipes, ask questions, share photos, and see what's new with the BruCrew. If you would like to check it out, you can request to join HERE.
Butterfinger Mousse Cheesecake recipe and video: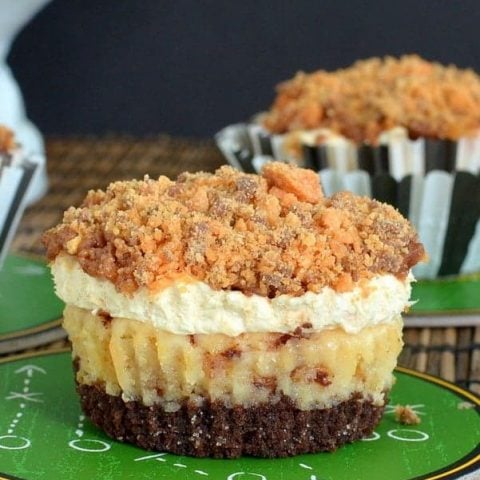 Butterfinger Mousse Cheesecakes
These sweet little Butterfinger Mousse Cheesecakes are loaded with candy bar goodness. Make a batch of these little cheesecakes for parties and watch them disappear.
Ingredients
For the Crust
1 1/2 cup chocolate graham cracker crumbs
2 Tablespoons sugar
6 Tablespoons butter, melted
For the Cheesecake
2 - 8 ounces each cream cheese, softened
1/2 cup sugar
2 eggs
2 Tablespoons sour cream
1 Tablespoon vanilla extract
3/4 cup white chocolate chips
1 teaspoon shortening
1 cup crushed Butterfinger candies
For the Mousse
1 - 8 ounce package cream cheese, softened
1 - 8 ounce container Cool Whip, thawed
1/2 cup peanut butter chips
1 teaspoon shortening
3/4 cup crushed Butterfinger candies
Instructions
Preheat the oven to 350 degrees. Place a large baking sheet on the very bottom rack and fill it with water. Line 2 muffin tins with cupcake liners.
Combine the crumbs, sugar, and butter until mixed thoroughly. Spoon a generous scoop into the prepared liners and press down. Set aside.
In a large mixing bowl, beat 2 packages cream cheese and sugar until fluffy. Add the sour cream and vanilla and beat again.
In a small microwave safe bowl, place the white chips and shortening. Heat for 30 seconds and stir. Continue until the chips are melted and smooth. Add to the cream cheese mixture and beat again.
Add the eggs one at a time and beat just until mixed in.
Stir in 1 cup crushed Butterfinger candies by hand.
Fill each muffin liner 2/3 full. Bake for 20-22 minutes. Remove from the oven and let cool 10 minutes in the pan before removing them to a wire rack.
Let cool one hour, then refrigerate until completely chilled.
Beat the remaining package of cream cheese until creamy.
In a microwave safe bowl, heat the peanut butter chips and shortening for 30 seconds. Stir and repeat for 15 seconds if necessary. Add to the cream cheese and beat until incorporated.
Fold in the Cool Whip until it is mixed completely.
Spoon or pipe the mousse on top of each cheesecake. Top with the extra 3/4 cup crushed Butterfinger candy. Keep refrigerated. Makes 24 cheesecakes.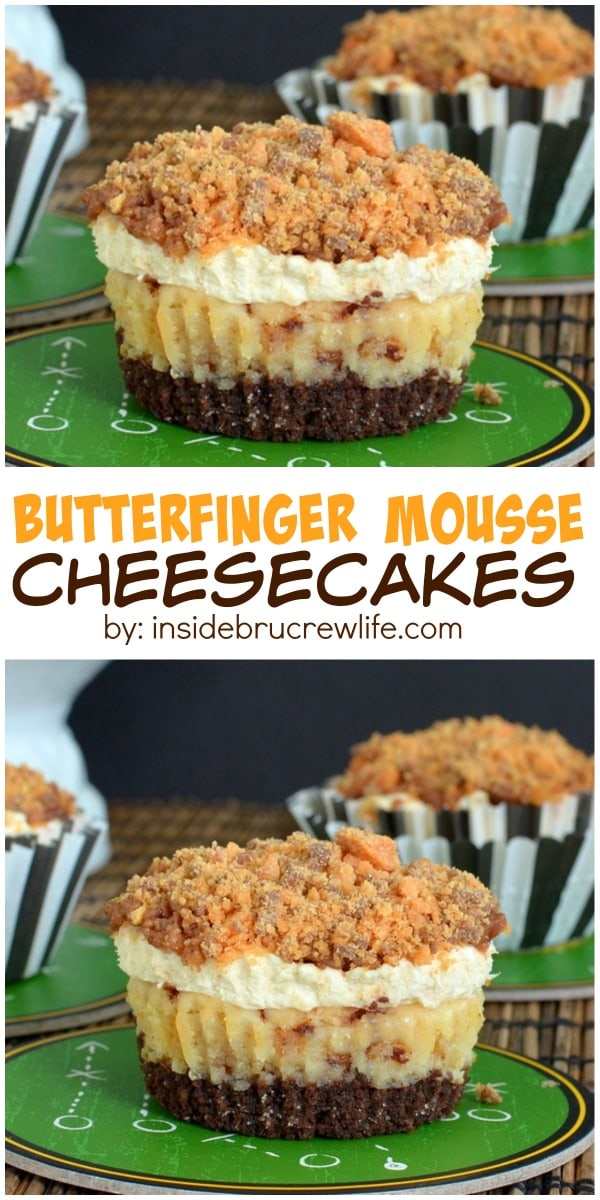 *This Butterfinger Mousse Cheesecakes post and recipe was originally published on September 5, 2012. The post has been updated and republished August 2018.