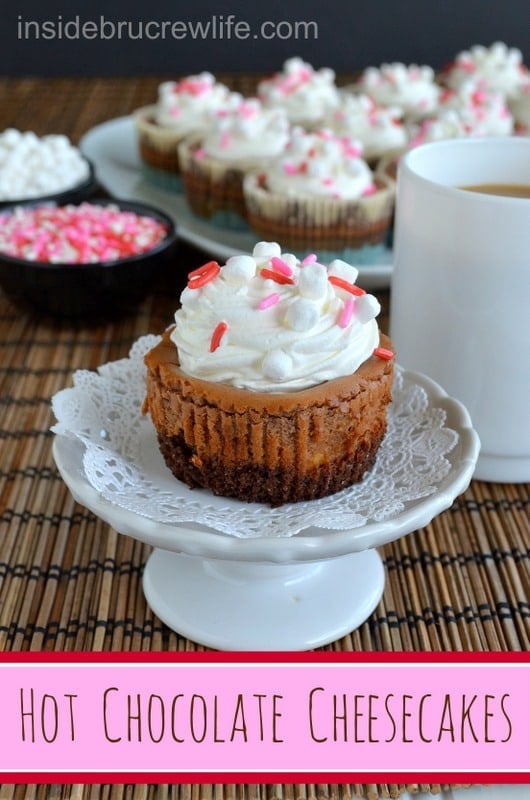 You look like you could use some sugar. Maybe some Hot Chocolate Cheesecakes would satisfy that sugar craving?
I'm sure that is what you need.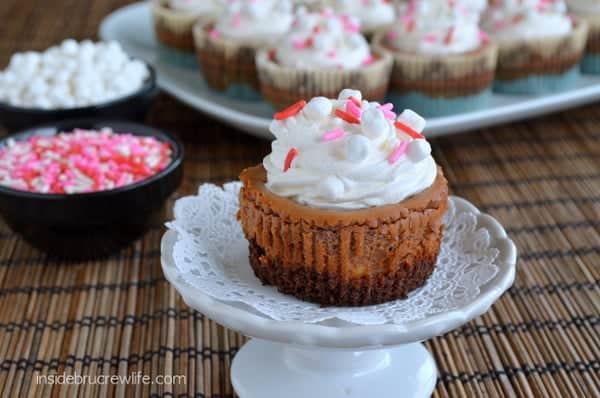 Winter is my enemy and I have been drinking lots of coffee and hot chocolate to stay warm. My body is not loving this 12* stuff. I know it could be a lot colder, but come on spring. Please hurry here.
So while I am on this hot chocolate kick, I thought it would be fun to switch out the sugar in my basic cheesecake recipe for hot chocolate mix.
Word to the wise...DON'T try to use a diet hot chocolate mix. That batch didn't taste so great! I also thought it would be a good idea to try to make these skinny-ish! Again a bad idea!! Maybe it was the diet hot chocolate mix, but the fat free cream cheese and fat free sour cream DID NOT bake up good at all. So, I went full fat for these Hot Chocolate Cheesecakes, and they came out just perfect.
Some things aren't meant to be fat free. I'm pretty sure cheesecake is one of those.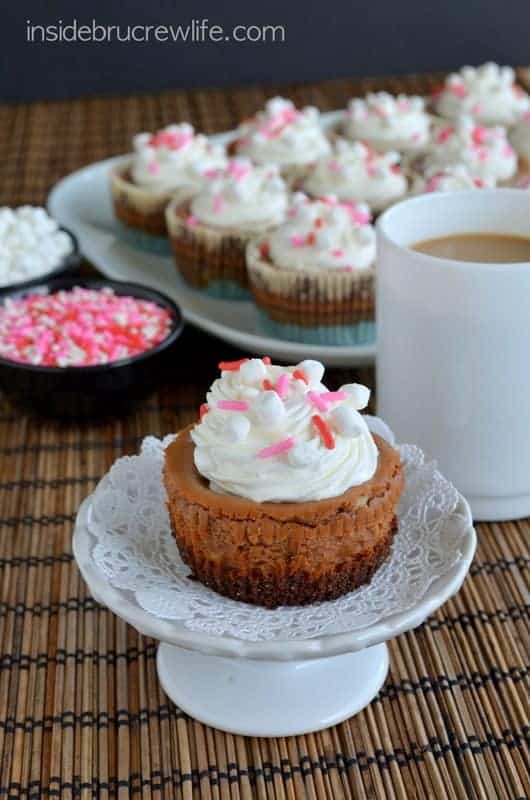 Cheesecake is definitely a favorite around our house. I gave up all thoughts of dieting when these hot chocolate cheesecakes were in my fridge. Yes, I have will power issues. The cheesecake wins every time.
Chocolate, cool whip, sprinkles...I couldn't resist them. If you make them cupcake size, you don't feel as guilty eating them. At least that's the story I tell myself as I head to the gym again.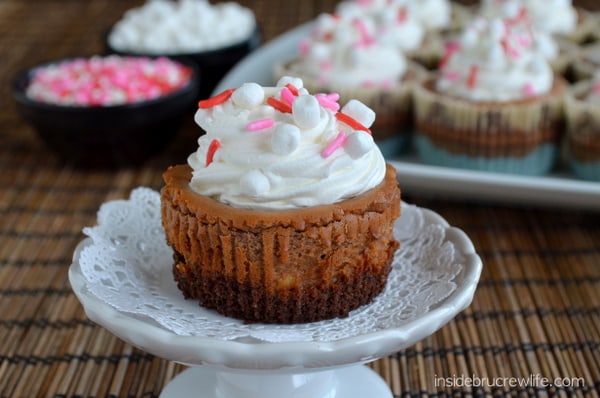 Creamy cheesecake that tastes like a cup of hot cocoa?
Why yes, you do want some of these in your fridge!!!
Looking for more Cheesecake recipes for your Valentine's parties and dinners...
check out a few of our family favorites.
These Triple Chocolate Cheesecakes will definitely satisfy that chocolate beast in you.
When I want a light dessert with less calories, I make up these No Bake Strawberry Cheesecake Cups.
Butterfinger Mousse Cheesecakes are a great way to use up leftover candy.