Want a fun snack mix to munch on this weekend for movie night? Make a batch of this Butterfinger Cookies and Cream Popcorn and watch it disappear in a hurry.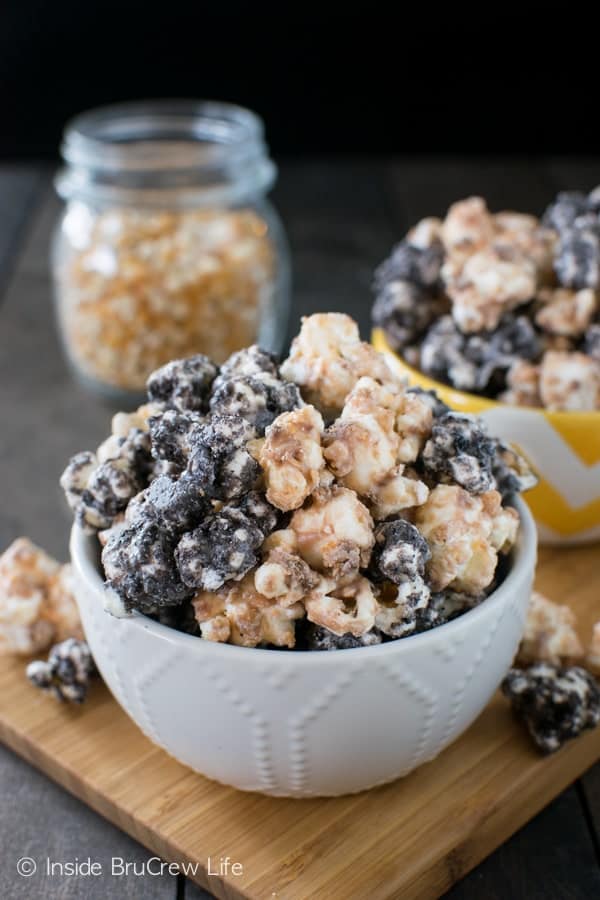 Any time I'm at home doing laundry or cleaning the house, you can bet that my mind is wandering and thinking about dessert combos. Yes, I'm the weirdo that can't stop thinking about sugar. No wonder my jeans still fit snugly...
If we go out to eat or go shopping, different things I see will make me think of a dessert idea. These ideas get written down in a notebook or on my phone notepad. Trust me...these lists are quite long.
You would think with all these sugar ideas flowing through my head at all times, that I would be able to whip up dessert for a dinner party in no time at all, right?
Wrong! The minute someone actually asks me to bring a dessert for an event, I totally freeze. My brain shuts off and I panic and can't make anything.
Ok, so that's not quite true because I do end up making something, but for a while before making that dessert, I am in complete and total meltdown and panic mode.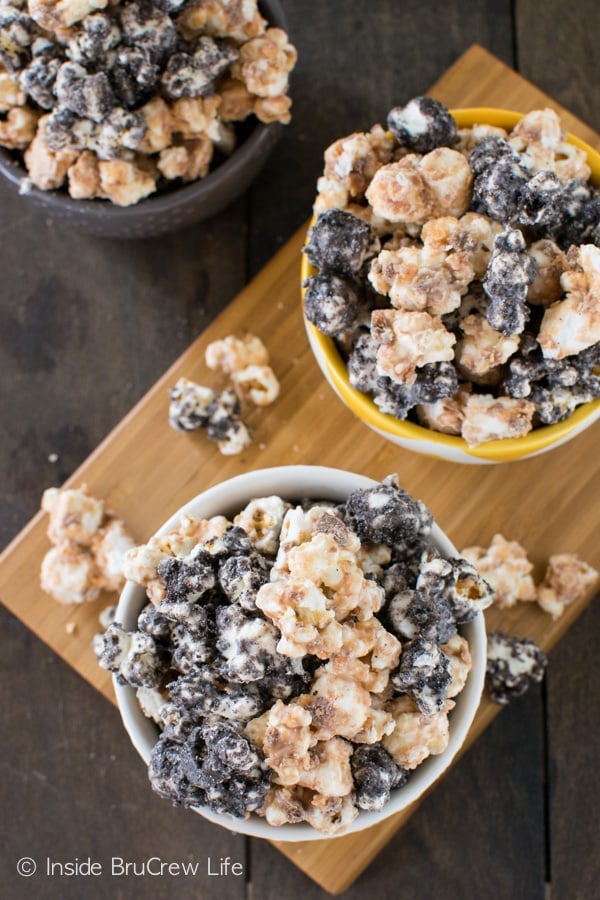 It seems that making random desserts like cookie dough cheesecake brownie pie is how I do dessert. The crazy ideas I get each day that have no reason or rhyme work best. The ones I "have" to make always take me way longer and seem to fail more often.
A few weeks ago we had to bring a dessert for a meeting at church, and my brain was freaking out because "holy cow, what in the world should I make?" Those lists that I keep don't even help me in these moments. I just stare blankly at the ideas and still don't know what to do. I ended up deciding on some cheesecake bars, but I wasn't sure if I was going to like how they turned out, so I went back to the idea book because clearly one dessert was not going to cut it.
At one point I had written down Oreo and Butterfinger as a combo. As I stared at the words, I started to think of how a fun two-toned popcorn could work. Turns out that coating half of the popcorn in white chocolate and Oreo crumbs and the other half in Butterfinger bits is one of the best ideas I have had in a while. Don't be surprised if you see that combo show up in about 6 other desserts in the near future.
Our son had some of the Butterfinger Cookies and Cream Popcorn before we left for the dinner, and he assured me this was one of the best popcorn mixes of all time. Since the bowl came back empty, I think everyone else agreed with him.
Obviously I need to just start making popcorn for all the parties and dinners we go to because those are easy and don't require much thinking or panicking.